Day 13: Winning by losing
A LoveSingapore 40.Day prayer and fast devotional, following 2022's theme of To Live Is Christ: A Journey Through the Book of Philippians.
LoveSingapore // July 13, 2022, 12:01 am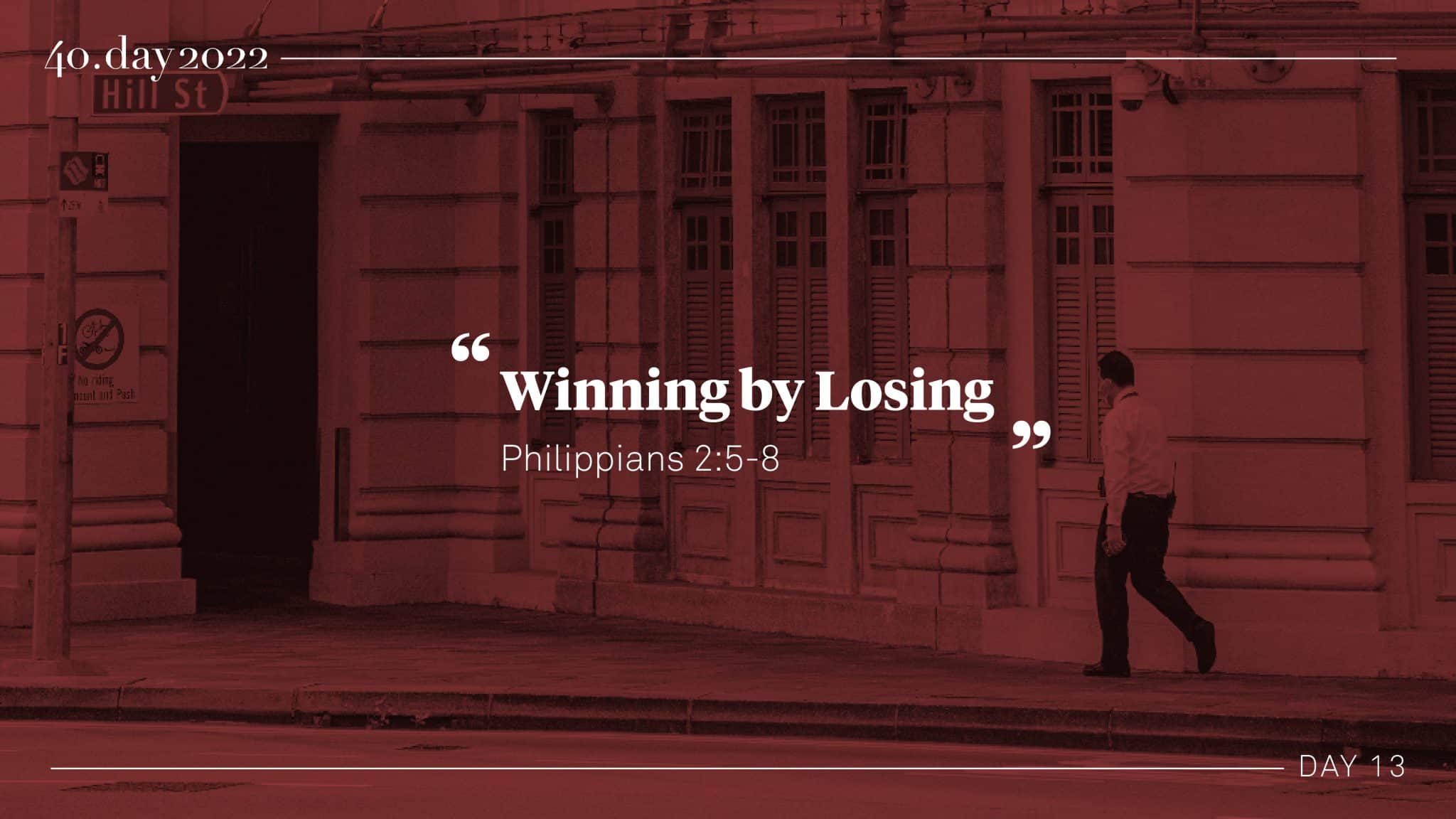 Bible reading for 40.DAY 2022 |  Philippians 2:5–8
---
This excellent piece is a must read for our own good and for the sake of our Antioch call. It is prayerfully adapted from an article by Loren Cunningham, the founder of YWAM. Today, create space for this God-moment. Turn off all notifications across all your devices. Still your soul. Don't be in a hurry to get over with it. Don't casually scroll. Instead, read with a desire to encounter God. He speaks. Lend Him your ear.
Letting go of our rights – even our rights to good and God-given things – is at the core of Christian discipleship.
We have rights as individuals. The Bible says that every good and perfect gift comes down from the Father (James 1:17). God gave us the right to a family, the right to possessions, the right to freedom, the right to our country, and many other blessings. These are all good things. God looked at the earth He created and said: "It is good." God looks at us and the rights He has given us and says: "It is good."
This is a cardinal rule of the Kingdom: Give up something good and receive something greater.
Then why does God ask us to give up those rights? Because He wants to give us greater things. This is a cardinal rule of the Kingdom: Give up something good and receive something greater. Give up your rights and you will receive greater privileges with God.
God gives us the right to own personal possessions. The Ten Commandments affirm this right. But God wants us to open our hands rather than clench our fists around what we own. As Jesus said, we cannot serve both God and money. God freely blesses us with precious things, and then asks us to freely give them up for the sake of Christ and the Gospel.
When we give up the right to spend our money as we wish, we will experience God as our provider. When we are able to say to God: "All I have is Yours. What do You want me to give back to You?" we will have the excitement of seeing Him do the miraculous to meet our needs.
We have been given many other rights. We were born to our parents, raised in a certain neighbourhood and brought up to believe certain things. We have the right to enjoy our own culture and cuisine. We have the right to belong to a certain church and other groups that express what we believe is important. We have the right to live and to talk and to eat.
But if everyone exercises their rights at the expense of others and to the exclusion of God's plan, a tragedy of cataclysmic proportions will occur. Billions of people will live in guilt and despair. Then they will die, face judgment, and spend eternity in hell for their sins.
There are some two billion individuals in 7,400 people groups today who have never heard the Gospel.
The disturbing truth is that there are some two billion individuals in 7,400 people groups today who have never heard the Gospel (Joshua Project).
All we have to do to seal the fate of these billions is to stay in our comfort zone, exercise our rights, eat the food we like, attend the church we like, wear the clothes we like, hang out with friends we like, and shut our ears to God's cry: "Whom shall I send? And who will go for Us?"
Jesus has set the supreme example of giving up everything (all of His "rights") for a greater goal. Philippians 2 says: "He didn't count equality with God a thing to be grasped but emptied Himself, taking the form of a bond-servant, a slave." Slaves have no rights. Jesus became a slave for our sakes.
He gave up the right to be with God His Father. Birds have nests and foxes have dens. But the Son of God had no place to lay His head.
He gave up the right to money. He had to borrow a coin to illustrate a point. And fish for a coin to pay His and Peter's taxes.
He gave up the right to marriage, and the right to reputation. He grew up in an obscure village. He was stigmatised as one born out of wedlock.
He endured the ultimate slur when He, the Son of God, was called a devil by the religious experts of His time.
But Jesus went further. He gave up His right to life itself, becoming obedient to death on the Cross for the sake of lost humanity.  
In these and many other ways, Jesus shows us how to live our lives. He shows us how to defeat the devil. He shows us how to win by losing. The only way to conquer Satan is to submit to God our Father.
Jesus wants us to follow him and lose our lives to find the lost. Only by taking His example into every part of our lives will we be able to truly live:
"If anyone would come after Me he must deny himself and take up his cross and follow Me. For whoever wants to save his life will lose it, but whoever loses his life for Me and for the Gospel will save it" (Mark 8:34-35).
We have only two choices: We can cling to our rights and claim "our blessings" while millions go to hell and we miss out on God's greater purposes for us. Or we can give our rights freely back to God for the greatest privilege of all – seeking first the Kingdom and finding the lost for Christ.
Pray Now
1 What is God saying to you? Journal. Delve deeper than ever before. Talk it over with God.
Delve deeper than ever before. Talk it over with God.
2 Ask God for a Jesus Movement in Singapore. A new generation of youth with a mission who will relinquish their rights to a good life for the sake of God's greater cause: a church for every people, the Gospel for every person.
3 Ask God to favour our young as they pray with passion and pioneer with perseverance – bringing the presence and power of Jesus into countries, cities, campuses and whole communities of unreached peoples (LoveSingapore | Joshua 21).
---
Follow Salt&Light on Telegram, Facebook or Instagram for more of LoveSingapore's daily devotions until August 8, 2022.
If you have enjoyed reading Salt&Light...
We are an independent, non-profit organisation that relies on the generosity of our readers, such as yourself, to continue serving the kingdom. Every dollar donated goes directly back into our editorial coverage.
Would you consider partnering with us in our kingdom work by supporting us financially, either as a one-off donation, or a recurring pledge?
Support Salt&Light