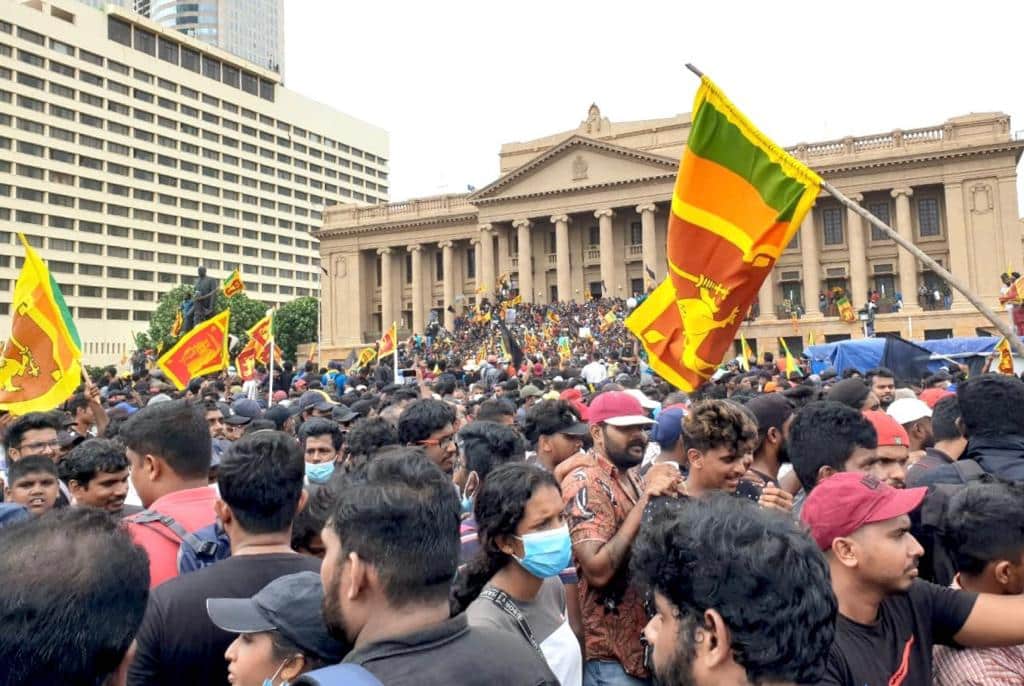 Protesters gathered outside the president's secretariat on Saturday. The President's residence where protestors broke in to is just down the road. Photo by Dr Mayukha Perera.
Sri Lanka is a country in crisis.
Months of long, unpredictable power cuts. Sky-rocketing inflation of food and raw materials. Severe fuel shortages that are crippling the economy and reports of people dying while queuing to purchase fuel. Crop failures causing widespread hunger. Medicine in critically low supply.
The incomes of tens of thousands of daily-wage workers have plummeted; there is little work to be found, meaning there is no money to buy food for the day.
Three in 10 households in the population of 22 million do not know where their next meal will come from, according to a recent UN report. Over 60% of households are cutting costs through reducing the amount they eat and consuming less nutritious meals.
Steeped in turmoil
Two prime ministers have resigned in the last two months and incumbent president Gotabaya Rajapaksa is set to resign on Wednesday, July 13, 2022. The announcement came late on Saturday night, July 9, after protesters stormed the president's office in Colombo in the day.
"There was great jubilation among the crowd at the news," said Dr Mayukha Perera, 54, managing director of Back to the Bible (BTTB) Sri Lanka, a ministry committed to teaching the Bible using all forms of media. Dr Mayukha has led the ministry based in Colombo since 2009.
He was at the protests on Saturday and described "huge crowds of enthusiastic people" to Salt&Light, adding that many had made the journey to the capital on foot due to the lack of transport options caused by the recent fuel restrictions.
"The whole country is happy," concurred Dr Dhanan Senathirajah, 60, national director of World Vision Lanka. The ex-banker and lawyer also told Salt&Light that he sees this as a positive development in the latest unfolding of Sri Lanka's economic crisis.
International observers note that the current crisis has been caused by decades of nepotism, corruption and government mismanagement.
"The needs are enormous"
World Vision Lanka has declared the situation a Category 2 disaster (the Indian Ocean tsunami of 2004 had warranted the highest Category 3 disaster status). The Christian charity, which does development work and reaches out to children and the "poorest of the poor" is looking to raise an extra US$10 million, more than half its usual annual operating budget.
The funds will go towards food and health costs for children whose education have been affected and even supporting the livelihoods of parents of children who are already part of World Vision's programmes. Most of their work is in rural and suburban areas. There is a six-month project being planned to provide for over 18,000 preschoolers in 750 kindergartens who are in need.
"This is just a drop in the ocean," Dr Dhanan said. "The needs are enormous."
Official inflation stands at 50%, but the actual figure is several times higher.
People are affected not just by the high cost of items but the unavailability of items as well, Dr Dhanan noted. He is also the senior pastor of a brethren church in Colombo with about 50 members. Members are helping each other and plans are being made to distribute food in the community.
"The poor always get affected the most. The rich have enough cushioning to survive, but the poor have to cut the number of meals or how much they eat each meal," said Dr Dhanan.
"There are many who are just eating plain rice."
The shortage of medicine – 90% of which is imported – caused by the country's inability to pay in foreign currency, means that surgeries are limited to only the most severe cases.
Churches are affected, too
"Productivity is down in every sector of society. Churches are affected, just like everyone else is," said Dr Mayukha, who currently rides a bicycle to work. For now, BTTB Sri Lanka is able to keep operations going as it is mainly technology-based.
"Usual ministry activities are hampered. People are unable to gather for worship. Pastors and workers are spending time in fuel lines, so are unable to use that time to visit and minister in other ways," he said.
"We weren't prepared for this. It's very hard, and it's getting worse. One thing after another," said Dulanga Liyanage, 31, who works as a coordinator at a small Christian charity called KidsReach in Kandy city.
The children's ministry depends heavily on fuel. "It's mostly face-to-face. Either they come here or we go get them," said Dulanga.
Ministry has continued so far, but Dulanga does not know what this week will be like. As of today, some fuel and gas supplies have resumed in parts of Sri Lanka.
"It's hard, but we are trying to adjust."
Dulanga gets around mainly by walking. His motorbike remains parked with about a litre of fuel reserved for emergencies. His wife is pregnant with their second child.
Training for leaders involved in children's ministries had moved online, until telecommunication towers were also affected by power cuts. They started recording sessions on SD memory cards and sending them out by post, until the postal service became sporadic. The ministry is now involved in food distribution efforts in their community.
"Something is better than nothing and we will see what we can do to continue. Not for the sake of running it, but people are depressed. As an organisation, we are trying to give them something to hold on to. It's hard, but we are trying to adjust."
"People need help – not only in terms of food, but also mental health. They need to be heard," said Dulanga, who is currently pursuing his masters in counselling. In June, he lost a friend who hanged himself because of financial woes, leaving behind a wife, children and a sizeable debt.
Though he struggles, his faith is certain. "You live in the world, you will have to go through the same situation. Christians are not immune. But we have hope in Christ. That's what Christians have that others don't," he said, resolutely.
"Our human minds tend to forget God is able."
The God-difference
"The greatest thing that the body of Christ is doing is that the love of Christ is being shown," said Dr Dhanan. He observed that the standing of the Church in the eyes of believers of other major religions in the country has gone up "to a very great extent."
"God doesn't expect us to be Superman. Even when we struggle, He is there to lift us up."
Churches have been actively involved in giving out care packs to those in fuel lines, distributing dry rations and even opening food kitchens. Individual believers have stepped up in generosity to neighbours as well, offering lifts and sharing homegrown produce with each other. 
But there have been similar initiatives led by non-Christians, so these actions are not unique, Dr Mayukha pointed out. "I believe the difference will be in how long we continue. Everyone may help at the start of a crisis, but who stays for the long haul?
"In past crises too, the Church has continued with service to the communities when others have been fatigued and run out of compassion!
"The truth is that we are going through very hard times," said Dulanga, quoting Peter's experience of stepping out of the boat and walking on water towards Jesus (Matthew 14:22-33).
"Somewhere in the middle, he took his eyes off Jesus and started to sink. That was true, but Peter forgot the ultimate truth: That Christ was in front of him and was there to save him.
"God doesn't expect us to be Superman and keep our eyes totally on Him. Even when we struggle, He is there to lift us up. This is something I constantly remind myself. It's hard but that's the reality."
Dr Mayukha believes the same: The crisis is an opportunity for us to minister to people, a testimony to fellow countrymen that we do not go about our lives as those with no hope.
"God is not absent, He is very present. Many wonder if He is not involved because He has not invaded the situation with a show of raw power," Dr Mayukha shared, adding that he has seen God using people in places of power to influence.
"If not for this calamity, the ruling family would still be dominating politics," said Dr Dhanan.
"Everything that happens, God permits for a particular reason. I keep encouraging people not to lose sight of this and not to take God out of the equation. This is literally in every message I share – on Sunday in church and at office devotions on Monday."
"I've gone six decades with God – this is not the first problem. I have come to believe – and advocate – that God is in control and He is moving behind the scenes."
---
How you can help:
"Prayer is the most powerful tool. We value your prayers, day and night. But financial support will go a long way," Dr Dhanan told Salt&Light.
"For the poorest of the poor, it could be the difference between life and death."
FOR MORE STORIES LIKE THIS: 
The shaking of Afghanistan and Myanmar: Our call to prayer and action
Christians in Shanghai helping neighbours, offering prayers, during city-wide lockdown
If you have enjoyed reading Salt&Light...
We are an independent, non-profit organisation that relies on the generosity of our readers, such as yourself, to continue serving the kingdom. Every dollar donated goes directly back into our editorial coverage.
Would you consider partnering with us in our kingdom work by supporting us financially, either as a one-off donation, or a recurring pledge?
Support Salt&Light