Day 29: Anti-cross
A LoveSingapore 40.Day prayer and fast devotional, following 2022's theme of To Live Is Christ: A Journey Through the Book of Philippians.
LoveSingapore // July 29, 2022, 12:01 am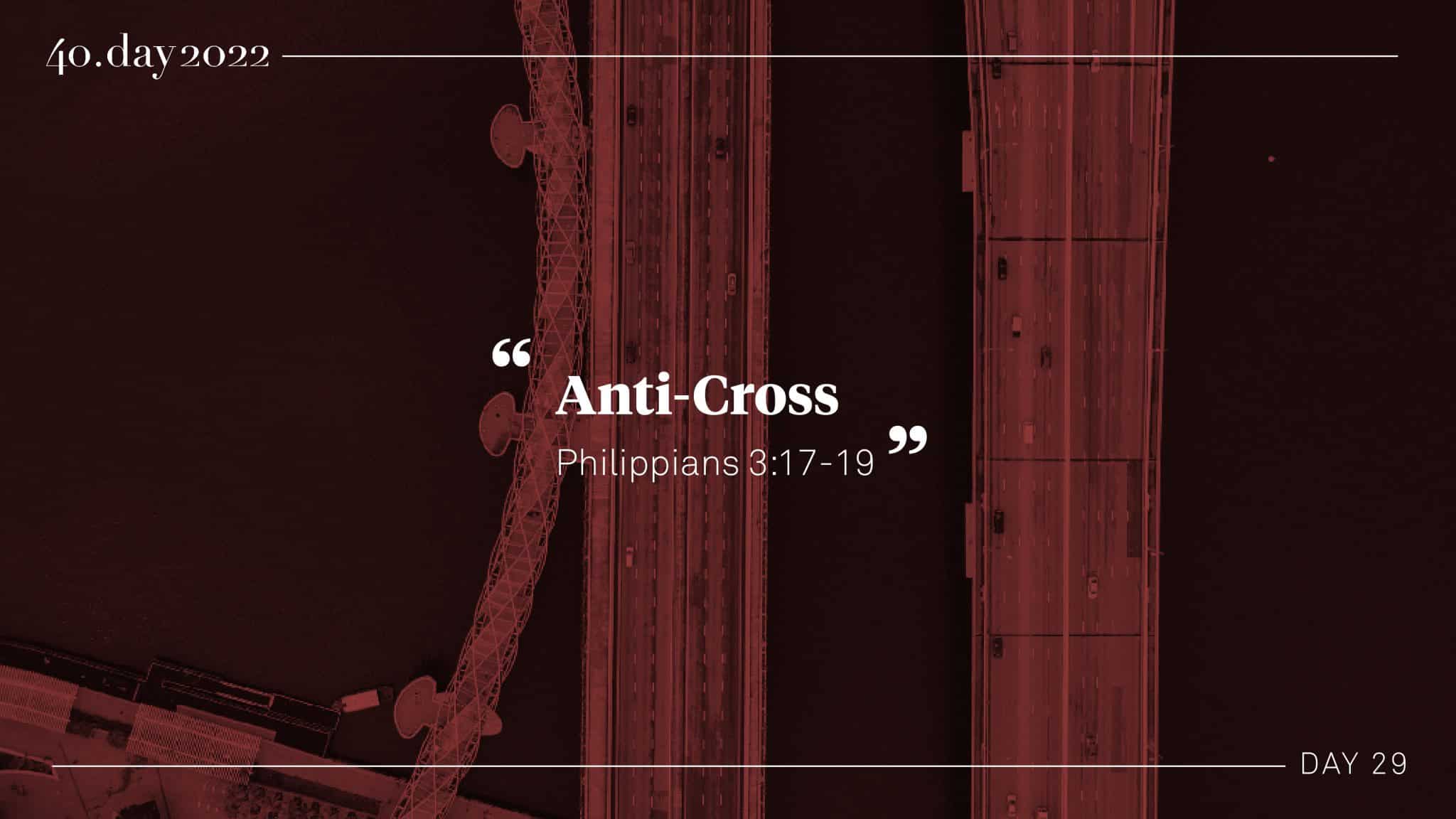 Bible reading for 40.DAY 2022 |  Philippians 3:17—19
---
Paul is a "so-what" theologian. He brings his theology down to earth and spells out its moral and practical implications.
He has just profiled Timothy, Epaphroditus, and himself as imitators of the self-emptying, self-denying, crucified Christ (Philippians 2:19-3:14). Now he follows up with two practical imperatives for discipleship.
The first is: "Become joint-imitators of me." Not admirers, nor influencers, nor impostors. But imitators!
Paul has authority to say this because he is an imitator: "Be imitators of me, as I am of Christ" (1 Corinthians 11:1). Disciples imitate their master in a relationship of belonging, becoming, and doing.
Disciples imitate their master in a relationship of belonging, becoming, and doing.
Belonging: Disciples become imitators, not as lone rangers, but together as a community. In this case, the local church.
Becoming: Disciples don't mimic the Master. They become like Him from the inside out (Matthew 10:25).
Doing: Disciples draw the incentive and strength to obey the Master from this personal relationship of belonging and becoming.
The second imperative: "Mark those who act according to the example you have in us."  Jesus is the "Prototype". Paul is the "type". Not a counterfeit. But a "certified true copy of the original".
True copies make true copies. Blur copies make blur copies. You will know them by their fruits. Therefore, if you see any certified true copies of Christ and Paul in your church, mark them. Beg them to disciple you. Become imitators of them as they imitate Christ.
These two imperatives are followed by a tearful lament that expresses the reason for both imperatives: Because many walk as enemies of the cross of Christ (Philippians 3:18-19).
Paul weeps his heart out for those who leave the path of Cross-bearing discipleship. They pander to the palate. They boast in things that should make them blush. And they are preoccupied with earthly things. Their end is destruction.
Who are these people? They are not anti-Christ. They are anti-Cross.
Most likely, they include those first-century triumphal preachers who pose as apostles, put on airs, promote themselves, and peddle God's word (2 Corinthians 2:17, 5:12, 10:12, 11:5-6, 20).
And they certainly include all who enter by the wide gate and travel on the easy road that leads to destruction (Matthew 7:13). Because so many walk this way, it is absolutely essential to mark and imitate the precious few who enter the narrow gate and walk the way of the Cross.
Pray Now
Live in revival. Turn godly imagination into prayer. Turn prayer into practice.
1 Who is your hero? Is it Christ? Is it someone who imitates Christ and Paul? Or some "Christian" influencer on social media with thousands of fans but with little substance and hardly any Christ-likeness? Or worse, is it some shady entertainer that the world fawns over?
2 Will your church lead by example? Pray the difference: Imagine your home church, a community of disciples with a deep sense of belonging, all on the same journey and wavelength: To live is Christ. Not just a random few or the one lone star burning bright, be it the senior pastor or church council, or missions director, or ministry leaders. But:
Each and every member owning the call and striving together to imitate the self-emptying, self-denying, cross-bearing Christ from the inside out.
Each and every member becoming a role model, holding one another accountable to the shared vision of living for Christ and imitating Christ.
Each and every one singling out a spiritual father or mother, and following him or her. And every seasoned father or mother looking out for new believers, and bringing them up in relational discipleship.
Imagine this norm. Imagine revival. Live this norm. Live in revival. Turn godly imagination into prayer. Turn prayer into practice.
We follow a crucified Christ. Failing to do so is a contradiction in terms and a crying shame.
3 What makes you weep? Philippians is an epistle of joy laced with tears. Paul weeps over Christians who abandon the one thing that sets us apart from the world: The Cross! We follow a crucified Christ. Failing to do so is a contradiction in terms and a crying shame. As a result, we reap a crisis of feel-good, laissez-faire Christianity – casual, complacent, consumeristic! Pause and pray. Think about those in your circle. Pray for each one by name. In identificational repentance, ask God to forgive us all for neglecting Cross-bearing as the norm of discipleship. Ask yourself: In what ways and to what extent am I part of this crisis? Allow the Spirit to travail through you with tears. Blessed are those who mourn, first over their own sins, and then over the sins of others whom they love. Pray from your heart. 
4 Are we pro-Christ but anti-Cross? Do we gush over things that should make us blush? An eatery called Sin. A drink called Indulgence. A fruit called Envy. A sweet called Cheat. Are we preoccupied with the earthly instead of the Eternal? The must-try F&B. The must-have app. The best deal. The latest style. The hottest K-drama. In humble repentance, crucify the flesh with its passions and desires (Galatians 5:24). "The cross is not a mere event in history … it's a present place of daily execution … it's a way of life" (John Piper). "If anyone would come after Me, let him deny himself and take up his cross daily and follow Me" (Luke 9:23).
---
Follow Salt&Light on Telegram, Facebook or Instagram for more of LoveSingapore's daily devotions until August 8, 2022.
If you have enjoyed reading Salt&Light...
We are an independent, non-profit organisation that relies on the generosity of our readers, such as yourself, to continue serving the kingdom. Every dollar donated goes directly back into our editorial coverage.
Would you consider partnering with us in our kingdom work by supporting us financially, either as a one-off donation, or a recurring pledge?
Support Salt&Light