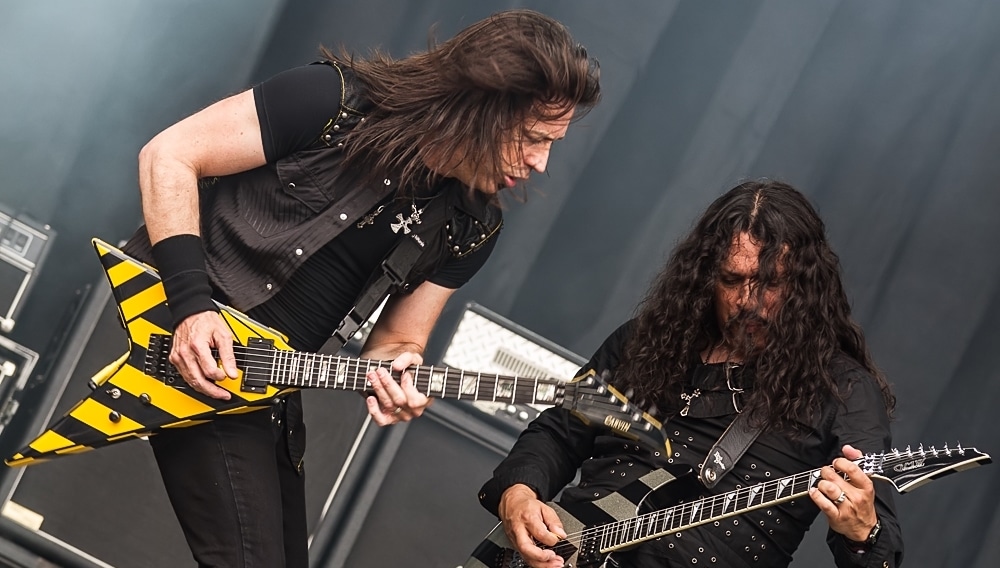 Michael Sweet (left) with Oz Fox (right) at a concert in 2014. Michael, the band's lead singer and songwriter, writes lyrics that convey the message of redemption and hope through Christ. Photo by Florian Stangl on Flickr.
Formed in Orange County, Los Angeles, as Roxx Regime in 1983, the hard rock quartet of brothers Michael (vocals/guitar) and Robert Sweet (drums), Oz Fox (guitar) and Tim Gaines (bass), honed their collective rock chops on LA's notorious Sunset Strip club scene opening for the likes of Ratt and Bon Jovi.
Realising that they had drifted into the world of sex, drugs and rock 'n' roll, the band members, who were all raised in Christian homes, decided to recommit themselves to Jesus Christ and set about changing their music to follow their newly reinvigorated faith.
The quartet was signed to the fledgling secular label Enigma Records. Enigma had planned to drop Roxx Regime when it discovered they played Christian music but quickly changed its mind upon seeing the scores of fans queuing for blocks at the band's sold-out LA concerts.
Stylistically known for their distinctive yellow and black striped attire and stage set, the band, under the direction of their record label, changed its name and settled on the name Stryper, when the backronym "Salvation Through Redemption, Yielding Peace, Encouragement and Righteousness" came to the drummer Robert Sweet during prayer at a band rehearsal.
Searching the Bible, the band found the scriptural verse Isaiah 53:5 "But he was pierced for our transgressions, he was crushed for our iniquities; the punishment that brought us peace was on him, and by his wounds we are healed" — and featured it in the band's logo.
Delivering God rock and Bibles
Stryper's first release in 1984, the EP The Yellow and Black Attack (later to be repackaged into a full album with additional songs in 1986) was received most favourably by the public.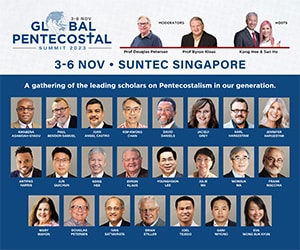 It was followed up in 1986 by the gold-certified Soldiers Under Command featuring the now iconic album cover shot of the band replete in their yellow and black livery band bearing automatic weapons arms in front of the Stryper van.
Both releases featured the classic power metal sound of the twin guitar attack and high pitched vocals that were the mainstays of hard rock in the early to mid '80s.
To the skeptical few, Stryper could be considered derivative of the genre, but the musical point of difference came with the vocal and songwriting talents of front man, Michael Sweet.
"How are you going to get the message out there to the people who really need to hear it?"
With his soaring voice and its effortless vibrato, Sweet is considered, to this day, one of the greatest metal voices of his generation.
In addition, he employed his considerable songwriting skills to highlight the strength of his vocals.
From the outset, the press labeled Stryper as a Christian heavy metal band, and the band was quick to disparage the title not wanting to be tagged with this new moniker.
Speaking to the Washington Post in 1985, Robert Sweet pointed out that "heavy metal bands don't usually have ballads, don't usually have four-part harmonies, and don't usually throw Bibles into the audience … I choose to call it 'God Rock'."
Much like the criticism within the church that Amy Grant faced when trying to reach out to a secular audience, Stryper faced similar criticism for refusing to play on all-Christian billings.
Robert Sweet stated unequivocally where he and his band stood on this matter: "There are a lot of people out there that think we only want to have Christian opening acts appear with us. That's not our thing … Jesus didn't discriminate. It's always puzzled me why Christian bands get on Christian record labels, have Christian opening acts and play to Christian audiences. To me, that doesn't do any good. How are you going to get the message out there to the people who really need to hear it?" (The Washington Post, 1985)
"I choose to call it 'God Rock'."
Even with a gold album and a growing secular audience behind them, Stryper's opposition by the Christian church grew stronger by the day.
But there were fickle offshoots of support within the Christian music industry—Stryper received a standing ovation after performing "Makes Me Wanna Sing" at the 1986 Dove Awards ceremony by the Gospel Music Association in America, which recognises outstanding achievements and excellence in Christian and Gospel Music. 
Stryper sought other means to promote their music and found a willing partner in the burgeoning music channel MTV.
With music videos being a highly visual medium, Stryper created a high energy music video for the song "Soldiers Under Command".
The video featured live, studio and backstage footage taken of the band while on tour and was popular enough to be added to MTV's medium-rotation list.
With the attention gained from their MTV airplay, Stryper released their third album To Hell With The Devil, on October 24, 1986.
Words that proclaim Christ
Lyrics withstanding, To Hell With The Devil holds to many of the musical traditions of '80s hard rock. Like other bands of the genre who would flex from heavy riffs to ballads within an album, Stryper kept to the formula it had based its previous releases on.
On the album's title track, a slow grinding guitar riff is punctuated with a neoclassical dual guitar harmony intro before Michael Sweet's high octave vocals pound out his disdain for the devil and his deceiving ways.
"Don't speak of the devil
He's no friend of mine
To turn from him is what we've got in mind"
The power of his voice cannot be understated. Bordering on rock opera proportions, he soars with a high pitched scream ending the track, highlighting his amazing range.
The lyrics reach out to the unsaved and run counter to hard rock's typical themes of excess and hedonism.
On the following track "Calling On You", Stryper goes into complete pop metal mode. The song comes off as a fun heavy metal praise song as the lyrics reflect how God fills the loneliness we all experience in life.
"You, You make my life complete
You give me all I need
You help me through and through
I'm calling on You"
Ratcheting up their efforts from their "Soldiers Under Command" video, the music video for "Calling On You" contains the hallmarks of everything that was over the top in '80s hard rock. The video became a major hit on the channel's Dial MTV phone-in voting system and brought much publicity to the band.
The song "Free" also has an arena rock feel to it, but delving into the lyrics we see a far deeper side to Sweet's songwriting. The song touches on how God has extended His free will to all of us and through that, we all have a choice to believe in Him or not.
"Free to open up (and believe)
Free to open eyes (and receive)
There's no better time than now
You've got the right to choose
You can't lose"
The song is a real counter punch to hard rock's typical themes of excess and hedonism, a fresh message that many listeners may not recognise on first or even second listen.
The lyrics reach out to the unsaved without being preachy and condescending, and Sweet's songwriting reveal where the heart of the band truly lies.
Power ballads were an established part of the '80s hard rock repertoire, designed to either dial the energy levels down a notch on an album, or give fans a chance to (back then) hold up a cigarette lighter at a concert, or just help the band crack the singles charts.
For better or for worse, Stryper added to the genre with the song "Honestly", the album's only charting Billboard Hot 100 hit (#23) and "All Of Me".
On the saccharine-laced "Honestly", a song about being true to God, Michael Sweet's keyboard backed quasi-feminine vocals can be jarring at first listen (and maybe second and third), and though it may ring as sounding heartfelt, this song does sound like a misstep on the album.
Thankfully, the song gets a rebirth on MTV with the band hamming it up on the associated video with Robert Sweet playing air drums on his kit and band members staging mock goodbyes before they head out on tour. With the video reducing the song's schmaltz, the song became one of the most requested on MTV in 1987 and a wedding favourite.
The album ends with the powerful closing track, "More Than A Man", which is a chest-beating Christian anthem declaring that God is Lord over all and that through Him we can be set free:
"God, I will follow You because You died for me
Gave to me Your life to set me free
Anyone who asks shall receive
Jesus in your heart
It's time for you to start
Giving God all the glory yeah"
All things to all men to save some
Stryper reached a creative and commercial peak in 1987. Given its multi-platinum success and international reach, the band toured the world sharing the Gospel, heeding the call of the Great Commission, where Jesus calls us to make disciples of all the nations (Matthew 28:19).
Ridiculed and slighted by many in the world, the band reached out to the unsaved in their own unique way.
They continue to put out albums glorifying God and are currently in the midst of a multi-city tour across the US.
Ridiculed and slighted by many in the world, no different to those out on the mission field, the band reached out to the unsaved in their own unique way (1 Corinthians 9:22-23) and the fruit is there for all to see. 
Reading through the numerous comments on Stryper's YouTube videos and band forums, one finds countless testimonies of those who went to a Stryper concert an atheist and gave their lives to the Lord because the band presented Jesus Christ in a way that was relevant to them.
Whether it was singing about Jesus Christ in strobe-lit, smoke-filled stages across the planet or throwing Bibles out to their audiences at packed concert venues, the message of redemption through salvation was core to the band's message — and with Stryper, you knew you were going to receive all 130 decibels of it night after night.
---
This is an excerpt of the original feature by CityNews and has been republished with permission. 
FOR MORE STORIES LIKE THIS:
Frontman of iconic rock band, Ronin, finally finds what he has been searching for
Let's rock 'n roll! Cru veteran Mark Suredhran on pioneering its music missions
If you have enjoyed reading Salt&Light...
We are an independent, non-profit organisation that relies on the generosity of our readers, such as yourself, to continue serving the kingdom. Every dollar donated goes directly back into our editorial coverage.
Would you consider partnering with us in our kingdom work by supporting us financially, either as a one-off donation, or a recurring pledge?
Support Salt&Light