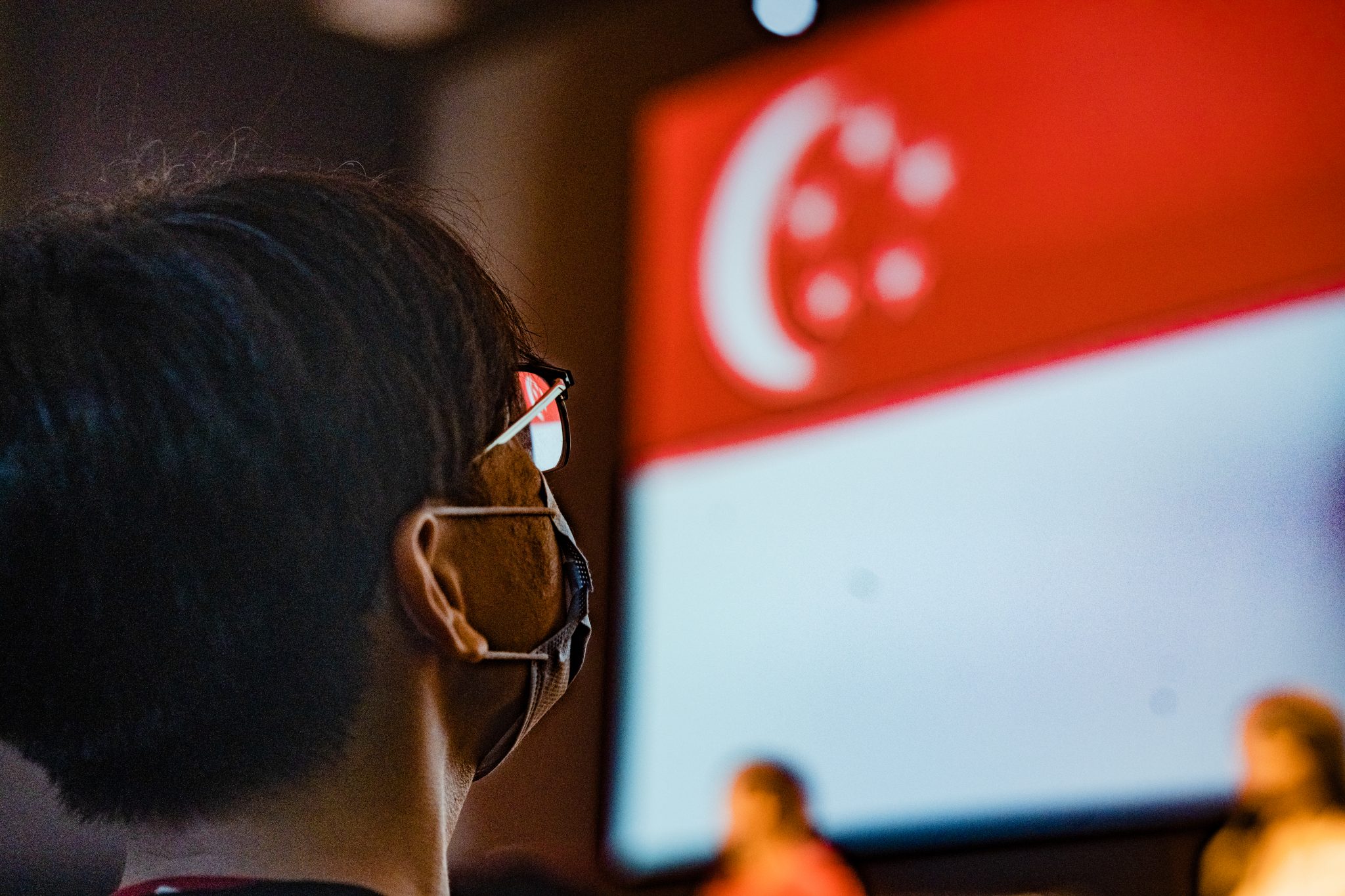 A thousand hallelujahs: The Day Of His Power celebration encouraged the Singapore Church to look up, lift up their heads, and see their redemption drawing near. All photos by Thir.st/Hope Singapore/FCBC/COOS.
If there was disappointment in the last two Covid years at the dearth of opportunity to gather as one Church, it was lifted with the first drum beat of the Day of His Power (DOHP) celebration Monday (August 8) night.
Holy anticipation resonated throughout six regional centres designated for the occasion, and each was filled to capacity and beyond. Overflow halls were necessary at Living Sanctuary Brethren Church (LSBC) in Hougang, as well as at Bethesda (Bedok-Tampines) Church.
It was a similar scene at the other four DOHP centres – Victory Family Centre in Sembawang, Faith Community Baptist Church in Marine Parade, Church of Our Saviour in Queenstown and Hope Singapore in Jurong.
Thousands of believers were at the ready, gathering in-person to worship God and intercede as one for Singapore on the cusp of her 57th year of independence.
This was more than just the culmination of the annual 40.Day season of prayer.
This was more than just the culmination of the annual 40.Day season of prayer leading up to National Day.
Against the backdrop of recent global happenings – the pandemic, climate change, the war in Ukraine – was the "very hot topic" of 377A.
Ps Lawrence Khong, chairman of event organiser LoveSingapore, in addressing the entire gathering via a prerecorded video, noted its significance by pointing out that of the nine prayer slides for the night, five had to do with this section of Singapore's penal code.
The weighting was not deliberate, he said, but a reflection of "our great concern over the discussion" on its repeal or retention.
Revival and responsibility
Alluding to the Clock Tower experience of the past, its memory refreshed in the present by Thirst Collective's Revival 1972 video, Ps Philip Tan of Zion Living Streams inspired hope and petitioned anew for another mighty move of God in the near future.
The Church's responsibility to that end was simply put by Pastor John Lee, founding pastor of River of Life Community Church: "Four things we must do, and God will do three things."
"Four things we must do, and God will do three things."
He quoted 2 Chronicles 7:14, If My people who are called by My Name humble themselves, and pray and seek My face and turn from their wicked ways, then I will hear from heaven and will forgive their sin and heal their land, and counselled that it was His people whom God was calling out for "wicked ways".
Thus, their only proper response was the humility to pray and seek His face.
Entire communities were blanketed by prayers of repentance and for renewal. Neighbourhoods were individually named: Hougang, Sengkang, Serangoon, Ang Mo Kio … the list spanned the geographical length and breadth of Singapore, which was brought whole before God as a nation abundantly blessed by Him yesterday, today – and forever.
The unknowns unfolding in our tomorrows were acknowledged, but His sovereignty affirmed. Meeting together (Hebrews 10:25) was exhorted, especially now that churches have resumed in-person activities, and perseverance in love and kindness underscored – for the greater good.
Indeed, earlier in the day, Prime Minister Lee Hsien Loong in his National Day 2022 message had painted a foreboding picture of geopolitical tensions having "profound implications" for the world and Singapore.
"Our road ahead will not be easy," he said. "We must also brace ourselves and be psychologically prepared that in the next decades our region may not be as peaceful and stable as it has been thus far."
Forewarned is forearmed
Even so, by the presence of the Spirit hovering over the sea of faces at each DOHP location, the remembrance was almost palpable that long before our peace and stability coming under threat was a sober reality, the Word of God was.
It is a light that continues to shine. Darkness does not comprehend it.
In Him was life, and the life was the light of men. 
It is a light that continues to shine.
Darkness does not comprehend it. (John 1:1, 4 KJV)
"In the world you will have tribulation," Jesus said (John 16:33). "But take heart; I have overcome the world."
God has been to us a Father at hand (Jeremiah 23:23), and from a far-enough perspective, the view is of His all-sufficient grace for us. In our weakness His power has been made perfect. (2 Corinthians 12:9)
And will continue to be.
In our weakness His power has been made perfect.
In the midst of the many prayer needs set forth, therefore, the plea for supernatural tenacity was personal.
To me it had to begin – come what may – with: I am not ashamed of the gospel, for it is the power of God for salvation to everyone who believes. For in it the righteousness of God is revealed from faith for faith, as it is written, 'The righteous shall live by faith.' (Romans 1:16-17)
For such a time as this, the call on believers to walk by faith and not by sight (2 Corinthians 5:7) has never been more compelling, and the ministry of reconciliation given into our hands never more urgent.
The end of the night was marked by a heartfelt singing of the National Anthem, heralding a new day: Not by might, not by power, but by the Spirit of God.
More than ever, count on me, Singapore.
---
RELATED STORIES ON SINGAPORE, OUR HOME:
St Andrew's Cathedral: Landmark of love and sacrifice during the darkest days of WWII Singapore
Out of the wartime darkness of Changi Prison, generations of S'pore church leaders were birthed
If you have enjoyed reading Salt&Light...
We are an independent, non-profit organisation that relies on the generosity of our readers, such as yourself, to continue serving the kingdom. Every dollar donated goes directly back into our editorial coverage.
Would you consider partnering with us in our kingdom work by supporting us financially, either as a one-off donation, or a recurring pledge?
Support Salt&Light