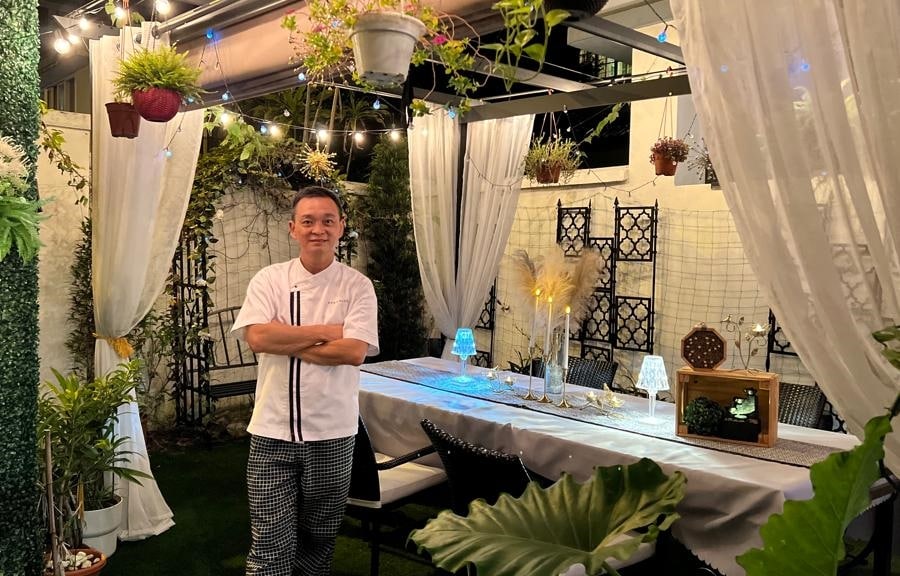 After years of cooking for family and friends, Bernard Kee was led to start a private dining business that would be his mission field to share the Gospel with diners. All photos courtesy of Bernard Kee.
In the cool of the pergola, a gentle breeze stirs. The air is heavy with the fragrance of warm grass. The table, set for five, features a botanical theme, complete with bumble bee napkin rings.
Welcome to KeeHive where private chef Bernard Kee offers five-course meals omakase-style with a complimentary glass of bubbly direct from Champagne, France.
Bernard, 53, is a self-taught chef whose interest in cooking began when he was just nine.
"In those days, TV magazines had recipes at the back. I loved reading them and would keep the recipes.
"I was so curious about cooking, I would watch my grandma cook. I learnt by observing."
Home alone one day, young Bernard looked into the refrigerator and found that he had the right ingredients for sweet and sour pork.
"My grandma came back to discover there was an additional dish at the dinner table. But I got a whacking from my dad and mum for starting a fire without supervision."
"I was so curious about cooking I would watch my grandma cook."
Bernard would discover that, along with a deep interest in cooking, he was "blessed with a good sense of taste and keen nose, and that's what is needed to cook".
Later, work in both the banking and travel industries would allow him to sample fine dining throughout the world and talk to chefs of renown. He would go on to develop his own dishes inspired by these travels.
"I have cooked for family and friends, even groups of up to 50 people. I love food."
All this would dovetail into the private dining business he now runs. But it was a business that was eight years in the making.
A voice calling
The year was 2013 and Bernard remembers the exact date – February 23. At the time, he was divorced and living alone. Home after a routine run, he was napping when "something woke me up at 4pm".
"It was a voice calling me, asking me to go to church. The voice kept repeating itself."
Bernard had, till then, only brushes with Christianity. In primary school, an aunt had given him a Bible. In secondary school, he had chosen to take Bible Knowledge as an 'O' level subject.
"But there was no interest in Christianity, no relationship with God," he admitted.
In adulthood, he would take an interest in religions, hoping to discover if there was "somebody somewhere who can make me a better person, a spiritual being beyond myself because I was quite bad," Bernard said sheepishly. "After my marriage, I did a lot of bachelor stuff. I drank, met women."
The search did not amount to much. So, when Bernard was awakened by the insistent voice, he tried to ignore it.
"I have never been to church. Why ask me to go to church now?" he wondered.
"It was a voice calling me, asking me to go to church. The voice kept repeating itself."
Yet, within the hour, Bernard found himself seated in a church he had picked randomly. So compelled was he by the urging of the voice.
"During the sermon, I teared and teared," said Bernard even though he cannot remember what was preached.
In the weeks that followed, the desire to go to church would build up and he visited different churches every weekend, hoping to settle in one. On the third weekend, he found himself at Trinity Christian Centre.
To his surprise, he saw the name of an ex-colleague on the big screen. He texted her and met up with her after the service.
"She told me that she had been praying for me to come to church."
Bernard was shocked. He called his fiancé who was then living in the Philippines, and told her: "It's very strange. These things are happening to me."
His fiancé, a Christian and a Filipino national, asked: "Do you believe in God now?"
"I told her, 'I don't think I cannot believe'," Bernard said. "I accepted Jesus that day. After 44 years in the wilderness, God led me back to Him."
The way to a new home
Soon after, Bernard's fiancé Kathleen left her home country and her job to marry him. Three children followed in succession. Bernard became the sole bread winner, supporting his family and his mother.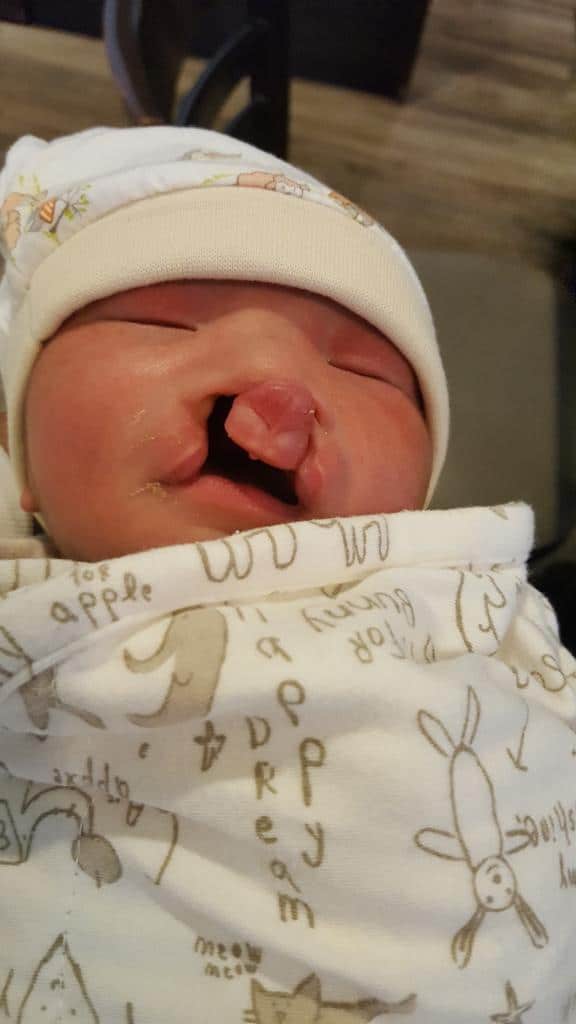 "We were not very good stewards of money. We loved parties, children's parties, travelling. We spent beyond our means.
"The drain on finances was quite fast. I ended up in the red. But we have since learnt our lesson."
Nearly S$100,000 in debt, the family lived in fear of creditors. "Even if I worked my whole life, there was no way I could clear that debt."
Each time Bernard went for a run, he would pray that he could "get out of the bondage of financial chains".
On one such occasion, God gave him a word: Rent.
"I asked God, 'Why would you want me to rent since I am already in the red?'
"Then, a second word came: Leave."
In obedience, Bernard began his search for a place to rent while putting his own apartment up for rent.
"After half a year of hunting, we found this place. When we stepped into the house, we felt peace. We felt it was the house God wanted for us."
"We believe we have a mission to bring peace to the place."  
But the rent was more than what the rent on their own apartment could fetch. They knew they could not afford the place.
"But we told our property agent to negotiate with the owner. The last tenant had paid S$3,500. We were asking for the owner to accept S$3,000.
"We told our agent that we would stand outside the house and pray while she went in."
The owner took two days to consider the offer and came back with a reply that shocked the Kees. Not only did he accept their offer, he lowered the rent to S$2,900.
Now came the task of renting out their own apartment. The offers came but husband and wife did not feel comfortable letting out their home to people who wanted to set up altars to different religions.
So, they held out. Then, unexpectedly, they received an offer of S$3,500 for their apartment, well above the amount they had expected. The extra money went into paying off their massive debt.
"We honoured God and God honoured us with a higher lease amount."
As the family lived in their new rental home in Kelulut Hill, Bernard started to see why he was led to the place.
Because the space was far bigger than their old home, they were able to host their cell group meeting every week. The Kees also made friends with their neighbours.
"Since we moved in, our neighbours have been gathering outside their homes to chat with each other, which was not the case before.
"Everyone knows we are Christians and we hope to share the Gospel with them. We believe we have a mission to bring peace to the place."  
When the time came to renew their lease after two years, their landlord lowered the rent by S$200 even as rental rates were rising.
"It was a sign for us to stay on."
The God who provides
In March 2021, three years after moving into the rental house, Bernard was retrenched from his job in business development at a hotel data company and told to pack up his belongings that same day.
"God never failed to watch over me."
"I was quite devastated. I had worked in the company for six years."
But outwardly, he remained calm – so calm, in fact, that his boss asked him how he could maintain his composure in the face of such news.
"I had been praying for him. So, I told him that, had I not accepted Christ, I would not have been able to be so calm. Then, I shared my salvation story.
"He told me he would never forget our conversation. It was a prayer answered."
After he left his office for the last time, Bernard went to a cobbler nearby to pick up his wife's shoes. There, on the counter of the shop, he saw a wooden sign with the words: God will provide.
"God never failed to watch over me, be with me, show me a clear sign that He is with me," said Bernard, tearing as he spoke.
"Before I was retrenched, my company had been sold off to another company and I got some money. When I got retrenched, the payouts were more than sufficient to pay off my debt."
Losing his job, however, was no small matter.
During the time of unemployment, they started doing family devotions daily.
"I used to joke that, at that time, in my household of seven – me, my wife, our three children, my mum and my helper – my helper was the only one with a job. 
"It was a joke but a sad one."
Yet, Bernard was not left without resources. Just before he lost his job, he had sold his apartment after wrestling with the decision.
"God had told me to sell my apartment a long time ago but I resisted because, being a Singaporean, I felt that I had to own my own house."
Bernard realised that God had led him to sell his apartment so that he would have the means to support his family even without a job.
During the time of unemployment, the family got closer to one another. They started doing family devotions daily. They also shared with Bernard's mother and their helper how God had provided for them.
The God who leads
Bernard spent time seeking God for a direction as well.
"As I was running, I got the impression: Use your skills."
"We prayed, 'God, this is for Your name's sake, not for my pride.'"
He puzzled over the impression. He was sure God did not want him to return to the corporate world. So, if not the skills in business development, what skills was God referring to?
Friends who had enjoyed Bernard's cooking for years encouraged him to use his culinary skills.
"They told me, "Why don't you set up a private dining business.'"
As Bernard prayed over the suggestion, God pointed him to set up a mission field right in his home. The reason behind the rental of their Kelulut Hill home became clearer because the space was certainly large enough to accommodate the business.
Three months later in July, KeeHive was launched, offering just lunch "because we wanted to protect our time with the children and family devotions in the evening".
Despite some anxiety – "who would come during lunch?" – diners did appear.
"It was a professional shift but it was not an unfamiliar shift," said Bernard of becoming a private chef.
"I have been cooking since I was young."
"I'm praying that, one day, in our dining area, someone will receive salvation."
Business was brisk as friends and family who had tasted his cooking for years spread the word.
But two weeks in, dining in numbers were reduced from five to two.
"Again, we prayed, 'God, this is for Your name's sake, not for my pride so I can prove I can do very good dishes.
"God impressed on us to do delivery."
The menu had to be overhauled because dine-in dishes do not do well when packed for delivery. But good came out of it all.
"We got a lot of orders for delivery. It forced me to cook and cook. It accelerated the learning process tremendously."
When dining in numbers increased to five and reservations poured in, Bernard was ready.
"He has never stopped walking with me even though I was walking in the wilderness."
Along with his signature dishes that feature influences from his world travels and inspiration from his mother and grandmother's Hokkien cuisine, guests get to hear Bernard share about how God has worked in his life.
"Every diner will hear a testimony from me or from Kathleen. We never fail to share because this is our mission field. Their response (to our stories) is usually, 'Wow!'
"I'm praying that, one day, in our dining area, someone will receive salvation. If that happens, I will cancel the bill and offer the person a free meal."
He added: "Looking back, I can see how God has been in my life throughout. Even though I did not know Him, He already knew me.
"He has never stopped walking with me even though I was walking in the wilderness."
---
RELATED STORIES:
"If we don't exercise faith, we will never learn it": Ironman Chef Heman Tan on his riches to rags story
"Would you change your prayers?" God told a father, who went on to launch Soul Food for youths with special needs
If you have enjoyed reading Salt&Light...
We are an independent, non-profit organisation that relies on the generosity of our readers, such as yourself, to continue serving the kingdom. Every dollar donated goes directly back into our editorial coverage.
Would you consider partnering with us in our kingdom work by supporting us financially, either as a one-off donation, or a recurring pledge?
Support Salt&Light