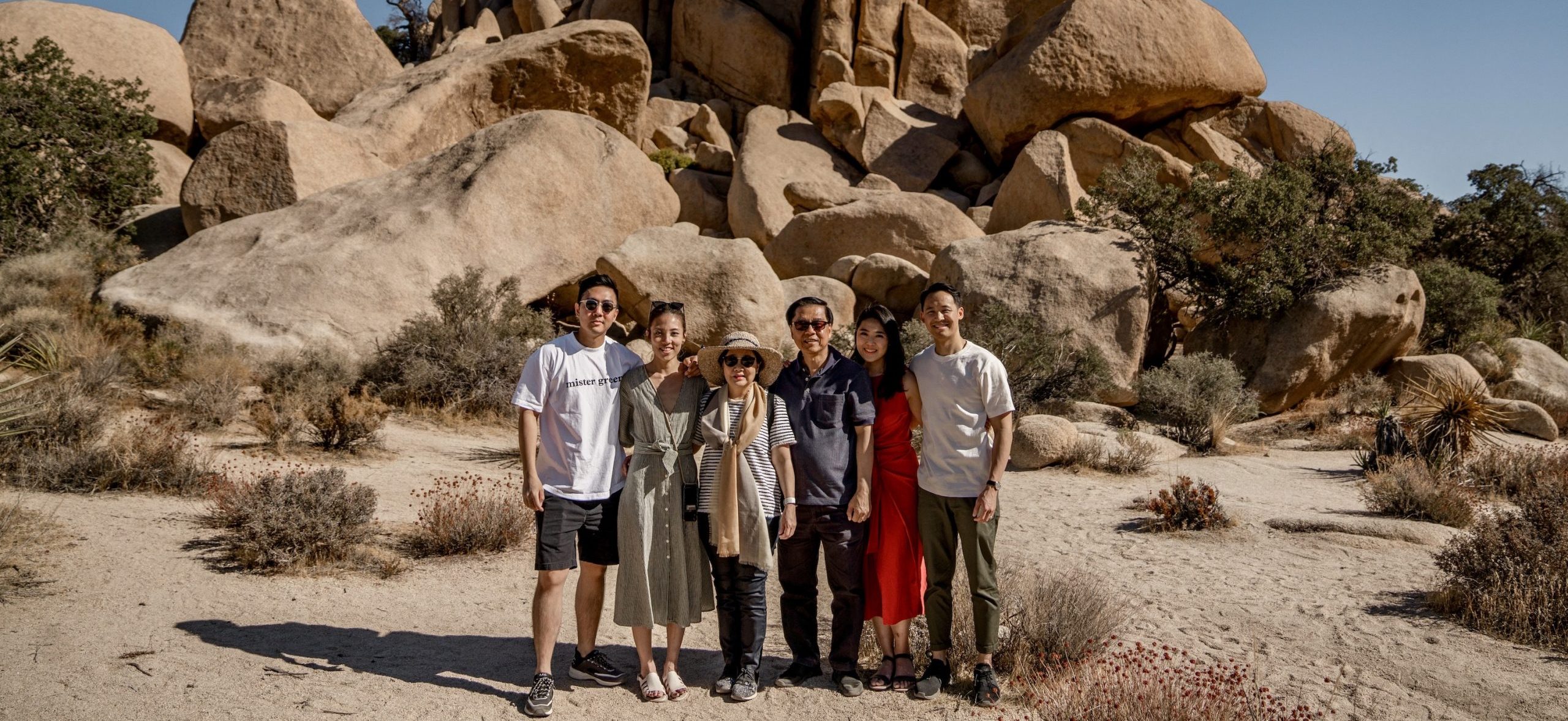 The opening of Vaccinated Travel Lanes is heartening but they are not out of the woods yet, say Yvonne Low and her husband Low Eng Loo (centre), pictured here with their two children and their spouses in this photo from October 2019 at Joshua Tree National Park, California. All photos courtesy of Yvonne Low and The Traveller DMC.
"Pah-pah-pah-pah-pah-pah!"
It was not the sound of fireworks going off during Chinese New Year, January 2020, the last cultural celebration for Singapore without masks and safe-distancing measures for a long while.
It was the sound Yvonne Low, owner of a destination management company, made to illustrate the non-stop travel cancellations that came in from ASEAN, north Asia, Taiwan and Hong Kong during that time – followed by the rest of the world.
It would only be a matter of time before the sound would describe international border after international border slamming shut.
A mysterious coronavirus, which had yet to be given an official name, had sent Wuhan, its city of origin, into a lockdown, and had already brushed Singapore in its rampage around the world. 
Yvonne, her husband, and a sister-in-Christ own and head The Traveller DMC in Singapore and Malaysia. The Traveller organises customised itineraries for premium groups of travellers. Their branch in Malaysia is additionally helmed by Yvonne's niece.
"We could not foresee when international travel could return. And every day we asked ourselves 'When?'"
By March 2020, Covid sucked dry international travel and large-scale gatherings that were the mainstay of Yvonne's agency of 15 years. About 60% of their business is in MICE (meetings, incentives, conventions and exhibitions).
"It is like the buildings you have built suddenly collapsed before your eyes," Yvonne, who has now been in the travel industry for 40 of her 61 years, told Salt&Light.
It was just the start of the roller-coaster ride into a dark tunnel, of which no-one could see an end.
The recent gradual re-opening of borders with Singapore's Vaccinated Travel Lanes (VTL) scheme, has certainly been the brightest light so far, after uncountable start-stop efforts of travel bubbles with different countries.
Covid-vaccinated travellers from Germany and Brunei were the first to land in Singapore without quarantine under this scheme on September 8, 2021.
Now, 22 long months after Yvonne's first inkling of trouble, the travel industry is not yet out of the dark.
Countries are again re-tightening restrictions to contain surges in Covid infections.
Covid's fury has forced many tourism-related businesses to pull down their shutters or go into hibernation. 
Hers is one of the few left standing.
Yvonne's only certainty is: "Only God is in control."
Cancel, cancel, cancel
Yvonne recalled the first sign of trouble.
"It was cancel, cancel, cancel. Refund, refund, refund," she said on returning all deposits to overseas agents at their request. 
"We did not charge a single cent for the cancellations.
"We believe in a long-term relationship with our agents, and this was something not in their control," she said.
"Our Singapore hoteliers and attractions were also very gracious. And, also because of our good standing with them, they willingly cancelled our bookings without any penalty."
The Traveller, a mid-sized destination management agency was a David, blessed with large client accounts comparable to the Goliaths in Singapore and Malaysia. Her company was among the top business generators for hotels and attractions.
For 14 consecutive years (2007- 2021), they were given the Best Inbound Travel Award by readers and editors of luxury title, Singapore Tatler. 
"We were so thankful they had no fear. They enjoyed themselves so much, they gave a solid thumbs up for the experience."
The company experienced one last saving grace before the borders closed: A visit from a group of 200 wealthy seniors from France on a round-the-world charter flight. Many were on crutches and in wheelchairs. 
"They were out to have the best holiday of their life. I had expected them to cancel like everyone else," she said. 
By that time, the airport and attractions were nearly empty. The normally heaving Universal Studios on Sentosa was like a ghost town. 
"We were so thankful they had no fear. They enjoyed themselves so much, they gave a solid thumbs up for the experience," she said of their Singapore sojourn, which included a private dinner at the SEA Aquarium against a kaleidoscope of sharks, rays and giant fish.
The group went on to two more destinations before returning home to France where they quarantined safely. 
"Because of that group, our energy, our spirit, was very positive. We were not thinking of what would happen in March.
"I felt that they were really God-sent. As I reflected on it, I saw that God's provisions would tide us through."
No end in sight
But as business ground to a screeching halt, "we were feeling helpless and hopeless", she confessed.
From March 2020, sales were nil. 
"None of the previous recessions or crises can compare with the magnitude of what we were experiencing," she said in June 2020, when she first spoke with Salt&Light.
The travel veteran had weathered conflict and catastrophes over the decades that have shaken global travel – 9/11 in 2001, SARS (Severe Acute Respiratory Syndrome) in 2003 and the economic meltdown of 2008.
But none were as devastating as Covid.
"SARS did not last as long as the current situation we are in.
"During SARS, international borders were not closed. While there was a fear of contracting SARS, most people carried on travelling and the travel business did not come to a complete standstill like today."
"Zero sales plus fixed monthly expenses equals financial losses over an indefinite amount of time."
Yvonne, then a salaried manager who answered to the company's shareholders, recalled the "scars and pain" of having to restructure and retrench staff during the early 2000s.
"But the situation was nowhere as dire as today. 
"With Covid, we cannot foresee when international travel  – for business and leisure – will return. We ask ourselves 'When?' every day," she said in June 2020. 
"Only God knows the timing," she said.
As business owners in the season of Covid, Yvonne and husband were "Mama and Papa" to some 50 staff in Singapore and Malaysia combined. Many had been with the company since its founding.
How would they sustain their operations, and could they afford to keep everyone on staff? 
"Look at the formula: Zero sales plus fixed monthly expenses equals financial losses over an indefinite amount of time," said Yvonne.
"While we can implement ways to reduce financial losses and project how long we are able to withstand such losses, there isn't an end in sight.
"Cell group friends and family played a big part in praying, rallying around me and building my faith in the thick of Covid."
"Amid industry news of pay cuts, retrenchments, and other travel agencies closing down or going into hibernation, our team was feeling shaken – unsure what would happen next."
Papa Low Eng Loo, 65, the company's financial controller who was a former banker, advised staff to batten down the hatches and to be prudent with their funds as he knew things were going to be tough.
Papa and Mama had honest, regular and open communication with the team to provide assurance.
They tapped on the company's reserves to pay staff salaries and fixed costs amid grave uncertainties in the business. 
Staff cleared their annual leave and, over a prolonged period, went on 50% unpaid leave. 
No-one was retrenched.
The more junior staff, with greater financial commitments, resigned to take on other jobs. The couple hopes to welcome them back when the situation improves.
Her power station
The "chilli padi" as Yvonne is called by many for her fearlessness, went through a period of loss and grief. 
Faith was needed to carry on the business that she had started to carry the torch for God in the marketplace.
"Jesus Christ is the guiding light and our competitive advantage," she said, of turning to Him and biblical principles in doing business, especially when difficult decisions had to be made.
She recalled that her fearlessness came from knowing Him, and now turned to God and cried out to Him.
"As a child, I had the spirit of intimidation, feeling hopeless and loss," the youngest in a family of 13 children said. 
"But my life completely changed when I came to know the Lord at age 17. I developed a fearlessness knowing that God is always by my side in all that I am entrusted to do."
She sought prayer support from her family, close friends and her cell group. 
"They played a big part in praying, rallying around me and building my faith in the thick of Covid."
Yvonne's cell group, originally comprising members from the travel industry who attended different churches, was formed in 1997. It was a response to God's call to pray and intercede for individuals and businesses affected by the Asian Financial Crisis. 
They laboured in prayer until the crisis passed, and kept up the friendship over the decades. As like-minded people from other industries joined them, they renamed themselves Business and Industry Fellowship.
Group members have developed a great kinship and know each other's families well.
"There are anxieties, fear of the unknown, uncertainties through the industry. Those of Christian faith believe and trust in God that things will pick up stronger.
"Most of us were using this time to reskill, upgrade, innovate and learn about the digital sphere. The push from government programmes has certainly helped," she said.
Getting unstuck
Yvonne found comfort in Hebrews 11: 1, which would be her anchor verse during the most disruptive season of her life: "Now faith is the confidence in what we hope for and assurance about what we do not see."
She found comfort in beginning each day with God's Word.
She looked forward to daily online devotions from leaders of  Cornerstone Community Church during Singapore's Circuit Breaker lockdown.
"They were enriching, inspiring and practical, and so important for people like me who were going through a difficult journey.
"They were uplifting and very useful in bringing my focus back to God," she said.
"The mind was always thinking about business, business, business, planning ahead and strategising – but not knowing when we could implement our plans, and with what results."
Her mind was also overcrowded from the numerous Zoom meetings she had to attend and the information overload from the business world.
"We could get very, very stuck, and forget about God."
"The mind was always thinking about planning ahead  – but not knowing when we could implement our plans, and with what results." 
One message, in particular, resonated with her. 
It was given by Jason Wong , known for his advocacy for second chances for ex-offenders and the promotion of fatherhood. 
"He shared about Abba's love during the storm. He said, 'Just imagine Father God holding you'.
"Till today, I have this picture of Father God holding me, and feeling His Love," she told Salt&Light. "His love is so powerful."
She held fast to Philippians 4:8: "… whatever is true, whatever is noble, whatever is right, whatever is pure, whatever is lovely, whatever is admirable, if anything is excellent or praiseworthy, think about such things."
In the darkness, not knowing when international travel would resume, she took confidence from Proverbs 16:9.
"In their hearts humans – including governments – plan their course, but the Lord establishes their steps," she said
"Without God, I would have been completely shaken and broken," she said.
Prayer changed everything
"A lot of people felt sorry for me," Yvonne said of Covid's devastation on her business.
"But I felt the steadfast love of God, and felt rested and peaceful. It can only be His love.
"When I focused on God – like Peter did when walking on stormy waters – it gave me peace." 
Through prayer, she got over the grief and loss quickly. 
"Prayer changed everything.
"God shifted our focus, changed our lenses, allowing me to see beyond the financial loss.
"I told family and friends, 'If I purely look at the financial loss, I would be the most miserable person.
"When we prayed, we had supernatural faith. 
"When I focused on God – like Peter did when walking on stormy waters (Matthew 14:22-33) – it gave me peace. And I learnt to be still and trust God, one step at a time.
"I felt that God had, in a way, prepared us for bad weather like this.
"So our sense of loss turned into hearts filled with gratitude."
Rainy day reserves
The Traveller had reserves they had accumulated for a rainy day. Never did they envisage using it for the relentless assault of Covid.
"We thank God that we managed to operate on zero debt for many years," said Yvonne.
"My husband Eng Loo, our financial controller, was always prudent during good days. I am deeply grateful to him."
Operating responsibly as good stewards of monies in their care was something that had been etched into her since SARS. Now it was even more crucial during this prolonged period of uncertainty. 
"We thank God that we managed to operate on zero debt for many years."
"During one cell meeting, a member who is on fire with her passion for God had a word for me.
"She prophesied over me that I would experience supernatural favour of God, and asked me to expect something.
"I left the cell meeting feeling assured and affirmed."
Shortly afterwards, in April 2020, the Singapore Government announced the Job Support Scheme (JSS) which helped employers in certain sectors retain their local (Singapore and PR) staff. It provided up to 70% of salary support at one period. (The JSS has been tapering down as the Singapore economy opens up; it has currently been extended till December 19, 2021).
It provided some financial relief.
"Without such support, I believe that many companies, including ourselves, would not be able to sustain business operations for prolonged periods.
She saw it as the pure grace of God.
"I knelt down and thanked God for His divine favour."
Rediscovering Singapore
With no international travellers able to come through Singapore, The Traveller team tapped into their connections with local hotels and attractions and put together a collection of short weekend escapades and experiences for travel-starved people in Singapore who were getting cabin fever from working from home. 
These would be marketed under a new brand, Origin Journeys, which went live in September last year.
Domestic tourism was almost non-existent.
God not only gave wisdom and directed their steps, His timing was perfect.
They launched these experiences in time for the introduction of SingapoRediscovers Vouchers. The scheme, introduced by the Singapore Tourism Board in December 2020, gave each Singapore citizen aged 18 and above $100 to support local tourism-related businesses. 
"It was another big bonus for us," said Yvonne.
Their highs were alternated with lows as restrictions on social gatherings were tightened to stem the surge of Covid cases.  
"This has been our rice bowl," said Yvonne.
Takings have been a fraction of their B2B (business-to-business) offerings to incoming groups of international travellers in pre-Covid days.
In February this year, with a long-term view to complementing their MICE business, The Traveller also set up a new joint-venture company with Anderes Fourdy Events to manage hybrid events in the digital and real world. 
In April 2021, to trim expenses, The Traveller in Singapore moved to a smaller office; they currently are at one-third of their original staff strength.
"Honestly, without God, we would be robbed of joy and peace, with such harsh Covid conditions on our business," Yvonne said.
Flying during the season of pause
Recently, Yvonne shared with her cell group how this season of waiting has changed her.  
Pre-Covid, she had been working so hard that she missed enjoying her youth.
"Now God has given me a good taste of what retirement is like."
No overseas travelling meant that she could attend cell group more regularly and sign up for other classes that have enhanced her spiritual growth and given her a deeper walk with God.
"I desire a greater spiritual maturity and hope to share my faith boldly."
She has had quality time with family and friends, and also leads a healthier lifestyle.
"I never used to walk 7km. Now I do that four, five times a week."
Having dinner at the regular hour of 6pm has also healed her of acid reflux. 
"I am ready to work another 10 years at a manageable pace.
"I feel my body, soul and spirit has been enriched.
"I feel I have a changed life with the change in my priorities."
As the skies open
"The news of the Vaccinated Travel Lanes (VTL) was very welcome and assuring, especially since the first announcement for Germany," said Yvonne.
"Thankfully with our staff structure in place, we could leverage on the VTL opening straight away.
"We had many excited European operators making enquiries about using Singapore as a hub before going on to other Asian countries."
This week's news that India and Malaysia have been added to the VTL scheme have buoyed the team.
Travellers from India, Malaysia and Indonesia start entering Singapore this Monday, November 29, without the need to quarantine.
"It is a very positive signal. Praise God!" Yvonne said, adding that the team has been busy responding to enquiries and bookings from these and other countries.
"It is like we are crawling out of the dark tunnel, seeing a bright light."
India, in particular, holds a special place in their hearts.
Blessed especially by the family travel and corporate groups from India over the years, The Traveller in turn has been a supporter of the Telugu ministry at Yvonne's church.
"We were thinking that India would be the last country to open. We were so elated. It was unexpected that it came so soon."
Activity in the office is intensifying as Singaporeans also rush to make use of their SingapoRediscovers Vouchers before they expire at the end of this year. (Click here on how to use SRVs on experiences from Origin Journeys).
Their business-to-consumer platform, Origin Journeys, born during Covid, is also gearing up to offer outbound tours to countries like Malaysia, Australia, Sri Lanka and India next year.
"It is like we are crawling out of the dark tunnel, seeing a bright light," said Yvonne.
Still, they are not yet out of the woods.
"Opening of travel borders will be gradual. We are not anticipating a sudden pick up in international tourists visiting Singapore."
Realistically, Covid is not yet over, she stressed.
"VTL is not an immediate solution. It will take a long while more for business to get back to pre-pandemic levels. A lot of people have had their incomes affected.
"But I have the blessed assurance knowing we will get through; we are patient but hopeful."
---
RELATED STORIES:
How author Emily Lim and friends wrote an e-book in 3 weeks for children recovering from Covid at home
"Unless we look after others, we cannot get out of this crisis": CEO Arthur Kiong on running a business amidst Covid
Her darkest moments prepared F&B CEO Jocelyn Chng to steer through COVID-19
If you have enjoyed reading Salt&Light...
We are an independent, non-profit organisation that relies on the generosity of our readers, such as yourself, to continue serving the kingdom. Every dollar donated goes directly back into our editorial coverage.
Would you consider partnering with us in our kingdom work by supporting us financially, either as a one-off donation, or a recurring pledge?
Support Salt&Light