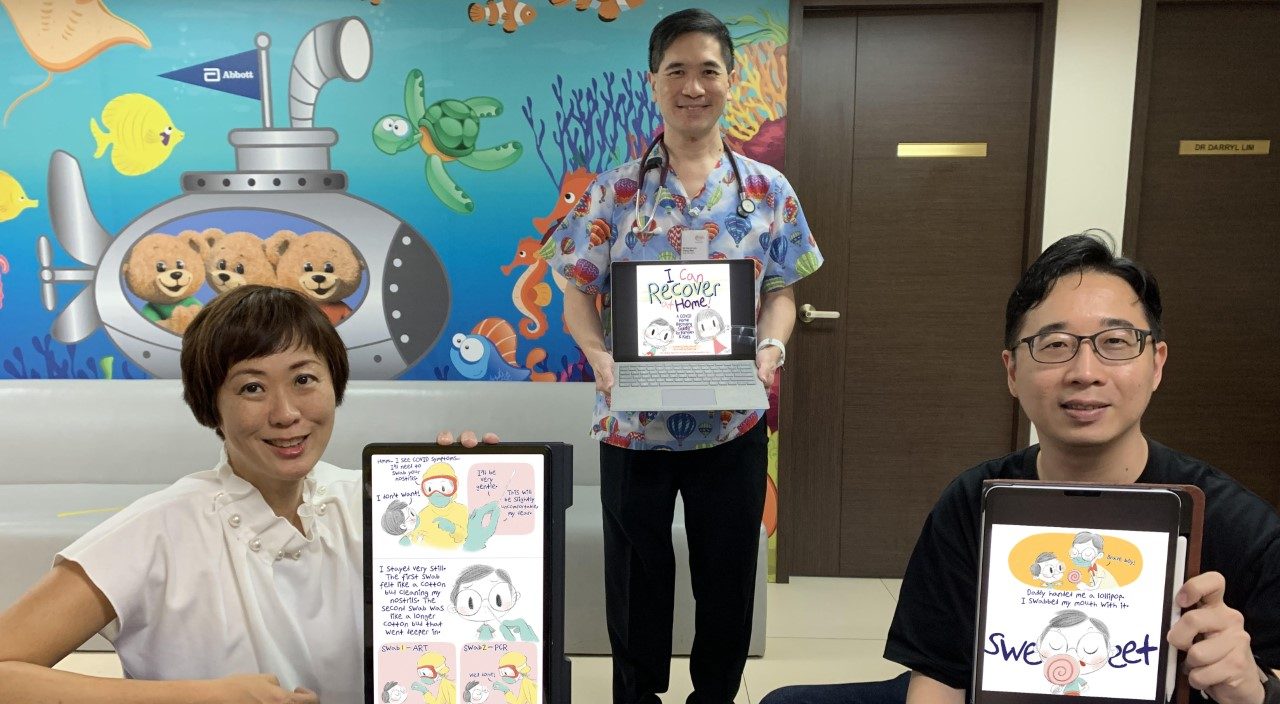 (From left to right) Children's author Emily Lim-Leh, paediatrician Dr Darryl Lim and illustrator Josef Lee barely knew each other when they started producing the free e-book, I Can Recover at Home. All photos courtesy of Emily Lim-Leh.
"If my child under 12 years of age shows Covid-19 symptoms, what do I do next?"
"How can I prevent my child from spreading the virus to other family members when he is in home isolation?"
Covid-positive children isolating in their rooms at home have their own pressing questions too. Like "What happens if I need to go to the toilet?"
These questions are answered in a free e-book I Can Recover at Home.
It was written by Emily Lim-Leh, 50, the children's author behind award-winning Prince Bear & Pauper Bear. Illustrations were by artist Josef Lee, 42.
Within the first three days of its launch on Sunday November 14, I Can Recover at Home had been downloaded more than 10,000 times. 
Minister of Health, Mr Ong Ye Kung, mentioned it on his Facebook and Instagram pages.
"Friends were receiving multiple copies (of the e-book) in their parent and church chatgroups," said Emily.
A parent of a Covid-positive eight-year-old child shared how reading the e-book "stopped us from all the panic". 
The Chinese version will be available from today (Friday, November 26).
Both English and Chinese versions can be downloaded from Emily's blogsite. It will be rolled out in more languages soon.
Some parents thought the doctors were scam callers
Home recovery first became the default care arrangement for Covid-positive children ages five to 11 on October 10. The minimum age was further lowered to three years a month later.
These children will undergo a telemedicine assessment by a community or hospital paediatrician to determine their suitability for the Home Recovery Programme (HRP).
(Infants and children from three months old to under three years of age will also be allowed to recover at home, after they have been clinically assessed at hospitals.)
A minority of children with more serious symptoms are taken to the Children's Emergency departments at various hospitals in an ambulance for further assessment.
The book was the brainchild of Dr Darryl Lim who leads the voluntary initiative that provides the telemedicine assessment of Covid-positive children via WhatsApp video calls. Dr Lim is a consultant paediatrician at Kinder Clinic in Mount Alvernia Hospital. 
The initiative started at the beginning of October.
The paediatricians found that parents were confused about what to do and how to reach out for additional help after the consultation ended.
Some parents even thought that the doctors were scam callers. 
There were also no online resources tailored for Covid-positive children in Singapore. 
"It would help my team of paediatricians accomplish our job more smoothly if families knew what to expect on HRP, including our telemedicine consults," Dr Lim said.
He also noted: "Some kids (and parents) were fearful of being conveyed into hospital when we felt it was necessary for physical examination by our colleagues." 
Dr Lim came up with the idea of a simple booklet with pictures that would appeal to parents and children and guide them on what to expect during the home recovery process.
He sent a text message in mid-October to Emily, explaining the idea. Dr Lim was a fan of her books, and was paediatrician of Emily's son six years ago.
All in three weeks
Emily, who has written more than 40 children's titles to date, shared Dr Lim's sense of urgency in wanting to get such a booklet into the hands of children and families.
She usually takes six to nine months to develop a picture book.
But Emily wrote her first draft manuscript for the e-book in three days. The e-book was completed in three weeks. 
She had no prior experience in communicating medical information.
The creation process for the book was the most unusual and intense one she has encountered so far.
Her first challenge was finding an illustrator who would be able to work fast, and willing to take on the project pro-bono.
Josef's was the only name which came to mind.
She had seen on Facebook his picture-story tributes to healthcare workers, teachers and migrant workers for their efforts during the pandemic, and had filed his name as someone she would like to work with. 
Inspired by his example, she had wondered how she, too, could use her talent in writing to benefit and encourage others amidst the ongoing pandemic.
She also liked his "retro-comics" illustration style of using only a few colours.
The secret petitions of Emily's heart were answered in the e-book project. 
After receiving Dr Lim's message, Emily reached out to Josef via Facebook Messenger, meaning to introduce the two, and asking them to work on the book together as Josef was an author as well as an illustrator.
"It became clearer that God brought Darryl, Josef and me together to create this book for a time like this."
Emily had been hesitant about contributing directly to the project.
"It was an urgent and important undertaking and I wasn't confident of proceeding without God's enabling," she explained.
Yet, it did not sit well that she was about to hand over a project, which Dr Lim had approached to do, to someone she did not know.
Emily sought God's direction during her morning quiet time.
"If Josef responded positively and asked to collaborate, that was the sign that we would proceed on this project together," she decided.
She got her answer when her quiet time ended. 
Normally, Josef would have preferred to create children's books on his own. This time, however, he felt that Emily should write, and he would illustrate, to complete the e-book in the shortest time possible.
The team of three began working full steam on the project – just one day after Dr Lim had first shared the idea with Emily.
"As we worked on this book project, it became clearer and clearer that God brought Darryl, Josef and me together to create this book for a time like this.
"Although we didn't exactly know each other, we worked together in one spirit through it all," Emily said.
God's invisible hand
In a typical book production process, an author would complete the manuscript before handing it to an editor.
The edited copy of the draft would then get passed to the illustrator.
"In our case, I was handing incomplete manuscript drafts to Josef who would proceed to sketch pages," Emily shared.
"Josef and I were both running independently yet interdependently, as if an invisible hand was bringing it all together."
They used full-page pictures and comic book panels to engage children yet convey crucial information. 
Up till a year ago, both Josef and Emily had mostly produced picture books. It happened that both of them only started experimenting with the comic book style just before their e-book collaboration.
To help children better identify with the narrative in the e-book, Emily told the story using words like "I" and "we". 
Emily had always preferred writing from the third-person point of view. But so happened to be trying to write a new children's book series from the first-person perspective when the e-book project landed in her hands.
"God's invisible hand behind this project prepared me to speed-write, using the experience I had gained from two of my latest book series," said Emily.
She also saw His hand in how three people who barely knew each other worked in unity. 
Dr Lim fact-checked text and illustrations for medical accuracy at night after his clinic and hospital rounds.
"If two of you agree here on earth about anything that they ask, my Father in heaven will do it for you," she said, quoting Matthew 18:19.
From fear to hope
After the e-book was launched, Emily was reflecting upon God's guiding hand in the process when she thought of Isaiah 41:10:
"Fear not, for I am with you; be not dismayed, for I am your God; I will strengthen you, I will help you, I will uphold you with my righteous right hand."
As God exhorted His people not to be afraid, Emily had wanted to reassure the child reader who is facing the unfamiliar process of testing for Covid and having to isolate at home.
"The subject of fear was turned into a theme of clarity and hope in our little picture e-book."
The team had wanted to assure Covid-positive children: "We understand and hear your concerns, and there are people journeying through this with you."
Said Emily: "The subject of fear was turned into a theme of clarity and hope in our little picture e-book," 
Unbeknownst to Emily, Dr Lim had also put Isaiah 41:10 in his own written testimony of his role in the telemedicine initiative. (It is scheduled to be published in the December issue of the magazine of the Methodist Church of Singapore.)
"We were amazed at this coincidence, or should I say God-incidence," said Emily.
---
About I Can Recover at Home
The e-book traces a young boy's home-isolation experiences with his father.
The boy also learns the meaning of words like "isolate", and how to behave while his father (who is with him in the same room) is on video calls with his office. 
From being upset about not being able to hug his mother, the boy started looking forward to daily story-time sessions with her via video calls. 
For parents, the e-book contains practical tips on caring for a Covid-positive child and other administrative matters related to the home recovery process.
Essential hotlines and links to online resources, what to expect during telemedicine consultations, and key dates are included in easy-to-read information boxes. 
Download the free e-book in English and Chinese from the homepage of Emily Lim-Leh's blog. The download button is in the right column. 
A Malay translation is in progress, and a Tamil translation will be commencing soon.
---
RELATED STORIES:
"Help us bless migrant uncles and aunties this Deepavali!": 6-year-old and pals urge kids in video
If you have enjoyed reading Salt&Light...
We are an independent, non-profit organisation that relies on the generosity of our readers, such as yourself, to continue serving the kingdom. Every dollar donated goes directly back into our editorial coverage.
Would you consider partnering with us in our kingdom work by supporting us financially, either as a one-off donation, or a recurring pledge?
Support Salt&Light