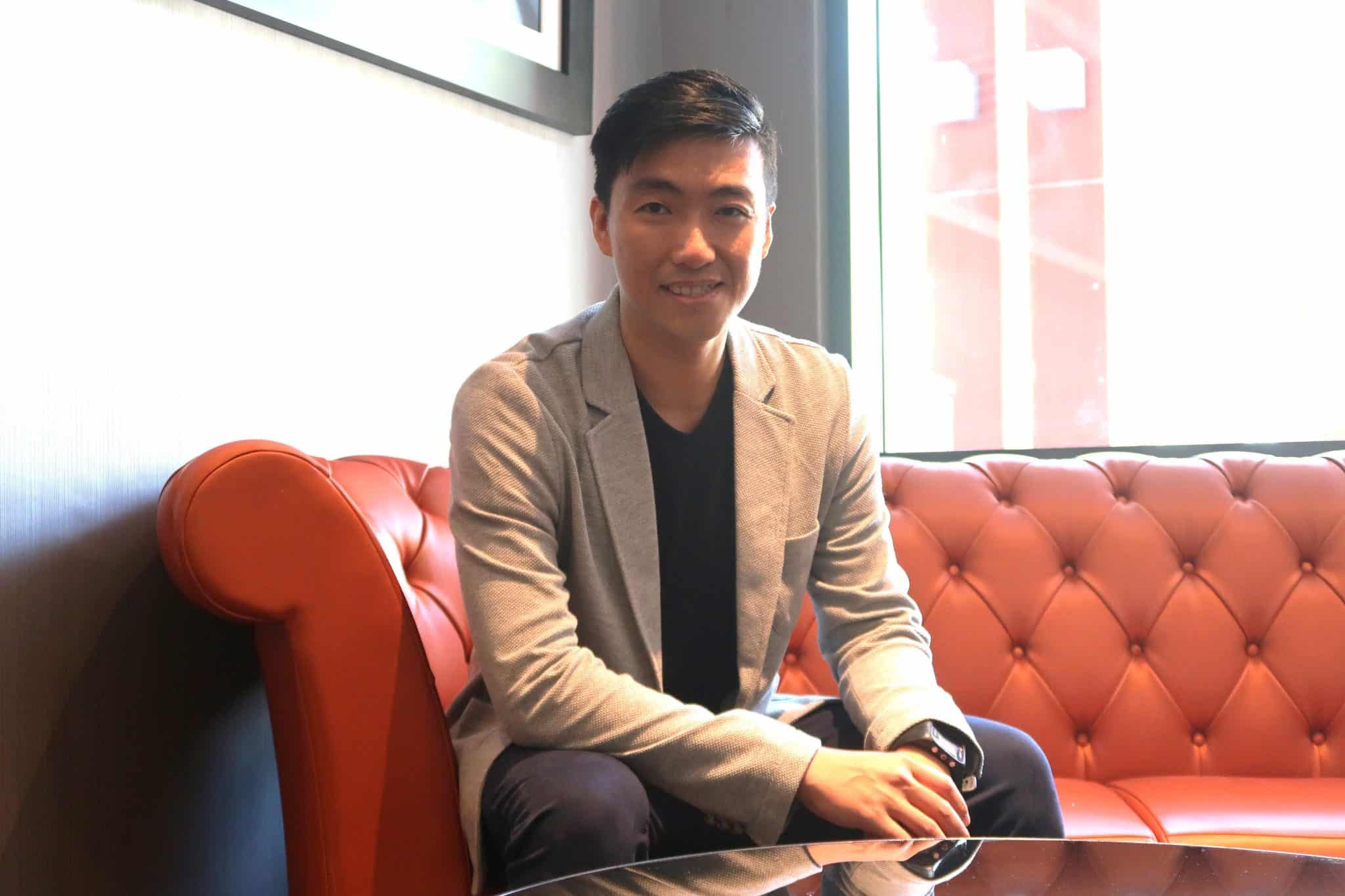 Called by God to help the poor obtain jobs, Jay Ng's start-up, WeShine, has plans to match the underserved and underprivileged in Third World countries with employers. Photos courtesy of Jay Ng.
Jay Ng thought that he had it made.
Fresh out of university with a degree in Finance, he had managed to secure a job as a trader in a leading German multinational investment bank. Work in hedge funds and a couple of businesses followed before he spent some time doing investments for a government agency.
"Before they could even pray for us, I was already crying. It was the Holy Spirit working in me."
When he won a scholarship for post-graduate studies in Finance in the United Kingdom, he felt he was at "the peak of my life". 
But life would take a completely different turn.
First, he fell very ill just as he was about to return from Cambridge with his Masters degree. It would take 10 months and four surgeries before he could be cured of his condition, complex fistula. A fistula develops when small glands just inside the anus become infected, leading to an abscess which can turn into a connection between two organs or vessels that do not usually connect. 
Then, he nearly lost his three-year-old son to an auto-immune disease.  
By the time his son recovered, Jay was both broken and broke. Not having worked for over two years, he would soon have only S$2,000 to his name.
"I started to laugh. It was the joy that I'm a real sinner yet God can forgive me."
So, when he was invited to join Alpha by his friend, he agreed even though he had once been quite against the exclusivity of "the Christian club".
By the end of the Alpha course, at a retreat, God changed Jay's life. 
"Before they could even pray for us, I was already crying. I kept running to the toilet because I was wondering: Why am I crying? A man cannot cry so much. It was the Holy Spirit working in me.
"I was repenting. Then, I started to laugh. It was the joy that I'm a real sinner yet God can forgive me. Wow, a sinner like me."
God was just beginning to work in Jay.
Joy in obedience
Very soon, Jay would find himself prompted to go up to strangers to pray for them or tell them that God loved them. God even told him to message an old friend who had used his name to cheat people. Jay was to say that he had forgiven him.
"It was so awkward but I did it."
In obeying God in these small things, Jay discovered that there was joy in obedience. It was a lesson he needed to learn because of the path God would be leading him.
Just as Covid-19 was beginning to race across the globe, God asked him to leave his job.
Still jobless then, he had "never been as contented" in his life despite a very depleted bank account.
"The first verse God ever gave me was Jeremiah 29:11. I was contented because I was holding on to God's promises and His plans."
At the end of 2018, Jay was offered a job with a fintech start-up by his friend. Jay believed the job was the result of "divine leading". It would mark the start of a very good season in his life. His finances were restored and he learnt how to be a Christian in the workplace.
He also had the opportunity, prompted by God, to share his story of healing with the friend who had given him the job. He served actively in his church as well as in marketplace ministries.
Jay thought he would work at the start-up for at least another decade. But in 2020, just as Covid-19 was beginning to race across the globe, God asked him to leave his job.
From obedience to faith
Jay struggled to obey. His family had just found their footing after so much upheaval. He was not sure they would be ready for more changes.
But over three months, God continued to prompt him.
God told me: "You have been quite obedient. Now is the time to build up your faith."
"God asked me, 'Do you love Me more than your security, income and reputation?' I said, "I love You more.'
"During cell group, God reminded us as couple of the very first verse He had given us – Jeremiah 29:11. He said, 'Do you trust that My plan for you continues to be the same plan?'
"Then, through a Bible Study session with an elder, we were brought to the story of Abraham and how he told his servant he would come back with Isaac (Genesis 22:5). God told me, 'You have been quite obedient. Now is the time to build up your faith.'
"With these three incidents, I told God I would lay down everything."
One day, while jogging, God gave Jay three words: Jobs for poor.
"I got a shock. As a finance guy, I don't know about jobs and I don't know about the poor."
To assure him, God gave both Jay and his wife, Cheong Hui Sian, the same passage about Joshua crossing the Jordan River (Joshua 3).
"God was saying it is about faith. 'You have to have the faith to cross the Jordan River with your wife and lead the people into the Promise Land.'"
With that, Jay quit his job at the fintech at the end of July 2020.
Waiting on God's business model  
He had no idea what God wanted him to do about jobs for the poor. So, he spent the time reading and attending seminars and groups to learn about Kingdom business.
"I want you to bring Christians to places where you don't typically have Christians." 
"At first, I was like okay, now that we have given everything to God, God is going to open doors, we are going to do great things. But no, it was really tough. For the next five months, I couldn't do anything."
Hui Sian was pregnant again and it was a difficult pregnancy. She was throwing up so much that she had to be confined in bed. Jay was left to care for their son and the household.
Not only did Jay not have the time to work on getting a start-up on its feet, he also had no finances to build one.
"Every time you pay your credit card bills, you feel a bit worried. But God told me, 'You give me your five loaves and two fishes, you can feed 5,000 and still have 12 baskets left over (John 6:1-14).'"
Meanwhile, God continued to extend Jay's network, leading him to people involved in helping the bottom 20% of Singapore's society. Out of that, he got invited to be part of Alliance for Action and one of his ideas developed into a non-profit initiative called Makan&Shine, a mentoring programme for the poor and marginalised.
This use of technology to build a platform to help people would become the seed for WeShine, which was envisaged as a digital platform to match people to jobs. But Jay was one man, with no help, no funds and no resources. He did have one thing, though. He had assurance from God.
"God said, 'I am your co-founder and your chairman. I want you to build businesses that are churches.'
"I didn't quite understand what He meant. Then, He said, 'Traditional churches are wonderful but I want you to do something new.
"'In the future, on top of getting people to come to church, I want you to bring Christians to every part of society, to places where you don't typically have Christians – to businesses, charities, governments.
"I had the money on the table yet I had to reject it. That was another level of obedience for us."
"'That's how you can bring the Gospel to the ends of the nation (Acts 1:8). And when you make money, use it to support ministries and churches, and para-churches.' That was the direction of the business I was supposed to build."
In addition, God told Jay that He did not want him to build a start-up the way the world does. That meant that even though Jay knew the strategies and steps involved in getting a start-up going, he had to unlearn everything.
On more than one occasion, investors expressed interest in WeShine but when Jay prayed, he did not receive a green light to take the money.
"There was an angel investor who offered me S$180,000. I had no income for quite a while and my savings were already depleted. I had no money to pay for my HDB mortgage anymore. So, I had to defer the payment.
"That night when I prayed, God said, 'No.' I got a glimpse of what it was like for Jesus to be brought into the wilderness for 40 days just because He followed the Father. He was very hungry and Satan comes to tempt him (Matthew 4:1-11).
"That was how I felt. No money, no people. I had the money on the table yet I had to reject it. That was another level of obedience for us."
No money, no resources, but he had God
By the end of 2021, Jay was "doing so many things but it also felt like nothing was being done" as he tried to develop an app to bring jobs to the poor. At every step, he was hampered by the lack of funds and had to put a pause on his efforts.
Meanwhile, he was led to serve in church – at Alpha, as the chairman of the adults' ministry, in the homeless ministry. God also asked him to join Ellel Ministries.
"God was asking me to work in His rhythm. So many times, I told Him I couldn't carry on. It was too tough for us. This wilderness journey was just too much yet I could not run away. I told Him at least five times."
Jay was also feeling intensely alone as he worked on WeShine.
"Doing this start-up, the voice of the world is very loud. But on the other hand, the whisper of God is very gentle."
"God taught us to humbly take, humbly give."
He questioned the pace at which he was forced to work, which was counter to the speed he knew start-ups required. He wondered how a man with a good education and who once had a good career could be "down to my last dollar".
Then, one night a friend messaged Jay to tell him that God had asked him to give Jay a sum of money.
"That night, I learnt that taking money can sometimes be harder or as hard as giving money.
"It almost felt like being a beggar. But God taught us to humbly take, humbly give. Our faith was built up and stretched as a family."
A month later, there was another provision.
He received a five-figure cash gift from an anonymous donor when he attended Digital Mission Ventures (DMV). The accelerator and capital provider builds Southeast Asia's redemptive technology ecosystem by growing a community of founders, funders, mentors and partners.
Doing business God's way
At DMV, Jay found fellow Christian entrepreneurs who had been called by God to transform the marketplace just as he had.
"I felt not so lonely," he said.
But God wanted Jay at DMV to do more than receive. He wanted him to give a Word to his fellow entrepreneurs. He was to share with them what he had learnt – that God wanted them to do business not according to the patterns of this world but to abide in God.
"Don't ask for money. Pitch God's heart."
"If we want to build redemptive businesses, the most important thing is that the founder and the founding team have to be the spiritual core.
"Are you one with the Father? Are you leading your life and your business by the power of the Holy Spirit? He wants to build the inner man first.
"It sounds like building a ministry in the church. That was what God was teaching me in the two years."
Even as Jay presented his final pitch at DMV, he was reminded by God to do it His way.
"He said, 'Don't ask for money. Pitch God's heart.' He wanted me to say that the most important thing was people. God is always about people.
"I had to pitch in such a way that I would get investors willing to pray and discern with me, be accountability partners with me and come under God's chairmanship. It wasn't easy."
"At my current stage, God is saying, 'Trust in Me.'"
For now, there are no investors in sight. But God has urged Jay to "be still and know that He is God" (Psalm 46:10). Friends have offered love gifts and loans, unbidden and unsolicited. Jay has about S$80,000 now but, realistically, needs S$300,000 at this stage of the start-up.
God has also pivoted WeShine to target developing countries and low-income workers there.
"At this stage, I feel like Joshua walking around the Jericho wall (Joshua 6:1-27). In front of us is the battle but it is not about recruiting more army and sharpening our weapons but coming before God and consecrating ourselves before Him.
"I have gone one round, two rounds, three rounds around Jericho. By the fifth round, you wonder: Should I sharpen my weapon or recruit more army?
"At my current stage, God is saying, 'Trust in Me. Continue walking around Jericho. I will give you Jericho.' It is again faith and obedience."'
---
Check out DMV if you want to find out how you can be invovled in helping missional digital start-ups. 
---
RELATED STORIES:
"I told God, 'You can take my life but my son is too young'": A father and his toddler face death one after another
New co-working space is looking for the next Facebook to disrupt how we do missions
If you have enjoyed reading Salt&Light...
We are an independent, non-profit organisation that relies on the generosity of our readers, such as yourself, to continue serving the kingdom. Every dollar donated goes directly back into our editorial coverage.
Would you consider partnering with us in our kingdom work by supporting us financially, either as a one-off donation, or a recurring pledge?
Support Salt&Light