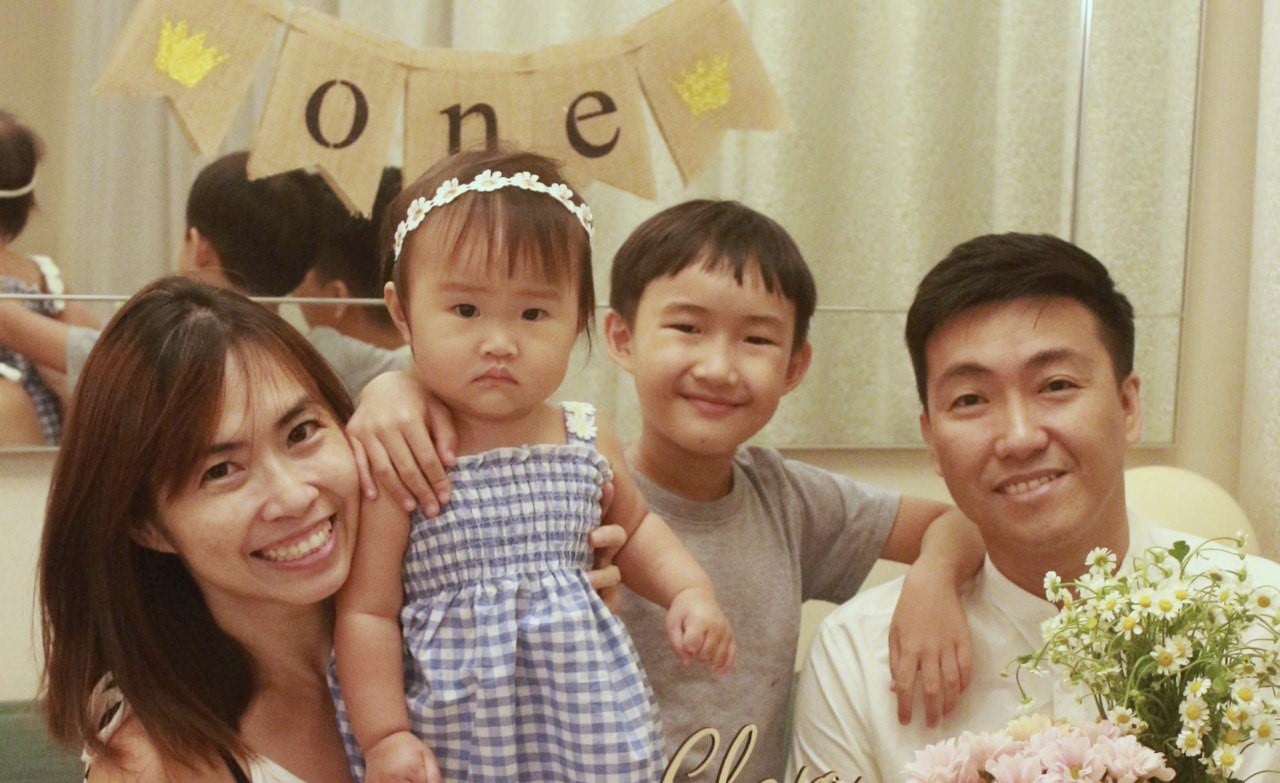 Jay Ng (right) with his wife, Cheong Hui Sian, and their children. Jay was at the peak of his life when he, and then his toddler son, fell seriously ill. All photos courtesy of Jay Ng.
In his 20s, Jay Ng was cresting wave after wave of success.
Fresh out of university with a degree in Finance, he was hired to be a trader by a leading German multinational investment bank. It was 2007 and this was a job all his peers coveted.
"I thought I would come back and continue to do great achievements."
"That was the stage when I was chasing wealth and achievements. I was trying to become a millionaire before 35. I thought I could take over the world," said Jay, now 39.
A career in hedge funds and a couple of businesses followed before he spent some time doing investments for a government agency. Then, he got an even bigger break in 2016 – he won a scholarship for post-graduate studies in Finance in the United Kingdom.
"It was the peak of my life. Post-graduate studies was easy, I was on a scholarship, I had my family with me and I was in Cambridge, which was a beautiful city.
"I thought that after I did my Masters, I would come back and continue to do great achievements."
But things turned out quite differently and Jay would find himself fighting for his life and that of his toddler's.
Pain like never before
Two months before Jay was due to graduate, he suddenly fell very sick while on a holiday with his family in Barcelona, Spain. On the last day of the trip, there was an excruciating, inexplicable pain in his lower back.
"The pain came very fast and suddenly. I couldn't stand, couldn't walk, couldn't move. I had to lie down."
He would later find out that he had an infection of a gland near the rectum. But this was not immediately diagnosed and the infection would, in the months that followed, spread to the rest of his body.
"The pain came very fast and suddenly. I couldn't stand, couldn't walk, couldn't move."
Jay managed to make it back to Cambridge but the pain continued to wreck his body. Access to medical help in United Kingdom for a foreign student was not readily available. So, Jay was left to guess the cause of his condition. The worst-case scenario he could imagine was cancer.
It was then that he had what he called a "deathbed experience".  As he lay incapacitated by the pain, he came to a few life-changing conclusions.
"I felt that if I were to leave this world, nothing in the physical would matter. At that time, I wasn't thinking about how much money or what kind of house I had. I was only thinking about my relationships.
"I thought: How can I be a good friend? What about my wife and my parents? I couldn't be a good father to my son if anything happened.
"Then, I looked back at my career. I was a trader. I was making money. But I was not sure it contributed positively to society. Even the nurse who attended to me was bringing me a lot of comfort."
It was during this time that God began moving in Jay's life.
God at work  
As a teenager, Jay had gone to church with classmates for "obviously not the right reasons".
"I went to meet girls," he admitted with a smile.
But as he grew older, he became critical of Christianity.
"I quite liked asking questions that Christians couldn't really answer, 'Why is it that I have to believe in your God?' People couldn't give me an answer that helped me understand salvation.
"I also thought that the Christian 'club' was very exclusive. You have to believe in Him, otherwise …"
So Jay tried the religion in which he was brought up, dabbled in occultic practices and even became an atheist.
"God was starting to work in my life."
But, as he lay ill in Cambridge, God started to bring people to pray for him. One of them was an old classmate with whom he had not been in contact for years. The classmate worked in London and happened to be in Cambridge at the time.
"God asked him to come to Cambridge to pray for me. He was like, 'No way.' But he did and so did many other people.
"God was starting to work in my life."
When Jay eventually returned to Singapore, he was in and out of A&E in the hopes of finding a cure for his condition. In two weeks, he lost 15kg.  
"It was super painful. When I injured my head in the army and required 10 stitches, the pain level was a 5 or 6. This was a 7 or 8. And it went on from morning to night.
"I found out later that there was pus inside and the pus couldn't find a way out of the body. So it was tunnelling inside me.
"Towards the end, I had a bit of blood infection that could have been dangerous."
A vision of healing
Jay underwent two surgeries. When both failed, he was put on a machine to treat his wounds and had to rely on a home nurse to tend to him. After five months, his doctor told him that everything that could have be done had been done. There was nothing more he could do.
"I realised that my disease was not a new one. So, why is it the doctor couldn't heal me? I felt that humans are so small.
"My heart was softened a lot through ordeals, through suffering."
"All my best efforts to gather data about my disease, talking to the best colorectal cancer doctors … But at the end of the day, the best doctors could not heal me.
"I was quite discouraged because it stretched on so long. I was still young, at the peak of my life. Then suddenly I was plunged into this.
"There must be something greater out there. And that's God. My heart was softened a lot through ordeals, through suffering."
One night, Jay was watching YouTube when he saw actor Chew Chor Meng's testimony.
"As I was watching it, I felt something pull me up. At that point I didn't know what it was. Later, I realised it was a vision.
"But I knew that that something was the Holy Spirit. As He pulled me up, I looked up and I saw this man looking at something far away. He was not looking at me or speaking to me. I recognised him as Jesus Christ.
"He seemed a little bit angry with me. I asked him, 'Will You heal me?' He didn't answer me but I was dropped and I became a baby, and floated down like a feather onto a white sheet of cloth that covered me."
In all, Jay's ordeal lasted 10 months.
Then, Jay found himself back on the couch watching the same YouTube video. That was when he realised it was not a dream. Christian friends with whom he shared his experience told him it was God at work.
Jay would see it result in a miracle in his life.
Shortly after the vision, his home nurse recommended him a specialist who would perform two surgeries on Jay that totally cured him of his condition – complex fistula.
A fistula develops when small glands just inside the anus become infected, leading to an abscess which can turn into a connection between two organs or vessels that do not usually connect. 
In all, Jay's ordeal lasted 10 months.
In spite of the miracle, he was still reluctant to return to church.
Softened by suffering
After nearly a year fighting for his life, his entire family was worn out.
They decided to organise a holiday together which included his wife and son, his sister and parents. The plan was to attend his graduation in Cambridge, then to travel in Europe.
Two weeks before the trip, his three-year-old son became deathly ill.
There was blood in his diaper. The presence of blood cells was indicative of leukemia. Tests indicated that the toddler's kidneys were at risk of failing. There were signs that the ailment might be an auto-immune disease where his body was destroying his own red blood cells.
"Overnight, we could have lost him. He turned yellow because his liver was failing. As parents, we think it is better to lose our own lives than to lose our child.
Between his studies and his illness, he had not worked for well over two years.
"I told God, 'You can take my life but my son is too young.'"
Once more, Christian friends came to support them. His son was attending a Christian preschool at the time. His teachers and the pastor of the church affiliated to the school visited Jay's son and prayed for him.
Jay and his wife, Cheong Hui Sian, were moved. Just as Jay's own illness softened his heart towards God, Hui Sian was moved to begin her own journey towards God through her son's illness.
Their son made a full recovery after two months. When friends next invited them to an Alpha introductory dinner, Jay and Hui Sian went.
"I thought, 'I don't mind going for one weekend but not for long.' When I went, the video spoke to me. So, my wife and I signed up for Alpha."
By then, Jay was already "in a very broken state". Between his studies and his illness, he had not worked for well over two years. Their bank account would soon be down to just S$2,000.
God's plan
At the third session of Alpha, Jay decided to become a Christian. A few weeks later, he had a personal encounter with the Holy Spirit during the Alpha weekend retreat.
"I started to laugh. It was the joy that I'm a real sinner yet God can forgive me."
"I went to the weekend very broken, very curious about the Holy Spirit, and with a heart that was very soft towards God.
"Before they could even pray for us, I was already crying. I kept running to the toilet because I couldn't figure out why I was crying. It was the Holy Spirit working in me. I was repenting.
"Then I started to laugh. It was the joy that I'm a real sinner yet God can forgive me. Wow, a sinner like me," recounted Jay, his voice breaking as he shared the incident.
When the couple returned from the weekend, God began to work in their lives.
"I was in the kitchen cutting an apple. God spoke to me for the first time in my life. He said, 'Your wife has not fully accepted Me.'
"My wife had gone up to be prayed for as well during the weekend. I asked God, 'So, how?'
"I was in the kitchen cutting an apple. God spoke to me for the first time in my life."
"He said, 'Leave it to Me.'"
True enough, Hui Sian had her own encounter with God. She chanced upon a Christian tract left on the table at home It was just a little booklet of six pages but she pondered over it for over three hours. 
"Then she came to me and said, 'Whatever remaining question I had in Alpha, this leaflet answered everything.'"
That very night, Hui Sian surrendered her life to God. In a mere few years, Jay's physical life was saved, and he and his wife had the opportunity to receive spiritual life everlasting.
Said Jay: "If you now look at it all through the lens of God, it is God who orchestrated all this even though I rejected Him. God had a plan."
---
Look out for the next article about how God's plan would further unfold in Jay Ng's life.
---
RELATED STORIES:
Pulled back from the brink of death, he was given a second chance
Almost dead many times over and now terminally ill, ex-journalist says: "If you have Christ, death holds no dread"
If you have enjoyed reading Salt&Light...
We are an independent, non-profit organisation that relies on the generosity of our readers, such as yourself, to continue serving the kingdom. Every dollar donated goes directly back into our editorial coverage.
Would you consider partnering with us in our kingdom work by supporting us financially, either as a one-off donation, or a recurring pledge?
Support Salt&Light