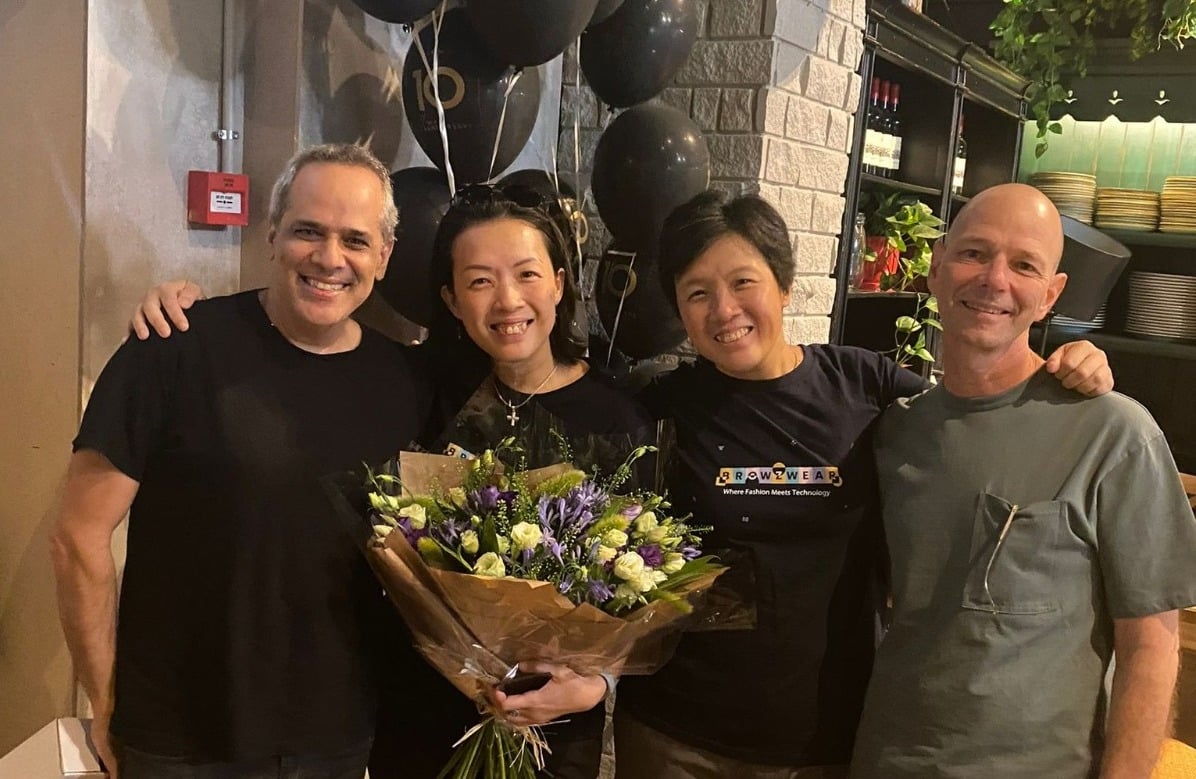 Sharon Lim (second from right) with her co-founders of Browzwear, a pioneer of 3D digital solutions for the fashion industry. All photos courtesy of Sharon Lim.
When the Asian Financial Crisis struck in 1997, it led to currency devaluations, stock market crashes and overall economic turmoil in the region, including Singapore and Indonesia.
The Indonesian rupiah collapsed and, at the peak of the crisis, was only valued at one-tenth of its previous rates.
Sharon Lim, now 51, was an entrepreneur caught in the wrong place at the wrong time. On the verge of bankruptcy and flanked by betrayals, she was driven to desperation and attempted suicide.
Yet today, she is the Co-founder and Managing Director of the fashion technology platform Browzwear that raised $35 million in its latest funding round, and an advisor at social enterprise training hub TBN Asia.
Sharon shared how God led her through those dark times and into the light of His grace on the Faith Driven Entrepreneur Asia podcast. Below is an edited excerpt of the podcast along with a follow-up from Salt&Light:
---
I'll start with who I am today: I am a beloved daughter of God, and I'm uniquely created with the desire to fix and build things.
I came to know the Lord in my twenties after a crisis. But through that crisis I learned how much I am loved by a living God. This love is what has shaped my journey.
Psalm 27:4 speaks of what it means to live with and love a God who calls me His own: "One thing I ask from the Lord, this only do I seek that I may dwell in House of the Lord all the days of my life and to gaze upon the beauty of the Lord and to seek Him in his temple."
Every time I talk about this, I share this Psalm.
How did you start as an entrepreneur?
My mother and grandmother were both really big influences on me. My mother was really the founder of the family business in electronics that grew a lot bigger than she thought it would. Before I turned 20, I was already in the business.
But somewhere in between, I decided that I was going to leave the family business. I took the licence of the franchise of a really famous snack in Singapore and brought it to Jakarta. Why Jakarta? Because, with the family business, it was pretty much home for me.
People thought I was crazy to take a brand known for its barbecued pork and go to Indonesia with it.
I knew the terrain, I knew the landscape, and so it was very natural for me.
But people thought I was crazy to take a brand known for its barbecued pork and go to Indonesia with it.
The business did really, really well. We sold to a very niche audience but I sold almost two tonnes of meat every month – beef, chicken and pork, which was one of the best sellers.
We were doing so well, I said: "Hey, let's bring in a lot more inventory. Let's expand. We know the market fits and let's just go really big in this."
From two stores, I decided to start another two. Within a year-and-a-half, we had four stores.
What changed?
The inventory also meant taking up more capital – which I didn't have – but I was doing so well, I talked to my suppliers about it. They agreed to put me on credit for six months.
That should give you your next big win, they said. But I wanted 12 months, and decided to take a loan out for the other six months.
I wanted reduced costs and all the wonderful stories on how to run business efficiently and optimise. That's what I did. I borrowed half, my vendors gave me six months' credit, and off I went.
I wish I was just left with nothing – because that would have been great.
In exactly six months, the Asian financial crisis hit.
What started out as a great idea – without having the foresight that only God has – ended up becoming my worst nightmare.
I wish I was just left with nothing – because that would have been great. But when your currency falls overnight – through no fault of yours – and you wake up the next morning with the money in the bank worth only 20% of its value, borrowed in Singapore currency that was as strong as ever … it was not a good situation to be in.
(Editor's note: Many businesses which took loans valued in US or Singapore dollars but earned their revenue in Indonesian rupiah saw repayment costs skyrocket, leading to the bankruptcy of many. The economic turmoil triggered social unrest and Indonesia's 1998 racial riots which targeted Indonesian Chinese.)
I ended up with a huge debt. One that I thought was too much for someone in her mid-twenties.
Can you share more about the impact of the Asian Financial Crisis?
During the financial crisis, I was really depressed. Because of the debts and, added to that, the betrayals from people whom I'd considered close friends.
And then there was the social chaos that was happening around the world and especially in Indonesia.
It really, really felt like the apocalypse. There didn't seem to be any future.
I suddenly understood what devaluation of money meant. My first realisation was: How do I pay back my suppliers? All my debts were in Singapore dollars, but collection was in rupiah, and money in the bank is worth almost zero.
I remember that in the first few days, people didn't even know how to react. In those days, economic growth was good. No one saw this coming.
Then very quickly – you know when you see that the money is worth nothing – there was a soaring of prices of food and everything else.
Supermarket shelves were empty. There were bomb threats several times a day. You didn't know what was going to happen to the country. It really, really felt like the apocalypse.
All this in combination made it really hard for me to look beyond the circumstances to the future. The whole situation felt hopeless. 
How did God show up?
I was at the point when I was ready to take my life.
If there was light, it wasn't light at the end of the tunnel, it was just the light of an oncoming training heading towards me.
All I could see was an oncoming train. If there was light, it wasn't light at the end of the tunnel, it was just the light of an oncoming train heading towards me.
I decided to end my life by jumping. But I was afraid of heights, so I downed some drinks to steady my nerves. I have had drinks before but this time, inexplicably, I completely blacked out after drinking. The moment I came back to consciousness, I also came to my senses.
The day I decided to end my life, the life-giving God intervened.
Following that failed attempt, He gave me incredible assurances of peace and navigated me day by day.
This divine Presence with me – in spite of all the ambiguities I still faced – was what gave me courage.
I heard Him for the first time in my life; it was a very gentle voice.
I heard Him assure me that He would be with me and that He would see me through.
This divine Presence with me – in spite of all the ambiguities I still faced – was what gave me the courage to say: "Okay, You know better. If You're going to keep me here, then You're going to have to help me. Step by step. Day by day."
I  considered myself dead already because, technically, I should have been. So, with that, I committed my life to Christ as a disciple even though everything looked really bleak. 
That surrender was also the start of my faith in Him – not in myself, not in my cause, not in my gifting, not in any of those. Just in Him.
How did He guide you?
The first decision was really to walk with the Lord.
I started to pray and read the Bible daily and I would hang on to whatever God's Word had to say to me and I would believe it.
I knew the Lord would see me out of this, so I summoned up the courage to ask my suppliers not to sue me.
God's Word was the thing encouraging, giving me promises so that I could keep going. In fact, I treasured this so much that even when I started working in another office later on, I cleaned up an unused storeroom just so that I had a place to pray and read my Bible.
My second decision: To wait on the Lord.
That lesson pretty much pulled me back from relying on my own smartness and taught me to always bring things before the Lord, knowing that He knows the future that you and I are too finite to know.
I knew that the Lord would see me out of this, so I did the next logical thing and summoned up the courage to go talk to my suppliers so that they did not sue me for defaulting on the repayment.
Whatever the outcome, things could not get any worse.
I believed it was the right thing to do and whether they said yes or no, whatever the outcome, things could not get any worse.
But they agreed! And miraculously, the largest supplier hedged the currency at 5,000 rupiah. So to keep going, all I had to do was to pay them back, although no one knew how I was going to do that.
 (Editor's note: At that time, the rupiah had already collapsed and was experiencing wild fluctuations. This was a blessing that enabled Sharon to work out and manage the repayment in instalments.)
I really felt that I needed to look for a job to keep things going. For the first time in my life, I applied for many jobs – back in those days, you still use paper and all that – but nothing opened up.
Then, months later, a friend called me and said: "Hey, you want to come over and help us?" And that's how I ended up working for Tommy Hilfiger in Panama, a country in Latin America that I didn't even know existed.
In my business, really amazing things were happening. Some friends pulled out, deciding not to invest capital for various reasons. But there were others that the Lord sent to help me during that time. We actually ended up still opening more stores, owning that business for 10 years and then reselling that business back to the principal because they saw that the market was that good.
They told me, we want to come in. So I said: Why don't you buy me out?
 And so that was what happened after 10 years.
What encouragement do you have for those going through tough times?
We are all finite, God is the only infinite point. So who better than Him to actually put the jellybeans into place? 
Hope against hope, because what else have you got to lose?
Without the Word of God, it would have been impossible to go through those times.
I should not be alive because my intent was to end it all. 
But this God whom I wasn't even close to, was willing to speak to my heart and to see me through it all. So yes, hope against hope, because what else have you got to lose?
When He gives His promises in the Bible, you hang on to it. Because He is a promise-keeping God. 
Where do you find his promises? You find His promises in His Word.
How do you know this God? Through the Bible. You will know when He speaks to you.
---
Catch the full interview of Sharon Lim and other entrepreneurs such as Grab co-founder, Anthony Tan, on the Faith Driven Entrepreneur Asia podcast. 
---
RELATED STORIES:
From start-up to unicorn: Grab co-founder Anthony Tan on what keeps him accountable
"When your employees see you, do they see Me?": God challenged Ps Judith Halim
Why would God care about a humble hawker stall in Pasir Ris? This young hawker found the answer
If you have enjoyed reading Salt&Light...
We are an independent, non-profit organisation that relies on the generosity of our readers, such as yourself, to continue serving the kingdom. Every dollar donated goes directly back into our editorial coverage.
Would you consider partnering with us in our kingdom work by supporting us financially, either as a one-off donation, or a recurring pledge?
Support Salt&Light