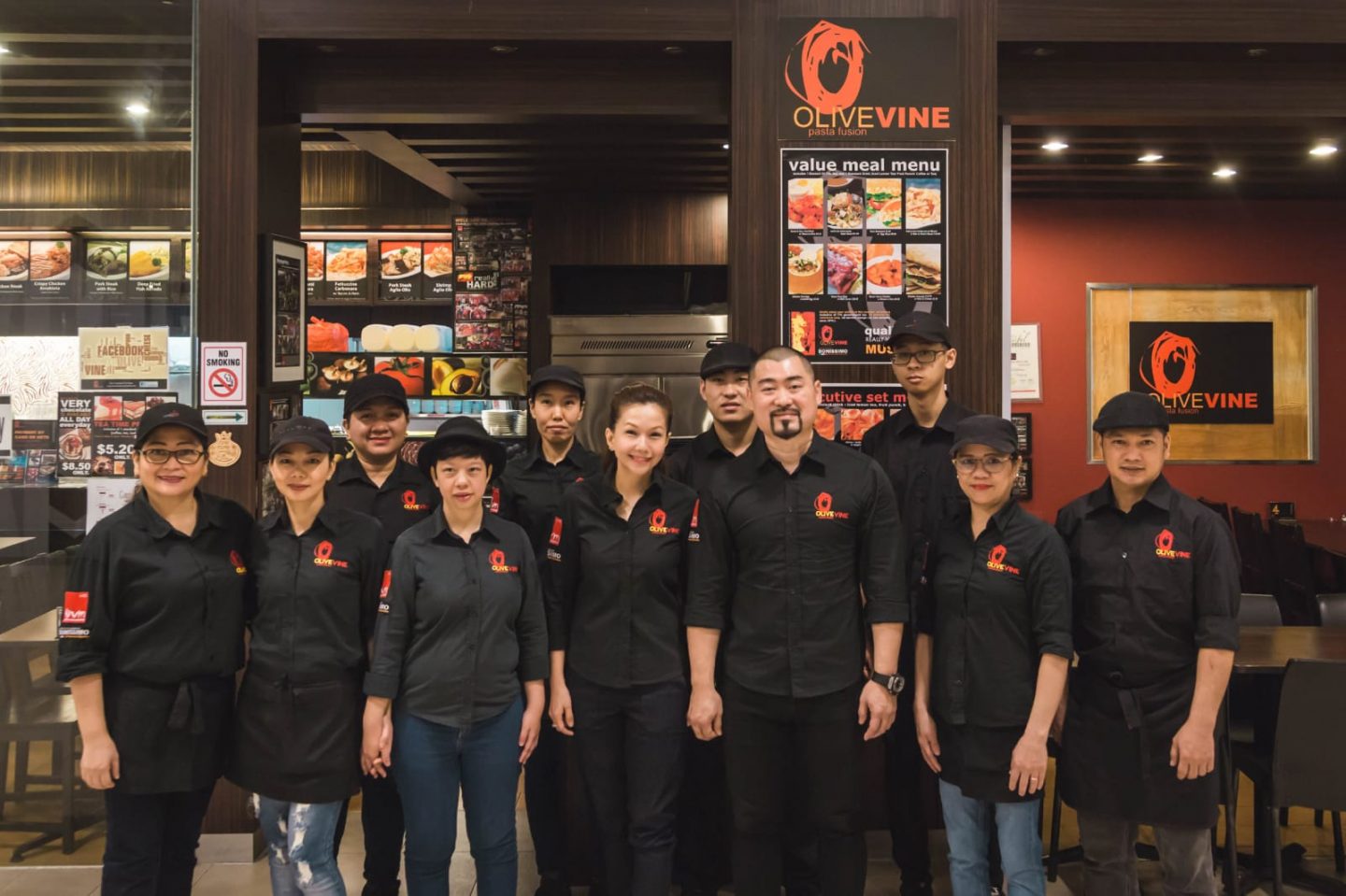 Dream team: The current staff at Olive Vine is made up of the best members of the previous outlets. All photos courtesy of Ps Judith Halim.
Pastor Judith Halim was a managing director of a company when, in December 2006, she heard God say: "Quit. Leave. Now. Do not turn back."
In obedience, she did, despite not having a clue as to where God would lead her. What followed was a harrowing rollercoaster ride of events, when Pastor Judith and her husband, Pastor Jason, would see God download to them the blueprint of a restaurant that miraculously became the top earner at a Food Junction food court despite a rocky start.
This is Part II of their incredible story of God's provision. (Read Part I here.)
Expansion, contraction
Six months after the success of their Bugis Junction stall, another stall that had sold Italian food became available in the Food Junction food court in Great World City (GWC).
The management approached Ps Judith: "The business is dead, go and make this stall come to life."
They did. And after GWC, Olive Vine went on to open a third stall in Raffles City.
Wherever they went, they blazed a trail to No. 1 on the sales charts. By then, their staff included graduates from Shatec, a culinary and hospitality school.
"That's how the business grew. But we had to be very careful. When the mission field called, when God said, 'Drop everything', we really dropped everything.
"When God said, 'Drop everything', we really dropped everything."
"Every time when I let go, the sales always went to the next high – every time, without fail."
She soon opened a restaurant along Haji Lane, another in a shophouse near Bugis Junction, as well as one in Indonesia.
The crowning glory of the Olive Vine chain, however, was her flagship restaurant in Suntec City's Sky Garden. It had a seating capacity of 200.
"At lunch time it was always full. On Saturdays and Sundays, the queue was from the shop all the way to the escalator."
But one day in 2012, the Lord said: "Enough."
"I said, 'What do you mean by 'enough'?' He said, 'Now I want you full-time.'
"I said, 'What do you mean by 'full-time'? I'm already overtime! I do business, I do ministry, do business, do ministry.'
"God said, 'More ministry now.' I said, 'All my shops, how?' God said, 'Close.' "
"That's ministry pride. I'm going to prove to you it's not you who feeds, I am the one who feeds."
It didn't make sense. Funded by Olive Vine profits, Ps Judith and Ps Jason's missions organisation, Restore Global Missions (RGM), was feeding 1,500 impoverished children in Indonesia, the Philippines, Myanmar, China and Malaysia.
She bargained: "With five restaurants, I can feed 1,500. If You give me 10 restaurants, I can feed 3,000."
"God said, 'Nice try. That's ministry pride. I'm going to prove to you it's not you who feeds, I am the one who feeds. Who do you think you are?'"
The words pierced her soul, and she came to realise God was issuing her an unrelenting call to repentance.  
"You know, when stress hits you, you become the worst person. The talk is Christian, the preaching, but 上台, 下台 (on stage, off stage) you are a different person."
She got angry easily and thought nothing of scolding vendors and her staff.
"For business people like us, it's never enough.
"You give a target, they hit the target, you raise it. They hit it again, you raise it. People become a money-making machine for us.
"That's wrong. And I learned the hard way. There was one time I kept scolding my manager, slashing her with my words until she cried. Suddenly, from here (she taps her heart), a male Voice came: 'When she sees you, does she see Me?'"
Angry words
Ps Judith was taken aback: "I got a shock."
"The second statement came: 'You continue behaving this way, such a hypocrite, beware! You may even lose your salvation.'"
Suddenly, from here (she taps her heart), a male Voice came: "When she sees you, does she see Me?"
"上台一个人, 下台另外一个人, 后台又是另外一个人, 很多人是这样的, 不怕神." (Literally: "One person on stage, another person off stage, backstage yet another person: There are many people like that who don't fear God.")
"I felt a freeze right to the core. I quickly repented. I said, 'God, no! I don't want to lose my salvation just because of this business."
His instruction was repeated: "Close down."
Huh? I repent not enough ah?
"Not enough. Close down."
How am I going to feed the children?
"I will feed. You don't be ministry proud."
She argued that she was called to be a light in the midst of the world's darkness. She reasoned that, if she was successful, she could attribute it to God's benevolence and that her glowing testimony of His blessings was much more effective than closing down.  
"I need My people to obey Me, not defend Me."
"God said, 'Since when have I needed you to defend Me? I need My people to obey Me, not defend Me. I don't even need you to worship Me! I can raise up a rock and a tree to worship Me."
Ps Judith was silenced. She mustered all her biblical knowledge, but could not think of any example of God asking a person to defend Him.
"We only think that we need to show that we are doing well, we are not sick, we are wealthy, so that our family can say, 'Oh ya, because you follow this God.'
"We are ashamed if something bad happens to us, and think: How would other Christians and non-Christians look at me?"
Ps Jason was near-death, but he affirmed: "If God asks you to close, you'd better close."
Ruthless consolidation
By not renewing the leases when they were due, Ps Judith began the process of shutting down her business. The equipment that could be sold was sold. Others were scrapped. Miraculously, even with her outlay fully factored in, Ps Judith inexplicably incurred no losses.
"In that shop I learned one thing: All that I have gained I count as loss, as compared to knowing Him."
January 2013 marked the Suntec City outlet's turn to close. "It was the most painful for me," Ps Judith shares, "because that is my pride. I entertain guests there. It's really very big."
On the last day there, with all her staff gone and the roller-shutters down, "I cried," she admits.
"I was alone in the kitchen. I cried and I sang, 'I have decided to follow Jesus. No turning back.'
"In that shop I learned one thing: All that I have gained I count as loss, as compared to knowing Him." (Philippians 3:8)
Only the Marina Square restaurant remained.
God said: "Let it open for now." It would pay their salaries and continue the feeding programme.
Ps Judith's cynical response was: "One shop, how to feed so many kids? You must be kidding me.
"The Lord said, 'I'm going to show you. You're not the one. I'm the one.'"
When loss is gain
"I don't know about all those people that always think that following Jesus is a bed of roses and they always get what they want," says Ps Judith, her eyes brilliant with the fire of a faith that's been forged by intense trial.
"It's not. There are a lot of things that you need to give up in order to gain Christ."
Even when the Olive Vine business was booming, with snaking queues at each of its five outlets, their strong balance sheet did not matter to God.
His instruction to Ps Judith to "Close!" was followed by a wielding of shears so sharp that it felt as if God were making lacerations "like to my skin", she describes, as she mock-slices her right arm with her left forefinger.
"God already has a full plan for us. We just need to faithfully walk."
But the obedience learned through suffering (Hebrews 5:8) has caused the heavenlies to immediately open "like flood gates" for Ps Judith and Ps Jason.
"The preaching, teaching, conference ministry started. Just nice. Everything closed, left this one restaurant, and then Jason was healed."
Without any initiative on their part, speaking invitations came from near and far, requiring travel to Australia, the US and Canada. All their Sundays were booked up.
Providentially, throughout the duration of the Covid-19 pandemic, RGM continued its feeding programmes without the need to raise funds externally (see sidebar).
"We also 'blur' (Singlish slang for confused): How can that happen? It has to be God."
She affirms: "Actually, God already has a full plan for us. We just need to faithfully walk. And then when we walk, things just happen – provided we are in His will. Most of us, we are not following His way but our way."
Olive Vine has been in business for 15 years now.
"I don't know how long it's going to be. Many people ask, 'So, what is your business plan? What is your business strategy?'
"I don't have a strategy. My plan is just to do my Master's will. The day He asked me to open, I opened. The day He asks me to close, I will close. I prefer to be the donkey for Jesus Christ." (Matthew 21:5)
"Every day I can see that God is real": Ps Judith Halim on God's provision
Restore Global Missions (RGM) takes care of an estimated 1,200 children currently, in the Philippines and Indonesia. Indigenous overseers are raised up from the communities, and every Saturday, Ps Judith Halim and Ps Jason Ong conduct church services online, discipling every one from the leaders to the children.
"A lot of people go, 'Wow!' But there's a lot happening before the 'wow' can happen."
"We don't just give money," Ps Judith clarifies. "In Indonesia, what you see today is the hard work of nine years to really change mindsets, transform entire communities."
"I know at every step of the way God is there and it's Him making all of it possible."
Profits from Olive Vine have been sufficient to sustain the overseas programme through the Covid-19 pandemic's many lockdowns. But that has not been Ps Judith's only experience of God's supernatural provision.
Take, for instance, the release of the remaining $20,000 earmarked for her first restaurant's opening when chemical bombs decimated two villages in Pakistan.
Ps Jason, whose ministry extended to the region at the time, asked: "How much do we have in the bank account?" followed by the instruction: "Empty it."
Ps Judith recalls: "A few days later, I opened the restaurant. Everything was not working, from the cash register to the ice machine to the fridge to the chiller. And then my chef got caught by the police and put in jail.
"I didn't know what to do. I cried and cried and cried."
Today, she laughs in retrospect. She did what she could, and survived.
There were similar episodes. Once, she had just enough to pay one round of salaries but she also needed funds for a mission trip scheduled for the month's end.
"Struggle, right?
"But," she had reasoned, "now it's only the 26th, I still have four days."
She took the money and went out into the field, hoping that Olive Vine sales would perhaps cover the business' operational needs.
While on board the plane, waiting for take-off, her friend seated a few rows away received a text from someone seeking to channel money to Ps Judith.
"The amount was exactly the salary, no less, no more – exactly. It's always like that."
Another time, Ps Judith went out to the mission field in Pontianak (West Kalimantan, Indonesia) without bringing the children's school fees. "God said, 'Just go and bring My presence'," she describes. "I said, 'They don't need me to go and preach. They need school fees, and I don't have any money for them.' "
On the second day she was there, a person unknown to her texted her and sent some money. After accounting for the exchange rate from Singapore dollars to Indonesian rupiah plus transfer fees, the amount was what was needed for a year's school fees for the children.
"At every step of the way God is there and it's Him making all of it possible.
"I'm very excited where I am. It's like walking on the sea. No form, no structure. Sometimes you fall, sometimes you get up, but you see Jesus and that keeps you going.
"Every day I can see that God is real."
---
RELATED STORIES:
"I am moved by the tears of your wife. I will heal you," Jesus told this dying man
Healed of the hurts in her life, Ps Judith Halim shares: "When you forgive, you win"
If you have enjoyed reading Salt&Light...
We are an independent, non-profit organisation that relies on the generosity of our readers, such as yourself, to continue serving the kingdom. Every dollar donated goes directly back into our editorial coverage.
Would you consider partnering with us in our kingdom work by supporting us financially, either as a one-off donation, or a recurring pledge?
Support Salt&Light