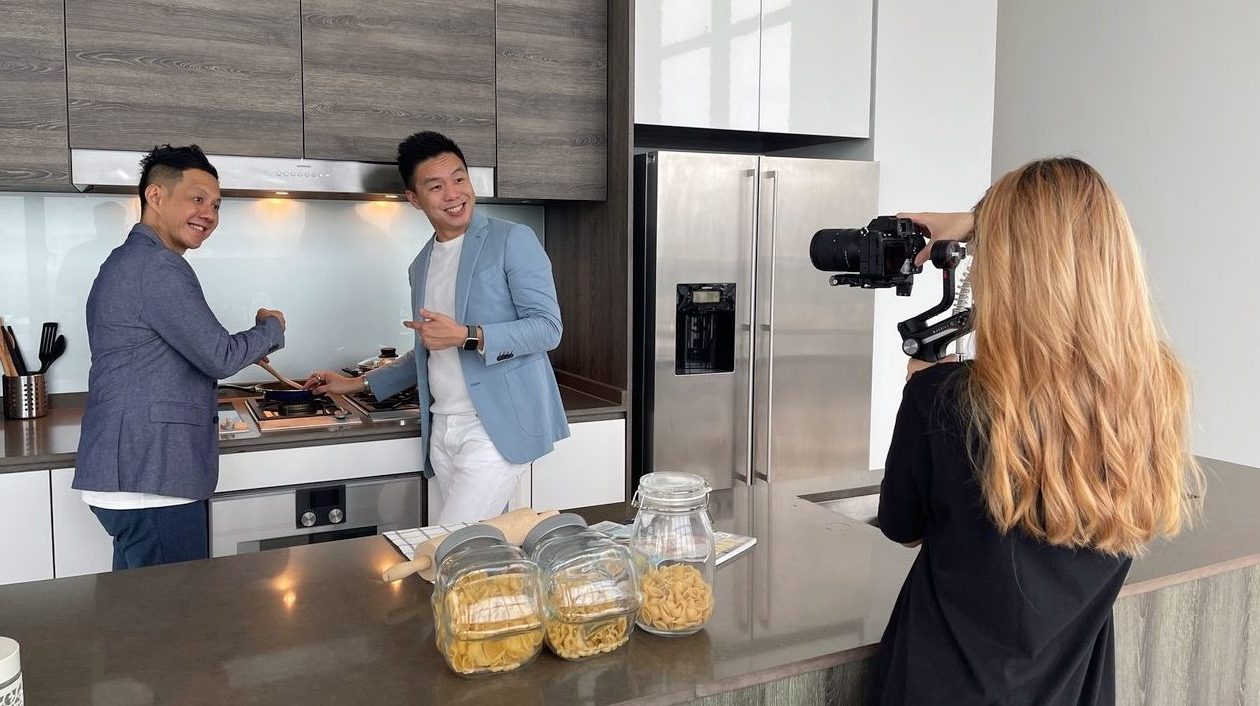 After a business mistake in 2012 drained their bank accounts to zero, property agents Melvin Lim (right) and Adrian Lim spent time with the Lord, which led to their resetting the way they looked at customers. All photos courtesy of Melvin Lim and PropertyLimBrothers.
He put on a mascot's costume for a cheese brand. Worked in 7-Eleven as a store assistant. Knocked on doors to sell Christmas cards. Waitered at banquets and restaurants. Plugged a bank's credit card at roadshows. (He was a top sales promoter.)
From the tender age of 13, Melvin Lim – the familiar face of PropertyLimBrothers, highly visible on social media for doing "live" house tours – was taking on part-time jobs to pay for things he wanted.
At age 14, he delivered Vitagen to his neighbours three times a week to pay for his first home computer. His father, the family's "hardworking and responsible" breadwinner who drove a taxi, helped by putting $500 as downpayment and taking up a hire-purchase loan on the PC. 
"Why am I created? Am I created just to earn money, pay bills and raise a family?"
"Desktops then were very expensive – about $3,000. My earnings of $150 was just enough to cover each monthly instalment," Melvin, 40, told Salt&Light. "It took me two years to clear off the loan."
Melvin is now CEO of PropertyLimBrothers (PLB).
That first home computer was the beginning of a bumpy road to co-founding the real estate media technology company with Adrian Lim (not a blood relation). They met while serving in the Singapore Prison Service as officers.
In December 2016, the pair tapped on digital technology and social media to put the property viewing experience into Singapore buyers' hands, or more specifically, their handphones and devices.
Melvin and Adrian produced their first video of a "home tour", with an agent presenting the property's unique selling points. It was far more effective than the static, standard marketing efforts of stuffing flyers into mailboxes and photo listings on property portals.
They sold the property within a month and broke their "four-year drought" after making a "business decision mistake" in 2012.
Today PLB's YouTube channel has more than 52,400 (and counting) subscribers. Its 900-plus videos made in-house have been viewed more than 49 million times. To date, the PLB team has made 475 transactions since 2019 – well above the estimated average of 12 to 20 transactions per year by a good agent.
Tuition kids
Melvin, who was named a PropNex Millionaire realtor for achieving over $1,000,000 in gross commissions in 2019 and 2020, grew up in a  medium-low income family.
When it was time to further his studies, his parents helped him get a loan from an aunt.
"I was on an instalment scheme to pay her back. I didn't take money from my parents," he said.
To fund his studies, he gave tuition to 10 kids.  "After attending class, I would take a bus – or a cab if I was late – to give tuition."
He soon met the love of his life, and their plan was to marry, buy a home and start a family early. She was a friend from junior college with whom he had reconnected. They tied the knot at age 24.
He decided to put his studies on hold in favour of full-time work which would give him a stable income.
On the first day at training camp with the Singapore Prison Service, Melvin met a fellow prison officer, Adrian Lim, who would become a good friend and later business partner and brother-in-Christ.
Prison opens a new view
Melvin's "world view" opened up while looking after inmates. There was discipline, accountability and the officers were also taught counselling skills.
"When you speak to inmates under your care, you learn about their stories, their family background," he said.
The experience opened his eyes to people "in different demographics, different life stages" in Singapore, and helped him to be "less absorbed in small, day-to-day first world problems and choices – like what to eat today". 
During his three years in the Prison Service, he and his wife bought a HDB flat and had their first of four children. He worked by day and continued his studies by night.
After earning his Bachelor of Science in banking and finance at the Singapore Institute of Management, he was offered a more senior role in the Prison Service.
But stories of real estate agents earning five-figures a month (versus his pay of $2,500), plus his talent in sales, drew him to the property industry. 
Afraid to answer his phone
Making the decision to leave his job (which paid a fixed income) for the risky commission-based one was a scary choice.
"My parents were saying, 'You've got a stable job, you've got a child, a home, why do you want to restart the whole process?'" 
He remembered a conversation with a senior officer, who asked him: "When you are older, would you regret not trying?"
Saving up six months worth of expenses he would need as a real estate agent, Melvin resigned in 2007 and joined the property business around the same time as Adrian.
"I felt very lost in the sense that I didn't know what I was working for. I found life quite meaningless." 
Other than joining forces with Adrian who had a little experience in the industry, there was no training available for new agents at that time.
Within a few years, Melvin found himself burning out.
"There was a period I was so fearful of answering my phone.
"As a real estate agent, your phone rings 24/7."
He had been working 16 hours a day, and his wife was not happy. He felt guilty that he did not see much of their children.
"I was always striving for the next commission, to close the next deal," said Melvin, who bought himself expensive watches and a luxury car.
"From childhood, I always wanted to prove to people that I have value.
"I had an inner vow that I can make it in life. I wanted to be the top producer every month.
"When I donate money to old people, is it for them? Or am I using them to earn good karma?"
"I felt very lost in the sense that I didn't know what I was working for. I found life quite meaningless." 
Melvin asked himself many questions: 
Why am I created? Am I created to earn money, pay bills and raise a family?
Why am I going to places of worship and praying the same prayer, 'Help me to have more money, help me and my family to be healthy.' It was always about me, me, me.
When I donate money to old people or buy stuff to bless them, is it for them? Or am I using them to earn good karma?
He also started asking himself: "Who created me?"
He consulted a religious text he had in his home. "There was no chapter on how the world was created. It didn't give me any answers."
Around 2011, by divine providence, he met a friend from his clique during his Secondary School years.
The friend invited Melvin to church. 
Week after week, Melvin loved the "sense of peace" and was "captivated by the message of knowing that we are God's creation".
At one service, a pastor carried a baby onstage. "Using the analogy of father-child relationships, he shared that God loves us and He chose to send His Son to die for us and save us," said Melvin.
Three months later, Melvin invited Christ into his life.
Four-year drought
"I used to be very superstitious," Melvin said, of once adhering to fengshui-related beliefs. They included "restrictions" such as only moving office on certain dates, changing the colours of the doormat every month, or placing the children's beds at an angle. ("There was even a marker to indicate the angle.")
"I had lived in a lot of fear that if I didn't do certain things, something bad might happen."
"I had done all this to make sure that the family stayed safe and business remained good. I had lived in a lot of fear that if I didn't do certain things, something bad might happen."
Within a month of accepting Christ, he cleared his home of things that were not pleasing to God.
"I felt very liberated. 
"Our God is a great God. In Christ, there is no superstition. I was no longer held bondage to these beliefs." 
On fire for God, the young believer invited his wife, his friend Adrian, and his cousins to church. They all eventually came to the Lord. 
"But there were still a lot of things we were doing in business that were not in line with God's Word.
"The way that we view the business and customers was technically not correct.
"We viewed customers as 'walking commissions'. We just wanted to close the deal. We didn't think of the implications of how we conducted business.
"But there were still a lot of things we were doing in business that were not in line with God's Word."
"All these things trickled down to how we ran the business.
"We were young and ambitious. We loved to take shortcuts to try to get ahead of the game, find ways to cut corners."
One of these shortcuts resulted in "a business decision mistake", a year after he became a Christian.
"It wasn't criminal," he clarified. But the duo was fined.
"Adrian and my bank accounts were depleted to zero."
Melvin could not pay for his car instalments for half a year.
"We wanted build the business quickly and we paid the price. The Lord chastised me.
"I remember crying in my room, and asking my wife to pray for me."
At that time, Melvin had three children. He had been in the business for six years.
"Adrian and I were considered mature agents, but we had to start from scratch.
"Both of us started from zero. It was a total reset."
They experienced "four years of drought".
Commissions were low. They also handled room rentals to fill their rice bowls.
"Both of us started from zero. It was a total reset."
His wife often asked: "Why are you at home? You got no deals?"
Yet it was a time of spiritual growth.
As Melvin took time to read the Bible and to listen to sermons, he gradually grew in the Word and drew closer to the Lord, and understood the whole salvation message.
"I became more patient as a person, and really rested in the Lord for results.
"I just told myself to be excellent for Him, and not be anxious about the outcome."
It was immaterial whether the deal closed or not. They even rejected certain deals during that time.
In those four years, they stared developing practices based on Biblical principles that would form the core values of PLB. (Check back soon for Part 2 of the PLB story).
"I told my wife, 'God is planning something big for us.'"
Home tours
The four years was also a time of realisation. 
"I felt that God wanted us to build relationships one at a time. He helped us develop the mindset to help us put people right at the top," said Melvin.
Instead of looking at customers as "walking commissions" in terms of how much each was potentially worth to them, they started putting themselves in the sellers' shoes, asking themselves: "If I am selling my biggest, most personal asset, how would I want my property agent to treat me?"
"I felt that God wanted us to build relationships one at a time. He helped us develop the mindset to help us put people right at the top."
The duo asked themselves: "What are sellers and buyers missing? What problems are they facing?"
The pair realised that the standard practice of stuffing flyers into people's mailboxes, or jostling for space among some 80,000 static listings on a property portal was "stale" and ineffective. 
Inspired by realtors in the US, the pair realised that they could bring the property viewing experience literally into people's hands or mobile devices, by tapping on the power of social media.
They put out their first video of a "home tour" with a presenter who highlighted the unique features of the property. They sold that property within a month. 
"I believe the idea of digital marketing came from God," said Melvin. And it came about when he and Adrian started looking at clients from a new perspective.
It was a customer who suggested they call themselves "Lim Brothers".
These days, their videos of home tours are around 10 to 20 minutes long – up from the 2.5 minutes of early videos. They include suggestions on how certain walls can be knocked down to create more space, and highlight the plus points of the neighbourhood. There is often a cost analysis of, for example, asking prices in the area, or a comparison of buying land and building a similar property from scratch. 
To help potential buyers visualise the possible use of space, most of the featured homes are staged with suitable furniture. That is, to show that the rooms are able to accommodate say a king-sized bed or a dining table for eight. PLB have also produced resources to help home owners declutter their homes, to create that crucial first impression.
Blessing others
Melvin, while comfortable with one-on-one selling since his early teens, had to overcome one hurdle: His fear of giving presentations.
It stemmed from a "traumatic event" – his first presentation during a Science class in Secondary One.
"I was sweating all over, my uniform was wet. My classmates laughed at me.  
"I told myself, 'Maybe I am not a person who can stand in front of others to present,'" he told Salt&Light.
"Growing up in a Chinese-speaking family, my English was not as strong and public speaking didn't come naturally to me. When I first started doing home tour videos, I was afraid of other's opinions," he wrote in an Instagram post, adding that, till today, he still speaks "broken English" and makes "pronunciation errors at times".
But looking back, he said God put him in different situations that "trained me up".
"How do we wisely manage resources God has given us, to bless others and do good for Him?"
The fear went away when he stopped focusing on himself, and concentrated on doing his best for his customers. 
"God was gracious and increased my capacity gradually. The more I do, He gives me more courage and more words to speak."
Melvin said: "When I felt I was just working for money, it was very tiring." But since coming to know the Lord, and "having a mindset shift, I wake up excited every day".
"I feel like I am working for God, I feel more energetic. I am more empowered. When I see people – customers, business associates, family – I know what my purpose in life is. And that is to be excellent for God, and to touch as many people as I can."
These days, he asks himself: "How do we wisely manage resources God has given us, to bless others and do good for Him?"
Inspired by John Piper's teachings, Melvin, doesn't wear a Rolex, the stereotypical trademark of a successful businessperson, and does not believe in being a hoarder of possessions.
Of the four family cars, one is a second-hand car that he drives, which is more than 10 years old.
"It is affordable, decent, presentable and good for taking my customers for viewings."
He bought the other three cars for his wife "to transport the children", his father-in-law and his mother. 
Together, they cost less than the $300,000 continental car that a friend urged him to buy to flaunt his success.
He told his friend: "I'd rather bless my family so that they can use the transport to bless other people."
PLB is also currently looking to bless others outside their families. 
A verse on their website reads: "If anyone has material possessions and sees a brother or sister in need but has no pity on them, how can the love of God be in that person? Dear children, let us not love with words or speech but with actions and in truth." (1 John 3:17–18)
While waiting for Covid restrictions on gatherings to lift, they are currently identifying needy families to bless by doing make-overs for their homes. It will be fully-paid by PLB and their supporters. 
A one-off 2018 project saw Melvin, Adrian, and three team mates decluttering, tidying and giving one family's flat a new coat of paint and new furniture. They called the project impROOF.
"Because we are in the business of transforming people's homes every day to help our home sellers position and market their properties attractively on social media, we think we can do this for the underprivileged as well."
---
Read Part 2 of Melvin Lim's story on infusing values based on the Bible into the workplace here:
"We are just managers. God is our boss": How PropertyLimBrothers built a culture of collaboration, not competition
"Even freehold is not good enough": Far East Organization's Philip Ng reveals his best investment decision
"There is a way, through our investments, to bear witness to the King": Being a faith-driven investor
"If you just give money, how do you change a person's heart?": Why Fullerton Markets CEO Mario Singh is hands-on at his foundation
If you have enjoyed reading Salt&Light...
We are an independent, non-profit organisation that relies on the generosity of our readers, such as yourself, to continue serving the kingdom. Every dollar donated goes directly back into our editorial coverage.
Would you consider partnering with us in our kingdom work by supporting us financially, either as a one-off donation, or a recurring pledge?
Support Salt&Light