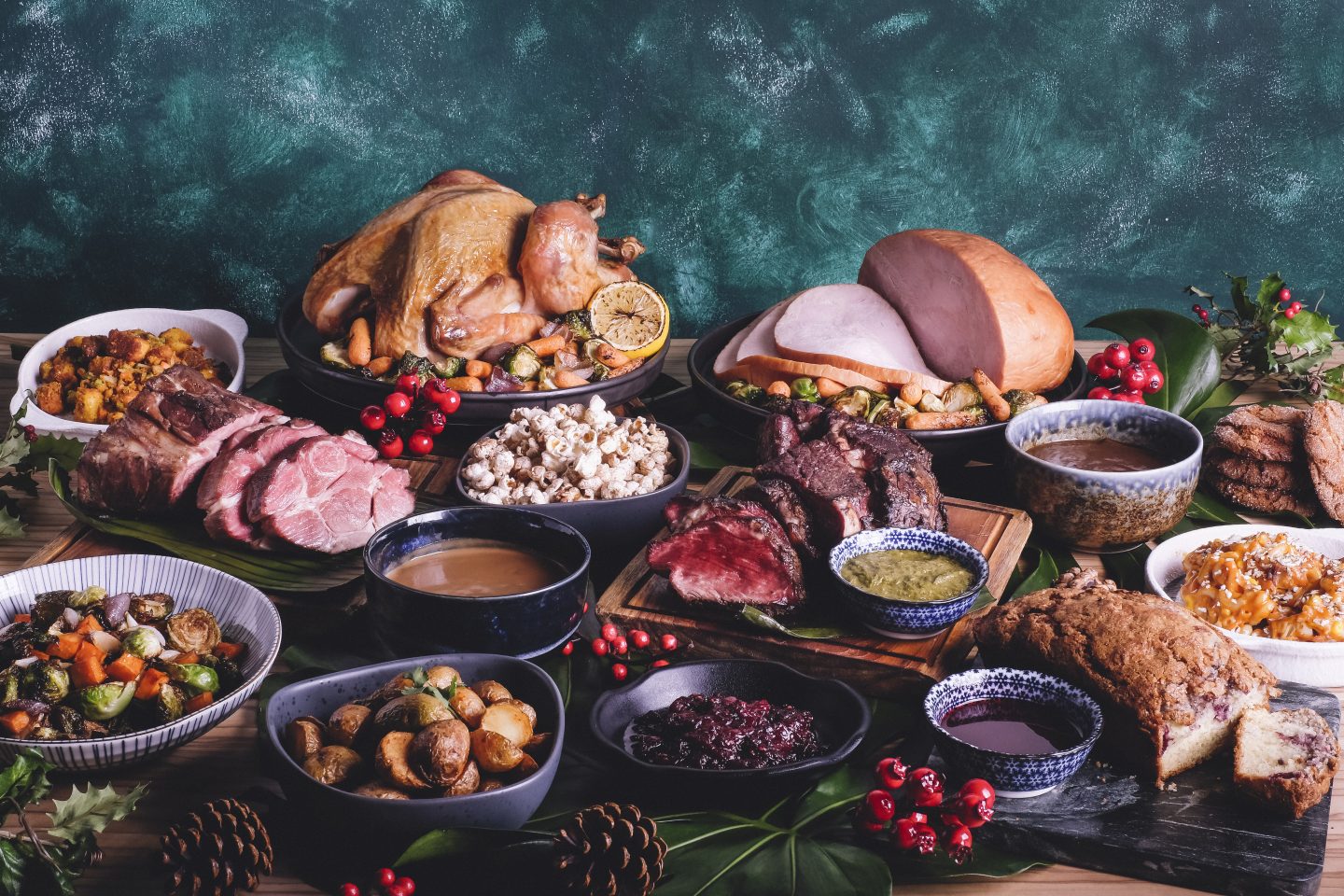 Food is one of the best ways for us to reflect love to those around us this Christmas season, and these six kitchens can help us do so. Photo from Slake.
Christmas is rooted in the spirit of giving – thankfully a tradition that need not change, even in a year of tremendous changes.
In the spirit of blessing others, Salt&Light found six Christmas kitchens serving up festive foods for you to share with family and friends, and sometimes benefit strangers too.
Christmas ham @ Breakthrough Missions Kitchen 
What is Christmas without ham?
Tan, a former drug addict, used to spend his Christmases buying drugs. 
For 47-year old Benjamin Tan, it was only 15 years ago when he had his first taste of Christmas ham.
This happened when a former hotel chef brought a honey-baked ham to Breakthrough Missions, a drug rehabilitation half-way house where Tan was residing in his bid to break free from addiction.
He told Salt&Light in Mandarin that he used to spend the lead-up to Christmas and Chinese New Year busily buying and hoarding drugs, as the price of drugs would go up during the festive seasons.
Fast forward to 2020 and a transformed Tan now gives back to Breakthrough Missions by working as the man in charge of the Missions' kitchen. On regular days, Tan runs the kitchen, shops for and prepares meals for up to 80 people twice each day. 
This Christmas, he has the added responsibility of baking up to 200 hams for sale and delivering them with his team of six. 
The seasonal service is among other regular services provided by Breakthrough Missions including car washing, booking binding and embossing, framing, landscaping and foot reflexology. 
To order the Christmas ham from Breakthrough Missions, click here or call 6479 7734. You can purchase the ham at the following prices: 
A) 3kg Honey Baked Ham @ $90
B) 3kg Bone in Ham @ $150
C) 5kg Bone in Ham @ $200
Festive pastries @ Bakery Brera 
Like many children, Thrina Low, owner of Bakery Brera, used to associate the season with receiving presents as a kid.
When she became a Christian at the age of 21, Christmas became a time of reflection, sharing and giving instead.
"It has become an important season of thanksgiving, and a time for me to spread and share the love only Christ can bring, especially to those without family or whose families are not here with them," said the owner-cum-manager. 
Loving and caring for the community are deeply ingrained in Bakery Brera's ethos.
"It is a time for me to spread and share the love only Christ can bring."
The bakery is supporting the "Backyard Makan" initiative in partnership with Welcome in My Backyard (WIMBY), a pay-it-forward movement to encourage giving to migrant workers who have been rehoused under Covid-related efforts to reduce density in the dormitories. 
Up till December 14, customers can sponsor as many of Bakery Brera's Ferrero Rocher cruffins as they like to migrant workers housed in the Queensway and Ghim Moh neighbourhoods.
The cruffins will be distributed to the migrant workers during the Christmas period.
Bakery Brera's Christmas menu this year is a labour of love, says Low.
The menu includes: 
A) Freshly Baked Premium Panettone Classico/Al Cioccolato (480g) @ $42
B) Christollen (250g) @ $19.80
C) Mini Mince Pie (half dozen) @ $12
D) Fruit Pies (8″) @ $36
If you would like to order these special treats, or join in the bakery's "Backyard Makan" initiative, simply head down to their store, or order online. 
Christmas story cupcakes

 @ Ten Butter Fingers 
"Why don't we tell the Christmas story through our bakes?"
That was the question that birthed the Edible Christmas Story range by popular home bakery Ten Butter Fingers. 
Emmanuel – The Christmas Story is a collection of six cupcakes and a yuzu chiffon cake, designed in collaboration with two local artists: Glacy Soh Art and Love Bonds – both of whom are passionate about helping the community and building families.
"Why don't we tell the Christmas story through our bakes?"
Together they want to express the Christmas story in edible art and calligraphy, with reflections behind each image for those desiring a deeper meaning of Christmas.
"Christmas is more than the presents and bright lights that characterise this season. Jesus is the most amazing love that came down at Christmas in the most unconventional of ways," said Ten Butter Fingers owner and baker, Jenny Lie. 
"I wanted to share the same warmth and love of Christmas but in a personal way because the pandemic has necessitated that we be socially distanced, and it's been such a hard year.
"I wanted to create a Christmas cake that would convey warmth and hope. TBF Junior (Jenny's daughter and fellow baker) was the one who said to me, 'Why don't we tell the Christmas story through our bakes?' Hence the genesis of the edible Christmas Story."
Emmanuel – The Christmas Story, which consists of six edible, watercolour images on the cupcakes, is sold at $40 a box while the yuzu chiffon cake is priced at $100. 
A portion of the proceeds from the sale of the Edible Christmas Story cakes will go towards Star PALS, a HCA Hospice Care service providing paediatric advanced life support.
Frozen yogurt for sharing @ Sogurt 
When Salt&Light asked Lee Li Ping what Christmas means to her, the owner of popular home-grown frozen yogurt brand, Sogurt, gave a simple reply: Family.
"Sogurt's offerings are meant to cultivate a culture of "love, joy and friendship""
This is a far cry from how her teenaged self would have responded, confessed Lee, who used to frequent clubs and parties during the festive season.
At the time, she would feel "more despair than joy", even during Christmas, commonly deemed as the happiest time of year.
That changed when Lee became a believer. In a testament of the reconciliation of relationships made possible by God, Lee now celebrates family during Christmas. 
Sogurt's offerings are meant to cultivate a culture of "love, joy and friendship", with the aim of bringing people together, said Lee.
Enter Sogurt's Festive Box, which consists of 12 cups of its probiotic frozen yogurt ice cream, in an assortment of flavours including the new "Black Charcoal Coconut", the brand's take on "Christmas in the Tropics" for those missing Christmas winters this year.
Priced at $45 each, the boxes can be ordered online. 
The Festive Box is a reminder that despite the restrictions on celebrations this year, there is still good reason for holiday joy and fun to prevail, said Lee.
Yuletide bakes @ Joanna's Oven 
Christmas has always been a day about giving for the Ying sisters, who grew up in a Christian family.
They were blessed to receive many presents from relatives and family friends as children, said Janice Ying, 29. Now, they want to bless others, too, through Joanna's Oven. 
"We hope that people will still be able to spend Christmas with their loved ones this year."
Janice is the manager while younger sister Joanna, 26, is the director of the shop. 
"One of the reasons that Joanna's Oven was started was because customised cakes were quite costly and we wanted to offer a more affordable option for the community," said Joanna. 
And since Christmas gatherings this year will be smaller due to social distancing measures, Joanna's Oven will make their Christmas cakes in smaller sizes.
"We hope that people will still be able to spend Christmas with their loved ones this year with good cake and good food."
Joanna's Oven is offering Christmas-themed cakes in three designs and flavours:
A) White Stump Cake (Strawberry Shortcake)
B) Stump Cake (Chocolate Fudge)
C) Reindeer Cake (Earl Grey Milk Chocolate)
The cakes come in two sizes: 5-inch diameter ($50) and 6-inch diameter ($80). There is an early bird promotion for orders before December 15.
There is also a Christmas cookie gift set which comes with four bottles of cookies in flavours such as Sea Salt Chocolate, Cranberry Almond, Earl Grey and Pistachio Biscotti. Each set is priced at $38. 
All orders are subject to an additional $15 delivery fee, but there is an option to self-collect.
Festive packs @ 
Slake
For 34-year-old Jeremy Cheok, the Christmas period is a time to look back on the past year and give thanks for the blessings he has received. 
While 2020 might be more quiet than usual, eating with loved ones will always be a huge part of the holiday, said the owner of Slake.
"The Christmas menus reflect the bountiful blessings God has bestowed on me."
"Slake has helped put food on my family's table for seven years now," said Cheok, who hopes that his food will also allow others to be in a posture of thanksgiving.
"The Christmas menu reflects the bountiful blessings God has bestowed on me and represents a chance for me to reach out to my customers and let them have that experience at home too," he said. 
This Christmas, Slake is offering three festive packs which includes a 3kg five-spiced roasted whole turkey and either a 1.5kg roasted pork collar or 1.5kg grass fed ribeye or both.
It also comes with gula melaka brown butter gravy, spring onion chimichurri, red wine shallot gravy and mixed berries compote. The packages serve 6-12 pax. 
The prices are:
A) 3kg five spiced roasted whole turkey & 1.5kg roasted pork collar @ $218
B) 3kg five spiced roasted whole turkey & 1.5kg grass fed ribeye @ $338
C) 3kg five spiced roasted whole turkey & 1.5kg roasted pork collar & 1.5kg grass fed ribeye @ $428
Slake also offers a range of roasts and festive sides and desserts. Orders can be made online here.
---
MORE STORIES ON BLESSING OTHERS DURING CHRISTMAS:
Gifts for good: Local social enterprises to support this Christmas
If you have enjoyed reading Salt&Light...
We are an independent, non-profit organisation that relies on the generosity of our readers, such as yourself, to continue serving the kingdom. Every dollar donated goes directly back into our editorial coverage.
Would you consider partnering with us in our kingdom work by supporting us financially, either as a one-off donation, or a recurring pledge?
Support Salt&Light