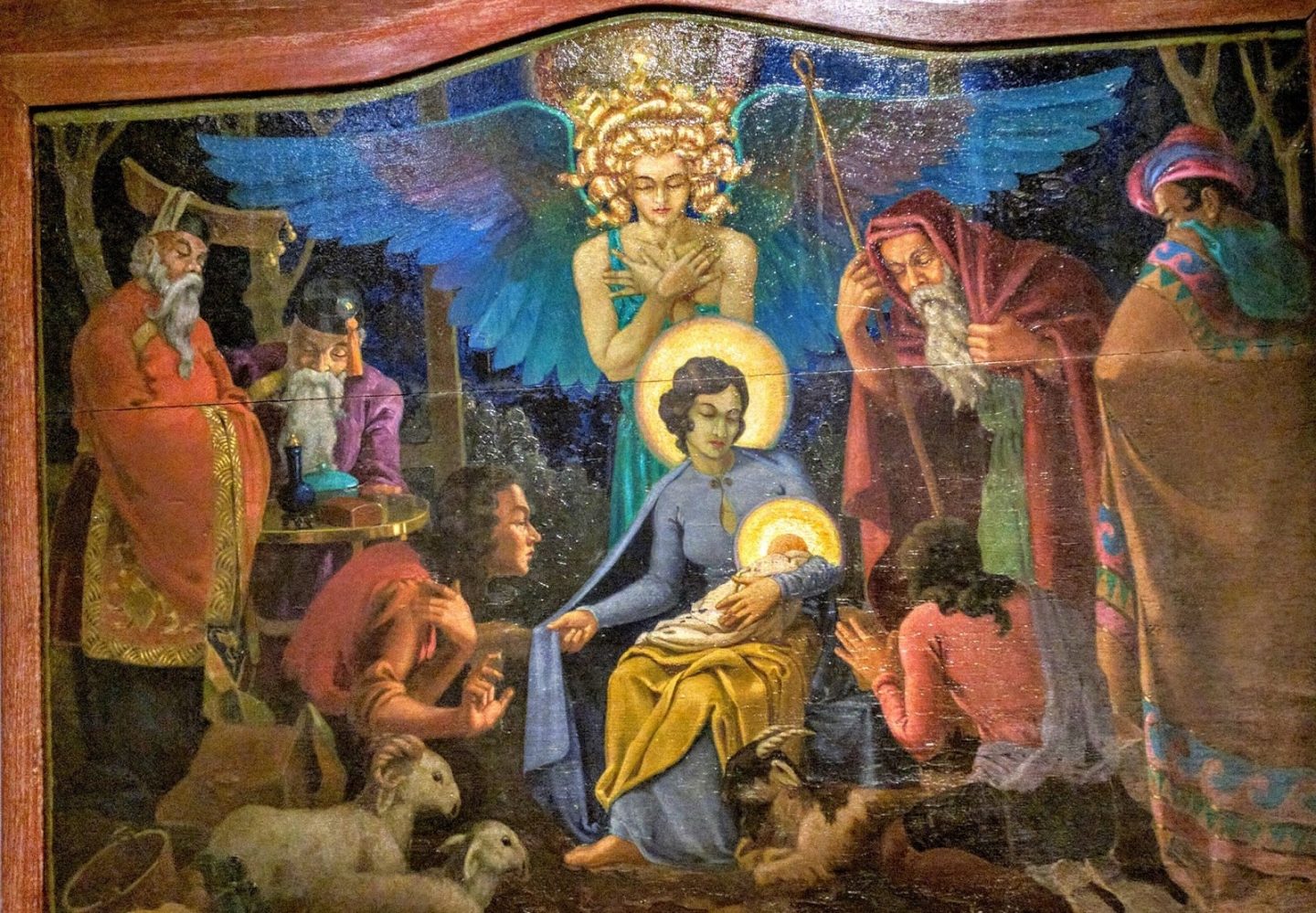 Epiphany by Richard Walker, who was a British Prisoner Of War interned at Changi Prison during World War II. He reimagined the Nativity scene featuring Asian wise men. Photo by http://govenkatc.blogspot.com
As I walked through the National Gallery, this World War II masterpiece struck me.
At first glance, Epiphany looked like the usual nativity scene, with oft-seen depictions of baby Jesus and Mother Mary.
On second glance, you realise that the wise men are in traditional Chinese attire. It was the first time I had ever seen anything like it in a nativity artwork.
I was mesmerised.
Even more remarkably, the artist is Richard Walker, a British WWII prisoner of war interned at Changi Prison. He had moved to Singapore to teach art in Raffles Institution after graduating from the Royal College of Art in London.
Even when he was imprisoned during WWII, he continued to conduct art classes and letter the graves of fellow prisoners who died.
A canvas for revelation
Epiphany, a 70 x 97 cm painting in oil by Richard Walker in 1942, is described thus in Kwok Kian Chow's Channels & Confluences: A History of Singapore Art:
Walker's most important work in Singapore is Epiphany created in Changi during the war. The painting, a study for a mural, was placed behind an improvised altar for holy communion services in the prison. This work was presented to the Anglican Diocese of Singapore after liberation and was recently donated to the Singapore Art Museum. Epiphany, or the thirteenth day of Christmas, celebrates the revelation of Christ to the Magi. Painted in an allegorical style, Epiphany portrays the Virgin Mary as an Asian woman to symbolise the universal truth of Christianity.
The painting can now be found in the National Gallery Singapore.
As I marvelled at the masterpiece, God gave me fresh insight into how Jesus came into our world to save all His children – of every nationality and tongue.
The Bible emphasises that God's salvation is for every tribe. (Romans 5:18)
It seems that Walker, a Briton suffering war circumstances in a foreign country, meditated on God's heart and felt God's deep love for the Chinese.
A call to worship 
There is something unique about worshipping God through art, including the performing arts. Whether we worship through singing, dancing, playing instruments or painting, art involves our entire being.
Art unifies our emotions, thoughts and will.  
A great example of worshipping with art is Bezalel and Oholiab (Exodus 35:30-33). God gifted them to be skilled craftsmen, working with gold, silver, bronze, stones and wood through engraving and even embroidery. Then, He gave them a special calling to design the Tabernacle. 
Expressing God's promises in the creative arts can also help us internalise them.
With their God-given skills, they made an exquisite temple, marvelled by many generations to come.
The birth of Jesus is a joyous and hopeful event, and what makes Epiphany so unique is that Walker painted this in a humiliating and dreadful place.
Death, defeat and disease were thick in the atmosphere. Hope would be a lone candle in the dark. Yet hope he painted.
This is the beauty of art.
Walker did not have to explicitly write a message that God loves His Chinese children. As a painter, he caught all his emotions in one single picture and let us join in his conclusion.
Soaking the deep meaning behind this painting was an experience that spoke to my soul.
Expressing God's promises – in the creative arts of writing and painting – can also help us internalise them.
---
EXPLORE HOW ART RELATES TO FAITH:
"Your art can travel but not you": An artist lets his work speak the Truth
"I can look back and say I've had a wonderful life": Tetraplegic mouth artist Gilbert Tan
If you have enjoyed reading Salt&Light...
We are an independent, non-profit organisation that relies on the generosity of our readers, such as yourself, to continue serving the kingdom. Every dollar donated goes directly back into our editorial coverage.
Would you consider partnering with us in our kingdom work by supporting us financially, either as a one-off donation, or a recurring pledge?
Support Salt&Light