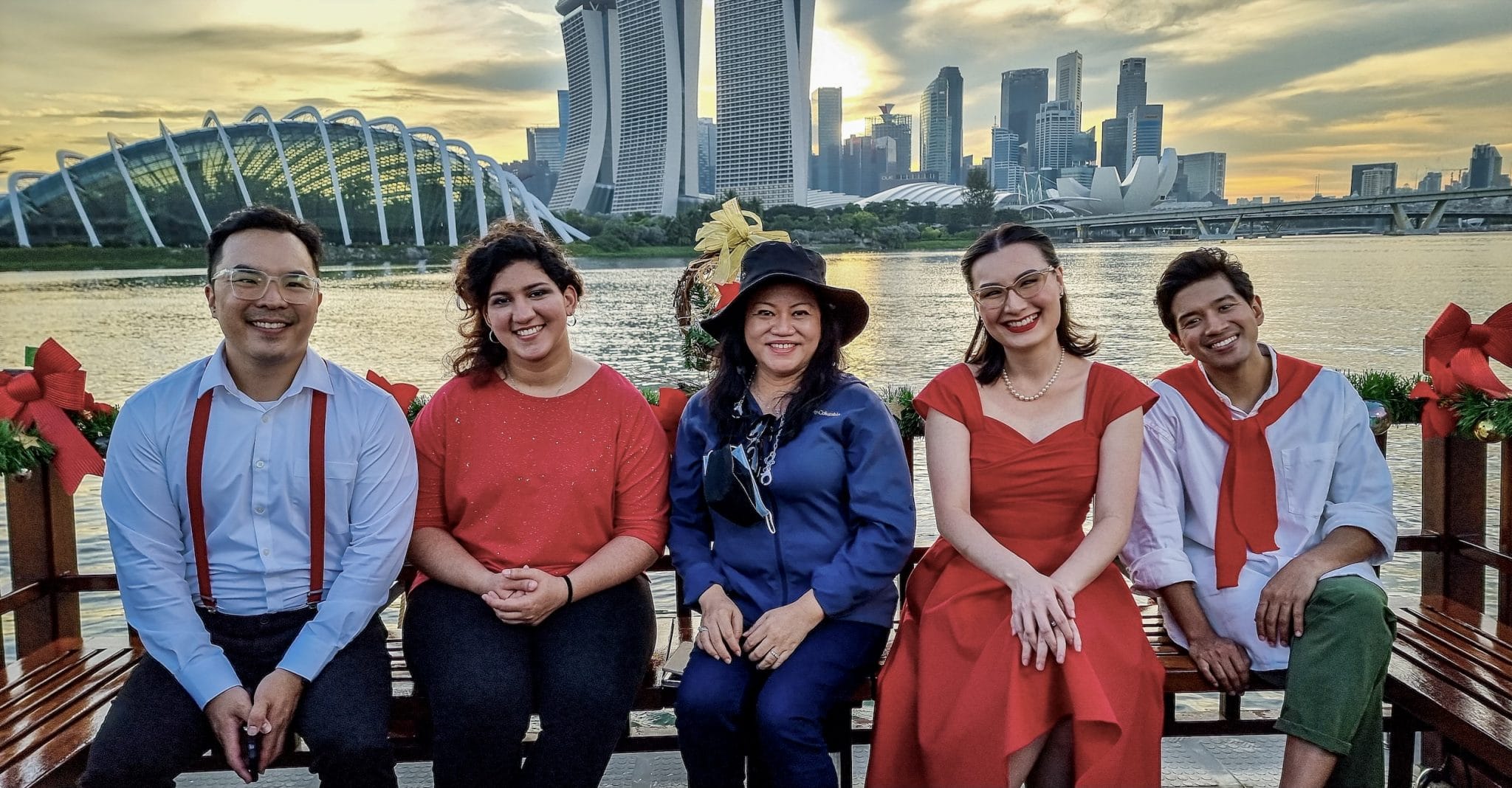 "We wanted to reflect the theme of being Christmas to somebody this year and stir the hearts of people to show love in action," says Nora Fong (centre), the director/producer of the music video, seen here with singers (L-R) Josh Yeoh, Krysta Joy, songwriter Miss Lou and Isaac Ong. All photos courtesy of CCIS.
Instead of receiving presents, would you be a present to someone who is lonely or hurting this Christmas?
That is the message of Celebrate Christmas in Singapore's (CCIS) new Christmas music video.
For the second year running, CCIS, which for 16 years brought the message of Christ's birth through festive booths and live performances on Orchard Road, is spreading the Christmas message through an original music video instead. 
True to its name, the music video (MV) entitled Home for Christmas, sets the season against familiar vignettes of HDB corridors, bumboats, the Orchard Road Christmas light-up and Gardens by the Bay rather than postcard scenes of sleigh rides and snowmen unrelatable to Singaporeans.
The video, featuring original music and lyrics by Singaporean chanteuse Miss Lou Peixin, with additional vocals by Isaac Ong, Josh Yeoh and Krysta Joy, premiered on YouTube last night (Dec 19).
The premiere of the video was part of the Home for Christmas online event organised by CCIS that included musical performances from around the world, including Gentri and The Crosby Family from the USA, Roberta Battaglia from Canada, Grass x WeLove from South Korea, Karien De Waal, Allou April and Shana Ray from South Africa, Shilo Ben Hod from Israel, Akilimali from Japan, The De Lanerolle Brothers from Sri Lanka and our own Miss Lou and Kelvin Soh from Singapore. 
Families and cell groups can invite friends and neighbours for a meal and tune in to this Christmas musical show together in their homes.
The message is especially poignant as this is the second year that the world is marking Christ's birth in the midst of a global pandemic.
This year, music video producer/director Nora Fong and CCIS organisers particularly wanted to highlight that Christmas isn't found in inanimate flashing lights or elaborate presents.
Christmas is a Person.
And we can be "Christmas people", too, by showing neighbourliness and care that reflect Jesus' love.
The message is especially poignant as this is the second year that the world is marking Christ's birth in the midst of a global pandemic. The lyrics reflect the liminal space in which the world finds itself as we look to a brighter future:
"How can I have any joy and good cheer
And say 'Merry Christmas and Happy New Year'
When so many people around the world are hurting?"
The message that Home for Christmas delivers is: Don't just wait for brighter days, be the light today.
The team behind the video takes Salt&Light behind the scenes of this thoughtful Christmas production.
What is the motivation behind the MV and how is the message relevant to Christmas 2021 in particular?
Kelvin Tan (founding member of CCIS): Since CCIS started in 2004, the purpose has not changed. It's about sharing that Christmas is celebrated because God gave us Jesus. That's why this year's theme included the words: The Gift.
Nora Fong (producer/director): We wanted to reflect the theme of being Christmas to somebody this year and stir the hearts of people to show love in action.
Miss Lou (singer/songwriter): The theme of being Christmas to somebody really resonated with me, as I have been wanting to write a Christmas song after being saved in 2018, and felt like the current Christmas songs on rotation don't speak enough of the missional life we are called to live in response to Christ's unconditional love, especially during the Christmas season.
What are some behind-the-scenes stories that people don't know?
Miss Lou: It was the singers' and my first time on a bumboat while filming the music video! We had so many funny moments together, bonding over the day-long shoot.
Kelvin: The strict requirements of vaccination status, limitation of crew numbers and the surprising higher cost of venue rentals added to the challenges.
Nora: One of the major challenges we encountered was location for the theme song which had to take place in an HDB estate with a long corridor space and the cooperation of two to three neighbours to shoot into part of their living rooms. 
We explored a number of leads without much success, till our dear friends from church, Chee Ping and Susan, offered to help us engage with their neighbours to make this possible. This couple has a close relationship with two of their immediate neighbours, which resulted in what you now see on screen. This was a Godsend for us because Chee Ping and Susan embody the spirit of giving and reaching out to others which is what we are trying to convey through the lead character of Alice in the music video.
Even though we could do more location filming this year as compared to last year, changes on the Covid-19 safe measurement restrictions and unpredictable weather were unsettling for the production team. These challenges pushed us to try filming on a moving bumboat and an open-top, double-decker big bus, which presented other challenges … but was fun nevertheless.
All the Christmas decor you see in the MV were DIY – we did it with a lean team of volunteers!
What does Christmas mean to you personally and how did you convey this in the MV?
Miss Lou: I grew up in a non-Christian family where Christmas was just a public holiday to spend time together and see the Orchard Road lights. It was nice, but it wasn't until I was saved in 2018 and baptised in December that year that Christmas became truly meaningful to me.
"When we share the True Christmas, we are sharing the Love of Christ."
Last year, God revealed to me that my gift of songwriting was something that I had yet to surrender to Him, and that He had a greater purpose to this than I could ever imagine. I'm so grateful that this year, He has used unexpected opportunities and projects such as this one to show me how I can glorify Him using the songs that I'm now co-writing with the Holy Spirit.
Nora: For me, Christmas is a great time to share who Jesus Christ is, so with CCIS I wanted to create a platform to showcase local singers and songwriters who share the same aspirations. I personally also felt led, after praying about this year's line-up, that we should invite singers who have a distinct giving ministry to be part of the programme so as to support the theme of being a Gift or being Christmas to somebody. 
I am very thankful that we managed to get support from many international friends who share the same heart to be part of the programme. 
On the Singapore front, we highlighted the inspirational work of Breakthrough Missions as a shout-out to their tireless labour of love to get men out of drug addictions, as what they are doing strikes a deep chord with the theme.
What message do you hope to leave viewers with?
Miss Lou: I hope that through seeing the diversity of the global church represented in the CCIS show, we will be reminded of how the Gospel is for everyone, and that we will be spurred on to not just spread the Good News to those around us, but to be the Good News through our actions as well, so our neighbours can encounter Christ through us.
Kelvin: For many, Christmas has always been about family reunions and the exchange of gifts. Our message is that Christmas is deeper than that – when we share the True Christmas, we are sharing the Love of Christ. So we want to be like Jesus to somebody this Christmas. Using the Internet and social media, we can continue to reach out to that special someone who needs the touch, the love, the blessings.
May all those who watch the video have their hearts warmed, touched and blessed by this special message: That God gave us The Greatest Gift at Christmas.
Join in immersive musicals, hybrid choirs and meals with hawker uncles, as churches get creative this Christmas
8 Christmas treats that come with their own stories of faith, hope and love
If you have enjoyed reading Salt&Light...
We are an independent, non-profit organisation that relies on the generosity of our readers, such as yourself, to continue serving the kingdom. Every dollar donated goes directly back into our editorial coverage.
Would you consider partnering with us in our kingdom work by supporting us financially, either as a one-off donation, or a recurring pledge?
Support Salt&Light