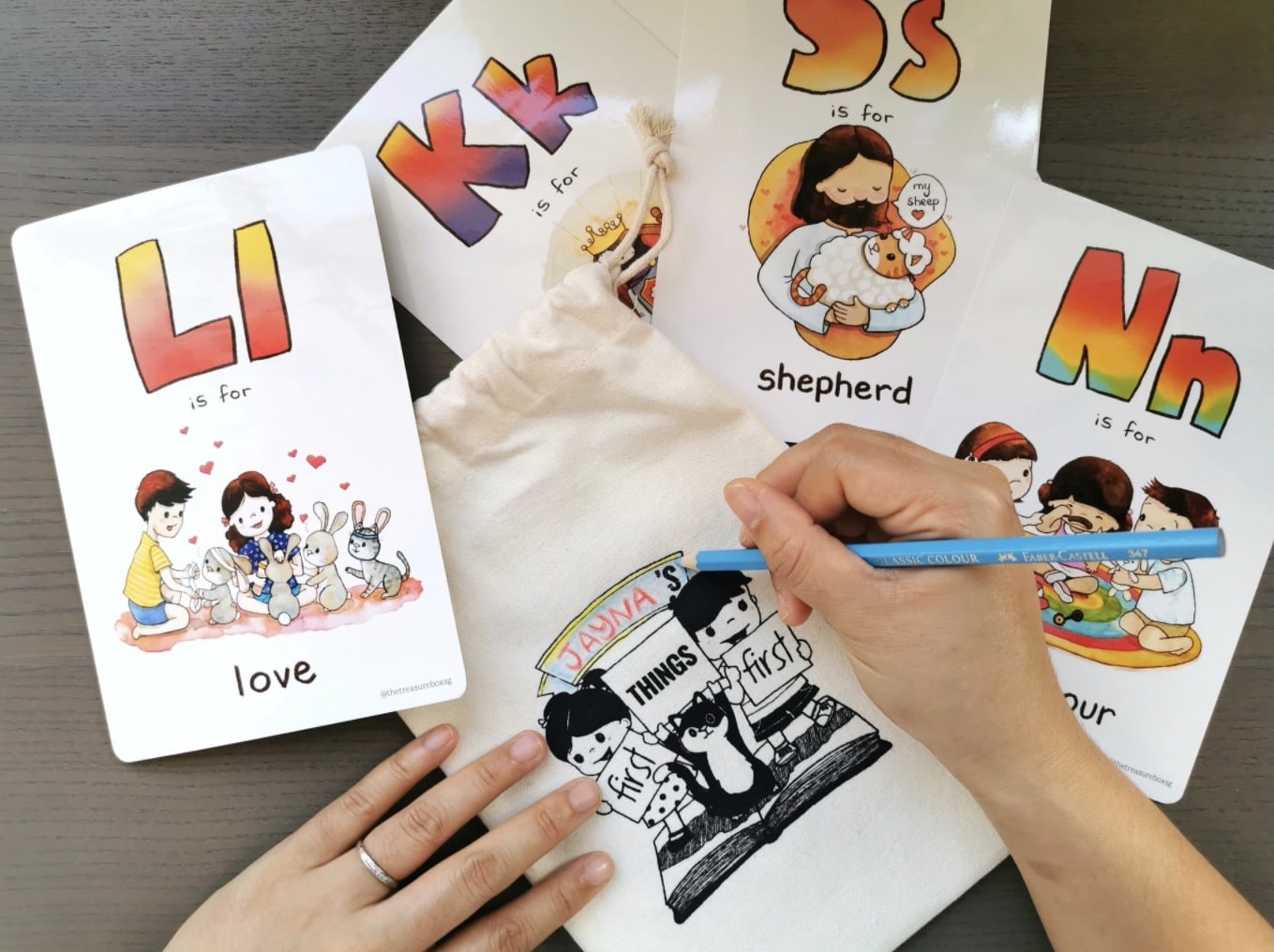 Whether you are buying gifts for a little baby or a faith-driven fashionista, a well chosen statement piece can bring the focus of Christmas back to Christ. Photo courtesy of The Treasure Box SG.
This Christmas, we handpicked gifts that will help your friends and family know, live and tell the story of a King who left heaven to make our heart His home.
For the little ones
Even months-old infants can proclaim His praise (Psalms 8:2) with punny-print rompers from hislittlechamps. A favourite amongst customers declares: Jesus loves me from my head to-ma-toes.
Owner Gracy Ong's vision for her baby apparel label, popular for its creative, faith-based wordplay, is for the "lighthearted but powerful" designs to not only "look good on the little ones but also speak to the hearts of those around them".
Gracy intends to donate a portion of hislittlechamps's Christmas sales profits to Food from the Heart, a leading food charity in Singapore committed to providing food security for low-income families and individuals.
The Treasure Box SG (TTB)'s First Things First devotional flashcards teach the alphabet to children using "words that truly matter, and concepts that will have an eternal impact". In this set of cards, the letter 'A' is not for "apple", but for "Amen" – a word that signals our earthly agreement with God's perfect will. 
For their In Jesus' Name, amen! book, TTB's founders Elvin and Esther Foong gathered writings and doodles about the God-encounters of 40 children aged three to 13. The Foongs hope that the miracles of healing and provision that happen when "children pray in simplicity to a God whom they trust implicitly, without worrying if their requests are too big or too small for Him" will be an inspiration to children and adults alike.
Staying prayerfully engaged with one another's lives can help families grow closer to each other, as they seek the Lord together. 
TTB's 2022 Family Devotional Wall Planner comes with weekly family devotions from the book of Proverbs, and columns designated for both family and individual schedules. Whether it's good weather for tomorrow's playdate or confidence to ace next week's job interview, family members can input their prayer requests and lift one another up in prayer.
The Foongs' hearts also go out to families which are formed by unforeseen circumstances – like unplanned pregnancies.
To raise awareness about abortion, fostering, and adoption in Singapore, TTB will be donating part of the proceeds from the sale of its embroidered keychains to Heartbeat Project SG, a local initiative by 3:16 Church. Through real stories, Heartbeat Project SG aims to inspire families to choose to give unborn children a chance to realise the potential of their God-given lives.
For the fashion-forward 
The handcrafted piece of jewellery or the handwoven shoes you wear to the admiration of friends can give you the opportunity to tell of how real, and how near God is to the suffering.
With its PURPOSE jewellery brand, International Sanctuary seeks to helps survivors of human trafficking heal from trauma through jewellery-making.
"Trauma impairs your ability to see yourself the way God sees you, to think clearly, to feel safe, and to trust people," Susan Cramm, who chairs the International Sanctuary board, explained in an interview with Kallos magazine.
Beyond the income that it provides, the enterprise's initiative of having trafficking survivors make "beautiful jewellery" offers them the opportunity to "look at their creations with pride, and to realise that the jewellery reflects their own beauty, said Susan in the interview. 
The PURPOSE team is careful to ensure that its designs are "fashion-forward" pieces which inspire conversations."When someone compliments your jewellery, you can tell them it's handcrafted by survivors."
In Singapore, a similar "empowerment by employment" model is adopted by SG Enable.
SG Enable is behind i'mable Gift Market 2021, which promotes and markets artworks and artisanal products by talented persons with disabilities. The gift market is online for the second year running.
i'mable Gift Market 2021 features fashion, accessories, books, stationeries, handicraft, art, homeware, as well as food and beverage items made by artists from over 20 social service agencies and social enterprises supporting the disability community.
Every product is a testament to not just the artists' talent but also their grit.
To prepare for the gift market, the artists have put months of training into perfecting their respective crafts.
Proceeds from i'mable Gift Market 2021 will go back to the respective social service agencies and enterprises to fund training programmes for their beneficiaries or members. A portion of the proceeds may also contribute to royalty payment to the respective artists.
For people to hear the true meaning of Christmas to be above the "noise" of ongoing festivities, Michelle Ng, 27, who owns online and pop-up wearables shop Kléo, feels that it is important for believers to be "intentional about making Christ the centre" of Christmas.
Attractive wearables, like a pair of Jen espadrilles, can open conversations about God-encounters. 
The limited-edition handwoven espadrilles are carefully woven, sewn, and stitched by hand and furnished with colourful tassels. The tassels are an addition by the good assembly brand, a local specialist in artisan textile accessories.
The meaning behind the name, Jen, is a deeply personal one. 
Jen is the aunt of Sann, the woman behind the good assembly brand. 
There are three colours on Kléo's Jen shoes: Blue and grey symbolise trials, and coral in the middle represents hope.
About a year ago, Jen was diagnosed with cancer. In recent months, Jen started experiencing shortness of breath and doctors diagnosed her illness as terminal.
Alone in the hospital due to pandemic-related restrictions on in-person visits, and in a lot of pain, Jen had challenged God: If You want me to believe in You, take my pain away. 
She slept through that very night, without any pain.
With gratitude, Jen accepted Christ and was baptised before she passed away peacefully, just a few days shy of the December 1 launch of the tassel-bearing espadrilles.
The three colours of the tassel tell Jen's story. "The blue and grey represents the trials which are bound to come, while the pop of bright coral in the middle symbolises the Hope that we have in every stormy gale, when we have Christ in our vessel," Sann explained.
For the house-proud
Engraving family blessings on chopsticks is a practical way of inspiring Christ-centered conversations amidst the feasting and festivities.
With travel restrictions still in place, Orchid Chopsticks's owner, Zhao Hongmin, 52, treasures the "rare opportunity of having a Christmas meal with the whole family at home".
Bible verses and faith phrases, such as "Christ be the head of this family", can be laser-engraved onto wooden chopsticks as everyday reminders of the blessing of family unity, which Zhao calls an "anchor in a world filled with so much chaos and uncertainty".
"Chopsticks may not be extravagant or expensive gifts, but they can be powerful symbols and everyday reminders of family values."
CYC's furniture is designed to put the focus on "celebrating the coming of Christ, in the gathering of family".
Orchid Chopsticks gained media attention last year when its then owner, Moses Zhao, included Christian emblems on traditional Chinese New Year decorations. (Moses Zhao has since opened another shop, The Chopsticks Store, which is also in Chinatown. Orchid Chopsticks is now run by Moses's sister, Zhao Hongmin, and their brother.)
Those wishing to host gatherings, but are tight on space, may find creative solutions in HŌME by CYC. Lightweight, foldable furniture constitute the local heritage tailoring company's latest series of "witty inventions". 
Fong Loo Fern, 67, CYC's managing director, told Salt&Light in an interview last August that the phrase "witty inventions" (Proverbs 8:12, NKJV) was given to her via a prophecy around five years ago.
HŌME by CYC features six pieces of lightweight home decor crafted from 100% recyclable materials such as wood and ultra-sturdy kraft paper. 
Easy to store, transport and set up, the pieces are designed to take the hassle out of hosting, allowing the host to channel all available energy toward "celebrating the coming of Christ, in the gathering of family", as Fong puts it. When not in use, the pieces can even be folded away and stored. 
Previous "witty inventions" by CYC, such as reusable cloth masks and mask kits, not only rescued the business from an 80% dip – an effect of the pandemic – but also allowed them to bless 300,000 migrant workers in Singapore and create a source of income for 1,000 residents of the poorest slums in the Philippines.
For readers 
Besides celebration, the close of the year is also prime time for remembering, reflecting and recalibration.
Christmas is a time to "remember Christ's birth, and how He turned our world upside down", Christian publisher Graceworks told Salt&Light.
Bernice Lee, Graceworks's Managing Director, shared that its Christmas highlights are family and discipleship-centred books that "stirred our readers' convictions, challenged their worldviews, and inspired thought about what it means to live relevantly as Christ's ambassadors." 
Christmas is a time to "remember Christ's birth, and how He turned our world upside down." 
Here are Salt&Light's picks:
Ten months after stepping down from political office, Associate Professor Ho Peng Kee sought God's guidance on how he could "add value wherever He put me". 
God led him to form Carmel Men for Christ (CmFC), a men's ministry which explores what it means pursue Christ holistically as fathers, spouses, workers and co-labourers, by forging a "solidly-grounded Christian worldview (Romans 12:2)." 
Tapping on his contacts from over 20 years in public service, Associate Professor Ho invited "brothers from various sectors" to speak at the men's ministry's monthly gatherings. 
Men for Christ is a compilation of 21 of their talks. Speakers include financial services executive Hsieh Fu Hua, lawyer Gregory Vijayendran and the Bishop Emeritus of the Methodist Church in Singapore Dr Robert Solomon, who together demonstrate how a sovereign God "manifests His presence in every field of human endeavour – history, science, church and politics (Matthew 28:18)", as Associate Professor Ho writes in the preface of the book.
Many of the contributors are men with illustrious careers, but Associate Professor Ho's intention for the book is not to put the contributors on a pedestal.
Rather, he hopes that the testimonies and the issues raised in the book "will get men thinking and praying about their own walk with God, both individually and collectively."
The book challenges men to "love and understand themselves" (Mark 12:31) as a starting point to realising their God-given potential, to pray and ponder about how they can "be His priests and ambassadors during the nine or 10 hours every day that they are out there "in the world" (John 17:11)", and to "live life fully and finish well (Hebrews 12:1)."
The 3-2-1 book explores the role of friendships in the Bible, including those made by Jesus (John 15:15).
Women Without Walls draws parallels between biblical women and historical Christian women, highlighting the potential of every woman to engender whole community transformation. Centred on the Parable of the Yeast (Matthew 13:33), the narratives stir women to realise that they can be dynamic agents of change.
In 3-2-1, Graceworks' founding director Rev Dr Tan Soo-Inn discusses the necessity of developing spiritual friendships in a time-starved urban setting, and proposes a simple 3-2-1 structure for establishing these friendships.
When death, divorce and depression destroyed Rev Dr Tan's family life, the grace of God came to him through the brothers and sisters-in-Christ who refused to give up on him.
Referencing Genesis 2:18, Rev Dr Tan expressed his conviction that "God has created us in such a way that we actually need two relationships: With God and with others".
The 3-2-1 book explores the role of friendships in the Bible, including those made by Jesus (John 15:15). It further challenges Christians to go beyond transactional relationships to forming deep spiritual friendships using the 3-2-1 framework of three friends, meeting up for two hours, once a month.
Men for Christ challenges men to "love and understand themselves" (Mark 12:31) as a starting point to realising their God-given potential.
Throughout church history, Christian literature has been a key vehicle for evangelism.
At a time when most Protestant missionaries ministered in the coastal areas, British Protestant Christian missionary Hudson Taylor was the first to push the evangelistic ministry into China's interior – hence the name China Inland Mission (CIM).
To aid this effort, Hudson Taylor founded the publication arm of CIM in 1865,  the precursor of today's Christian Communications Ltd (CCL). 
Today, more than a century later, CCL is still serving the training and resource needs of Chinese Christians worldwide, with regional offices in five countries dedicated to the establishment of Chinese churches and the equipping of Chinese Christians for ministry and Christian living. The Singapore regional office is known as Christian Communications Singapore (CCS). 
Selected titles, such as Legacy Beyond Self-A Certain Kind of Family by Reverend Tan Kay Kiong, are available in both English and Mandarin. Rev Tan taps on his experiences as pastoral advisor for the Men's Ministry Network in Singapore and former Chaplain for Focus on the Family Singapore to offer wisdom on leaving a lasting legacy by building a Christ-centered family. 
Readers have appreciated that Rev Tan "talks about difficult moments in his marriage, as well as raising his two children".
May all the gifts that we give during this season help us glimpse our Father's heart for our families, and grasp the price that He paid to call each of us His own (1 John 3:1-2). 
This Christmas, bless someone with Salt&Light: Inspirational stories of Faith in Families
Order your new Salt&Light: Inspirational Stories of Faith in Families here.
Please note that only orders made by December 16, will be delivered in time for Christmas.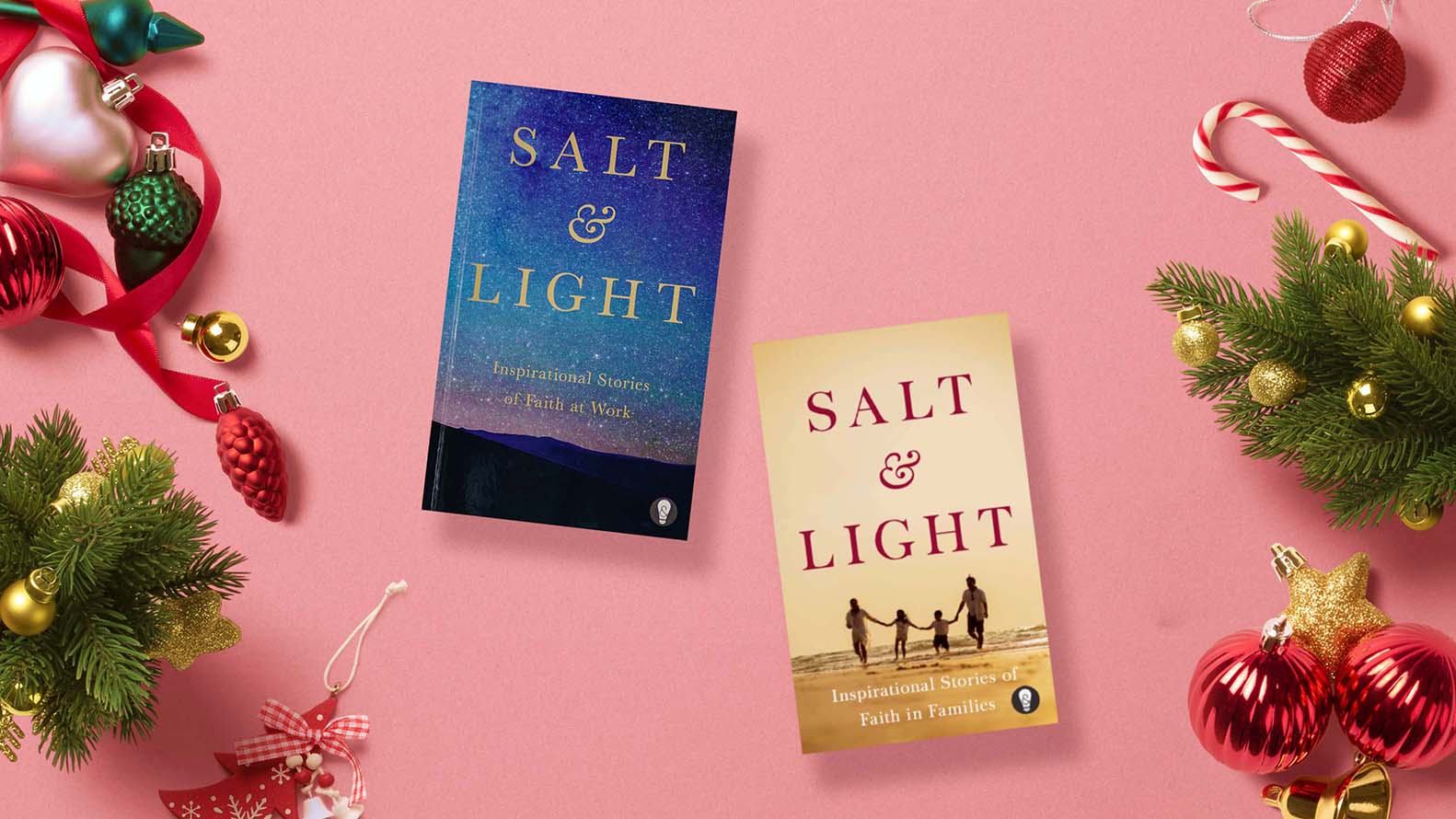 In Salt&Light: Inspirational Stories of Faith in Families, find encouragement in 34 true-life accounts that show that unvarnished reality and hope can exist side by side.
Draw inspiration so that you, too, may experience life-giving faith in every season of your life, even through times of testing.
---
RELATED STORIES:
What if our heartbreaks are stepping stones to spiritual joys? Salt&Light book looks at families who "fall up"
Salt&Light writers encouraged and moved to tears pursuing stories of tragedy and loss, faith and sacrifice, for new book
Their stories of loss and failure went on to bless others in extraordinary ways: Profiles in new Salt&Light book
If you have enjoyed reading Salt&Light...
We are an independent, non-profit organisation that relies on the generosity of our readers, such as yourself, to continue serving the kingdom. Every dollar donated goes directly back into our editorial coverage.
Would you consider partnering with us in our kingdom work by supporting us financially, either as a one-off donation, or a recurring pledge?
Support Salt&Light