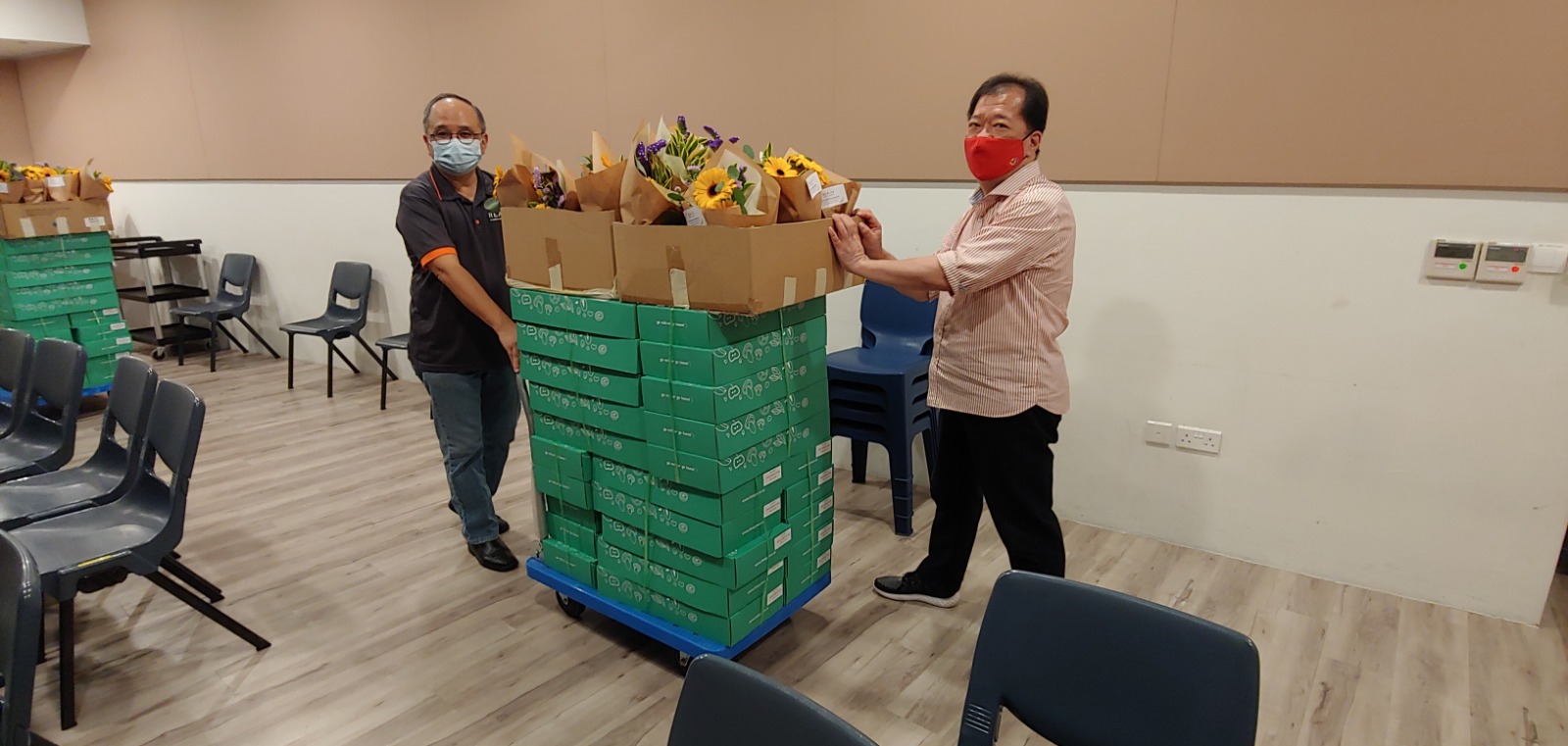 Grace Assembly of God church, Reach Community Services Society and Grace House Kindergarten sending food, flowers and cards to healthcare workers at TTSH and NCID. All photos courtesy of Grace Assembly of God church.
When news broke out in February last year that worshippers from the Grace Assembly of God church formed a Covid cluster, church members experienced abuse and ostracism in their workplaces and schools.
The church was at the time the nation's largest cluster with 23 cases linked to it. 
Instead of simply dismissing that episode as a bad memory, their experience has given them a greater sense of empathy with the frontliners and has moved them to action.  
On Tuesday afternoon (May 25), gifts from the church, the elderly and preschoolers arrived for the healthcare professionals working at Tan Tock Seng Hospital (TTSH) and National Centre for Infectious Diseases (NCID).  
Elderly volunteers from its social missions arm, Reach Community Services Society, prepared yellow gerbera flower arrangements. Grace House Kindergarten, which operates in the premises of the church, also had their children make thank-you cards to show their appreciation to the frontline workers.
Grace Assembly of God bundled the flowers and thank you cards with individually wrapped dried food snacks to bless the TTSH and NCID staff. 
Last week, the church also sent an appreciation video – a compilation of appreciation messages from its members – to staff from both healthcare organisations.  
Said Grace AOG's Senior Pastor Wilson Teo, who is one of the earliest survivors of Covid-19 in Singapore: "Having gone through a similar episode last year when members of our church were shunned because we were the largest religious Covid-19 cluster, we could empathise with how the staff of TTSH felt – the fear, the anxiety, for their own health and that of their families, while having to carry on caring for their patients. 
"As a church, we wanted to let them know that there are many of us who appreciate them and the sacrifices that they have made, so that the rest of us can be safe."  
There have been several media reports of TTSH healthcare workers being shunned by the public or having to move out of their homes. The hospital said it has been working with hotels and accommodation providers to find lodging for its affected staff. 
"As a church, we wanted them to know that many of us appreciate the sacrifices they have made, so the rest of us can be safe."  
In the appreciation video, Ps Teo had this message for the healthcare workers: "We understand this is a difficult time for many of you, and your emotions are probably going through a roller-coaster ride. We want to encourage you and spur you on in serving our nation during this pandemic! Please remember that the dark clouds will pass, and you will thrive and emerge out of the situation stronger than before!"  
Ps Teo recalled that there was a lot of fear and anxiety when Grace AOG became the largest religious cluster last year.  
"It was not just about us – many of us were worried if our fellow colleagues, family members, our congregants and those that we came into contact with would be affected as well. There were also some who displayed unkind behaviour to anyone associated with our church. However, we supposed that it could be their fear that drove them to react in such a manner," said Ps Teo who himself checked into the NCID on Feb 11, 2020, where he was found to have Covid-19. He was discharged 10 days later.   
Similarly, the current situation could be discouraging for some of the TTSH staff, he added. 
"They might begin to doubt themselves if it is worth it to put themselves and their families at risk. During this period, the staff may have to isolate themselves or minimise contact with their loved ones and all these could really strain relationships and heighten tensions and anxieties. To deal with all these personal issues while having to continue caring for the patients could cause tremendous mental and emotional stress for the staff."  
"When we trust that God has overcome the world, He will restore, confirm strengthen, and establish us in His perfect timing."
Despite all that has taken place, Ps Teo said he and the church have seen how "God has turned the storm for good".  
Some churches have emerged stronger from the pandemic and pivoted to the online space.  
"We understand that, even for believers, we will experience trials and tribulations. But when we trust that God has overcome the world, and as we continue to believe and remain steadfast in His Word, He will restore, confirm, strengthen and establish us in His perfect timing," said Ps Teo.  
For Grace Assembly of God church, they have learnt to bless others even as God has blessed them.  
The church extended help by sharing their experiences with other churches who are affected by Covid-19, as well as made their premises available as a Safe Sound Sleeping Place (S3P) for the homeless and rough sleepers during the Circuit Breaker last year. It has also blessed migrant workers with care packs and organised outreach activities for them. 
Ps Teo encouraged believers to be kind to others during these difficult times.  
"Not just to the frontline workers, but to anyone – be it the teachers, food delivery drivers, hawkers, our neighbours and even our own family members. Different ones may be battling their own emotional rollercoasters brought about by the pandemic," said Ps Teo.  
"So even if we cannot help them in a significant way, the least we can do is to demonstrate a little kindness and understanding. A kind word, a loving gesture can go a long way to bless and make someone's day."  
---
RELATED STORIES:
"I went home and hugged my family": 1 year later, Pastor Wilson Teo reflects on surviving COVID-19
"God is doing something powerful among us": Grace AOG Senior Pastor in letter written from hospital
"Pandemic is not an interruption but a disruption," Covid survivor Pastor Wilson Teo tells leaders at Pastors' Summit 2021
If you have enjoyed reading Salt&Light...
We are an independent, non-profit organisation that relies on the generosity of our readers, such as yourself, to continue serving the kingdom. Every dollar donated goes directly back into our editorial coverage.
Would you consider partnering with us in our kingdom work by supporting us financially, either as a one-off donation, or a recurring pledge?
Support Salt&Light