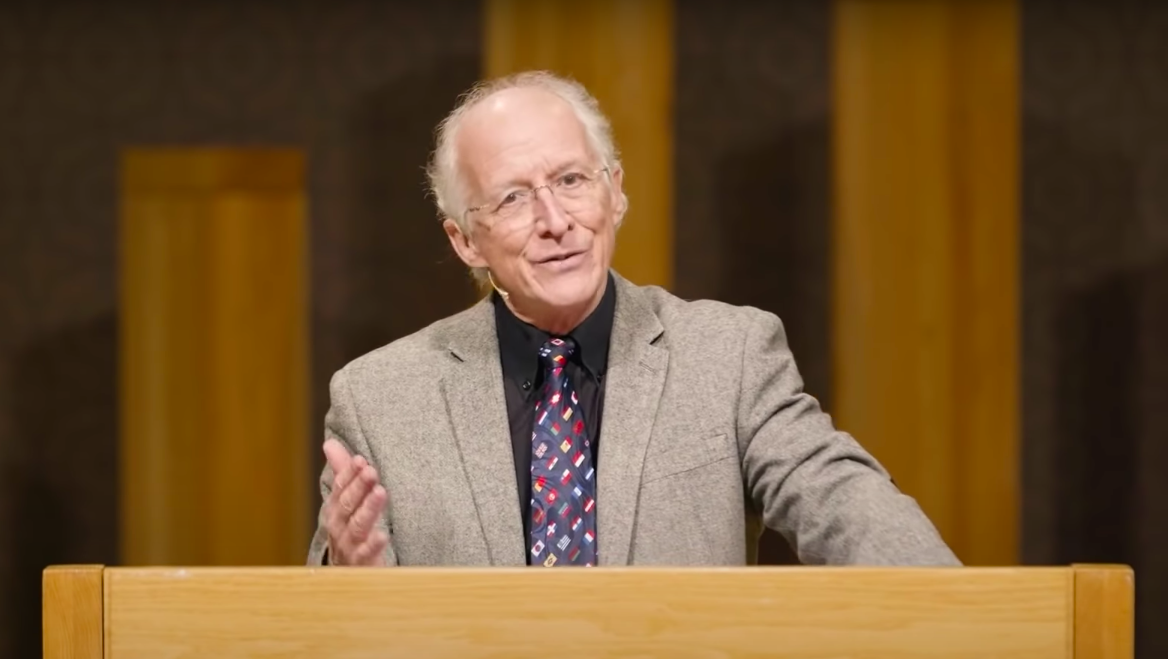 Pastor John Piper's online address at the ARPC Equip Conference 2021 in April. Screenshot from the conference. 
For millions around the world, and in Singapore, this past year has been characterised more by sorrow than by joy.
Prominent US evangelical pastor, theologian and founder of DesiringGod.org, John Piper, addressed the seeming contradictions of the experience of joy and sorrow at a two-day, online Equip Conference last month. The conference was organised by Adam Road Presbyterian Church (ARPC). 
Piper had been originally scheduled to speak live in Singapore in mid-March 2020, just as the Covid pandemic was unravelling. 
This year, speaking from his home in Minnesota in the United States, Piper, who wrote the bestseller Desiring God, said it has been "tremendously helpful" to figure out how joy and sorrow can be experienced both sequentially and also simultaneously.
Even "in these days and the days to come when all of us will walk through sorrows", we will be able to taste and "never give up the joy that we have in Jesus", he said. 
This extract of Piper's message from Day 1 of the Equip Conference is published by Salt&Light with permission.
---
One of those natural questions in the world is to ask how joy and sorrow relate to each other and how happiness relates to pain and weeping.
"Natural" because all of us experience both of them, right?
How do joy and sorrow relate to each other? How does happiness relate to pain and weeping?
Sad, painful, disappointing, frustrating, damaging things come into our lives. More or less regularly. Sometimes they're big, sometimes they're little.
It's just as natural, just as true.
Some people experience pain as dominant and some people experience pleasure as dominant but nobody escapes the combination of both.
Joy In Sorrow: That's the title I would give this message.
First we're going to walk through a series of biblical passages that emphasise the sequential nature of, first sorrow, then joy. And then we're going to look at passages that stress the simultaneous nature of sorrow and joy. The very same heart experiencing both sorrow and joy at the same time.
We'll close with three observations that I think make this enormously practical in the living of our lives.
Holding the tension
In the method that I just sketched, one group saying one thing, a second group saying something that seems different – contradictory, even – to some people, I hope you see in that a method of doing theology and a method of preaching and caring for a congregation. That is very, very important.
I think one of the reasons people go off the rails and make theological and biblical mistakes is because we are all prone to pick a group of passages that says what we love.
Theology gets really rich for our minds, souls and life when we dig into seeming contradictions.
We focus entirely on that and neglect another group of passages that seems to say otherwise because they're troubling, so we don't look at them very much.
What I have found over the decades is that we sell ourselves short.
We don't get as much biblical wisdom and insight as we do if we say: "Okay, I'm going to be honest with these passages that say one thing. And this group of passages that seem to say something that doesn't fit with that, I'm not going to let those go either."
Because they're both in the Bible; they're both true. God does not contradict Himself. So I'm going to push down into the reality until I see the common root.
And that's where theology gets really rich!
Rich for our minds, but especially rich for our souls and our life.
A cosmic sequence
Imagine a church where a pastor constantly says you will have seasons of sorrow but afterwards comes joy, it always comes. And he never says anything about joy in sorrow.
The disciples clearly walked through hours in which they sorrowed. But those hours were followed by rejoicing.
Or picture a church where the pastor's always saying you can, and should have, joy in your sorrow and never says anything about the sequence of sorrow being followed by joy.
In my judgment, both of those churches are going to be immature, weak and vulnerable to temptations.
But if the pastor was thinking with his people down into the common roots of those two apparently contradictory things, that church would become mature, and strong, and stable in this world.
Now let's go to the text because that's where the riches are found.
In some sense, the joy that comes in the morning wasn't there in the evening. And the weeping that was there in the evening goes away in the morning. (Psalm 30:5)
This present fallen age in which we live our lives is an age of tears.
That's a real sequence, that's a real experience.
Jesus is describing to his disciples what they are going to emotionally experience with his death and resurrection. Here's what he says in John: "Truly, truly, I say to you. You will weep and lament but the world will rejoice. You will be sorrowful but your sorrow will turn into joy." (John 16:20)
The disciples clearly walked through hours in which they sorrowed.
But those hours were followed by rejoicing and Jesus compares it to a woman in childbirth who has labour pains and the cries of birthing give way to the baby in arms and overwhelming joy.
Age of tears
Romans 12:15 is a simple command we all know: "Rejoice with those who rejoice, weep with those who weep."
In other words, just because Paul says in another place, "Rejoice always" (Philippians 4:4), don't plan your funerals as though they were festive weddings.
Jesus comes at the end of that age and the former things pass away, that's a kind of cosmic sequencing of sorrow and joy.
And just because Ecclesiastes says it is better to go to the house of mourning than to the house of feasting (Ecclesiastes 7:2), don't throw a blanket of gloom upon the happiness of the bride by treating her wedding like a funeral.
Because Ecclesiastes also says for everything there is a season – a time to weep, and a time to laugh, a time to mourn, and a time to dance. (Ecclesiastes 3:1-3)
One more text comes from the revelation of John (Revelation 21:3) and you could call it cosmic sequence or historical sequence.
There's a sense in which we can say this present fallen age in which we live our lives is an age of tears. It's an age of mourning, an age of crying, an age of pain.
Then Jesus comes at the end of that age and the former things pass away, that's a kind of cosmic sequencing of sorrow and joy.
That's the first group of texts, namely the ones that focus on the sequence: Sorrow, joy, sorrow, joy. In sequence, not simultaneous.
Rejoicing within painful conflict
Some of you are getting impatient with me that I haven't defined joy, haven't defined happiness, haven't defined sorrow. And, if you gave us some really crisp clear nuanced definitions, all the problems would go away.
I'm not doing that even though it's frustrating for you and me.
The reason is this: Trying to define biblical words like "joy" or "blessedness" or "happiness" or "sorrow" or "pain" or "crying" ahead of the tension, we're going to get it wrong.
It's precisely putting these texts together and letting them knock heads with each other that keep us from being naïve in our definitions.
Let's start with the one we've already seen: "Rejoice in the Lord always and again I will say rejoice." (Philippians 4:4)
Now Paul did not have to say "always". And what makes that even more striking is that, immediately before that verse, in Philippians 4:1-3, he was dealing with the painful conflict between Euodia and Syntica whom he wished could agree in the Lord.
The reasons for joy and sorrow are not contradictory, experiencing them simultaneously is possible, and indeed, essential.
And into that painful conflict, he says, always be rejoicing.
And before that in Philippians 3:18, Paul says: "'Many of whom' – he's talking about the adversaries – 'many of whom I have often told you and now tell you with tears, walk as enemies of the cross of Christ.'"
But Paul had just said in verse 17: "Imitate me, be imitators of me, your apostle." (Philippians 3:17) And the first thing he gives to imitate is weeping over lost people! Paul says: "… again I say rejoice." (Philippians 4:4)
Paul is not a careless writer. He is not a bad communicator – he doesn't make mistakes under God's inspiration about the interpretation of his own experience.
Even while tears are flowing in Philippians 3:18, Philippians 4:4 is true. The enemies of the cross are opposing him and he's weeping as he makes this observation about them to the church.
The man who said "I experience unceasing anguish" (Romans 9:23) also wrote "rejoice always and again I say rejoice" (Philippians 4:4).
Three observations for life
So, I'm going to draw out three observations which I think make sense of what we've seen and which will help us live this life.
#1 Both are true 
One of the reasons there can be joy and sorrow simultaneously is that the reasons for the one and for the other are different.
Both sets of reasons are not contradictory, and therefore the experiencing of both of them simultaneously is possible, and indeed, essential.
The best way to illustrate this is how I experienced my mother's death.
That was real joy – and real heaving sorrow.
I was 28 years old and my mother and my father were leading a tour in Israel. I was married and had a little two-year-old and the phone rang with one of those calls you want never to get.
"Hey Johnny, this is Bob (my brother-in-law). I've got bad news. Your mom and dad were in a bus accident hours ago. Your mother didn't make it and your dad is seriously injured – we don't know if he's going to make it. I don't know anything else. I'm so sorry, I'll keep you posted."
So I give those facts to my wife, I take Karsten's hand off my pants leg where he's saying: "Daddy, sad?"
And I go back, kneel down at the bed and I cry. I cry like I had never cried, and have never cried since, for a very long time.
And while I was weeping – I did not plan this – there erupted from my memory and from my heart explosive joy.
Nobody could persuade me that this is not possible: To have joy of the profoundest, richest, sweetest kind under those waves of sorrow.
"Father thank You, she was a spectacularly good mom.
"Father thank You, you gave her to me for 28 years.
"Father, thank You in recent years that we had a clearing of the air from all my teenage feisty disrespect and ingratitude and things were good between us.
"Father, thank You that evidently she didn't have to suffer long at all. That she is happier right now in the presence of Jesus than I am sad at her loss.
"And, Father, thank You that my dad's still alive. Please, please, please, save him."
There is no doubt in my mind that that was real joy – and real heaving sorrow.
Nobody could persuade me that this is not possible: To have joy of the profoundest, richest, sweetest kind under those waves of sorrow.
#2 Our experiences are not contradictory 
They're not contradictory, they're different. They both support real experiences and those experiences are possible at the same time.
Tears are correlated with death and loss, and crying is correlated with pain.
Pain and loss, they just hurt. You can't stop them from hurting any more than if you smash your finger with a hammer. They hurt, that's what pain is. Pain is what brings sorrow.
Christian joy doesn't mean you don't feel pain.
Christian joy doesn't mean you don't feel pain. When we feel it, tears come. That's real – we don't decide. You don't decide to say "ouch", you say it.
The Bible speaks about that pain and our joy in two ways.
Listen carefully. When the psalmist says weeping may tarry for the night but joy comes in the morning, he means tearful joy in God will be replaced by tearless joy in God. The tears will be wiped away, the pain will be healed.
You can't stop pain and tears from coming but you can keep joy from going, because the pain and the joy are grounded in different realities.
#3 The night of weeping is a night of unshakeable joy
Picture joy as a great granite boulder as big as this room on the rugged seacoast of your life.
Solid, because it's built out of the sovereignty of God, the forgiveness of sins and the preciousness of Jesus. Big. Strong. Unshakeable. 
In the calm seas the boulder is exposed to the sunlight and it shines – silvery laughter!
Picture that.
This massive boulder shimmering with laughter in the sunlight as the calm sea spreads around.
And then the storm comes. The waves rise and they crash over this boulder and they submerge it, out of sight.
And the bright shimmering laughter disappears under the surface of tears and the surging waves of weeping and sobbing. But nothing, nothing can dislodge this boulder of joy in all that God is for us in Jesus.
It cannot be broken in pieces. It cannot be sucked out into the sea. And when the waves recede, joy comes in the morning.
When they recede the boulder shimmers again in the sunlight with laughter.
Tearful joy gives way to tearless joy.
So I urge you: Embrace all the Scriptures, love all the Scriptures about joy and sorrow.
Grow your families and your churches into mature, strong, stable Christians who know from experience and know from Scripture that weeping lasts for the night but joy comes in the morning.
And also! That the night of weeping is a night of unshakeable joy.
---
This article was extracted from Day 1 of Adam Road Presbyterian Church's John Piper Equip Conference with permission from ARPC. You can listen to the full sermon here. 
---
FOR MORE STORIES ON GOD IN THE MIDST OF SORROW AND SUFFERING: 
"What does our faith offer in moments of crises?": Philip Yancey reveals where God is when it hurts
Out of the heartbreak of his son's stillbirth, came new life for founder of award-winning PR firm
"They wanted to spin hate, we will bring love": Father who lost 12-year-old son in Sri Lankan tragedy
If you have enjoyed reading Salt&Light...
We are an independent, non-profit organisation that relies on the generosity of our readers, such as yourself, to continue serving the kingdom. Every dollar donated goes directly back into our editorial coverage.
Would you consider partnering with us in our kingdom work by supporting us financially, either as a one-off donation, or a recurring pledge?
Support Salt&Light