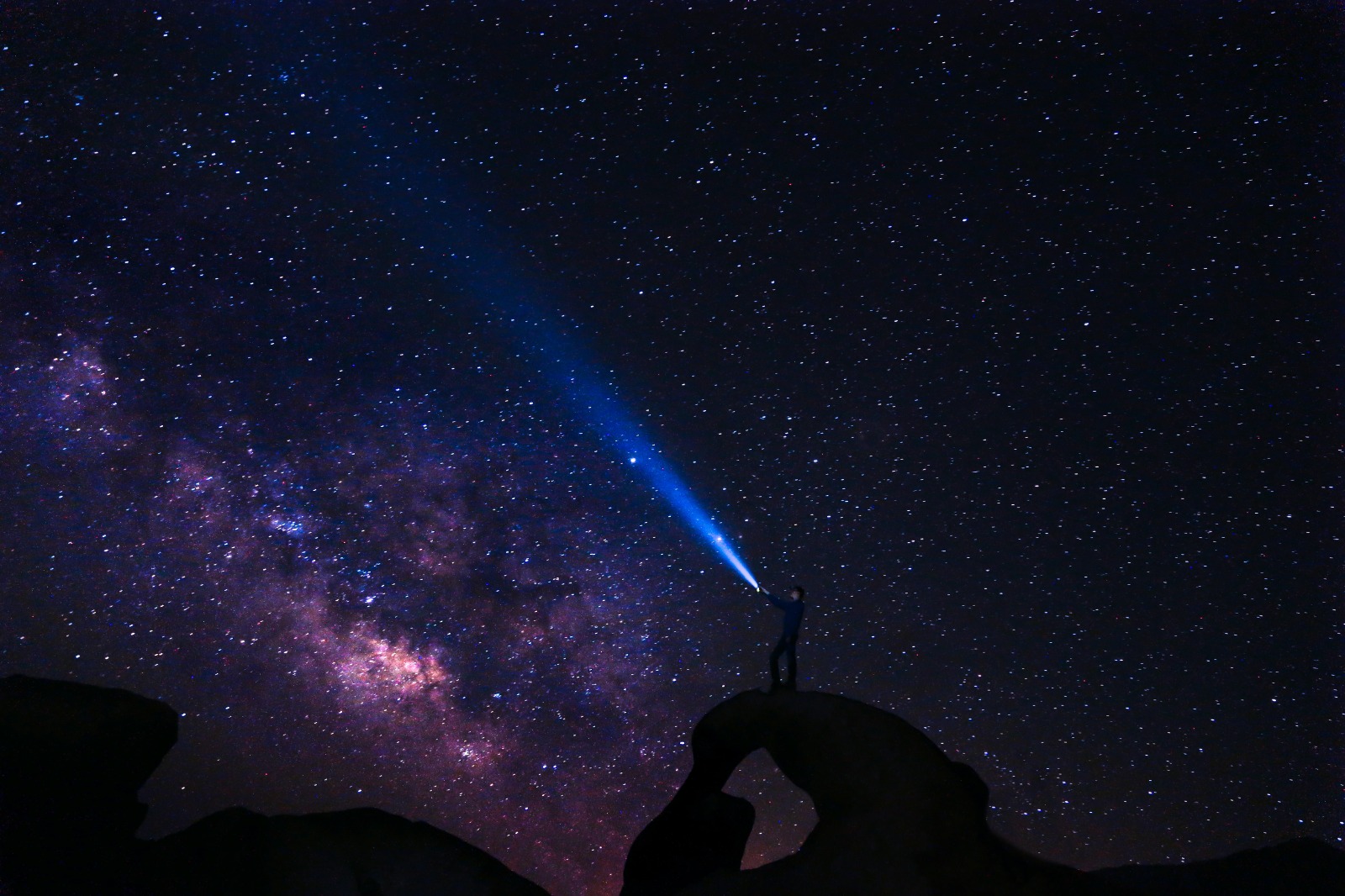 Using the analogy of an object moving through space, the author, the CEO of St Luke's Hospital, reflects on the need to recalibrate in order to stay on track in one's journey through life. Photo by Clarisse Meyer on Unsplash.
The Covid pandemic and my own personal indiscretion with regard to food led to me putting on more than 5kg last year. This was a result of moving around less as meetings were held virtually, eating more (my excuse was that I had to build stores to combat Covid or to indulge myself to fight stress!), and largely neglecting exercise as the intensity, speed and scale of work doubled and tripled.
Noticing my growing habitus, my daughter gifted me a weighing machine out of the blue. How subtle can that be?!
The unhealthy habits were taking a toll on my health and things came to a head when I was handed my health screening results last year. My weight, blood pressure, cholesterol levels had all gone up.
It struck me that if I did not do anything about my eating and exercise habits, my likely trajectory was developing diabetes mellitus, hypertension, and suffering a stroke or heart attack down the road.
If I did not do anything about my eating habits, my likely trajectory was suffering a stroke down the road.
All is not lost and the good news is that we can change our trajectory.
I started intermittent fasting, embarked on a rigorous exercise programme and used my daughter's gift to monitor my progress.
I am glad to announce that after six months of correcting my course, my weight had dropped by 7kg, my fitness improved and hopefully my next health screening would reveal more positive numbers. I'd like to believe that I had altered my physical health trajectory, although there is still much work to ensure I maintain this discipline.
Moving along, I also had to keep track of my mental health and make positive changes. I started taking more frequent short breaks, doing things beyond work that helped me to feel refreshed. A few hours to a few days of resting and relaxing does wonders to re-energise me.
What's your personal physical and mental health trajectory? Have you been eating healthily and exercising adequately? Are you feeling stressed? Burnt out?
Perhaps like me, you need to make a decisive correction to change your physical and mental health trajectory to a more positive one.
Plotting our trajectory
I started thinking about trajectories as I pondered the future of St Luke's Hospital (SLH) as we celebrate our silver anniversary this year.
It's been almost 21 months since Covid-19 reached the shores of Singapore. The end of the pandemic is still not quite in sight although the light at the end of the tunnel seems to be growing brighter by the day.
Is the trajectory that we are on taking us to the right destination or hitting the intended target?
A trajectory refers to the path that an object follows after it is thrown or shot into the air – or the path of an object travelling through space. It may be represented by an arrow soaring through the skies and hitting the target, or a rocket at take-off, traversing through space and landing on the destined planet.
A trajectory is also used figuratively to describe the path that one is taking in the journey of life. It can be applied to individuals and organisations.
What is your current personal and corporate trajectory?
Who will be with us at our deathbed?
Another important area that we need to invest in and not take for granted is our relationships with our family and friends. What is the likely trajectory of these relationships in the next three, five, 10, 20 years from now? Are we spending time with those who matter to us? All relationships need cultivating and nurturing, and it is a fallacy to think we can postpone this to later when we have more time.
All relationships need nurturing … it is a fallacy to think we can postpone this to when we have more time.
When my daughters were growing up, I set aside time for them through bedtime stories, weekend dinners and annual holidays. We also developed some family rituals like weekly prayer and sharing time. As they grew up, we made it a point to still gather for meals on a regular basis.
One positive thing from this pandemic is getting to spend more time (in terms of quality and quantity) with our family. Similarly, I have been trying to catch up with friends I've neglected over the years due to the rigour of work or family commitments.
Questions we need to ask ourselves include: Who are we going to spend our retirement with? Who is going to be at our deathbed? Morbid as it may sound, colleagues in palliative care have witnessed the difference between those who had lived a rich life of caring and investing in others and those who had just lived for themselves.
Is this also a trajectory that we need to alter? Are we neglecting important relationships in our lives? Do we need to reprioritise our commitments so that we can spend time with significant ones?
Staying spiritually
on track
David M Griebner, in his book The Carpenter and The Unbuilder tells the story of a man living in a certain kingdom who received an invitation from his King to come to dinner. The man was excited as well as afraid as he pondered the implications of meeting the King. He took time to prepare his clothes, learn the rules of dining etiquette and so on. Three months later, he was finally ready to commence the journey.
One thing led to another and soon he was building a kitchen, and had forgotten about the King's invitation.
The man was a carpenter by trade. He decided to take along his tools for the journey and built a shelter where he could spend the night. The next morning as he was about to start out again, he looked at the shelter he had built. He began to notice places where it could be improved and so instead of continuing his journey, he made improvements to his little dwelling. Well, one thing led to another and soon he was building a kitchen and a garage, and had forgotten about the King's invitation and the journey.
Meanwhile the King was beginning to wonder about the man, so he sent a friend who was also a dinner invitee to check in on the Carpenter. The King's friend found the Carpenter was living in the second house he built. He was enjoying it and had forgotten about the invitation.
The King's friend spent time with the Carpenter and shared that he too was frequently distracted. He shared that in time, he also became uncertain about the King's invitation … until he met an Unbuilder who taught him how to unbuild rather than to build. The Unbuilder helped him to leave his home and trust the journey in itself.
This King's friend would go on to become the Carpenter's Unbuilder. He helped the Carpenter learn about the different paths that would lead to the King's palace without going on the wrong ones. He accompanied the Carpenter in his journey to help him unbuild or stop building in order to continue the journey. The Unbuilder reminded the Carpenter of the King's love for him whenever the Carpenter was uncertain of carrying on.
Did the pandemic distract you in your pursuit of the path that God is leading you on?
What was your trajectory in your journey with Christ before Covid-19 hit? Did the pandemic derail and distract you in your pursuit of the path that you sense that God is leading you on? Or has the pandemic served to remind you of the need to unbuild so that you can carry on the path that God has led you on?
Covid has challenged our way of life both on the individual and corporate fronts. We need to constantly calibrate and see if we require course corrections in our physical, emotional as well as spiritual trajectories to ensure that the path we are on is leading us to the intended target.
We will certainly not want to miss out on the King's glorious and sumptuous dinner by forgetting that we had received the invitation in the first place.
"Let not your hearts be troubled. Believe in God; believe also in me. In my Father's house are many rooms. If it were not so, would I have told you that I go to prepare a place for you? And if I go and prepare a place for you, I will come again and will take you to myself, that where I am you may be also." (John 14:1-3)
---
This article is based on a letter by the author to the staff of St Luke's Hospital.
The hospital celebrates its silver jubilee this year; find out more about their advocacy for seniors here or donate to their fundraising efforts here.
---
RELATED STORIES:
"Every 'version upgrade' was through a trial or challenge": St Luke's Hospital CEO on learning to give control to God
"There was no big blueprint, just the fingerprint of God": HealthServe's Dr Goh Wei Leong
If you have enjoyed reading Salt&Light...
We are an independent, non-profit organisation that relies on the generosity of our readers, such as yourself, to continue serving the kingdom. Every dollar donated goes directly back into our editorial coverage.
Would you consider partnering with us in our kingdom work by supporting us financially, either as a one-off donation, or a recurring pledge?
Support Salt&Light