Day 16: Home truly
A LoveSingapore 40.Day prayer and fast devotional, following 2020's theme of In the Long Run – A Journey Through the Book of Hebrews.
LoveSingapore // July 16, 2020, 12:01 am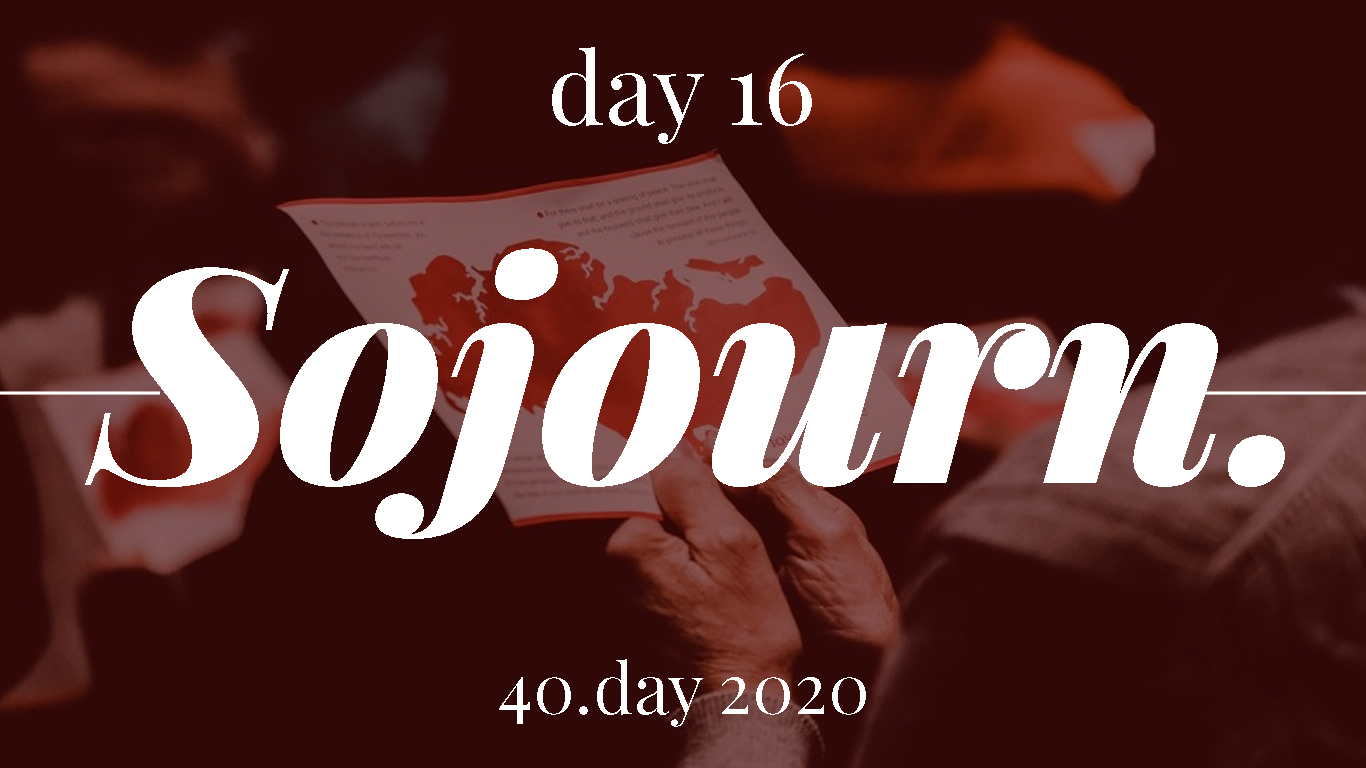 40.Day 2020
Bible reading for 40.DAY 2020 | July 16: Hebrews 11:13-16
---
This is my Father's world. True. But another classic hymn declares: This world is not my home. I'm just a passin' through. So how can both be true?
This is the tension addressed by Hebrews. As joint-heirs with Jesus, we stand to inherit the world. But Satan has a grip on this world (1 John 5:19; Revelation 12:12). How do we bridge the gap between God's precious promise and our present situation? One step at a time on the epic journey of faith: From Egypt to Canaan. From the outer court to the inner sanctuary. From the city of Ur to the City of God.
Grip my soul with the reality of the eternal. Help me live with such faith that makes You proud.
Like Abraham, Isaac, and Jacob, we live and die as pilgrims in pursuit of the promise of God. Three generations of Patriarchs sojourned and died in the Land of Promise. Strangers in a strange land, they were just a passin' through – ever searching, ever longing for the City of God and the One who built it. They had every opportunity to turn back. But they persevered to the end.
These all died in faith not having received the promises (Hebrews 11:13). Can you live with that? Can you die like that? Yes, you can. When you love God and live by faith, life is Christ and death is gain (Philippians 1:21).
So what did our wayfaring pilgrims gain in the long run? God's approval. God's favour. God is not ashamed to be called their God (Hebrews 11:16). But are we ashamed to confess him as our God? Do we love and long for him above all things? God has prepared a City for us. Our names are recorded in the Registry of Citizens in the Heavenly Jerusalem. Have we set our affections on things above? Or on things of the earth? (Colossians 3:2).
So what about this world? Do we leave it in the grip of Satan? No. The earth is the Lord's and everything in it (Psalm 24:1). Jesus will soon return to reclaim and restore all things. God will shift his Eternal City to Planet Earth. Then we shall exchange our HDB tents for mansions in glory on streets of gold. Freehold. And then we shall sing:
This is my Father's world.
This is home truly.
Prayer Track
•   Memorise and pray this mesmerising verse: They desire a better country, that is a heavenly one. Therefore God is not ashamed to be called their God, for he has prepared for them a city (Hebrews 11:16).
•   Draw near to God. Pray: Lord, I am stunned. I'm a wayfarer on this epic journey of faith in this flustered world. I deeply desire your approval. Your favour. Your presence. Your help. Day by day, like the Patriarchs of old, I want to look far beyond the horizon of the here and now. I want to fix my hope on the future you have planned for me. A future far better than anything this world can offer. Set my heart aflame with holy desire: For heaven more than earth. For the City of God more than the city of man. And most of all for you, the Architect and Builder of this Eternal City. Grip my soul with the reality of the Eternal. Help me to live on a level of faith that makes you proud to be called my God. Let the words of my mouth and the meditation of my heart, be acceptable in your sight (Psalm 19:14). Let the works of my hands be a sincere statement of faith that pleases you, a sign of hope that honours you, a story of love that obeys you.
•   Give thanks to God! This side of heaven, Singapore is home. World leaders recognise that they have much to learn from our well-ordered city-state. An almost perfect city, says Nas Daily. The world's most competitive economy, says the IMD World Competitiveness Centre. One of the best healthcare systems in the world, says the New York Times. One of the safest places to live during the Covid crisis, says Deep Knowledge Ventures. And so on. Pause and ponder the magnitude of such divine favour. Raise your voice in praise to God for all these extravagant blessings he has bestowed on us.
•   Come humbly to God. Make this your cry on behalf of all God's people living in Singapore: Lord, we are overwhelmed. We are awed. We are speechless. Who are we to be lavished with such exceptional blessings, both on earth and in heaven? We are doubly blessed! Yet we are doubly worried. We have it so good here that we don't long for you and your Eternal City as we should. We are too comfortable. We are too contented. Save us, O Lord! We desperately need a radical renovation in our spirit, soul, mind, and heart. Do your deeper work in us. Perform your greater works through us. May our transformed lives inspire our family, our friends, and even our foes to believe and declare with us: Whom have I in heaven but you? And there is nothing on earth that I desire besides you (Psalm 73:25). As we labour in love for the shalom of our beloved city, help us to remember our true identity. We are pilgrims-in-progess, bound for a better country – the Eternal City you have prepared for us. Amen.
---
Follow Salt&Light on Telegram, Facebook or Instagram for more of LoveSingapore's daily devotions until August 8, 2020.
"One little pebble, and all these ripples have gone out!": How God grew one group's desire to bless
If you have enjoyed reading Salt&Light...
We are an independent, non-profit organisation that relies on the generosity of our readers, such as yourself, to continue serving the kingdom. Every dollar donated goes directly back into our editorial coverage.
Would you consider partnering with us in our kingdom work by supporting us financially, either as a one-off donation, or a recurring pledge?
Support Salt&Light