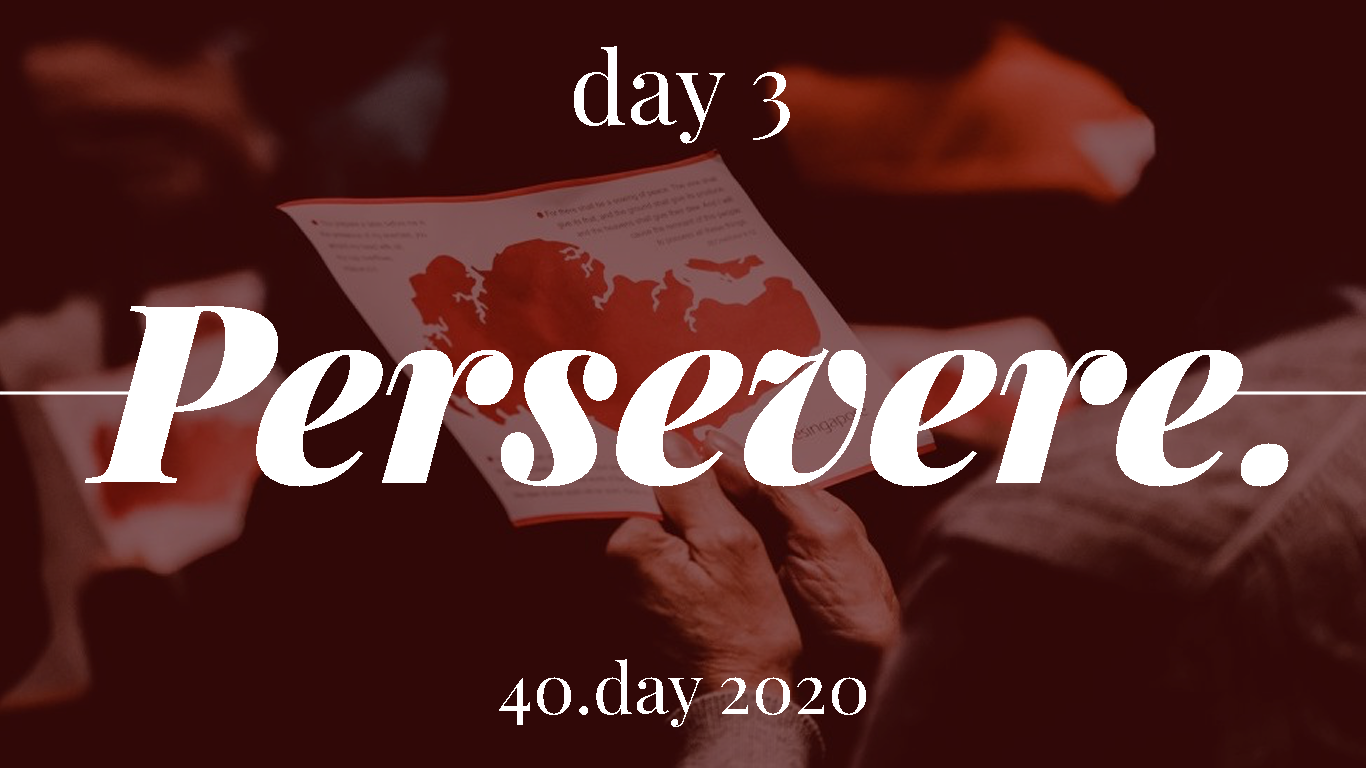 40.Day 2020
Bible reading for 40.DAY 2020 | July 3:  Hebrews 3:7-13
---
Salvation is a journey. From unrest to God's Rest. We start at conversion and end up in the City of God (Hebrews 12:22).
As in the Exodus from Egypt, our salvation begins when we are set free from sin through Jesus Christ. Then, as Israel passed through the Red Sea, we pass through waters of baptism. But please take note: No one tiptoes from the baptismal pool into Paradise.
With your eyes fixed on Jesus, never despair. You will find Rest on the way and Rest at the end. 
Just as Israel was tested 40 years in the wilderness, the rest of our life is an examination in which no one can cheat (Søren Kierkegaard, 1 Corinthians 10:1-13). All Israel passed through the Red Sea. But only two crossed the Jordan River into Canaan – Joshua and Caleb. The rest of that generation died in the desert. They fell short of God's promised Rest because of unbelief (Hebrews 3:19).
Hebrews is a scripted sermon by a professionally-trained speaker (Hebrews 13:22). He does not waste words. His warnings signify real threats to the spiritual vitality of the church he loves. His sheep are being tested on the hard road to heaven. They are in peril of repeating the sins of the wilderness generation: Hardness of heart, rebellion, provoking God, going astray, ignorance of God, and apostasy (Hebrews 3:12, 5:11-14, 6:4-8, 10:26-29). These are the very sins that disqualified the Moses-generation from entering God's Rest.
In Hebrews, entering God's Rest means realising our destiny and receiving our full inheritance in Christ. No one gets it all on this side of heaven. But to pursue this course to the better end, with eyes fixed on Jesus, is what it means to be saved.
In the long run, choices shape character and character determines destiny.
The Hebrews, however, are in danger of missing out on God's Rest. The Preacher's response is pastoral and prophetic. God has spoken. God is speaking. Through his written Word. Through the weekly sermon. Listen.
Renounce the rebellion of the wilderness generation. Don't let sin harden your heart.
Hold fast your confidence. Never despair. You will find Rest on the way and Rest at the end of the road.
Prayer Track
Every generation faces its day of testing in the wilderness.
For this generation, the coronavirus is our biggest test so far. Covid-19 is not the first pandemic to hit our world. And it won't be the last. God has spoken. He has forewarned us. Plagues are a sign of the end times (Luke 21:11).
Pray: Lord, we brace ourselves for a long fight. You are sovereign. You are fully in control. You have not given up on fallen humanity. We reject the temptation to doubt your character and question your love. We silence the murmur in our hearts. Grant us grace and grit to ride out the storm and pass this test with a perfect score – like the heroes of faith in Hebrews 11.
Every generation is responsible to learn God's ways and discern his will – lest we stray.
Let us accept the fact that God has allowed Covid-19 to test us for our own good and the good of those after us: To expose the state of the Church so that we can put our house in order. To reveal what is in our hearts so that we can repent and keep his commandments  (Deuteronomy 8:2). To refine us as gold so that he can present us to himself a radiant Bride, holy and blameless (Ephesians 5:25-27). Pray for grace to learn our lessons well. May future generations find us faithful. 
Every generation must bear the consequences of their choices – lest we stray.
Pray that this generation will watch closely, tread carefully, and respond rightly. Fervently cry out to God that on our watch, we will not turn a deaf ear to his corrections. Not harden our hearts against God. Not provoke God to anger by rejecting his ways. Not go astray in pride and presumption. Not treat God's works with contempt. And not exasperate God with our ingratitude and unbelief.
Every generation must build strong communities of faith – lest we stray.
Pray for this generation to close ranks, value accountability, and lead by example: To heed God's Word. To exhort one another every day. To warn against the evil of unbelief that trips us up. To discern and detect every flaky trend. To war against the deception that throws us off course.
Every generation must learn the hard lesson that there is no shortcut to destiny
 There is a desert between Egypt and Canaan. Renounce the fallacy that we can leapfrog from deliverance to destiny, skipping the desert and discipleship. Reject the phoney idea that destiny is something we can declare. Confess the biblical perspective that, in the long run, choices shape character and character determines destiny. Recalibrate to God's Word, our inner compass of truth. Pray. Do not stray.
Every generation must fear God.
God has spoken: He opposes the proud but shows favour to the humble. (James 4:6). Pray and trust God for his outcomes this election.  
---
Read the devotional from Day 2: Lest we drift here. 
Follow Salt&Light on Telegram, Facebook and Instagram for LoveSingapore's daily devotions over the next 40 days.
Phase 1, Day 1: As we like Noah step blinking out into the sunlight again …