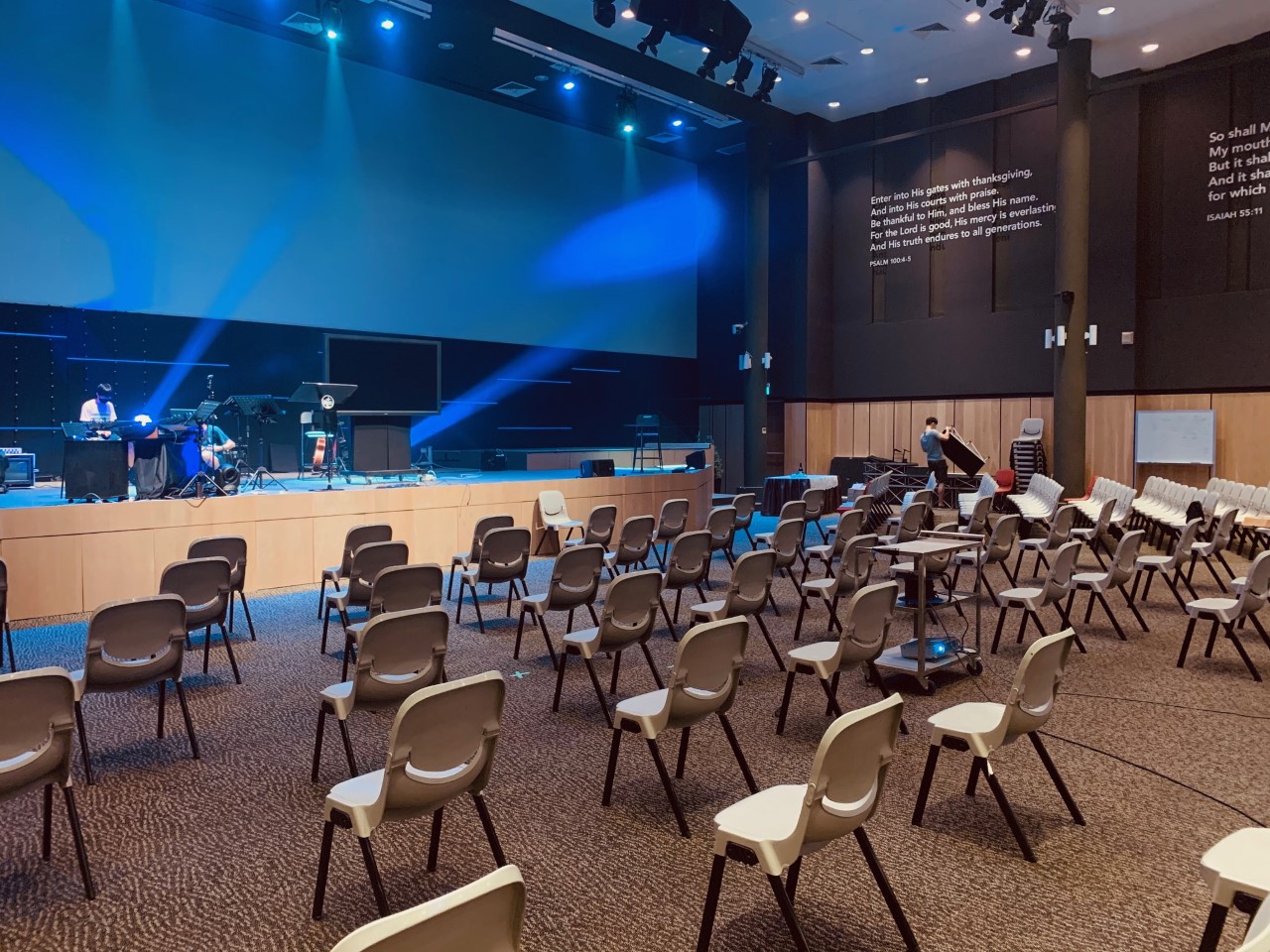 The Sanctuary at Bethesda Bedok-Tampines Church (BBTC), one of the seven churches approved for live worship from October 3. Photo courtesy of BBTC.
As the nation settles into Phase 2 of the easing of Circuit Breaker restrictions, churches are gearing up to adapt to a new normal.
On June 19, the Ministry of Culture, Community and Youth (MCCY) announced that religious services of up to 50 people can resume with stringent safe management measures in place.
It also said that churches can resume non-congregational activities on their premises, as long as each group is limited to five people and the necessary precautions to safeguard public health are implemented.
Online for now
Churches' responses to these new measures have varied, with some, like City Harvest Church (CHC), choosing to remain online.
In a June 20 announcement, the CHC management team said that the church, which has a congregation of about 16,000, will not be resuming physical services in light of the restrictions, which include the omission of singing and keeping a 1m-distance from one another.
"CHC considers praise and worship, praying in tongues and laying on of hands as integral elements of our church service. After much discussion between the pastors and management of the church, we have decided that all official CHC activities will remain online for the time being," said the management team.
However, it added that the church will be resuming the filming of services at its Jurong West building, while observing the appropriate measures.
Prior to this, CHC pastors had been recording their sermons on their own at home. The church had also been broadcasting previously recorded worship sessions for their online services.
"Being able to meet up face-to-face will definitely help and improve the community and spiritual life of our members." 
Similarly, Hope Church, which typically has an attendance of about 6,500, will not be resuming its physical weekend services, said Pastor Jasmine Poon, who is in charge of the church's Covid Taskforce.
"There are still quite a few restrictions, like the size of the gathering and no singing. But singing is a big part of our worship," she said, adding that the pastoral team will have to see what the new measures are in Phase 3 before deciding whether physical services can resume then.
Nevertheless, Ps Poon said it is good that church members can now meet up in groups of five to share their lives together again. "Being able to meet up with mentors and friends face-to-face will definitely help and improve the community and spiritual life of our members." 
Back in church
Some churches are choosing to resume services for those who desire to worship in the church building again.
Cornerstone Community Church will be holding three physical services this weekend, said Executive Pastor Lim Lip Yong. However, since each service can only have 50 people, the majority of its 5,000-strong congregation will still be worshipping online at home.
"We are confident we are doing everything we can to ensure that we reopen safely."
To ensure the safety of congregants, the church has put into place a set of "extensive safety measures", which includes a booking system for attendance, contact tracing, safe management ambassadors and carefully mapped-out pathways for congregants entering and exiting services.
"This is on top of all the regular safety measures being employed already," said Ps Lip. "We are confident we are doing everything we can to ensure that we reopen safely.
"We are appreciative of the Government's move for churches to reopen in gradual phases. It's part of who we are and what God has made us to be – a koinonia (Greek for 'fellowship') of believers.
"While we are thankful that we were still able to maintain that semblance of community through livestream and other online options these past few months, there's nothing quite like being able to gather in person, face-to-face; and we should always seek to do so where possible as the Bible exhorts in Hebrews 10:25."
Other churches resuming physical services are mindful about accommodating those who struggle with the online platform, such as the elderly.
Elder Peter Phua, who is from the Hokkien congregation at Church of Singapore (COS), which has about 1,000 members, said the church is hoping to have three separate services – one each in Mandarin, Hokkien and Cantonese – to cater specifically to those who have been left out of the online services.
"These people either don't have Internet at home or don't have smartphones. For the past few months, they've not been able to join us," he said, adding that those who are able to attend the services at home will not be allowed to come to church.
The services, which will last for about an hour each, will also be staggered so that there is sufficient time to disinfect the sanctuary. This measure will also prevent congregants in the different services from coming into contact with one another.
Similarly, Grace Baptist Church will be offering a physical gathering for their "precious seniors" who are 65 or older, while younger members are encouraged to continue worshipping online, announced the church leadership on its website on June 25.
Priority will be given to those who have not been able to connect to the church's digital ministries, said the church, adding that safe management measures, such as using the SafeEntry app, wearing masks and keeping a safe distance, will be enforced.
New forms, same substance
Still others – among them, the Methodist churches – are finding new ways of doing things. For example, Trinity Methodist Church will be having its first online Holy Communion combined service this weekend, according to posts on the church's Facebook.
After being consecrated by the pastor, the elements of bread and wine were distributed to members during the week via self-collection or delivery by church workers – something only possible now that people can meet others outside of their household.
Members will be partaking of the elements together in their homes during one of two services on July 4 and 5.
Methodist churches had previously abstained from taking Holy Communion, from the time physical meetings were halted.
Dr Anthony Goh, the Methodist Church of Singapore's Chairman of the Council on Communications, said: "Holy Communion is a sacrament of the Church; an outward and visible sign of an inward and tangible grace.
"It is important to Christians to celebrate the Lord's Supper because we experience the holy mystery of the presence of Christ when we do. We are encouraged to do so frequently."
Church done in a new way
As the COVID-19 precautions are eased, Pastor Norman Ng from 3:16 Church foresees that the Church will emerge from the coronavirus experience doing things differently than in the past.
"When we next gather in Phase 3, it could be a very different church."
His congregation of less than 250 has decentralised to meet in 17 different Zoom groups since the start of the Circuit Breaker, "to preserve the sense of community while receiving the Sunday Word", he said.
Each group holds its own worship. As the weeks have gone by, the leaders of each group have also started preaching on their own. The church will be continuing in this way of worship in Phase 2.
"When the measures open up to 10 in a house, the 17 decentralised groups might start sprouting up as home churches under the 3:16 Church banner. When we next gather in Phase 3, it could be a very different church.
"The leadership will look very different – there will be a new layer of shepherds who teach," said Ps Ng. "As each decentralised church operates like a house church, should it grow as people are hungry for a church community, we could see many new faces too."
The Church has moved online and the elderly are falling behind
Church services of up to 50 can resume, but no singing: MCCY
If you have enjoyed reading Salt&Light...
We are an independent, non-profit organisation that relies on the generosity of our readers, such as yourself, to continue serving the kingdom. Every dollar donated goes directly back into our editorial coverage.
Would you consider partnering with us in our kingdom work by supporting us financially, either as a one-off donation, or a recurring pledge?
Support Salt&Light