Day 32: Awe-full God
A LoveSingapore 40.Day prayer and fast devotional, following 2020's theme of In the Long Run – A Journey Through the Book of Hebrews.
LoveSingapore // August 1, 2020, 12:01 am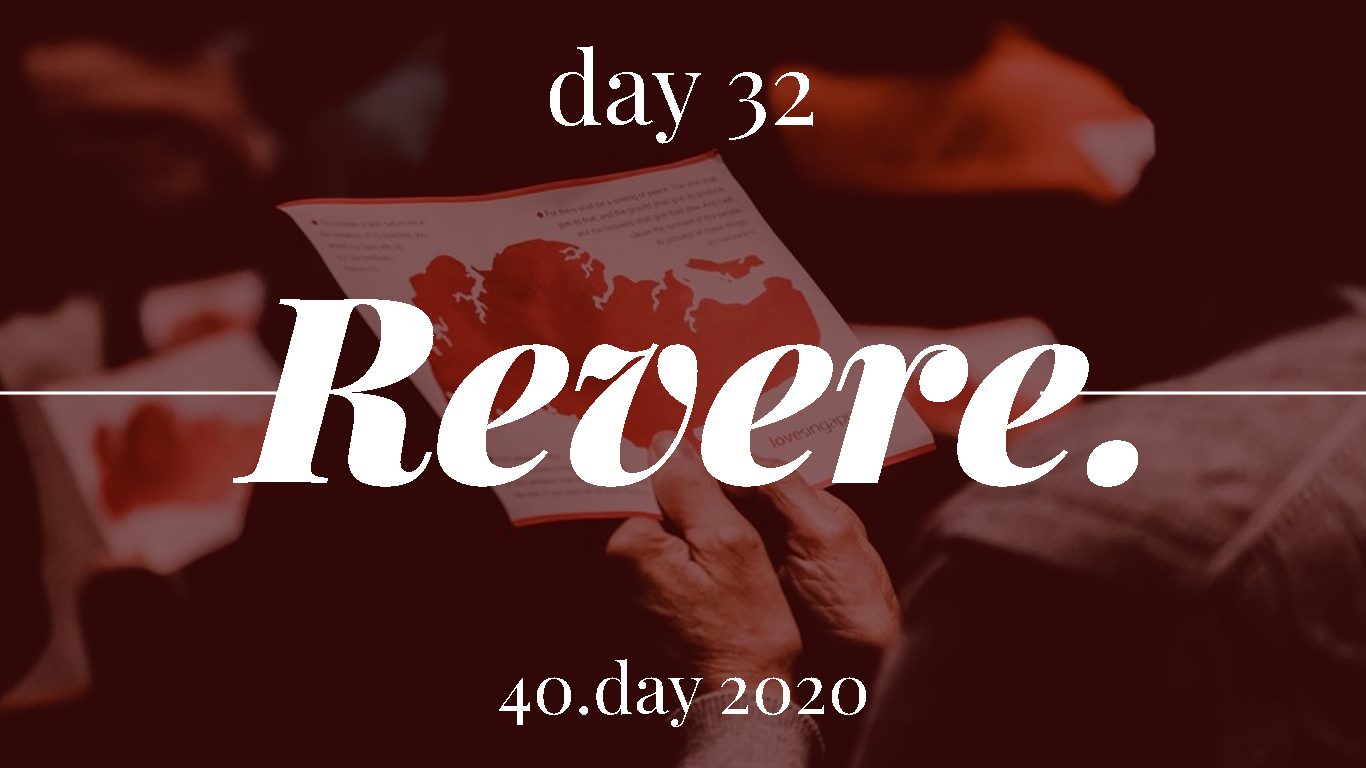 40.Day 2020
Bible reading for 40.DAY 2020 | August 1: Hebrews 12:25-29
---
Acceptable worship involves listening to God. He speaks through the written Word. He speaks through the sprinkled blood of Jesus. He speaks through our pastors' sermons (Hebrews 1:2; 4:12; 12:24; 13:7). The Sinai generation ignored God's voice and died in the desert. Are we listening?
Acceptable worship includes gratitude to God for his unshakeable kingdom (Hebrews 12:28). The voice that shook Sinai will soon shake the whole universe. Casual Christianity will be rattled to its core. Esau-infidels who put beans before birth right will be removed (Hebrews 12:14-17). And those who ignore God's warnings and embrace false teachings will also be sifted out (Hebrews 6:4-8; 10:26-31; 12:25; 13:9).
Reverence is a healthy fear of God that leads to obedience. But awe is in a different league altogether.
The cosmic quake has already begun, not least through the coronavirus. The final convulsion will remove all that can be shaken. Only the Eternal, and what is rightly related to the Eternal, will remain.  Those who seek and serve the kingdom faithfully and gratefully will be kept safe and secure, come what may. Our anchor holds within the veil (Hebrews 6:19). Are we grateful?
Acceptable worship also involves reverence and awe (Hebrews 12:28). Not hype and hubris. Not entertainment posing as worship. Not Sinai effects bombarding the physical senses (12:18-21). But deep respect and godly fear in the Holy Place.
Reverence is a healthy fear of God that leads to obedience, as it did for Jesus and Noah (Hebrews 5:7; 11:7). But awe is in a different league altogether. Awe is like the dread you feel when peering over the edge of a cliff or a high-rise building. It's like the blast of heat you feel near a building that is being consumed by fire (Hebrews 10:31). Few have known or want to know this level of worship.
Our God is good. But he is not safe to trifle with. You don't play with dynamite. Our God is an All-Consuming Fire. Let all wood, hay, and straw go up in smoke. Let us offer to God acceptable worship, with reverence and awe (Hebrews 12:28-29). Our God is an "awe-full" God.
Prayer Track
•  Wake up. The cosmic shaking is at hand. Come to terms with this glaring fact of 2020. It's foolish and futile to live in denial. Align and agree with God: Judgment begins in the house of the Lord (1 Peter 4:17). Churches that seek and align with his kingdom will survive. Churches that seek their own glory and build their own empire in his name will be rattled off their foundations.
Pray: Come Lord Jesus. Cleanse your temple. Crack the whip. Turn the tables. Drive out the money changers. Rattle our Casual Christianity to its core.
Expose all blasphemous chumminess with the Almighty (Eugene Peterson). Expose the hypocrites and grumblers who refuse to repent. Rebuke the entertainers who brand and promote themselves. Weed out everything that causes sin and all who do evil (Matthew 13:41). Torch everything that can burn: all our wood, hay, and straw, all our religious junk, all our superficial substitutes for cross-bearing discipleship.
•  Listen up. In Bible times, the presence of God routinely inspired holy dread and destroyed human life (Genesis 28:17; 32:30; Exodus 3:6; 4:24; 19:10-24). Pray. Tremble at God's Word, the biblical examples which were written down as warnings for us (1 Corinthians 10:11): Miriam murmured against Moses and got leprosy (Numbers 12:1-10). Nadab and Abihu offered strange fire and got fried (Leviticus 10:1-2). Korah and those who rebelled with him were swallowed by a sinkhole (Numbers 16:31-35).
The Philistines took the Ark of the Covenant hostage and got tumours (1 Samuel 5:6-12). Seventy men looked into the Ark and dropped dead (1 Samuel 6:19-20). Uzzah steadied the Ark with his hand and fell dead (2 Samuel 6:6-7). Ananias and Sapphira scrimped on the offering, lied about it, and fell dead. Great fear came upon the whole church and upon all who heard of these things (Acts 5:1-11). King Herod took divine glory for himself and got eaten up by worms (Acts 12:20-23). Elymas opposed the Gospel and was struck blind (Acts 13:8-12). Some Corinthians abused the Lord's Supper, fell sick, and died (1 Corinthians 11:20-30).
•   Sober up. God is an All-Consuming Fire. Historical revivals testify to that. In the Hebrides revival, for example, men fell prostrate in the streets in holy fear. One witness confessed: So awful was the sense of God's presence that even the grass beneath my feet and the rocks around me seemed to cry out 'Flee to Christ for refuge (Romans1015.Com). Are you stirred? Do you long for such a divine visitation? We desperately need one. Bible illiteracy is becoming endemic. Narcissism is rising. Populism is trending. Western liberalism is brewing. This lethal mix will destroy us if left unchecked.
In holy fear, pray that this generation will not mute ourselves and be indifferent, passive bystanders. In holy fear, plead for divine intervention: O Lord, You act on behalf of those who remember your ways and seek you in faith. Rend the heavens and come down. Make your awe-full name known to every soul in our city. Cause Church and Society to quake before you (Isaiah 64:1-5). Turn Singapore Christ-ward!
---
Follow Salt&Light on Telegram, Facebook or Instagram for more of LoveSingapore's daily devotions until August 8, 2020.
"Without God, I would've just been your average Mr Nice Guy": Olympian and ex-MP Dr Tan Eng Liang
"If we don't exercise faith, we will never learn it": Ironman Chef Heman Tan on his riches to rags story