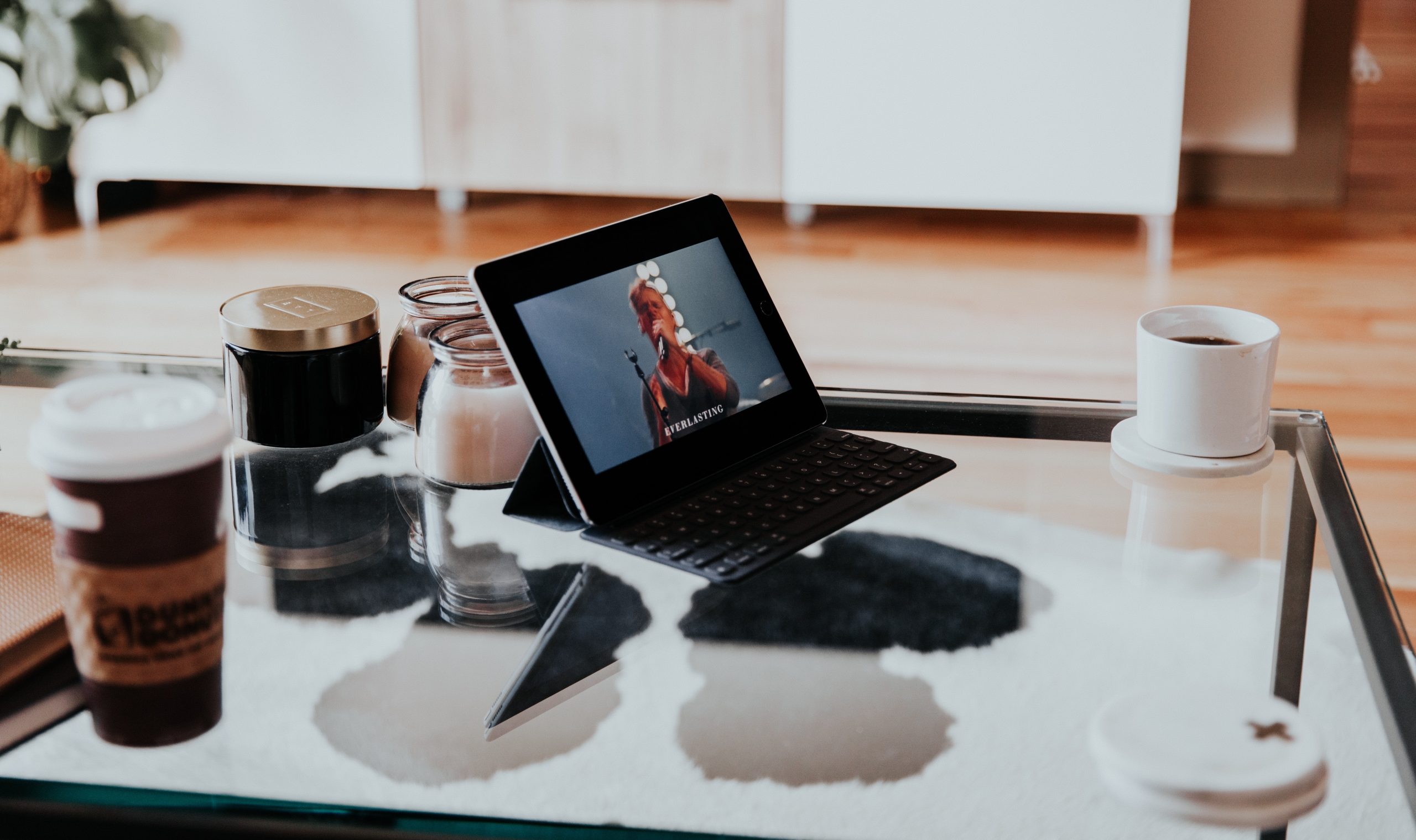 "To treat online (or onsite) worship more intentionally, we can do so when we create a sanctuary, congregate as one and come away transformed," writes Elder Jimmy Tan. Photo by Hannah Busing on Unsplash.
Just when we thought it was safe to fully return to onsite services, many churches are finding themselves shifting back again to total online services. 
Yet how can we overcome the passivity and lukewarmness that threatens to creep into our attitudes?
Or the urge to give in to lingering anxieties instead of staying focused on Him during this time in our various church communities?
"It's not about you"
With the road to Covid-19 recovery likely longer (and with more twists and turns) than expected, it'll be tempting to slide into either staying away from service or being a mere spectator when left to our own devices (sorry for the pun). 
Pastor Rick Warren reminds us as he famously began his bestseller The Purpose Driven Life, that "it's not about you".
God forgive us for thinking it's a case of "we have to" worship Him or that "we aren't feeling good enough" to worship Him when actually, now, "we get to" worship Him! 
True worship
I admit I often forget two things.
Jesus came to make true worship possible.
That, first, it starts with being aware that our Father is present and pleased when His true worshippers gather "in the Spirit and in truth" (John 4:23, 24).
What does this mean?
Many of us are quick to rightly point out that this text proves we can worship Him regardless of time and place (rather than only at some appointed church location). 
But I believe the more fundamental point Jesus was driving at here to the Samaritan woman at the well was that He has come to make true worship possible.
Thus it is a privilege reserved for anyone born again of the Spirit (John 3:5,8), who has gained access to the Father through saving faith in Christ, "… the way, the truth and the life" (John 14:6). 
Being present
Secondly, I forget that because of Calvary, He alone is worthy of my worship – all of me (yes, with my anxieties and all), all the time, through all that I think, say and do – in honour of Him – including all that I bring, with many others, to Him on Sunday.
We are not meant to just "catch" the worship service.
Yes, even when online. 
When we perceive online worship services this way and are thus engaged, the screen we have used for work or play now becomes not something we "watch" (or worse, "worship-surf") but rather a window through which we glimpse and respond to His greatness, goodness and glory.
We know we are also not meant to just "catch the worship service" as spectators but to worship participatively along with others – be they online or onsite. 
Staying encouraged week after week
May I share with you a checklist to help us be more intentional and stay encouraged week after week? (For who knows when we can return fully again to physical onsite services.)
You never know what such connecting can do for those who've been largely alone all week.  
Instead of rigid legalism, the goal here is to express our love for Him unreservedly as we gather as worshippers (albeit online) before the thrice holy King of kings and Lord of lords. 
Let us remember that iconic and intentional worship moment when a woman at Bethany came to Christ with an alabaster jar of very expensive perfume, which she poured on His head as He was reclining at the table. (Thought wasteful and unworthy by onlookers.) 
To treat online (or onsite) worship more intentionally, we can do so when we create a sanctuary, congregate as one and come away transformed.
Three ways to be worshipful:
1. Create a sanctuary
"Ascribe to the Lord the glory due his name; bring an offering and come before him. Worship the Lord in the splendor of his holiness." (1 Chronicles 16:29)
Prepare the place
Tidy up the room (if messy), position the furniture and screen.
Set an "altar" before the Lord – display meaningful objects such as a cross, a lighted candle, flowers, table cloth, an open Bible to the day's passage, an empty bowl or plate for offerings which children present can participate in with adults. These creative ways can lift us out of our over-familiarity and set the stage for a meaningful encounter with Him.
Depending on your denominational or congregational practice, prepare the Lord's Supper emblems. Set apart any utensils used.
Ensure connectivity to the service link, lighting and sound. 
Prepare yourself
Come well rested, as far as possible.
Creativity can lift us out of our over-familiarity.
Make dressing-up a conscious decision, whatever that dress code may be for you. 
Bring your Bible and notebook. (Yes, don't be a mere hearer of the word but an intentional learner.)
Silence all other devices; get settled comfortably.
Confess your continual dependence on the finished work of Christ at the cross; come clean before Him (1 John 1:9), celebrate your union with Christ (Galatians 2:20).
5-10 minutes before the start of service, pray with thanksgiving for all present and all involved in the service – the speaker, the worship team, church leaders.
2. Congregate as one
"Come, let us bow down in worship,  let us kneel before the Lord our Maker; for he is our God and we are the people of his pasture, the flock under his care." (Psalms 95:6,7)
Come together
Resist the convenience of worshipping at your OTOT (own time own target). Unless exigencies arise, make it the norm to come at the appointed service time so that you (and everyone else) will literally experience worshipping together.
Alternatively, gather with other family members or church mates on Zoom to attend service together.
Greet one another by typing in short messages or just even "Like" to signal to others that you are there. You never know what such connecting can do for those who've been largely alone all week. 
Come to worship
As worship is not passive, don't hold back as you pray, sing, clap, dance, stand, sit in silence or kneel before the Lord. The Lord is your audience of One. But who knows – your neighbours who may hear you may also end up encouraged!
Find the Scripture in the Bible. Take notes.
3. Come away transformed
"And let us consider how we may spur one another on toward love and good deeds, not giving up meeting together, as some are in the habit of doing, but encouraging one another – and all the more as you see the Day approaching." (Hebrews 10:24,25)
Edify others
After service, reflect on the service in edifying conversations with others, for instance over a family meal, during the week, or at cell zooms. "What is your takeaway? What was most helpful to you? What questions do you have? How has it changed your thinking? How are you prompted to act on what you've learnt?"
Encourage someone 
Send an encouraging note or text to encourage the speaker, presider/coordinator, worship and tech crew involved via the means provided by your church. This, too, is what being part of church is about.
So let's just come! The Lord's table is spread. The invitation is sent. Let us respond as true worshippers before our sovereign and loving Heavenly Father. 
Now, what other ideas do you have to make online worship special and sacred?
---
RELATED STORIES:
Poets & Prophets: Micah S'pore album marries music, photos and devotionals for a new worship experience
If you have enjoyed reading Salt&Light...
We are an independent, non-profit organisation that relies on the generosity of our readers, such as yourself, to continue serving the kingdom. Every dollar donated goes directly back into our editorial coverage.
Would you consider partnering with us in our kingdom work by supporting us financially, either as a one-off donation, or a recurring pledge?
Support Salt&Light