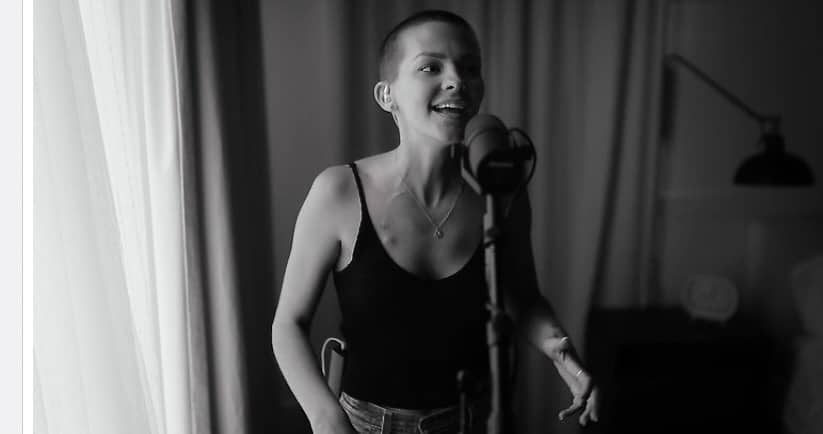 Nightbirde was a beacon of hope in a social space that is often darkened by cynicism. Her unabashed rants laced with a fierce hold on God was one of the reasons she gained over a million followers on Instagram. Photo from Nightbirde's Instagram account.
The Instagram account started just six months ago and has gained some 20,000 followers.
This may not seem impressive compared to the 1.2 million followers the top influencer in Singapore managed to amass. But contrast it with the 20,000 or fewer followers the more popular local news personalities have and what the The Meeting Tent has managed to achieve becomes highly commendable.
With no photogenic faces or drool-worthy pictures fronting it, the account which features original Christian music and Bible teachings, still managed to attract the eyes (and ears) of 20,000-odd people.
Welcome to the power of social media.
Nearly 60%, or 4.6 billion people in the world use social media. Facebook tops the list with 2.7 billion monthly active users (MAUs). Instagram is next with 1.2 billion MAUs worldwide and TikTok has a respectable 700 million or so MAUs.
Chances are you, too, have a social media account or two, not to mention messaging platforms like Whatsapp or Telegram. Thanks to technology, each of us has a sphere of influence in a way that no other generation has had before.
If you are thinking of using social media to share the Gospel, here are some tips.
1. Work the algorithm
"Understand how each platform works, it's AI and distribution. Know how the platform pushes out the content to people, what factors impact your reach" said Dr Levan Wee, social media strategist at Salt&Light and the Thir.st Collective.
Otherwise, you might be sharing but no one is reading.
Levan knows what he is talking about. He stared The Meeting Tent with a friend.
Here are three things he highlighted that can help you better work the system:
a. Know the timing
"Post at a time when most people are using the platform."
In the context of Singapore, evenings – 8pm or 9pm – are generally the best time to put out a post because that is when people are most likely to see and interact with your content.
Refer to the platform's inbuilt analytics to determine what your best posting times are.
b. Help understanding
Help the AI understand what the content of your post is about through post descriptions, bio descriptions and hashtags.
"If you make it easier for the AI to understand what your content is about, who it's for, it will recommend your post to people who like to interact with such posts."
c. Increase your rate of engagement
Make a habit of responding to comments and direct messaging accounts that regularly interact with your posts.
"When you respond, people are more likely to come back and comment again. The more interactions there are in a shorter period of time, the more shares there are, the more the AI will consider it good content. It's about increasing your rate of engagement, not just raw quantity.
"Then, they will push it out to new followers because that is what platforms do, push out good content to keep people on the platform. So get your rate of engagement up!"
2. Create useful content
Said Levan: "Everyone has issues they are dealing with. Empathise and be a solution to people's pain points.
Nightbirde had unfailing hope in God while battling breast cancer and was unafraid to share that on social media.
"Give value in your content that helps people solve problems or gives insights. This is just basic service-provider mindset."
This means presenting the Gospel message in a way that makes it relevant to life. It can be something as simple as information people lack or a perspective they need.
That need for perspective is part of the reason why Nightbirde, as American singer-songwriter Jane Marczewski was professionally known, remains so popular even though she passed away in February 2022.
The America's Got Talent participant who was Simon Cowell's Golden Buzzer on Season 16 had unfailing hope in God while battling breast cancer for four years and was unafraid to share that perspective on social media.
That brand of positivity is just what a world mired in difficulties and cloaked in pain needs, as evidenced by the fact that she amassed 1.1 million followers.
3. Shape the narrative
Actress-host Belinda Lee is deliberate about being "that voice that gives people hope and encouragement" on her social media accounts, even if it is counter-cultural.
"Reshare good posts. People may not read the Bible but they will read our posts."
"I have been criticised for being such a voice, for being 'chicken soup for the soul'. But 90% of the time, the comments from the people are filled with so much gratitude, so much thankfulness.
"They write to say that it is such a breath of fresh air. Thank you for reminding me that God is faithful.
"I don't care that you call me 'chicken soup for the soul' persona.
"There are so many people out there who need that kind of encouragement. I wish to be that little seed of positivity to those who follow me on social media.
"So, I try my very best to show the heart of God, the love of Christ in a very personal way."
Nicole Soh tries to change the landscape of social media by providing "wholesome content for younger Christians in Singapore".
The recent graduate of a polytechnic with a diploma in Mass Communication, who regular speaks to churches about dealing with the media and cultural engagement, started Philotimo on Instagram with a few friends. The account aims to encourage young men to "live honourable and selflessly".
Added Nicole: "Reshare good posts or content by others with our networks. People may not read the Bible but they will read our posts."
4. Relate, don't dictate
Belinda is intentional about being subtle even if she is forthright about her faith on social media.
"How can I approach my faith in a way that is comfortable for everybody? How can I be a child of God without being so in-your-face and making you feel intimidated?"
She achieves this by weaving in messages about the goodness of God in her photos and captions "without me blatantly saying, 'Look at me, I am a Christian'".
5. Be authentic
Nicole is unafraid to be real on social media and believes that sharing her testimony is one way of sharing the Gospel.
"There's always a word of encouragement in the words that I write."
"I've used my private Instagram account to share about my life. On weeks when I have to balance school work and other commitments outside like church camps, I share very openly about my thoughts and struggles going through the week."
Belinda added that being authentic does not mean she can treat social media as her emotional dumping ground.
"I tell myself, 'I must never be so emotional that I post whatever I feel like posting whenever I am emotional.' Why throw my bad days on social media when other people are going through such a tough time?
"I would post my struggles but I will always end off with a statement that I hope will try to liven you up."
Sensitivity to the pain of others while sharing honestly is the balance she strikes.
"I would add something like, 'For those of you who have gone through it, you are my hero. Those who are going through it, let's do it together. I'm glad that I am not alone.'
"There's always a word of encouragement in the words that I write."
6. Encourage discussion and action
"See social media as a chance for dialogue, not just a billboard," said Levan.
"If there is a news article or world event where a Christian commentary could add value, deal with it. Put a positive spin to it.
"Christians shouldn't live in a bubble, oblivious to what goes on in the world."
"What kind of voice do you want to have to the people around you, in society, in the world?"
This, too, is a way to share the Gospel on social media.
Belinda added that almost every of her posts ends with a call to action.
"I don't do it intentionally. I just realise that it is in my DNA, just a part of me. Rather than posting for the sake of posting."
Instead of posting a beautiful picture after a photo shoot for "pure fun and pure visual", she is mindful of the responsibility of having "a voice on the social media platform".
"We must never ever abuse or mis-use social media when we have been allowed to have a voice. What kind of voice do you want to have to the people around you, in society, in the world?
"That is an extremely crucial question to ask ourselves."
---
RELATED STORIES:
How to share your testimony in 3 easy steps (even if you have never done it)
If you have enjoyed reading Salt&Light...
We are an independent, non-profit organisation that relies on the generosity of our readers, such as yourself, to continue serving the kingdom. Every dollar donated goes directly back into our editorial coverage.
Would you consider partnering with us in our kingdom work by supporting us financially, either as a one-off donation, or a recurring pledge?
Support Salt&Light