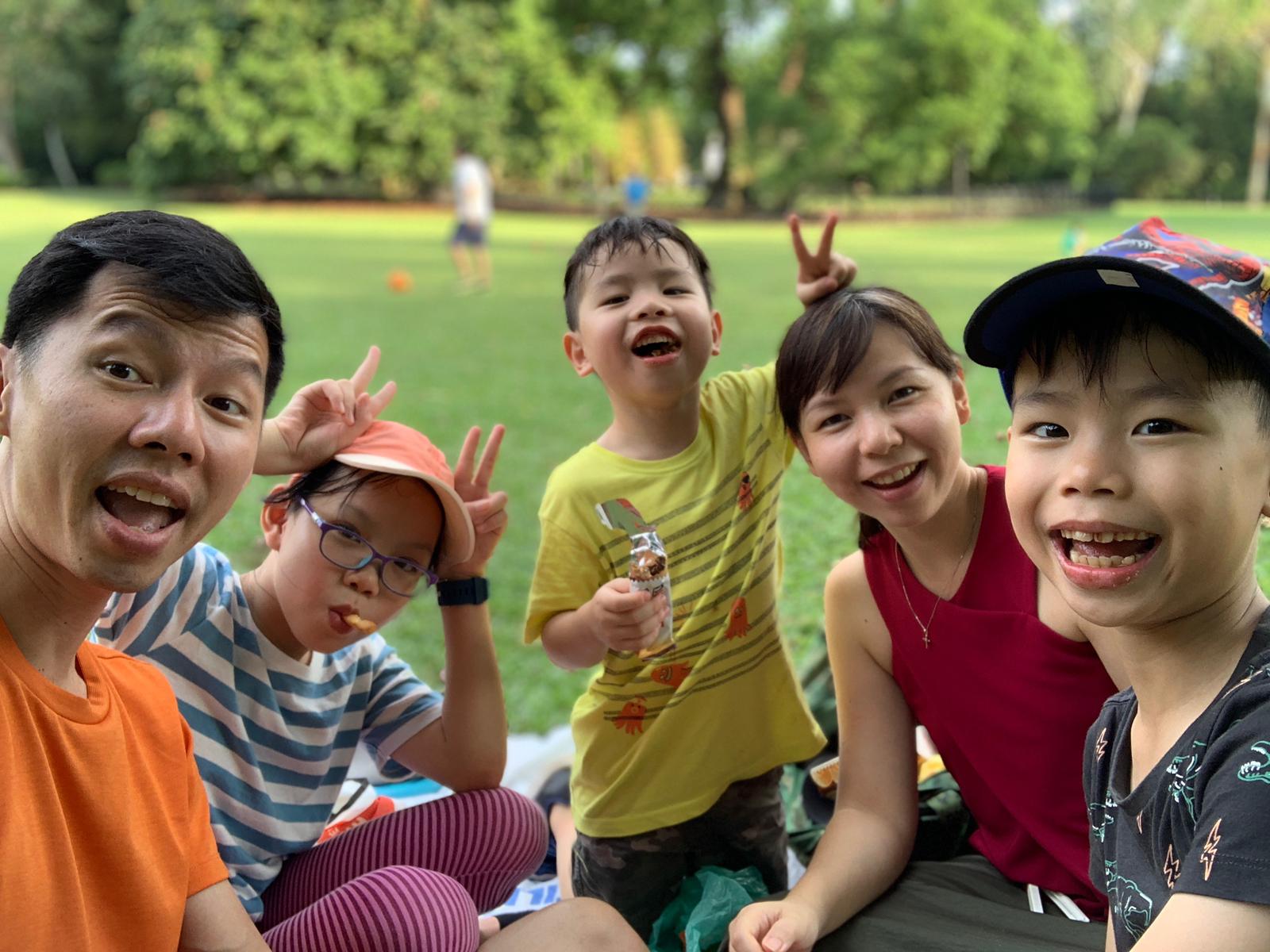 June Yong with her family enjoying the outdoors before COVID-19 hit Singapore. Photo courtesy of June Yong.
Parents are always on the lookout for teachable moments – those unplanned occasions when life throws you an opportunity to impart truths to the children. The COVID-19 pandemic that has stretched nearly five months certainly qualifies.
The coronavirus, which has crossed the 6 million milestone worldwide and taken over 374,000 lives to date, has given world leaders, global economies and the Church much to consider.
But what can parents draw from the outbreak and its impact to teach their children? Families share with Salt&Light their lessons from this teachable "moment".
#1 Even adults get frightened, but we can exercise faith
Rebecca Seow, 38, and her husband Mathew Sum, 39, admit this has not been an easy season. 
Said Seow: "It was difficult hiding my worries from the children as there was a barrage of information to grapple with when there was an increased number of people here testing positive."
Instead of masking their fears, the couple chose to let their sons, aged five and eight, see how they, too, are coping with worry.
"All these lessons about trusting God become more real now."
"We have been authentic with our children about our fears and apprehensions about the pandemic. We didn't want to shield them from the situation.
"Instead of portraying an all-is-fine outlook, I decided to share my struggles with them in coming to terms with what we are going through as a nation.
"They need to know that Christians are not spared these challenging times. But the crux is that God enables us to go through it with His strength.
"The Holy Spirit is there to guide and comfort when we are at a loss. We must still hold fast to Him," she said.
June Yong, 40, who has three children aged seven to 11 added: "During this time when there is a lot of uncertainty out there with death and illness, faith becomes more important.
"All these lessons about trusting God and God's faithfulness become more real now because circumstances truly demand that we trust. It's a poignant time for Christians and for families."
#2 There is injustice, but you can love through serving
Eda Lee, 36 has been talking to her children, aged seven and four, about the migrant workers' plight in Singapore.
"We tell them our desire for justice comes from a God who is just."
"We tell them what is going on. We don't shy away from the injustice in the world.
Instead, we tell them our desire for justice comes from a God who is just.
"We use the situation to reinforce who God is," said Lee.
Ruth Tay, 43, whose children are 11 and 13, talk openly to them about the migrant worker situation as well.
"We explain why they have to come over to work and we teach them to look out for them and do our part to help them."
35-year-old Esther Foong, co-founder of The Treasure Box SG, whose children are seven and nine, agrees it is important to teach children to put empathy to action.
"If you love, you've got to serve. We say these workers are pitiful or we should be thankful for what we have, but we also want to bring them back to the one teaching point of putting love into action."
Esther and her husband Elvin, 38, have two timely lessons for the season on their family website that teach attitudes towards others – With All Due Respect and If You Love, You Gotta Serve.
#3 The physical situation reveals spiritual truths
Ng Jenny, 42, and Lee Kah Wah, 51, see this as a good time to teach the spiritual dimension of the physical situation.
"We are teaching our children that spiritual realities far surpass what is around with us."
"We tell them that even though the situation is like this, God is still with us and wants to show His love," said the parents of a nine-year-old girl and a 13-year-old boy. 
"Current affairs don't happen in the abstract. They show God's Word coming to pass. It reminds us that we have to share the Gospel. 
"When we can make biblical sense and see the events based on the Bible, there is no fear."
Lee added: "We are teaching our children that spiritual realities far surpass what is around with us.
"That is how we can have hope and can be joyful. That is how we can be unafraid and content."
#4 Pausing lets us discover the truly important things
Low Kok Guan, 45, and Winnie Wong, 41, have found the Circuit Breaker a transformative time for themselves.
Said Wong: "The Circuit Breaker period has been a reset button for my family. It forces us, especially me, to know what is truly important.
"In our daily frenzied routines, we often run around like a headless chicken and indulge ourselves in the relentless pursuit of the temporal luxuries. When lives are threatened and when we have to live in obscurity, truth surfaces."
"Truths about who we have put our hope and faith in, help us to examine our belief system."
Added Low: "The truth about our depth of relationship with God, shows up in how we handle the crisis.
"The truth about how futile our lofty ambitions and positions are, is revealed when every single human becomes equal in the presence of the deadly pestilence.
"The truth about who we have put our hope and faith in, help us to examine our belief system and be thankful that our Lord is in control."
These truths are what they share with their nine-year-old daughter and son, aged 11.
Jacob, 49, and Josephine Li, 46, have also used this stay-home period to show their children the importance of being instead of doing.
"We often focus on our children's doing – their homework, performances, behaviours – all the while neglecting their emotional well-being," said Josephine.
"So, we are trying to be intentional in being more sensitive to the children's emotional needs during this time."
Added her husband: "Josephine has taken much time to research different fun questions that would allow the children, who are five and 10, to have heart-to-heart talks with us.
"She would put those questions in a jar and after dinner the children would each pick one or two questions from the jar and share. 
"Some of the questions are just funny while some lead to deeper, more meaningful discussions. Those questions have served as an emotional health check for everyone in the family."    
#5 Be thankful in all things
The de Souzas, Denis, 44, and Doris, 46, have helped their three daughters, aged eight to 13, give thanks by encouraging them to list 10 things they are thankful for. 
"They took us by surprise when they expanded their list of thanksgiving items."
Their youngest got so carried away, her list numbered 20 items.
"They took us by surprise when they expanded their list of thanksgiving items.
"We were doing daily devotion and using Our Daily Bread for Kids. There is this story about thankfulness and so my hubby decided to expand on that," said Doris.
Added Yong: "We talk about being thankful and trusting God in his provision and doing what is within our control.
"So, worrying about things that are out of our control is not helpful or productive."
#6 We are more adaptable than we think
Ng has used the opportunity to show her children they can be adaptable.
"We can't go out to play but we can have mat work at home. It's not the best but we can live with second- even third-best," she said.
"I encourage them to be adaptable and be open to new tastes."
For Yong's children, it also means trying new foods.
"When the things they are so used to are not on the shelves, I encourage them to be adaptable and be open to new tastes.
"Our kitchen has grown more creative. We have tried Vietnamese paper rolls and tried making our own bread.
"This period is uncomfortable for them but we are helping them to be willing to change."
That conversation about change has also led her older daughter to open up about her struggles with home-based learning.
"She told me: 'Human beings don't like change.'
"It helped me to understand why she was in such a mood and help her through it."
#7 Be patient in endurance
Shea Ng, 41, and his wife Julie Chan, 40, have taken this time to teach their 12-year-old daughter and nine-year-old son patience and resilience.
"When the Circuit Breaker was extended, we taught them to be patient and to put their faith in God," said Chan.
"We used to go out on weekends but now they can't. My son keeps asking when we can go to the zoo again.
"So, it's an opportunity to teach them to be patient."
Banking head honcho now works with villagers and ex-convicts
Two new cinemas screening "values-based" content open in Singapore
If you have enjoyed reading Salt&Light...
We are an independent, non-profit organisation that relies on the generosity of our readers, such as yourself, to continue serving the kingdom. Every dollar donated goes directly back into our editorial coverage.
Would you consider partnering with us in our kingdom work by supporting us financially, either as a one-off donation, or a recurring pledge?
Support Salt&Light