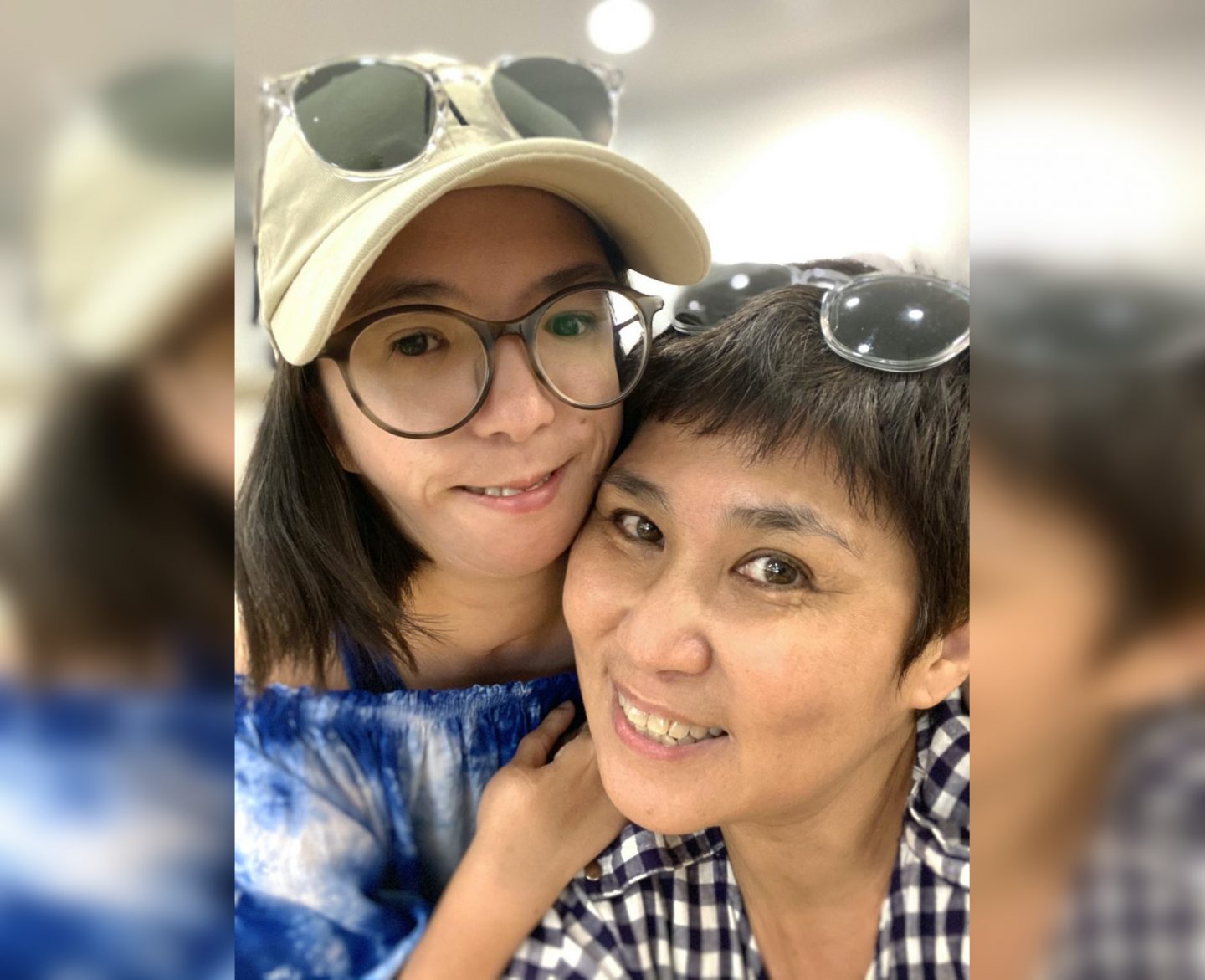 Isabelle (left), who was born with Nager Syndrome, taught her family to trust in God, said her mum Jacqueline Lim. The mother and daughter, together with another couple, shared their journey during the recent . 
"I love your ability to express your thoughts. That inspires me. Watching you communicate makes me think about how I would so enjoy such conversations with my Josiah one day," said Tammy Yuen to fellow panellist Isabelle Lim on Tuesday's Salt&Light Family Night (November 10). 
Isabelle, 26, is a professional photographer. She was born with Nager Syndrome, a rare genetic disorder. She is deaf. Her spirited sharing and spunk brought smiles to many faces.
Tammy and her husband, Rev Jeff Yuen, are parents of 12-year-old Josiah who has moderate autism as well as development delay. He is pre-verbal.
The Yuens, together with Isabelle and her mother, Jacqueline Lim, were panellists sharing their journey on the Zoom chat show hosted by Carol Loi and Alex Tee. 
"Thank you for encouraging and inspiring me by being yourself."
"Even as you were speaking, I'm imagining Josiah expressing (his thoughts) in the same way you are able to. Thank you for encouraging and inspiring me by being yourself," said Tammy to Isabelle. 
A lot of love was expressed during the session. There was honesty about struggles and disappointments. But above all, they shared plenty of hope.
Nearly 100 people logged in to hear the two families talk about raising children with special needs. 
About 60% of the participants had children with special needs. Another 20% were church workers or adults supporting those with special needs.
Epic journey: The Yuens
There was little to indicate to the Yuens that their only child was different when he was born in 2008.
"The first time I looked at him, I heard in my spirit: 'What a beautiful child'. I was so moved," said Tammy.
"I realised that was God telling me just how much He delighted in Josiah the moment he was born and He was giving me the assurance of that."
It was only when Josiah was two that they started to notice that he was different from his peers.
"He seemed to be very aloof, unaware that we were calling him and pretty much in his own world," said Tammy.
They brought him to the doctor and he was formally diagnosed with autism. "The diagnosis felt like a death sentence. It crushed me.
"I went into a very, very dark period of swinging between fear and hopelessness to really doing all kinds of things within my ability to help my son. It seemed that no matter what I was doing, I was not getting it right."
"The diagnosis felt like a death sentence."
Thus began a journey in parenting that Tammy described as "epic". Josiah, unable to articulate his thoughts, would often get frustrated.
"He would express his frustration by knocking his head against the wall or against the floor. For any parent to witness that and not be able to bring a stop to it is very, very distressing," said Tammy.
Living solely on one income, the couple could scarcely afford the therapy that was needed. Josiah's condition also put the Yuens' faith to the test.
Said Rev Jeff, who is the founder and senior pastor of Soakability Church: "As a church, we've seen a lot of breakthroughs in healing. We are more or less known for them.
"(It's about) how you navigate around seeing people healed. And coming home and still contending for healing for my son. I'm the more optimistic one. He is born this way, but he was formed before he was born. He was formed another way. There's something about how God forms him (Psalm 139:13)."
Indeed, every day Josiah proves this, surprising them with "a glimpse of brilliance that is within him".
Precious moments: The Lims
For Jacqueline Lim and her husband Nick, Isabelle was the much prayed for and longed for child.
"Isabelle is a child from God and she is the perfect gift from God," said Jacqueline.
Isabelle was born with Nager Syndrome, a genetic disorder so rare there are fewer than 200 documented cases worldwide. She had limb and jaw deformities that made it difficult for her to breathe and eat until surgeries corrected them. She is also profoundly deaf.
The first eight months of her life were spent in the hospital. But the Lims "bonded with her every day, feeding and caring for her".
Nick would come after the work to rock her to sleep.
"He would rock her 200 times before putting her down.He literally counted," said Jacqueline. "These were the memories we created even though she was confined in a hospital room. They are precious moments."
She "taught us to trust God".
Even when she was allowed to go home, Isabelle still relied on tubes to breathe and eat.
"Every night, every two or three hours, we would have to wake up to suction to clean any crust in the tubes so that she would be able to breathe well through the night," said Jacqueline.
The feeding tube was replaced by a feeding button at Isabelle's stomach when she turned two. It was only removed when she was eight. Isabelle got her first taste of solid food – chicken rice – when she was 12.
But the Lims were determined to raise her like they would any child. They learnt sign language so they could teach Isabelle to communicate.
Yet, Jacqueline admitted, it was their daughter who was their teacher, because she "taught us to trust God". A back-slidden Christian when Isabelle was born, Jacqueline turned to God as she struggled with Isabelle's condition.
"Who could I turn to? God was there faithfully waiting for me. So, I turned to Him and I asked Him for strength. He has always filled me with joy and strength. Every step of the way, He has been there for me. My faith actually grew."
Her husband and her mother-in-law both became Christians. Together, the Lims taught their child about the God they trusted.
"If God chose the event for me, that means I can overcome it."
Said Isabelle: "Before every surgery, my family and I would say a prayer. All that I ever knew about God was that He would always be with me. When I became a student, I learnt the power of relying on God."
Isabelle sees God's hand at every turn in her life. First when she was struggling at ITE (Institute of Technical Education) without an interpreter and lessons were like "a silent movie". Then when doors opened for her to enter LASALLE to study art photography. Again when she was awarded a scholarship to finance her studies. And in every project she now works on as a professional photographer.
"I put God in the centre of every shoot. God has always been the One guiding me what to shoot. Mum has always told me if God chose the event for me, that means I can overcome it."
Click here for answers to the Q&A session with The Lims and the Yuens  on raising children with special needs. 
---
MORE INSPIRATIONAL STORIES FROM THE YUENS AND THE LIMS:
A divine exchange: When God showed one mother how He saw her special son
God's picture perfect gift: How a young woman overcame a rare disorder to become a professional photographer
"Deaf doesn't mean dumb": Profoundly deaf photographer Issy Lim tells her story of faith through pictures
If you have enjoyed reading Salt&Light...
We are an independent, non-profit organisation that relies on the generosity of our readers, such as yourself, to continue serving the kingdom. Every dollar donated goes directly back into our editorial coverage.
Would you consider partnering with us in our kingdom work by supporting us financially, either as a one-off donation, or a recurring pledge?
Support Salt&Light