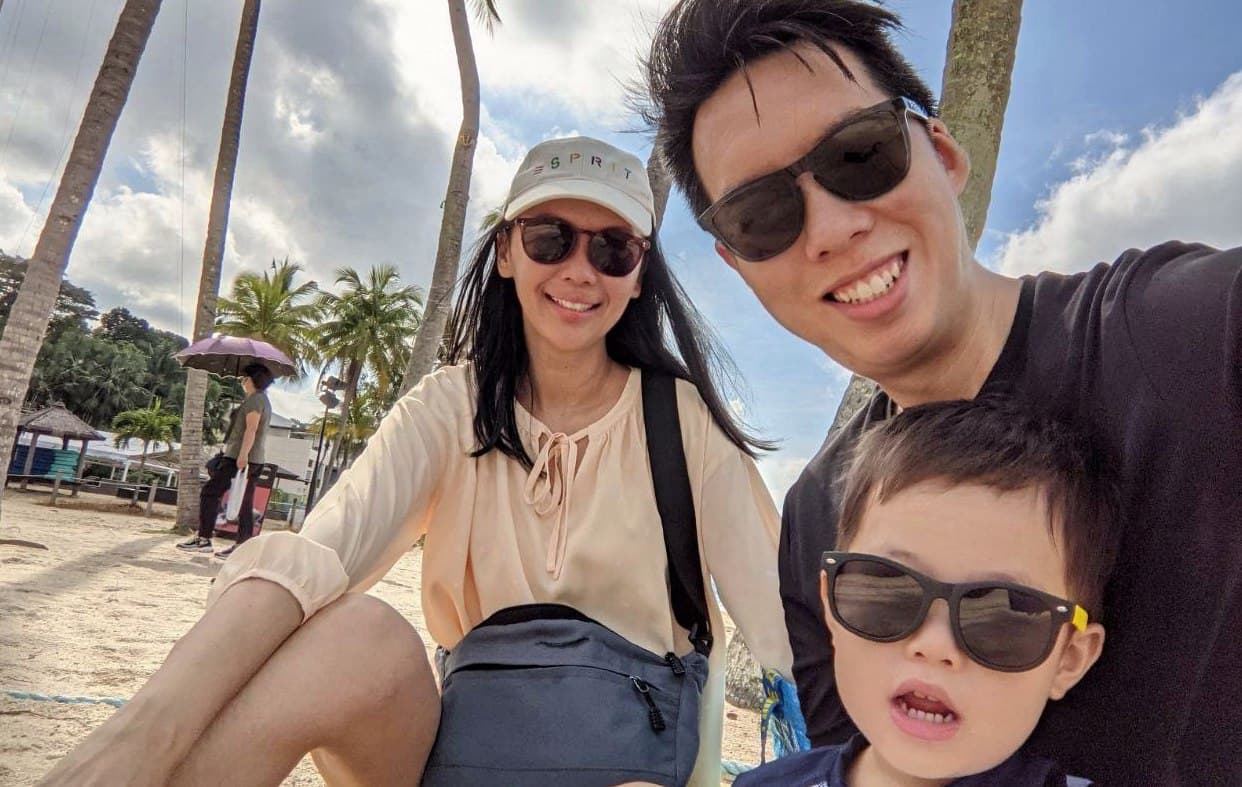 Pastor Darren Kuek with his wife, Li Jia, and two-year-old son, Hansel, taking time to emotionally reset during a staycation in Sentosa. All photos courtesy of Darren Kuek.
Hansel is two-and-a-half years old. He is a cheerful boy who loves to laugh and talk all day long.  
He likes fruits, beans and cooked nuts, and all things related to construction. He hates to lounge around in bed, often springing up immediately after a nap.  
Every day, it is a joy for his parents to discover new facets and traits of their toddler.  
They find that the most therapeutic thing for them, after a tiring day, is to stare at the peaceful face of their blissfully sleeping son
Those who know Pastor Darren Kuek, 42, and his wife Li Jia, 44, would understand why Hansel is so precious to them.  
They would get why Li Jia felt "tremendous joy" at being able to experience labour pains and why Pastor Darren feels so grateful to be waking up in the middle of the night to feed his son.  
14 years and 3 miscarriages
After all, they had been trying for a baby for 14 years and had three miscarriages during that long-drawn period.  
When no child came after marriage, they had health checks done which did not show anything wrong with either of them. So the couple turned to artificial methods of conception – first to the less invasive intra-uterine insemination (IUI), then in-vitro fertilisation (IVF).  
Yet their first IVF attempt failed, then the second, then the third. 
When they were told the bad news for the third time, Pastor Darren could not speak for a day. 
That heartbreak in 2013 was the last straw and they decided to stop all treatments. 
The concept of hope itself became burdensome as the cycle of hope and disappointment repeated itself over and over again.
There was only so much disappointment their hearts could take, and Li Jia, a part-time tutor, also had fleeting suicidal thoughts.  
Then, in the tenth year of marriage, a few years after stopping IVF treatment, she became pregnant. 
Unfortunately, at their first ultrasound, the doctor said the foetus had stopped growing. 
They had lost the baby within eight weeks. 
She sat outside the clinic and wept, before going for surgery to remove the baby in her womb the very same day. 
A year passed and Li Jia discovered she was pregnant a second time. 
But, after a few weeks, they also lost their second baby. 
Another few months passed and, yet again, Li Jia found herself pregnant. This time, they did not dare hope much. 
At the third visit to the gynaecologist, she discovered that she had miscarried again. 
The sadness came, but this time, with a numbing edge to it.  
For Pastor Darren, the concept of hope itself became burdensome as the cycle of hope and disappointment repeated itself over and over again. The more he hoped, the more hurt and disappointed he became.  
To get away from it all, the couple went for a holiday in New Zealand. For many years, they had wanted to travel to the country but could not afford to. This time, they decided to go in the hope of having an emotional reset there.  
They returned home feeling at peace and convicted that – even if they would have no children – they would still be fully satisfied with their lives of knowing and serving God.  
A few months passed and Li Jia became pregnant again for the fourth time when she was 41. 
Their lives changed when, in April 2019, their son Hansel ("the gracious gift of God") was born. 
Since then, it has been an amazing journey of motherhood and fatherhood for the couple: Witnessing Hansel's first steps; seeing his cheeky grins; hearing his voice for the first time; discovering his likes and dislikes. 
After experiencing more than a decade of pain and loss, Hansel is indeed a miracle.
But their story does not end here.
Grief and loss
After Hansel was born, Pastor Darren and Li Jia had their hands full with parenthood while working from home during the pandemic.  
They also began trying for another child.  
"We thought it would be good for Hansel to have a sibling so that he will have someone to grow up with and play with. We were also aware that the biological window for childbearing was closing," said Pastor Darren, who serves at Bethesda Bedok-Tampines Church.  
In November last year, Li Jia discovered that she was pregnant.  
She found herself grappling with a mixed bag of emotions: Happiness tinged with fear and hope. 
Because of her previous pregnancies, she has learnt to be cautious with her happiness. It felt too early to pop the champagne.  
"God, I don't want to feel all these again. I wish I didn't have to."
Yet this time, the couple was also hopeful.  
With Hansel's birth, perhaps their more-than-decade-long struggle with infertility and miscarriages was over, they thought.  
The night before Li Jia was due for her visit to the gynaecologist, however, she experienced the familiar signs and symptoms of things not going well. She was breathing very heavily and having intense cramps at home.  
She had a dreadful feeling that the baby was gone but there was no time to process the loss yet. It was one exhausting night.
That night, Pastor Darren was reminded once again of the feelings he had felt for so many years: The feeling of his heart sinking. The extreme sadness.  
"God, I don't want to feel all these again. I wish I didn't have to feel it all over again," he told God that night.  
It had always been his prayer to God that, if the pregnancy was not going to be carried to full-term, He would let them know early to ease the emotional toll on their hearts.  
"On the one hand, I thank God for letting me know early. But on the other hand, why do I have to feel all these again?"  
The next morning, they went through the scans at the hospital. The loss of their baby was confirmed. 
"There were no words. We grieved in our own ways," said Li Jia quietly.  
To take their mind off things, they had lunch at a mall and shopped for books for Hansel.  
When they returned home, they did a closure session to commit the baby to God, just as they had done for their previous three miscarried babies.  
Familiar questions and unanswered whys 
"There were a lot of familiar questions, a lot of whys that were not answered and I just brought those questions to God and asked Him to take away my pain," Li Jia said.  
"By this time, we had already settled in our heart that God was not to be blamed. He knew what was best for us. But it was still very heartbreaking for us," said Pastor Darren.  
Over the next few days, Li Jia wrote a long entry in her private online blog. It started with questions and raw emotions but it ended with a determination to persevere with the posture of surrender and trust towards God.  
After a few weeks, the inevitable question remained lingering in the air.  
Do they still want to try for a child?  
"We had already settled in our heart that God was not to be blamed. He knew what was best for us. But it was still very heartbreaking."
Perhaps it is not God's desire for us to have another, they thought.  
Yet they were not sure, as they felt they did not receive any clear or definitive answer from God on the matter.  
They were contented to just have Hansel, but thought he would want a companion.  
Yet how many more times would they need to feel the pain of losing a child before they gained one?  
In July this year, Li Jia became pregnant again.  
Symptoms like nausea plagued her but she felt relief. Could it be a sign that all was well with the pregnancy?  
Their second pregnancy scan detected the foetus. Though the nine-week-old was on the small side, he or she had grown from the first scan. However, no heartbeat was detected and there was a possibility that the baby's heart had stopped beating in between their first and second visit to the gynaecologist. 
Again, both of them felt a numbing kind of helplessness and sadness.  
The couple was worried but they tried not to be disheartened.  
They prayed hard for a miracle, for God to revive the baby's heart. Though it is rare, there are cases of babies whose heartbeat goes undetected at the initial stage.  
After two weeks of intense prayer, they returned for their third visit to the doctor's. The scan took unconventionally long and Li Jia prepared herself for the worst. The couple was later told that the baby had not grown and there was still no heartbeat. 
Three options were presented to them: 1) Surgery to remove the baby, 2) Wait for her body to naturally expel the foetus, 3) Take a pill that would induce the expulsion of the foetus.  
Li Jia opted to take the pill as surgery was too invasive and a natural miscarriage was likely to be unpredictable and messy.  
Again, both of them felt a numbing kind of helplessness and sadness.  
They went for lunch at a hawker centre and went to shop for Hansel and a birthday present for a friend's child thereafter.  
"Shopping for Hansel makes me feel less sad," Li Jia said.  
They had the closure ceremony for their fifth miscarried baby that night. 
"God, please take care of Baby for us," they prayed.  
"Please enjoy your other siblings in heaven," they told the baby, slightly more lightheartedly than they could manage in the past.  
The pain was still there, though Li Jia found herself shedding fewer tears compared to her previous miscarriages.  
God's presence 
That night, Pastor Darren had a different set of questions for God.  
"God, are You not hearing me? Are You not hearing my prayers?" he asked. Though he trusted the Lord, he was still disappointed at the outcome of his prayers. His thoughts were scattered.  
While on the way to work the next day, he felt that his wounded spirit needed some retail therapy. 
"I told God that it would really comfort me to get these two collectible items I was eyeing for the price of $40 each, knowing that the actual retail price was $60," said Pastor Darren.  
"If He can answer my small prayers, I am sure He would have heard my big ones."
He then texted an online seller and asked for the prices.  
"Yes, I am importing them soon. The two items will cost a total of $90," came the reply.  
"Thanks, I will think about it," Pastor Darren replied. It was not the price he had asked God for, and so he set the matter aside.  
As he arrived at the office and put his bag down, another message immediately came in.  
"If you confirm now, I will give it to you for $80," it read.  
At that moment, Pastor Darren suddenly felt less alone in his grief.  
"God gave them to me. These were small, everyday things but it showed me that God is here. If He can answer my small prayers, I am sure He would have heard my big ones," said Pastor Darren.  
About one month after his wife's fifth miscarriage, Pastor Darren was due to preach in church on the topic: Where are you, God?  
Over the pulpit, Pastor Darren could relate deeply to the questions he posed to the congregation: "Are you disappointed that your prayer has not been answered? You could be longing for healing, for a job, for a relationship, or for a baby. You have prayed earnestly over weeks, months, even years, but your circumstances have not improved. How do you settle the unanswered prayer in your heart?"  
Citing the story of Lazarus (John 11:1-44), he went on to explain why sometimes God does not answer prayers immediately.  
"If we are too quick to give up on God, we may miss out on His divine plans for our lives," said Pastor Darren.  
That is why each time they experience a miscarriage, they would make it a point to travel overseas, even if it is just to neighbouring countries such as Malaysia or Indonesia. 
"From the aeroplane, you see a bird's eye view – we and the plane seem so small. Once you take a step back and look at the larger picture, you realise that your loss or unanswered prayer is just one part of life and our lives are more than this," he said.  
"You shift your focus and stop focusing on the pain. Instead, you come to a place of rest and know that, ultimately, we are here to fulfil His call on our lives," he added.  
One family
The Kuek family has just returned from a staycation in Sentosa. 
Upon hearing the news of Li Jia's latest miscarriage, a good friend of theirs offered to sponsor the family for a staycation. They also received gifts of flowers and hampers from loved ones the night they returned from the hospital.  
"We also saw God's love through the words and gifts from family and friends," said Li Jia, who entered another long entry into her online blog after her miscarriage this year.  
"His silence is comforting too. It is like sitting with a friend who may not say much, but the person just being around makes me feel better."
Even though she still has many unanswered questions, she finds comfort in His mere presence.  
"His silence is comforting too. It is like sitting with a friend who may not say much, but the person just being around makes me feel better," she said.   
What helped her immensely in processing her grief was reading books by authors who also went through similar experiences of losses, trials and suffering.  
The books she read include The Scars That Have Shaped Me by Vaneetha Randell, Resurrection Year: Turning Broken Dreams Into New Beginnings by Sheridan Voysey, and other books by Joni Eareckson Tada who was just 17 when a diving accident left her paralysed from the neck down.  
"The authors could express what I felt better than I could put down in words, and I felt they understood my experience," said Li Jia.
Pastor Darren says honestly of the testimonies that well-meaning friends have sent them: "I used to think about why God granted these people breakthroughs and not me.
"I am happy for these people who have had their breakthroughs, but at times I feel like a second-class Christian to whom miracles don't happen.
"It took me some time to believe that God loves me and knows what was best for me." 
"We want to fulfil God's calling in our lives, trusting that we are able to do so with what we have."
He has since learnt that it is not easy for people to be around him and his wife during such challenging times as they may not know what to say.  
"Some parents don't know whether to include you or not for their babies' celebration parties. So, I do tell my friends not to exclude me and that I really want to come," he said.  
For those who want to support friends grieving from a loss, he suggested that they simply come alongside and journey with their friends.
"Listen to their story and validate their feelings and heart. Sometimes, there is no formula or solution so don't feel the need to fix the situation or tell them what you think they should do. Pray for them," he said.  
For now, he and his wife are not sure if they will continue to try for another child.  
Their aim now is to be faithful with what God has entrusted to them – bringing up Hansel to love God and serve others. They pray with him before he sleeps every night.  
"Ultimately, we want to fulfil God's calling in our lives, trusting that we are able to do so with what we have," said Pastor Darren. "We also trust that doing so will bring us and God the fullest joy."   
---
RELATED STORIES: 
"Baby Faith, we will reunite with you one day": Mum who lost her baby at 26 weeks remembers her with rainbows
Don't say "I know how you feel": Here's how to be really present for someone who is grieving
If you have enjoyed reading Salt&Light...
We are an independent, non-profit organisation that relies on the generosity of our readers, such as yourself, to continue serving the kingdom. Every dollar donated goes directly back into our editorial coverage.
Would you consider partnering with us in our kingdom work by supporting us financially, either as a one-off donation, or a recurring pledge?
Support Salt&Light