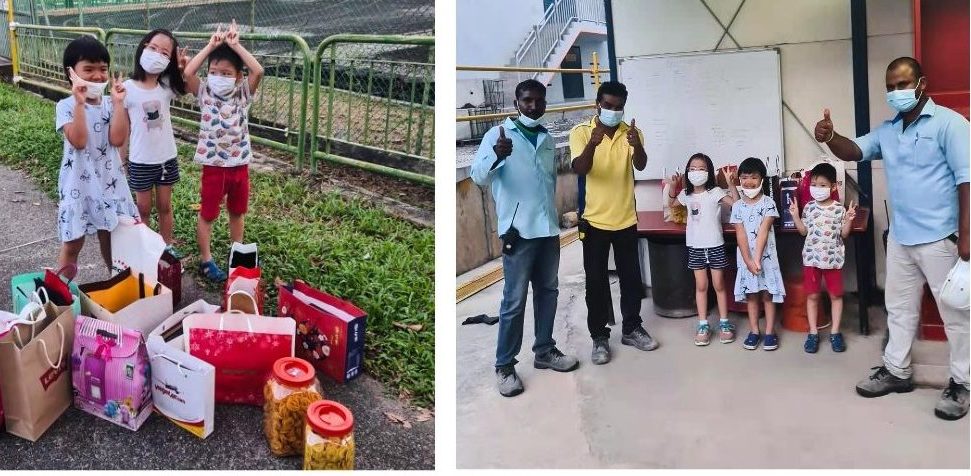 Mya Ji (in dress), now age 6, with friends Katelyn and Nathaniel, distributing Deepavali gift packs they had prepared for migrant workers last year. Unable to visit this year, the friends have created a video to encourage other children to be part of their Deepavali outreach. All photos courtesy of Amy Ji unless otherwise stated.
The 5-year-old who made news by raising $8,500 for Covid-hit migrant workers in 2020 is back in action this Deepavali.
This time, she is looking for more buddies to help. 
To do this, Mya Ji, now 6, and her team of three have videoed a call to action.
While the general public has been able to enjoy more time outdoors, shopping or dining out – even if limited to groups of two – most of the 275,000 foreign workers ("uncles") living in dormitories have not. The restrictions are part of movement curbs introduced in April last year – some 18 months ago – to stem the rapid spread of Covid outbreaks that rocked dormitories.
The workers can only catch these sights during their daily rides on the backs of lorries ferrying them between their dorms and their worksites. (A pilot scheme introduced in September allows only 500 fully-vaccinated migrant workers per week to leave their dormitories and visit pre-identified locations for six hours.)
"How? There are so many of them, but only four of us."
"Katelyn! Nate! Emergency! The uncles are still not able to celebrate Deepavali outside!" the little news anchor announces to an audience of two friends.
One glimpses the severity of the situation from the kids' furrowed brows, and hears the gravity of the matter in the sigh let out by Mya's little brother, Nathan, 3, who says: "It's terrible."
"Hmm … we need to do something," says their friend, Nathaniel, 5.
"How? There are so many of them, but only four of us," says Mya in the video, on wanting to bless migrant workers with goodie bags this Deepavali. 
"I think it's time to activate the SG Kids' Squad!" says Nathaniel's sister, Katelyn, 7, as she urges children to join their initiative "to bring joy to uncles across Singapore".  
Web of kindness
The four children in the video will be filling reusable bags with hand-drawn thank you cards, fruits, Milo and coffee packets. They will be distributing these gift packs to construction workers and "cleaning uncles" in their neighbourhood over the next two weeks.
Others may want to include treats such as Deepavali cookies or healthy snacks, suggests Mya's mum, Amy Ji, 35. Or glean ideas from her friends who distributed muscle relaxant patches to workers, and thick socks to construction workers.
For the kids, the idea to give back to Singapore's migrant workers is not new. 
In 2019, Mya joined Migrant x Me, a non-profit social enterprise, in distributing dental hygiene kits to migrant workers on their day off in Little India.
Last year, Mya, Katelyn and Nathaniel blessed the uncles at a worksite near Mya's home with Deepavali goodies. 
"Mya asked me if we could visit the worksite this year and that triggered the SG Kids' Squad Deepavali initiative," Amy tells Salt&Light. Amy, a humanities teacher by training, has authored a series of picture books on kindness.
With the current Covid-19 restrictions in place, the kids were unable to return to the worksite this year. Then Katelyn's mother, Amelia Hang, suggested videoing a call to action as means of "getting other kids on board".
"Once Amelia and I told the kids we could do a video instead, they had so many ideas we had to really narrow things down" recalls Amy. 
Amongst other ideas, the kids had wanted to send every child in Singapore an #sgkidssquadactivate invitation. They also suggested putting flyers on people's doors and even going to preschools to get more children on board. 
Eventually, they settled on sharing the video via their parents' social media and WhatsApp accounts.
"Through these, the web of kindness can be expanded and more uncles (and aunties) can be blessed," explains Amy.
"After the video was recorded, Mya had insisted on personally sending voice messages to her own friends in case they did not fully understand what was required of them," Amy adds.
Help with "brooming" 
In Amy's words, the initiative was a "really simple idea". 
This Deepavali initiative is just the latest addition to a history of acts that Mya and Nathan have carried out for workers in their estate, whom they "really love." 
"They make sure these uncles (and aunties) get a cold drink or at the very least a big smile and lots of love on their way to school."
Amy shares a snippet of a recent conversation that Mya had with a cleaner in their estate.
"Aunty, why are you working on Saturday? I don't have to go to school today. So why must you work?"
"Aunty, why are you working on Saturday? I don't have to go to school today, you know. So why must you work?" Mya had asked.
The cleaner responded: "Aunty must work because every day the block gets dirty, mah."
"Aiyoh Aunty! Thank you for keeping our block so clean. I will try to pick up the litter also," promised Mya.
Fewer words were exchanged between Nathan and a cleaner in their neighbourhood. The boy had been out cycling when he saw the cleaner sweeping up dead leaves. He asked if he could help with "brooming". 
And so the 3-year-old and the cleaner swept together.
"The broomstick was twice his height!" Amy shares.
Uncles at work 
Mya's outreach to migrant workers started with a book Amy was writing. 
Mya had accompanied Amy to construction sites to interview workers for Uncles at Work. The book portrays a kind father teaching his son to give food and drinks to construction workers who are building their flat. 
"Lots of other children have joined in this movement to reach the invisible people in Singapore too. So the credit cannot be ours," says Amy. 
"We just play a really super teeny tiny part in God's greater work. To love Him and to love His people."
---
How to be a part of SG Kids
'
Squad this Deepavali
To participate, kids will need to: 
Watch the video call to action. 
Prepare gift packs. 
Surprise the uncles and aunties who work in your area. They may be cleaners and gardeners who work in your estate, postmen, counter staff at the supermarket, and people who make deliveries. 
To inspire friends to do the same, families may want to share photos of their experiences using the Instagram hashtag #sgkidssquadactivate. 
---
RELATED STORIES:
The 5-year-old who raised $8,500 for COVID-hit migrant workers
"Migrant workers are a part of Singapore, we can't forsake them": Help centres partner churches to distribute masks and vitamins
"Migrant workers are a part of our Singapore family": HealthServe co-founder Tang Shin Yong
If you have enjoyed reading Salt&Light...
We are an independent, non-profit organisation that relies on the generosity of our readers, such as yourself, to continue serving the kingdom. Every dollar donated goes directly back into our editorial coverage.
Would you consider partnering with us in our kingdom work by supporting us financially, either as a one-off donation, or a recurring pledge?
Support Salt&Light