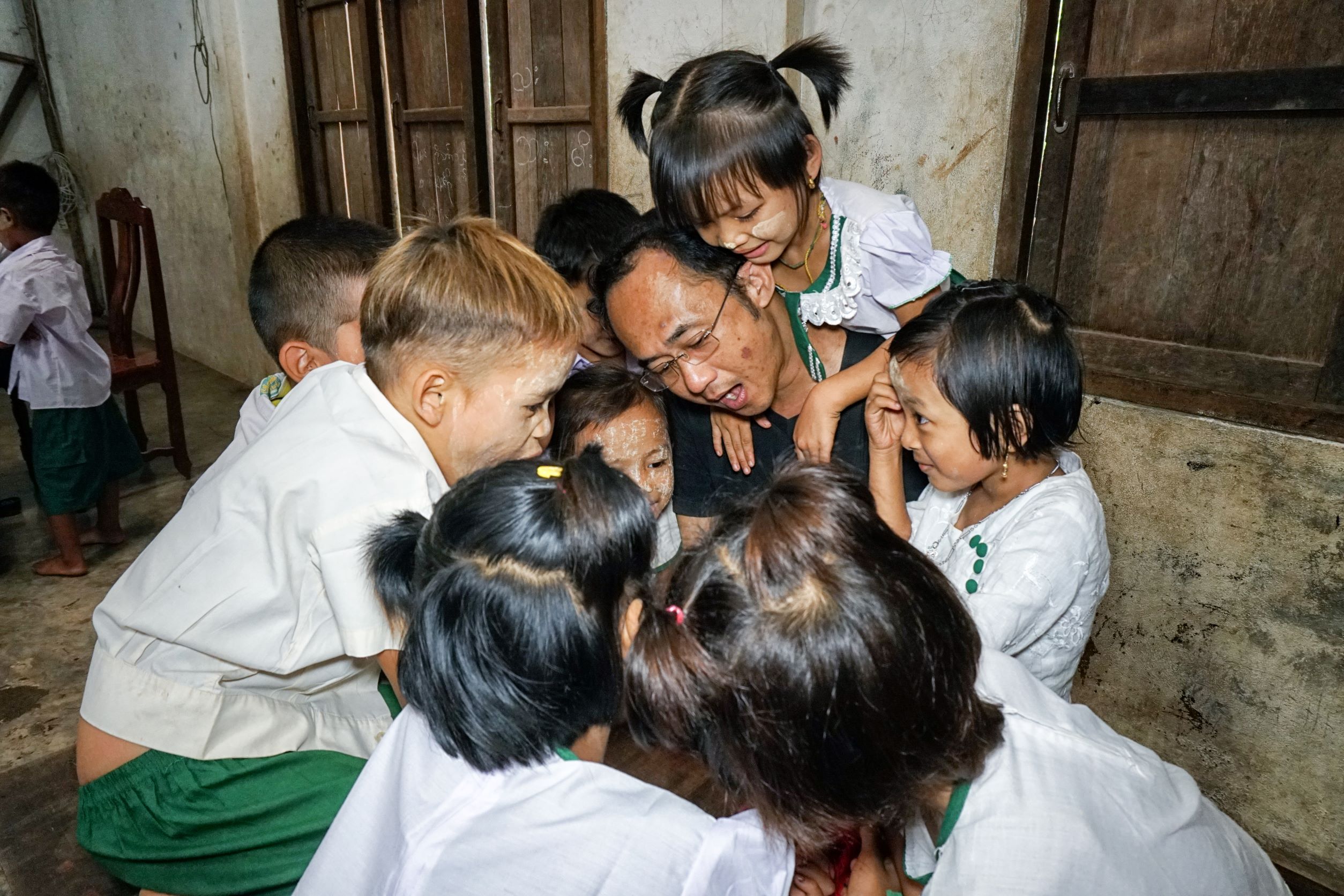 Calvin playing with children in the presence of a local teacher in the OM MTI School of Mercy. Photo courtesy of Calvin Tan.
When the Operation Mobilisation (OM) ship Logos Hope docked next to VivoCity at Harbourfront in 2014, former IT manager Calvin Tan, 41, who worked nearby thought he would just pop in to have a look.
Little did he know then that the casual visit would end up with him spending years with the poor and marginalised community who live along the Thailand-Myanmar border.
As he browsed the various exhibition booths on the ship, one particular booth run by the OM Mercy Teams International (MTI) caught his attention. Its then director shared about how they were operating the OM MTI School of Mercy, a school in a jungle-like environment at the Thailand-Myanmar border. 
At that time, its physical infrastructure was rudimentary and there was neither electricity nor water supply there. Yet the team wanted to set up a computer lab for the children. 
"When I was there, I felt a connection to the children. God placed something in my heart." 
Being an IT guy, questions and doubts towards the feasibility of such a project immediately flooded Calvin's mind.
"There is not even electricity available there. Have you all thought this through?" Calvin wondered to himself.  
Later on, he found himself sharing some ideas with the team on how to bring technology into the school.  
He also decided to take up the challenge to go over on a short-term mission trip to help set up the computer lab. Using generators and solar panels, he managed to get enough power in to charge up some laptops. 
"When I was there, I felt a connection to the children. God placed something in my heart that I can't quite pinpoint – a small seed from which a passion developed," said Calvin, now 48.  
You can do more, why don't you?   
After Calvin returned home from the one-week trip, he felt the urge to return to the children as soon as he could.  
"I wish I could do more for the children there. What else could I do?" These questions kept swirling in his head even as he returned to business-as-usual with his IT work.  
One day as he was pondering these questions at work, Calvin heard God saying to him: "You can do more, why don't you?"  
Calvin knew God was right. He had the capacity to do more as he was single and his ageing parents had planned well for their retirement and did not need much support.  
Doing more for the people there would mean making significant sacrifices on his part. Was he willing?  
At that time, he had a comfortable job with a multinational company that came with good benefits. Work was not difficult and he never needed to work overtime or bring work home. Doing more for the people there would mean making significant sacrifices on his part. Was he willing?  
"But you can."
These words from God kept ringing in his mind. Calvin knew he had no excuse not to go. Within a year, he quit his job and prepared himself to go into the field.  
"Generations of them are trapped in the poverty cycle. The children have so much potential but they are undernourished and lack education opportunities," said Calvin.
In 2016, he joined OM MTI and became a team leader there. At that time, there was no foreigner based there on a long-term basis.  
"I did not have Bible school training nor did I have any official role in church. I am just an IT guy so I did not know if I would be able to be of use there," said Calvin honestly.  
When he first arrived there, he got involved in mainly physical infrastructure projects – building accommodation for staff, doing the plumbing and clearing the land.   
Unlike in first-world countries where people have en-suite toilets in their bedrooms, the people there prefer to build toilets as far as possible from their houses. The toilets in the village were built next to the school hall and, after a while, the teachers began to request for more toilets to be built elsewhere as the stench affected the students. 
Calvin and his team built toilets and showers further out behind the school dormitories and replaced the solar panels with electrical wiring for the school. They also ran medical and dental ministries as the villagers did not have any doctors or nurses to attend to them.  
"They would use turmeric cream paste for almost any injuries, including fractures. In their culture, they also don't like going to doctors so some persuasion is needed otherwise some infections may get worse or be fatal," said Calvin, who is first-aid trained.
They dispensed basic medication to the people who needed treatment. When dental teams arrived at the village, Calvin also assisted them to set up mobile dental clinics.  
It was not uncommon to see children passing out foot-long long worms or pulling worms out from their throats.  
For the undernourished children, there were nutritional programmes. The local generally cook rice with one dish, whether it is vegetables, egg or fish paste, which they would eat throughout the day.
Hygiene levels were poor, so deworming programmes were done every six months. It was not uncommon to see children passing out foot-long long worms or pulling worms out from their throats.  
A typical day for Calvin at the border would see him doing the marketing in the morning, bringing a truck load of food and water back to the children.
While the students were in school, Calvin would do his administrative office work in the sick bay in the school, so that it was convenient for him to tend to sick or injured children who would drop by for medical attention.  
After lunch, came Calvin's favourite part of the day when he got to hang out with the children. Sometimes they just talked. At times he taught them how to play the guitar or he played the catapult and hopscotch with them. Other times the children would ask him for help with their homework.  
"They were endearing," Calvin said. "The time I spent with them was very special to me."
In the afternoon, he would either have meetings with the teachers for training and curriculum development, or do daily chores such as fixing broken contraptions and tackling the plumbing. He also worked with the students to prevent the build-up of trash in the rubbish dump.  
When the students who lived in the dormitories went for their evening devotions, he would make his way back to his residential home to rest for the night, only to return again the next day.   
"I found this work fulfilling as it was about giving the children the possibility of having a better future. They need education in order to survive in the outside world and earn an income to provide for their family. They have so much potential and I cannot bear to see them continue to live in extreme poverty for another generation," he said.  
"I found this work fulfilling as it was about giving the children the possibility of having a better future."
This mission kept Calvin committed to living with and serving the people there since 2016, despite emergency crises and evacuation due to border disputes in the region.  
He recalled one particular intense conflict that took place in late 2019 which saw mortar shells raining down on the village. Fortunately, the village leaders were able to give the villagers and students early enough warning to evacuate to a safe refuge when they sensed imminent danger.  
"Thank God they were safe because sometimes there is shooting. My anxiety when such incidents happen is always about whether the kids are okay," said Calvin.  
"I remember this young girl who seemed to suffer from some trauma and had a stutter when she talked and continued to wet her bed even though she was already nine years old. She had marks on her body because her relative was very strict in disciplining her. Yet later she grew up to be such a responsible girl who understood her place and role in the church. That was when I saw how many of them had the potential to grow up to be Christian leaders in the community," said Calvin.  
God's immaculate timing  
In his time there, Calvin learnt how God is truly in control of situations and circumstances.
In 2019, he had a growing sense that God was leading the team to hand over the running of the school and its ministries to local leaders.   
"People like to donate to them used items, but I noticed that, when they give me presents, they are always brand new."
"I felt it was time for them to take responsibility and for us to equip them to carry on the work. So when the 2019 border conflict incident flared up again, I felt God saying that I was a foreigner and not their hero. It was time to help them to be independent so that, even if the borders were to close next time and we had to evacuate, they would be able to do well on their own," said Calvin.  
In the lead up to 2020, Calvin and his team did the preparations and laid the ground work to handover the school to the local leaders.  
"After the 2019 border incident, I thought nothing could get worse than that. Then the Covid-19 pandemic happened and we were recalled back to Singapore when countries were going into lockdown. It was then that I realised how God had planned all these so specifically," said Calvin.  "We had planned our handover date one year before March 2020 so the pandemic did not disrupt any plans.
"We had to leave but the local leaders were ready and were already receiving their own local mission teams from other parts of Myanmar. Imagine if we had not prepared them for it, they would still be dependent on us for food, water and money and might not have been able to survive the Covid-19 period.
"I encouraged them to look to God as their Provider instead of seeing poverty with a mindset of receiving handouts. They surprised me with their level of generosity. People overseas like to donate to them only used items that they don't want or need but I noticed that, when they give me presents, they are always brand new," said Calvin.  
Calvin himself has experienced God as his ultimate Provider.
"God was saying to me, 'Don't worry, I will settle this for you.'"
Once he was driving an old used car in Bangkok and found himself with a flat tyre. The car workshop told him that, not only did all four tyres have issues, his brakes also needed to be changed or his safety might be compromised. The total bill quoted for the repairs was $1,600. Though he knew the repairs were crucial, Calvin dithered over the repairs as his financial support at the time was not stable.
Shortly afterwards, he received a text from a church member that came out of nowhere, saying that she had felt God leading her to give a sum of money towards his ministry. After taking into account the exchange rate, the amount was what he needed for the car repairs.  
"God was saying to me, 'Don't worry, I will settle this for you.' I have never felt any lack in my time here," said Calvin.  
After he was recalled back to Singapore in March last year, Calvin was still hoping that it would be a temporary break before he would be able to return to the border once again.  
Yet the pandemic persisted and schools, including the one at the village border, have been shut.  
"God provided me with a job when I returned as He knew I would be back for quite a while.
"I miss the children and some of them have tried to get their hands on mobile phones to send me text messages in English asking how I am," said Calvin, who is now doing work in IT programming. 
"I don't know what the future holds, as my parents are also ageing and my mum has Alzheimer's. But I know I still want to do what I can so that the youth over there have a chance to have a successful future."  
---
OM's hope is that every child and vulnerable person will have access to a dignified life. Explore opportunities to serve the poor and marginalised in East Asia: www.mercyteams.net 
Follow OM Singapore on Instagram and Facebook.  
---
RELATED STORIES: 
40 God Stories
To commemorate their 40th year, OM Singapore has published a book, Unchanging: On Mission With a Faithful God, capturing 40 God-stories of Singaporeans, including Calvin Tan, who love God and His mission in many parts of the world.
"The quintessence of OM rests on the premise that God can use anyone, anytime, anywhere, whenever one hungers for Him. It is about giving God a chance to work in and through us," said Rev Keith Lai, President of National Council of Churches of Singapore (NCCS), who served on board OM's Logos ship.
"The 40 curated stories in this book testify to this truth. What a motley bunch of most unlikely individuals. What diverse and interesting backgrounds. But all with an underlying common thread – a touch of God's grace stirring in their hearts to leave home and venture into the fathomless unknown." 
To purchase the book for yourself and your friends, click here.
If you have enjoyed reading Salt&Light...
We are an independent, non-profit organisation that relies on the generosity of our readers, such as yourself, to continue serving the kingdom. Every dollar donated goes directly back into our editorial coverage.
Would you consider partnering with us in our kingdom work by supporting us financially, either as a one-off donation, or a recurring pledge?
Support Salt&Light