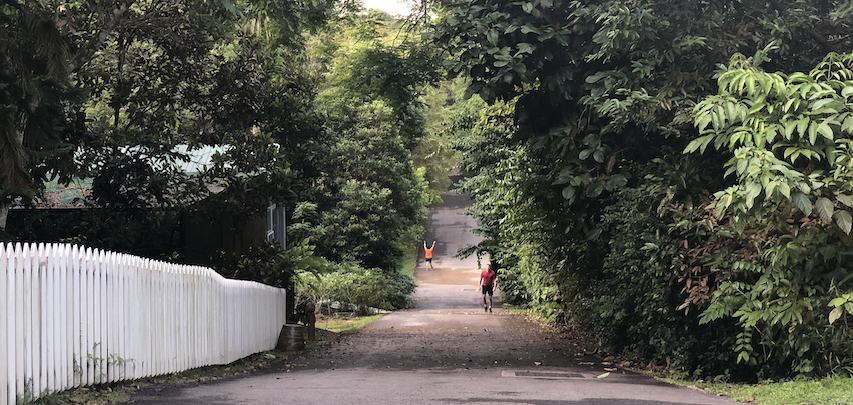 Soaking in God's presence while on a nature ramble, the author – together with Jenny Lie of Ten Butter Fingers – meditates on caring for creation. Photo by Tricia Tan.
A monkey swinging across branches. Tree roots spread beneath us. Little insects resting on the leaves. Fallen jackfruits. Amidst the small but wonderful sights and gentle chorus of crickets, I feel like we are in a different world. 
On a cool Monday evening, I am taking small moments to marvel at God's creation with cake artist Jenny Lie, 45, of Ten Butter Fingers. Corporate trainer by day, superhero baker by night (as dubbed by a news platform), the mother of two teens is Instagram-famous for not just her sweet creations, but also her artful images of God's creation.  
With us is a Spotify reel, A Walk in God's Garden: Eight bite-sized audio meditations to bring God's presence to the fore during our 6.5 km ramble through Dairy Farm Nature Park. 
"We will reflect on how things have changed since Singapore has been modernised," begins the voice of our female host.
"Ask the Holy Spirit to connect you with the world around you, for God to reveal more of Himself to us through this walk."
The audio meditation is one of the latest offerings by Creation Care SG, an initiative started by six young adults in August 2020. The group hopes to raise awareness for caring for God's created world and equip Christians to adopt more sustainable lifestyles.
Bumpy paths
The audio meditations overlaid with calming instrumentals, are two to three minutes each. They never feel hurried. 
Our virtual host leads us to think about "the many bees and butterflies helping to spread pollen grains around" and even "the soil below, helping the plants to grow". 
Jenny lends me a hand though the uneven paths. She smiles, sharing that as humans, we were all once familiar with such bumpy paths.
"Isn't it interesting how we are all now so used to paved, smooth roads?" she asks.
In her hiking boots, trekking confidently on, she looks perfectly at home. 
The audio meditation continues: "Observe all these small creatures that remind us that there are so many other beings on this earth … this earth is our home, but it is also home to millions of God's creations."  
It prompts us to observe our surroundings and the interdependence of different entities around us.
Amidst the uneven, unpaved paths, I reflect on the glory of nature. On how "The heavens declare the glory of God, and the sky above proclaims his handiwork". (Psalm 19:1).
And equally so in how "God made the beasts of the earth … the livestock … and everything that creeps on the ground …
"And God saw that it was good." (Genesis 1:25)
Beautiful rotting leaves
Jenny pauses at a particular plant, observing the rotting leaves. Curiously, she tells me it is "beautiful".
I wonder how something as commonplace as a leaf might prompt such deep reflection.
As if sensing my confusion, Jenny continues: "Nature is cyclical, don't you see? The leaves grow, rot and decompose, then seep back into the soil to provide nutrients for new plants."
Pause to listen
"Amidst the hustle of life, we seldom have time to pause," says Jenny, as we stop to admire an insect.
"We often fall into the trap of busyness; always hopping from one thing to another."
Once a high-flying communications executive, Jenny laughs as she recalls hating the idea of hiking or getting dirty in the thick of nature.
"In the later parts of life, at the height of our careers, we often fall into the trap of busyness; always hopping from one thing to another," she says.
I nod, reminded of one of Jenny's Instagram stories on "hustle culture" and "toxic productivity". 
We share with each other how nature enables us to pause and listen to God.
Nature Mondays 
As we decide on a detour along the trail, Jenny shares how she sensed God telling her to set aside Mondays to explore nature.
Corporate trainer by day and baker by night, Jenny's schedule had been hectic, to say the least. 
"And you know what? So many people have replied saying, 'I really needed this today.'"
Thus began her walks on what she calls "Nature Mondays" as a means to prioritise rest and time with God.
Many of her reflections from her trails eventually evolve into text snippets on her Instagram stories, artfully set against idyllic images of insects, flowers and trees. These stories are lovingly curated in a repository she titles "Perspectives".
In between meditations on the need for rest, she includes Bible verses. 
Many of her 11,100 (and counting) Instagram followers of Jenny's cakes are not necessarily familiar with her faith. 
"I initially struggled with deciding whether or not to share it," she says, stepping across some brambles. 
"In the end, I felt God prompting me to post it, without worrying about too many opinions.
"And you know what? So many people have replied saying, 'I really needed this today.'"
In this way, Nature Mondays has been a blessing, both personal and corporate.
Imagining God as a dairy farmer
Wending through the unpaved paths to the Wallace Education Centre, our Spotify playlist takes an interesting turn. 
We are standing on ground that once was the world's first tropical dairy farm between the 1930s and 1970s. The farm started with 24 Friesian cows imported from Holland and Australia to meet the need of high-quality milk for children of expatriates in Singapore. Its success attracted global attention. 
The podcast details how cows are often exploited in modern society.
These depictions are discomfiting, set against the tranquil path ahead of us. 
"Whoever is righteous has regard for the life of his beast."
Then suggests our virtual guide: "Take a moment and imagine God as a dairy farmer, tending to and caring for cows from the early hours of the morning all the way till nightfall. 
"He takes care of their needs, cleans them, feeds them, allows them to graze …"
I am reminded of our Good Shepherd who "makes me lie down in green pastures … leads me beside quiet waters. He restores my soul" (Psalm 23:2-3), and Jenny shares how God has shepherded her in many ways.
As I reflect on the way He shepherds the flock, I consider how we might too, steward livestock under our collective care. 
Proverbs 12:10 tells us: "Whoever is righteous has regard for the life of his beast …" 
Yet how much do we regard the lives of the animals that compose our every meal?
Called to be gardeners
As the last recording draws to a close, our audio host poses a poignant question: "Are we really separate from our environment?
"We have been conditioned to think of the two as separate … we are part of this fabric of creation … part of this intricate ecosystem that God has made."
We are cued to observe everything – from the "microbes that live in our skin and gut" to the "bubbling stream", even "our footsteps [shaping] the ground beneath us".
"How do your actions impact the rest of God's created world around you?" 
"How do your actions impact the rest of God's created world around you?" 
As the question lingers, and as Jenny and I go our separate ways, I think of what Tim Keller wrote in Every Good Endeavour: That we are not to merely be "park rangers" to preserve space. Nor to "pave over the garden" of the created world to make a parking lot.
Instead, we are gifted with the calling of being "gardeners" in God's many gardens, to "rearrange [the earth] in order to make it most fruitful, to draw the potentialities for growth and development out of the soil".  
Made in the image of God, we are gifted with the hands, heart and hope of stewarding His creation to the best of our abilities. 
I also think of what Francis Schaeffer wrote in Pollution and the Death of Man: "If I love the Lover, I love what the Lover has made".
---
A Walk in God's Garden: Dairy Farm Audio Guide and map can be found at Creation Care SG's website. Follow their Instagram page for updates.
---
RELATED STORIES:
Touching lives with her creations: The icing on the cake for popular Instagram baker
"We don't stop being humans when we become Christians": Why creation care matters more than you think
If you have enjoyed reading Salt&Light...
We are an independent, non-profit organisation that relies on the generosity of our readers, such as yourself, to continue serving the kingdom. Every dollar donated goes directly back into our editorial coverage.
Would you consider partnering with us in our kingdom work by supporting us financially, either as a one-off donation, or a recurring pledge?
Support Salt&Light