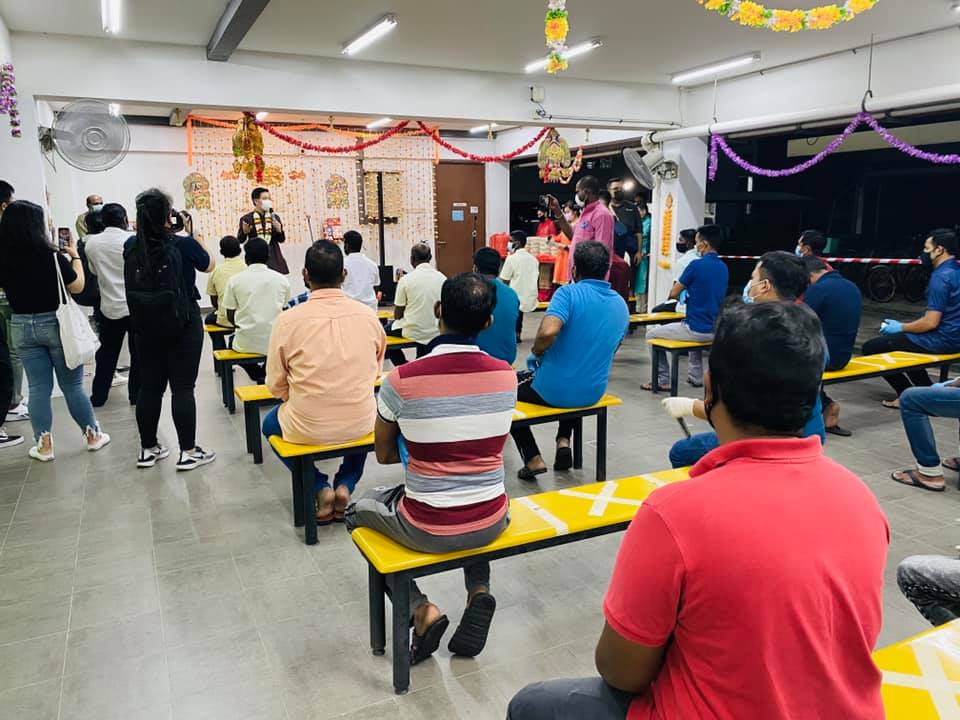 AGWO celebrating Deepavali with migrant workers last year. Photo from AGWO's Facebook page.
Mathiyalagan Annalakshmi Ranjithkumar, 26, typically spends Deepavali enjoying fun activities with friends and family, such as playing games, watching movies and swimming.
Many migrant brothers in Singapore are unable to return home for Deepavali for the second year in a row due to the pandemic.
But since he came to work in Singapore from Tamil Nadu nearly three years ago, he has not been able to return to visit his family or celebrate festive occasions with them. He was also not able to be with his family when his grandmother passed away about four months ago.
"I miss them so long. A few weeks ago, my father said a friend asked him, 'Ranjit go two, three years already, when come back?'" the air-conditioning subcontractor told Salt&Light.
Like Ranjit, many migrant brothers in Singapore are unable to return home to spend Deepavali with their family for the second year in a row due to the pandemic.
"They have been away from their home for more than two years now, some even longer. Many of them are emotionally, mentally and physically drained as well," said Ps Samuel Gift, Lead Director of The Alliance of Guest Workers Outreach (AGWO), which reaches out to migrant workers.
Spreading festive cheer
To spread some cheer to these migrant brothers, AGWO will be holding a four-day carnival from Thursday at Tuas South Recreation Centre, where the workers can spend their day off enjoying games and snacks that remind them of home – all within approved safe management measures.
Some migrant brothers will also be able to participate in a Tuas Got Talent competition, and stand a chance to win lucky draw prizes.
"To be able to come to the recreation centre to see their friends, their cousins, even to play some games and win some prizes, for them that is freedom. So we want them to enjoy the day as much as possible," said Ps Sam, adding that the carnival will be hosted by volunteers from churches.
Other volunteers have also baked some 5,000 goodie bags of sweet treats and funded 5,000 packets of briyani, which will be distributed to those who cannot make it for the carnival, added Ps Sam.
Noting that the carnival was planned after consulting the migrant brothers on what they would enjoy, Ps Sam said: "We wanted it to be something meaningful. We want to say, 'I love you, we are here with you and we understand it is a difficult time and we're here to journey with you. Not just for one time, two times, but for the long term.'"
HealthServe, which provides medical services for migrant workers, will also be distributing care packs of fresh fruits and dietary supplements from November 4 at Penjuru Recreation Centre, Cochrane Recreation Centre and a factory-converted-dormitory in Sungei Kadut.
At these locations, staff and volunteers will be sharing with the workers about their new 24-hour crisis helpline, to remind them that support is available. On Sunday (November 7), HealthServe will also be conducting an art engagement activity centred around the theme of mental wellness, along with a gift giveaway.
"I really pray they will be able to have a blessed time, to have a break away from their norm, away from their dorms and workplaces," said Michael Cheah, executive director of HealthServe. 
How you can continue to pray
This Deepavali, here's how you can pray for the migrant workers in our land:
Pray for good weather and good turnout for the various Deepavali events that will be held for the migrant workers.
Pray that these fun events will will refresh and rejuvenate their weary spirits.
Pray for protection from any Covid-19 outbreaks.
Pray that more workers will soon be able to go out into the community safely so they can meet their friends.
Pray that more churches will step up to Adopt a Dorm so that they can journey alongside these workers for the long haul.
---
FOR MORE ON MIGRANT WORKERS, READ:
We are in this together: Showing love to our foreign workers
One year on, the mental health needs of migrant workers remain pressing: HealthServe
If you have enjoyed reading Salt&Light...
We are an independent, non-profit organisation that relies on the generosity of our readers, such as yourself, to continue serving the kingdom. Every dollar donated goes directly back into our editorial coverage.
Would you consider partnering with us in our kingdom work by supporting us financially, either as a one-off donation, or a recurring pledge?
Support Salt&Light