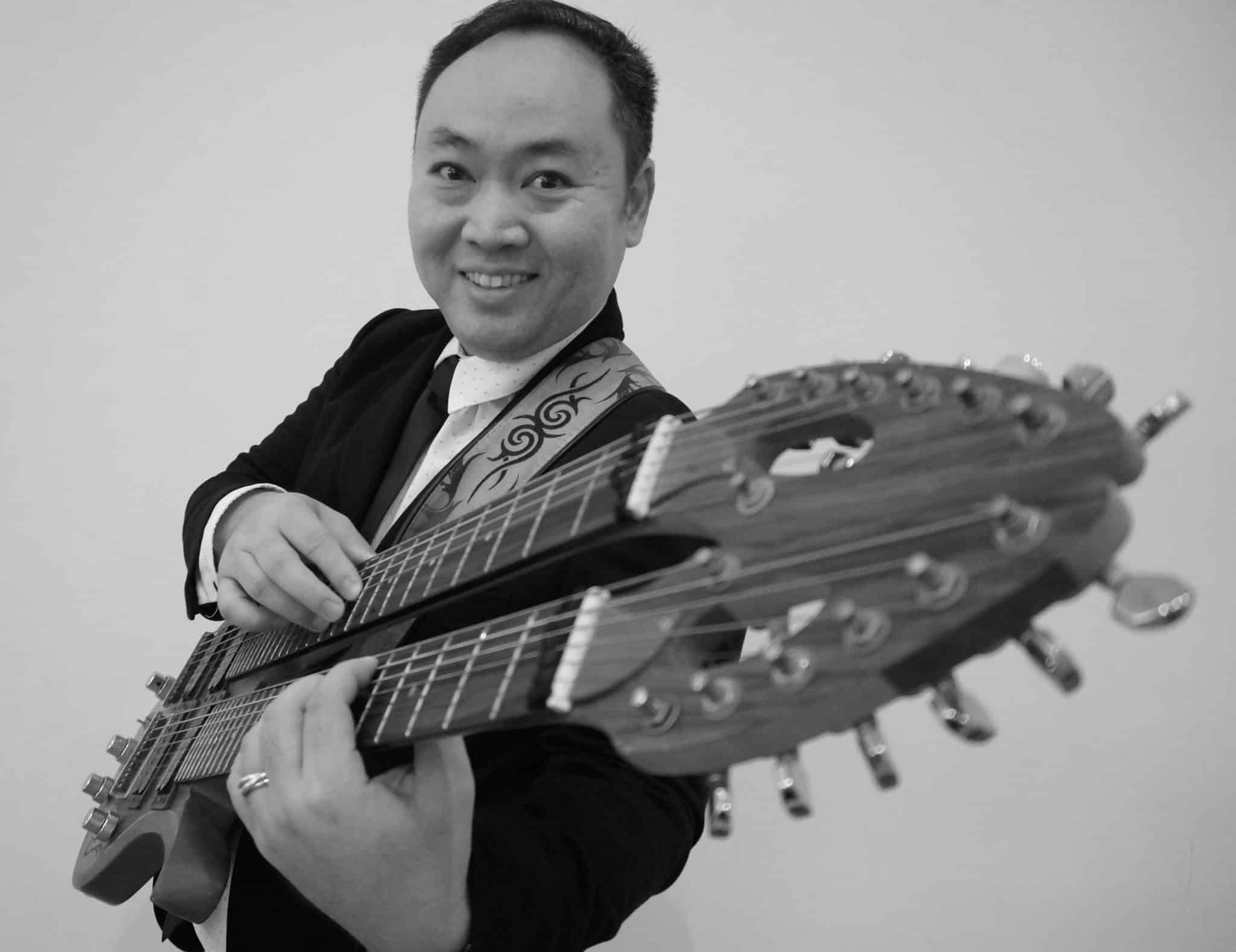 Daniel is a guitar and ukelele music teacher in schools and community centres, and he also performs at public and private events.     
As a child, Daniel Purnomo felt as if he was walking on eggshells all the time.  
Any small mistake he made would result in a disproportionate reaction from the elders in his household, who were easily angered.  
If he accidentally put a finger in a hole in a chair and it became stuck, for instance, he would be berated endlessly. Arguments would break out.   
Whenever he could not do his maths questions, he would not get dinner until he finished them.  
If he refused to take a nap, he would be caned as well.  
Guilt-tripping and manipulation were common, and so, feelings of insecurity, guilt and condemnation became his bedfellows.  
He had recurrent nightmares revolving around themes of missing out and incompletion, such as dreaming of graduating from school only to find that he had not taken one subject.   
"A psychotherapist whom I consulted later believed that my family elders had narcissistic personality disorder," said Daniel, now 46. Originally from Indonesia, he is currently living in Singapore.  
In 1996 Daniel, then 20, faced two major stressful life events.  
He had broken up with his girlfriend of seven years and was carrying much guilt. As a final-year university student, he was also juggling a number of projects.  
Shouldering these burdens while living in a household where he felt no peace, Daniel began exhibiting signs of crumbling under intense mental pressure.  
Prolonged sleeplessness 
"Night after night, I could not sleep at all. My mind raced and would be active until morning. In the rare event that I get a quick shut eye, I would go into restless dreams," said Daniel. 
Surviving on barely an hour's sleep every night, he quickly became a walking zombie. Due to the lack of rest, his body was perpetually feverish and his heart rate elevated. He could only take shallow breaths and had bad bouts of gastric. 
In desperation, he took all sorts of medicine, but they would only induce drowsiness. He tried tiring himself out through exercise, but that did not help either.  
"The more I could not sleep, the more my mind worried over the likelihood that I would be even more tired the next day. That made me even more alert and it became a vicious cycle," said Daniel.  
"I didn't think Jesus would be involved in the details of my daily life."
His parents urged him to see a doctor who was a family friend. 
"The doctor told me maybe I couldn't sleep because God wants to tell me something. That gave me more stress and my sleepless nights were spent thinking about what it was that God wanted to say," said Daniel.  
Eventually he developed depression.  
"I could no longer find enjoyment in the things I used to like, such as watching movies and going for meals with friends. I felt tired and lethargic all the time," said Daniel.  
He still managed to graduate from university. Though he was a shadow of his former self, he also persevered in his job as a guitar teacher in the day and performing music gigs at a hotel at night. 
"I was taught to be faithful in serving the church even if I felt hopeless in my sicknesses," said Daniel.
"I didn't think that my walk with Jesus had anything to do with my health. I knew He saved me for eternal life but I didn't think He would be involved in the details of my daily life."  
Still, questions arose in his heart.  
"I wondered why it was the case that in the Bible, everyone who came to Jesus was healed," said Daniel.  
"When Peter, who had started walking on water later began to sink, does that mean it was not God's will for Peter to walk on water? Similarly, does the presence of diseases mean that it is not God's will to heal?"     
You belong to Me
While he was wrestling with these questions about God and healing, something unusual happened to his right hand.  
He began to notice that whenever he relaxed his right hand, it would move about involuntarily.  
"My hand was behaving like how an empty hose would wriggle about when the water supply is suddenly turned on. Whenever I relaxed my arm, blood gushed down and my hand would take on a life of its own," he said.  
The involuntary movements affected him during his guitar gigs when timing and coordination were paramount.  
One night, Daniel was lying in bed, complaining to God.  
"Lord, You made me a musician, why is my hand like this?" he asked God angrily. 
He did not expect any answer as God had always been a distant authority figure to him; he did not think that God would be bothered by his frustration or suffering.  
Yet in that split second, he heard God impressing on his heart: "You belong to Me. Why do you complain so much?"  
Instantly, his hand stopped its involuntary movements. 
"It was the first time I heard God speak to me. It was not an audible voice but I know it was Him as I was healed at that moment," said Daniel.  
He was both thankful and excited to see the first miracle in his life. Yet he also had lingering questions about healing.  
"My insomnia and depression were still around; I didn't understand why those were not healed. So despite the miracle, the way I related to God and lived my life remained the same. I just had one less problem," he admitted.  
A way out
At that time, some of his music students introduced him to the music courses available in Singapore at LASALLE College of the Arts.  
Desperate to leave a household where he could not find rest, Daniel applied to the school and received a tuition grant that paved the way for him to head to Singapore to obtain his degree in music. His first degree was in engineering.  
When Daniel came to Singapore in 2003, he attended school in the day and worked as a performer at night to support himself.  
Outwardly, he seemed functional and able to navigate the packed days. Inwardly, he was constantly stressed, tense and tired.  
"I was operating at a minimum level. I was still unable to sleep and very depressed. I withdrew from social life," recalled Daniel.  
He hit one of the lowest points in his life while studying and working in Singapore.  
"I was sitting in a chair in the living room and thinking that there was no point for me to be around. The future looked so bleak that I could not even envision marriage or having a career in the years to come," said Daniel.  
"If heaven is so nice and real, I thought, I'd rather be gone," he added. He did not act on his suicidal thoughts then as he was raised up to believe in being responsible, and he wanted to complete his degree first.    
Hope for healing
One night, Daniel was doing his regular gig with a singer at a restaurant in Robertson Quay when he happened to share with her about his longstanding struggle with insomnia and depression.  
The following week, she passed him a CD with teachings by Pastor Joseph Prince from New Creation Church and said: "I believe the answer to your problems lie in this CD."  
"I politely received the CD but did not bother about it," said Daniel.
 Yet week after week when they performed together, his friend would remind him to listen to the CD and rediscover God's love for him.  
"If God still heals today, I have hope. If it is about Him and not about us, then I can be free from guilt."
"I told her I am a Christian and to leave me alone. To me, God already showed me His love when He died on the Cross for me and I just needed to be faithful and look forward to going to heaven one day. I didn't see how my mental disturbance had anything to do with God, my faith or His love," said Daniel.  
After yet another sleepless night, Daniel saw the CD next to him and decided to listen to it.  
As he listened to the CD, the sermon began to catch his attention.  
"I heard about how God is still in the business of healing people. He spoke about how it is not about our faithfulness in what we can do, but about His faithfulness and goodness in what has already been done on the Cross," said Daniel.   
"These new perspectives were refreshing for me. If God still heals today, I have hope. If it is about Him and not about us and our works, then I can be free from the guilt, condemnation and shame that I grew up feeling," he added.  
Daniel paid a visit to New Creation Church in 2005, and made it his new spiritual community thereafter. 
Though he still grappled with insomnia and depression, the way he thought about his condition and his faith shifted.  
"Every week when I heard the Word from the pulpit, I received the unconditional love of God. In the past, I felt I had to work, work and work to be faithful," said Daniel.  
As his insomnia alleviated, his depression also eased.
"Even when I could not sleep, I began to see Jesus as my rest and my strength. I learnt to magnify God and believe that insomnia has no hold on my health. I reminded myself that I am defined not by what I am going through, but by what God says about me," he added.  
Daniel learnt more and more about how to renew his mind by mediating on God's Word, though he still struggled with feeling tired and having anxious thoughts. 
By 2006, he started being able to sleep more and more. By normal standards, he was still sleep deprived. But to him, being able to sleep restfully for, say, a total of four hours a week, was a marked improvement.  
As his insomnia alleviated, his depression also eased.
Who could it be? 
That year, another curious incident happened.  
"Don't be afraid. Papa loves you."
He had woken up one morning with a slight cold. He got up to pop a Panadol, and noticed that his flatmates had already gone to work.  
He did not have any class that morning, so he went back to bed and promptly fell asleep with the bedroom door left open.  
Shortly after, he woke up again to the sound of footsteps coming into his room. The tempo of the footsteps reminded Daniel of his father, as he could recognise the way his dad walked.  
But when he opened his eyes and saw the wall opposite him, he knew he was in his flat in Singapore and not in his hometown, Surabaya, where his father was. 
"If it wasn't my dad, then who could it be? I thought perhaps my flatmate had returned," said Daniel. 
From behind him, Daniel felt the bounce of the spring of the bed as the person sat down next to his head.    
Still feeling sleepy, Daniel opened his eyes and saw the forehead of the person, who had leaned down towards him.  
"The angle was restricted and I could not see his face. But his forehead reminded me of my father," said Daniel.
"Just as I was learning about God's love, God gave me an encounter to show me that He is good and that He is my father."
"Don't be afraid. Papa loves you," the man told Daniel, who was frantically figuring out what was happening as he knew he was in Singapore and not in Indonesia with his father.  
The man repeated: "Don't be afraid. Papa loves you." 
Immediately, a realisation hit Daniel: "Oh, this is my other papa … my heavenly Father!"  
Daniel tried to move his body to get a better view but found that he could not move.  
The person stood up, and once again, Daniel felt the bounce of the spring of the bed going back up.  
He heard footsteps leaving the room, and only then was he able to move.  
"I have never experienced this before. It happened in the physical realm, not in the spirit. Immediately, I went to call my father in Indonesia to tell him what happened," said Daniel. 
"I was shocked and surprised. Just as I was learning about God's love, God gave me an encounter to show me that He is good and that He is my father," he added.  
Renewing of the mind 
Despite having such a dramatic divine visitation, Daniel still had difficulty understanding and receiving God's love.  
"It was in the day-by-day clinging to His word that I received revelations and began having a transformed mind."
"His visit was real, but the fact of my insomnia was also real. Every time I couldn't sleep, I kept thinking why this was still happening. My understanding of God's love was still head knowledge and had yet to flow fully into my heart," said Daniel.  
Yet day after day, he chose to believe in God's truth: Jesus has borne his sicknesses and by His stripes Daniel has been healed, regardless of how badly he felt or slept that day.  
"I grew in my faith and identity of who I am in Christ – that I need not be afraid of insomnia anymore. It was in the day-by-day clinging to His word that I received revelations and began having a transformed mind," he said.
"In the past, it's all about my doing something for God, the human effort and result. Now, I focus on Jesus, what He's done on the cross, what the Holy Spirit is doing and what the heart of God is for me.
"It's all about His doing for me, to me and through me."
"It's all about His doing for me, to me and through me. So any supernatural breakthrough and transformation that comes is not really my doing. My part is to receive and rest in His flow," he added. 
Several years later, by 2014, insomnia and depression lost their grip on Daniel.  
When he was finally set free from chronic insomnia, he fell asleep while travelling in buses and trains, even missing his stop at times.  
There were also occasions when he slept right through his alarm and was late for appointments.  
"Such incidents were not a good thing to others, but to me, it was a luxury and blessing to be able to oversleep!" said Daniel, who got married a year later.  
Most precious gift
Having received his breakthrough in healing, Daniel hungered for more of God's presence and His spiritual gifts so that he, in turn, may use the gifts to bless others.  
In 2010, he and his friends went to a healing conference in Australia to learn more about healing. 
"There were many gifted people there who could see various signs and wonders, but I couldn't see anything," said Daniel.  
After the conference, while he was staying for a few days in his uncle's home in Sydney, the Lord asked Daniel: "Which is the spiritual gift that is most precious to you?"  
"Many moments, God revealed facets of Himself to help me understand and renew my mind and beliefs."

Immediately he answered in his heart: "Healing." His empathy for the sick around him was pronounced, having been incapacitated for years himself.  
The same voice that he had heard earlier said: "John 3:16."  
"I knew the verse was from God, because to my natural mind, John 3:16 has nothing to do with spiritual gifts. But when I recited the verse again, I realised that God was showing me that he has already given me the most precious gift – His only begotten Son," said Daniel.  
As Daniel grew in deeper appreciation for the gift of Jesus in his life, he also began to see miracles of healing occur when he prayed for others.  
"I have been going up to people on the streets to pray for them. The pain that they experienced in their bodies lessened and some of them, who had arthritic pain, frozen shoulder, or walked with a limp, were completely healed. That allows me to point them to Jesus," he said. 
Daniel is currently a guitar and ukulele music teacher in schools and community centres. He performs at public and private events as well.     
Over the years, he and his students have also traveled to Hawaii to participate in international ukulele competitions and they have been recognised as one of the top teams globally.  
The way he teaches his students mirrors how God has been guiding him in his own faith journey. 
"I emphasise to my students that growth is a process rather than a moment. God did not take me from point A to B immediately. There were many moments along the way where He revealed facets of Himself to me to help me understand and renew my mind and beliefs," said Daniel.  
"I translated that into my teaching by learning how to break down the process into small steps for the students, and reassure them that it is okay to make mistakes.
"There is no condemnation. Often, students are so scared of making mistakes that they don't go through the process that is necessary for progress," he added.  
For instance, unlike other music teachers who freely give the chords to their students to practise, Daniel gets them to listen to the music to find out the chords for themselves first.  
Only later does he offer the chords to students whom he observes to have genuinely tried their best or are having legitimate difficulties.  
"It is similar to how God guides us step by step and there is a different training for us in every season.
"We need to be open to His leading, knowing that He cares enough to want to be involved even in the daily and practical aspects of our lives."
---
RELATED STORIES: 
Terrorised by spirits at night, she was at the end of her tether – until God met her in a club
"Don't let work define you": Former COO of Sports Hub who battled insomnia and depression
"Why am I so tired?": Struggles and strategies to balance work, ministry and life
If you have enjoyed reading Salt&Light...
We are an independent, non-profit organisation that relies on the generosity of our readers, such as yourself, to continue serving the kingdom. Every dollar donated goes directly back into our editorial coverage.
Would you consider partnering with us in our kingdom work by supporting us financially, either as a one-off donation, or a recurring pledge?
Support Salt&Light