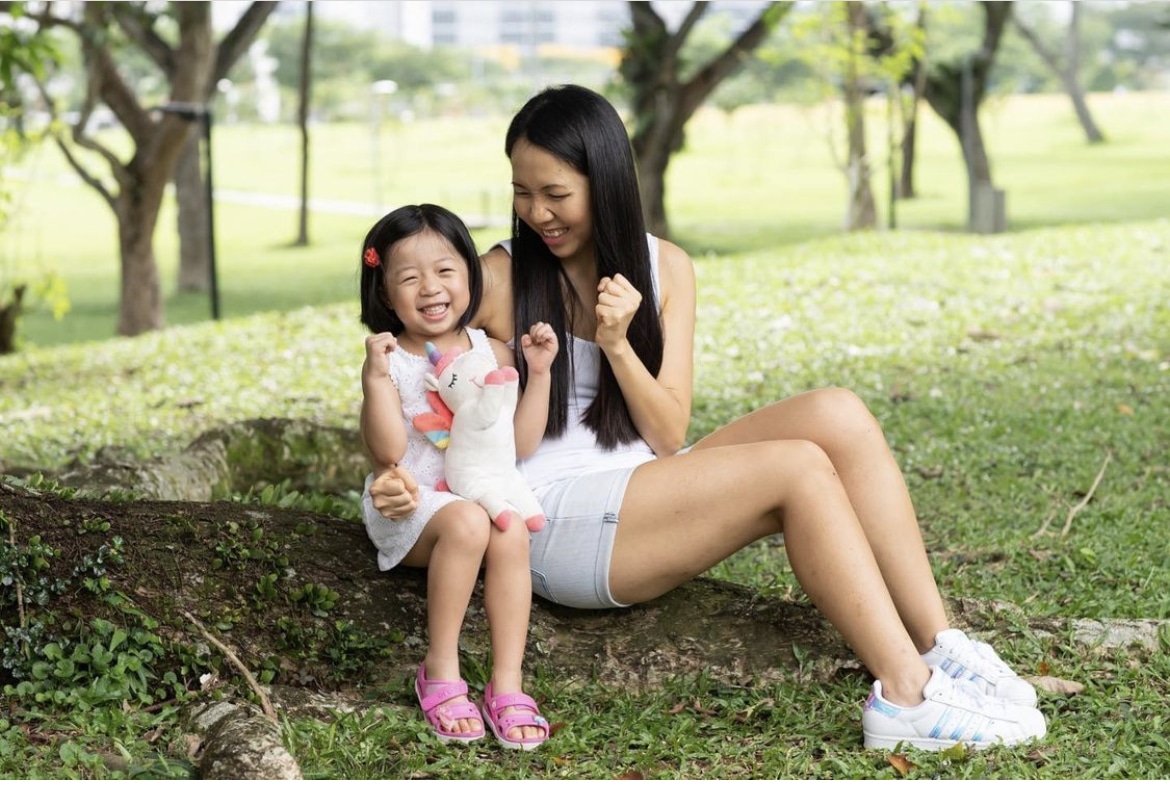 "One of the hardest conversations I've ever had was not in the boardroom or at the office. It was at the playground," reveals mother of two, Tam Wai Jia. All photos courtesy of Wai Jia.
In my years of work, I have been yelled at, put down.
But one of the hardest conversations I've ever had was not in the boardroom or at the office. 
It was at the playground. 
A year ago, our then four-year old firstborn Sarah-Faith had been taunted by a girl of the same age at our neighbourhood playground. 
"NANNY NANNY POO POO! I'M BETTER THAN YOU!"
When this first happened, Sarah-Faith was blissfully oblivious.
Four-year old Sarah-Faith was taunted by a girl of the same age at our neighbourhood playground. 
But as time went by, she asked, "Why is T playing with me and then saying bad things to me later?" 
Her mother, close by, buried herself in a newspaper.
I tried my best to help Sarah-Faith name her feelings and provide comfort.
But over time, it wore me down.  
One evening, triggered by the incessant taunting, my toddlers, aged four and two, burst into a spectacular meltdown, with my two-year old flinging herself onto the ground, nearly injuring herself.
Finally, I voiced my concerns, "I'm really sorry but your daughter's taunting is really affecting my children."
My heart beat fast.
"Kids sort themselves out," came the swift reply. "Most other kids know how to let water run down a duck's back. I don't helicopter my kids."
Face flushed with anger, I dragged two bawling kids home.
In the months after, I trudged every evening with my children to a different playground, three traffic lights away. But as if they understood the tradeoff, my children never complained.
To avoid another confrontation, we were happy to do what it took. 
Mama, be brave
Partial lockdown happened anyway. I comforted myself that this was a refreshing change.  
Months passed. Sarah-Faith missed her old friends. We read books about bullies, bullying and what to do.
One fine evening, as we walked towards that familiar neighbourhood playground, we saw the mother-daughter duo.
Before we could turn back, we heard the familiar scream from afar: "NANNY NANNY POO POO, Sarah-Faith, I'm better than you!"
"Yes Mama! Be brave. God is with us!"
Sarah-Faith and I took a deep breath. 
"Are you ready, Sarah-Faith?" I asked, my heart sinking to my stomach.
"Yes Mama! BE BRAVE. God is with us!"
I looked at her in disbelief. How did my four-year old learn to speak like this?
We watched the feisty girl walk to an elderly grandmother sitting on a swing with her baby grandson on her lap, and scream: "GET OFF MY SWING NOW!"
The grandma walked off in ignominious retreat. The little girl's mother shrugged.
I shuddered as I watched the world crumble under this little girl's reign. 
The taunts resumed. "I GOT THE SWING! I'M BETTER THAN YOU!"
Sarah-Faith extended a fist bump to me, as if quietly saying: "We got this Mama! I'm okay!" 
She played happily, disregarding the chants.
Then, something changed. 
Showing up
One day, I had the privilege to sit in at a Facilitating Powerful Conversations workshop, held by Common Ground. It talked about being truthful to ourselves, to "show up" in tough situations, to speak our intent with truth and in love.
Suddenly it became clear that the toughest conversation I needed to have was not at the office, hospital or in marriage, but at the playground.
That weekend, I said: "Sarah-Faith, you've been very brave. It's time that Mama be brave for you too."
That day, we walked towards the playground, certain that the mother-daughter duo would not be there on a Sunday evening.
But my heart lurched.
"SARAH-FAITH IS HERE!" The other girl announced from afar.
I saw a set of newspapers, held up high to the sky.
"Sarah-Faith, you've been very brave. It's time that Mama be brave for you too."
As if clouded by a beautiful grace, Sarah-Faith walked bravely ahead, set up her make-believe ice cream shop and sold one to every child that came by. Tears welled behind my eyes.
The girl came full throttle at Sarah-Faith, pursuing her.
"I AM SOOOO MUCH BETTER, BETTER THAN YOU!"
The voice was petulant, triumphant, ringing high from the playground tower.
Something in me awoke and arose. It was not anger.
For the first time, my authentic self emerged.
"My dear, we do want to play with you. But if you carry on with hurtful words, I will not allow you to play with my children. And I will tell your mother."
My voice was restrained, far softer than her unrestrained taunting, but her mother stormed over at once. 
"Why are you talking to my child? Why didn't you talk to me first? Your child is competitive. They rub each other both ways. That's why she brings out the worst in mine."
Instead of cowering, this time, I showed up.
I explained the facts objectively – that while her child had repeatedly used hurtful taunts, Sarah-Faith had not once said a mean word back. Her child had physically hurt Sarah-Faith by forcefully prying her fingers one by one off a swing, shoving her off, even when the next swing was empty. Even when the mother was close by reading the papers.
"Next time you have anything to say, make sure you tell me and not my child. I can't be trailing my child when she has the social skills to mingle with other children already at her age! You shouldn't bubble wrap your children."
They left in a huff.
Bless our friends, amen
Two days later, as I prayed, I felt God say: "You have spoken in truth. Now is the time to act in love."
The next evening, the little girl glued herself to the swing. Her mother pushed her the whole time. The scales of my eyes fell and I saw a little girl, desperate for her mother's attention.
Taunting Sarah-Faith must have seemed to be the only way to achieve what she wanted: Undivided attention.
I saw a tired mother, whose escape from her world through the news headlines, was that hour at the playground.
That night, I drafted a text message that said: "Thank you for watching over T. SF and I appreciate it very much. T has been gracious to us before on a number of occasions. Please let us know how we can help to make things better for both our families."
But I refused to send it.
At once, God brought to my mind a conversation I had with Sarah-Faith several months ago when the taunting started. Incidentally, we were learning a song that week: "Do not be overcome by evil, but overcome evil with good." (Romans 12:21)
I clicked "send".
Taunting Sarah-Faith must have seemed to be the only way to achieve what she wanted: Undivided attention.
The Holy Spirit stirred within me, restless.
"Sarah-Faith, how do we respond to people who are unkind to us?"
"Mama, I think if we make T a card, maybe that will help her feel better."
After our discussion, I asked Cliff: "Could you buy us a really nice box of mooncakes from a hotel? Sarah-Faith and I feel God wants us to bless them."
"What?" Cliff asked. "This can only be God," he winked.
The next evening, Sarah-Faith drew a card and prayed: "Dear God, help us to bless our friends and have a good time. Amen."
As we walked towards the playground, my heart raced. Sarah-Faith dragged her feet but agreed to say hello. I saw the girl's mother bristle, her body posture tightening with defence.
I took a deep breath in.
"Sarah-Faith was very excited about Mid-Autumn festival this year and she wanted to buy mooncakes for her friends at the playground. We hope you'll enjoy them."
A visible delight pulsed through the mother. Her face, though masked, was filled with surprise.
"Wow," she said, "These must be so expensive."
Minutes later, her older daughter returned with a box of homemade mooncakes.
"These are for you."
My eyes brimmed with tears.
God was faithful, and He had come through for us. He showed us in tangible ways that truly, we can overcome evil with good.
But above that, He showed me the importance of staying true to our intents, and acting both in truth and in love.
Freedom to be true
I thought to share what I learned here, when dealing with hard conversations: 
1. Share your intent. Be kind but brave.
Showing up with your full authentic self, no matter what the cost, is the only way to stay true.
For example:  I can see that T desperately wants SF to be her playmate. And I desire for our children to play well together.
2. Use "I think", "I feel", "I want/need" instead of "You are/how can you …"
 Focusing on "I" statements focuses the spotlight on ourselves, and helps to prevents conflict-escalation.
For example: "I feel sad for T when she wants to play but I can't allow SF to do so because she will be taunted. I need your help to play a more proactive stance in watching T  because her language is hurtful and impacts other children negatively."
3. Use "I can see" and "Help me understand"
 Such statements ground our language in objectivity and curiosity, instead of judgement and blame.
 For example: "I can see you're uncomfortable with me approaching T to defend my child. I can also see that you're a mother who loves children and who doesn't condone bullying behaviour. Could you help me understand how we can make this situation better?"
The truth is, showing up with courage is more important than nailing a perfect outcome.
These are the hardest things to say. 
And even harder to receive with calmness and clarity are the unexpected responses that might follow. 
I learned that while we can control our responses, we cannot control how others might respond towards us. This is probably why so many of us avoid the tough conversations we most need to have – we are afraid of not getting it perfect. 
The truth is, showing up with courage is more important than nailing a perfect outcome.
I did not nail it. The initial conversation did not end perfectly. I wish I had refuted her demands and stated plainly for her to be more present for her child so I did not have to watch hers as well.
But I left with a sense of freedom knowing I was, in essence, true to myself. My shame evaporated. I had spoken up. I had showed up not only for Sarah-Faith, but for myself. 
Today we no longer frequent the playground at that time, but it is no longer out of fear, but because our schedules have changed.
We've learnt that while it is important to forgive, forgiveness does not mean ignoring wisdom or failing to set boundaries.
If there has been a tough conversation you're avoiding, remember, showing up is half the battle. Learning and applying the right skills in the right context is the other half. 
Things may go well or poorly. But I'm learning to choose courage. To choose authenticity. 
After all, you can't run away to another playground forever. 
---
RELATED STORIES:
Cleaning toilets for God: A journey from pastor to full-time dad
If you have enjoyed reading Salt&Light...
We are an independent, non-profit organisation that relies on the generosity of our readers, such as yourself, to continue serving the kingdom. Every dollar donated goes directly back into our editorial coverage.
Would you consider partnering with us in our kingdom work by supporting us financially, either as a one-off donation, or a recurring pledge?
Support Salt&Light