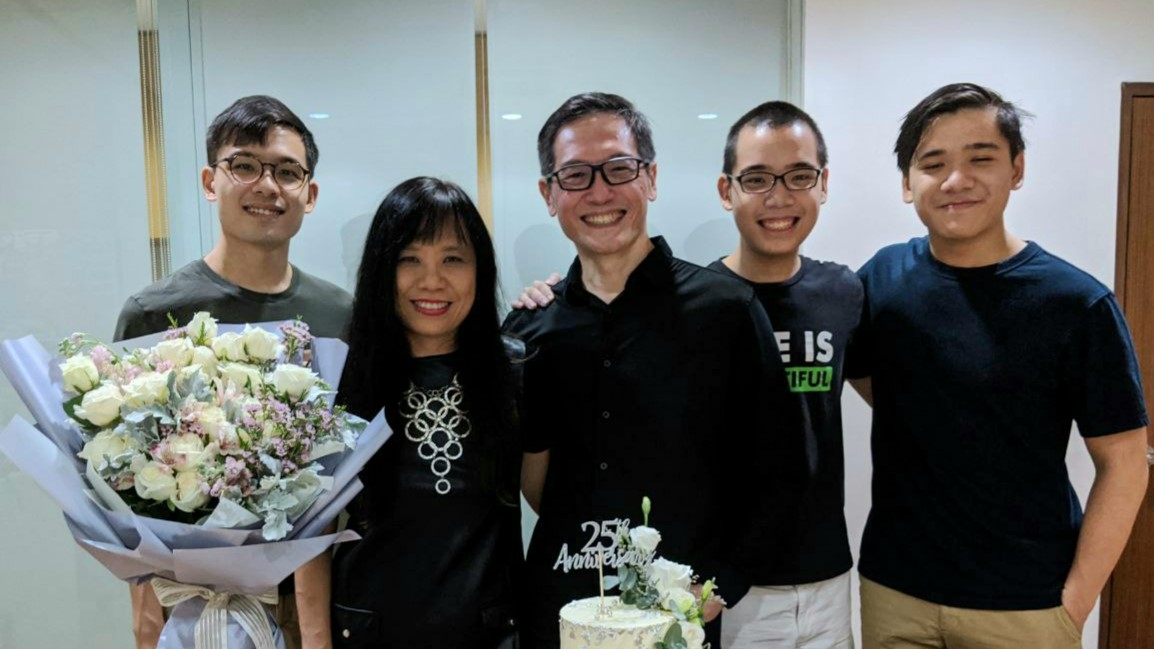 The Moks celebrating their silver anniversary with their three sons. When they chose to become foster parents seven years ago, they consulted their children and got their support before they went ahead, making fostering a whole family affiair. All photos courtesy of the Mok family.
Her three sons – aged 19 to 24 – are all grown up, fine young men who would do any parent proud.
Yet, she has had to deal with crying tantrums, violent outbursts and, on one particularly trying occasion, a runaway child. Vivienne Mok is a foster parent and these are some of her experiences with her foster children.
To many, they may sound like obstacles but to Vivienne and her husband David, they are opportunities to show a Father's love that they have personally experienced.
On Tuesday's Zoom chat show Salt&Light Family Night (October 27), the Moks and the Lims, who adopted four children, shared their unique parenting paths with some 100 participants who were keen to hear first-hand accounts.
Here is what you might want to know if you are considering fostering.
The Mok family's fostering adventure
When the Moks decided to foster in 2013, their household was already full with three teenage sons.
What moved Vivienne to consider being a foster parent was her work as a clinical psychologist at the Institute of Mental Health (IMH). There, she saw many adult patients who had psychological issues that stemmed from childhood abuses and neglect.
She could not help but wonder if their lives could have turned out differently if they had had a more loving childhood.
"There was no one really looking out for them when they were young," said Vivienne. 
When she moved on to the Rehabilitation and Protection Group at the Ministry of Social and Family Development (MSF) and started working with children, she realised they needed more than the treatment she could provide.
"I realised that God had actually prepared my heart for moments like these."
"As I see these kids that I work with, I asked myself: Who worries for these kids? Who prays for these kids?
"God really spoke to my heart that this is something Christians can do because we have a lot of love, we have stable families. This is how the church can really come alongside vulnerable children like these."
Vivienne struggled, though. "I was trying to run away from God. I knew He wanted me to foster but I didn't really want to listen."
Still, He pursued her: "There were certain things that were happening at work, so we started praying about work. As we prayed, God spoke to me, 'You've got to do this. You have to show that fostering is doable.'"
He assured her that with His grace and strength, she would be able to be a foster parent. But Vivienne had one condition – her sons and husband had to agree.
Said David: "When she shared, there was no resistance on my part. I realised that God had actually prepared my heart for a moment like this."
Discipleship through fostering
The Moks had always been hospitable, opening up their home for small group meetings and church activities. "That prepared our hearts for us to welcome not just temporary guests to our home," said David.
Their sons also agreed though they may not have really known what they would be in for. With every subsequent kid they wanted to foster, the couple consulted their children.
"We said, 'If you really don't want to, we won't. But you guys have been blessed with so many things – anything that you want, we buy it for you. These kids have nothing. Are you sure you do not have space in your heart for one more?'"
The support of the family is something Vivienne strongly believes in because she has seen fostering situations fall apart because families were not in agreement.
Fostering has also been "a wonderful journey".
Since then, the Moks have fostered five children aged three to 12. With affection, Vivienne talks about her first foster daughter, a "cute little Indian girl with lovely eyelashes" who came to their home "very scared" but who blossomed over time, attending ballet classes and swimming lessons.
There was also the active little boy who "broke a lot of things in our house, sprayed water in our house" and older foster children – three girls aged 10 to 12.
"Each comes with his or her own personalities, backgrounds, baggage, behavioural issues and insecurities. It's really about getting to know each one for who he or she is."
There have been heartaches – hyperactivity, defiance and opposition – and failures too. But fostering has also been "a wonderful journey".
"I learnt a lot of new things, too. Two of them love BTS and I also learnt to love BTS," said Vivienne with a smile.
Being a fostering family has been a "growth process" for the Mok boys as well.
"They had to adjust," said Vivienne.
Things were harder on her youngest son who "never had a younger sibling" and did not particularly like children.
Recounting his experience with one of their foster daughters, Vivienne said: "She really annoyed him because she would talk non-stop in a shrill voice, nonsensical things and he would roll his eyes and get very upset. I really thought she tested his patience."
"This is a way we brought the mission field into our own homes."
But the Moks believe their boys were also moulded by their experience. Fostering brought them out of their comfortable middle-income world – "They were probably spoilt," said Vivienne – and they got to see that there were children who had been disadvantaged and abused.
"They wouldn't have grown to be the boys they are (if not for fostering)," said Vivienne.
In fact, her oldest son told her that he and his girlfriend are considering fostering when they get married because "what you guys do is really wonderful".
Added Vivienne: "We never could bring our kids out for mission trips because they were very ADHD when they were young, especially the older two.
"I really couldn't control them. They were running, jumping and getting into trouble. But this is a way we brought the mission field into our own homes."
These were some answers the Moks gave to viewers' questions on fostering during Salt&Light Family Night.
What is the fostering process like?
Foster parents have to fulfil certain criteria:
Resident of Singapore (this includes expatriates who have lived in Singapore for at least five years and plan to live in Singapore for the next three years)
Married
At least 25 years old
Medically fit to care for children
Minimum household income of S$2,000 and PCI of S$700/month (PCI is the household income divided by the total number of people in the household)
Secondary school education minimum
Childcare experience (including babysitting)
Have a safe home and enough space for the child
Then, comes the application process which takes two to three months:
Submission of application forms and necessary documents
Interview of applicants and household members (including children, domestic helpers, tenants and extended family living in the same house)
Home safety assessment (which, including the interview, may take up to five hours)
Medical assessment for the couple
Final report
Training
Can I work full-time and still foster?
Both Vivienne and David work full-time and assure that foster parents can work and raise their children.
In addition, MSF provides subsidies for childcare for foster children. MSF even encourages stay-home mothers to put their foster children in childcare during the day, both as a respite for the foster parents as well as for the children to get extra help academically.
"If you can give just a fraction of your time, it would mean the world to the child because (at least) someone is focussing on that child, thinking about that child. The little we give means so much," said Vivienne.
Can I foster if I am planning to have my own children?
If you are planning to have biological children in quick session, it may be advisable to complete your family before considering fostering, said Vivienne.
That being said, some couples have successfully fostered children between biological kids.
"Each family is different, depending on the needs of your own family and kids, and your own time," said Vivienne.
Can I foster if I am single?
Singles cannot be foster parents but they can offer support:
Babysitting
Tuition
Transport services
Being a befriender
Praying
Raising awareness of the issue within the community and in churches
Sign up to be a volunteer at the various foster programmes available (see sidebar).
How do you deal with challenging foster children? 
The Moks have seen all manner of challenging behaviours. One child ran away when they switched off the home WiFi to stop her from playing games late into the night. Others have shouted at them and slammed the door in their faces.
Despite it all, they have committed themselves to giving their foster children a "safe, stable, secure and loving home" with routines, discipline and love.
"Sometimes, all they need is one trusted adult and we want to be that adult for them," said Vivienne.
"All they need is one trusted adult and we want to be that adult for them."
"We are there to keep saying that the reason we are doing these things is because we love you. We are here for you. God has placed you in our family. We keep giving that message over and over again. Most of them, after a while, get into the routine."
Providing a strong, stable father figure is also what they do because many come from homes where the fathers are absent.
"I make myself present in their lives. I show them that it's natural to have a father in the family unit," said David.
So, he models what a loving father looks like by engaging them, playing with them and simply being available.
"I treat them like our own children. I tell them that," he said simply.
And they have seen how love has won the day on more than one occasion.
"I know they feel loved and secure. You can see the complete change in personality for some of them. They come in very scared, very rough around the edges. At the end of it, they are very polite. They pray very heartfelt prayers," said Vivienne.
One day, she even heard her foster daughter counselling the family dog.
"We always tell her that God loves her. One day, I saw her under the table, telling the dog, 'You know God loves you very much. When you are in trouble, you can always pray, God will listen to you'. You can see that transformation."
She has had ex-foster children who have developed such a strong bond with her that they call her up to talk about issues as deep as the meaning of life and as simple as to complain about a naughty classmate in school.
"Be prepared to fail for God."
Of course, the Moks also caution against expecting too much from foster children. "We do have placements that have broken down because it's just not been a good fit.
"Sometimes as foster parents, we have certain expectation about how the children should behave because we have raised our own children from young.
"They know what the rules are in the house. They know from my expression whether I'm angry. But with foster kids who are coming in, you don't know them and they don't know you," explained Vivienne.
"Don't go in like a super hero thinking you are going to change the world. You've planted little bits. You see some of the changes spectacularly but for others you just have to wait for the seed to grow. 
"God is the one who makes that change. He doesn't look at successes and failure. He looks at our hearts. Be prepared to fail for God."
How do you balance raising biological and foster children?
The readiness and age of the biological children is important, and every family is different.
The Moks chose to foster only when their children were older though some young families, said Vivienne, have successfully fostered children.
On the children – biological and natural – getting along, the Moks share of their own children's struggles. Their youngest son was once so angry with his foster sister that he refused to sit at the same table with her.
But over the years, the Moks have also seen them "mature and engage the foster kids as big brothers".
"We are obeying God and loving everyone God gave us."
On one occasion, when they had to take away their foster's child's handphone, it was her son who talked to the girl because he had a rapport with her.
"He told her, 'My mum is in a dilemma. She has to take your phone away otherwise there are more major consequences.'
"She just gave him the phone. If it was me, she would have shouted at me. But he helped me. I think these are skills that they have picked up along the way and I'm really thankful for that."
As for ensuring that the foster children do not feel left out, David believes in loving them like his own.
"We treat our foster kids like our kids. They can see that we don't prefer our biological children," he said.
"We can't think of it as if we are doing them a favour. We are obeying God and loving everyone God gave us an opportunity to love. Our kids can understand when they see it and this reduces the rivalry issue."
---
Salt&Light Family Night: I'm raising a special needs child
For some families, the fact that theirs is a special child is apparent at birth. For others, it takes time and missed milestones to discover.
How can families parent their special needs child? What support is there for their academic, physical and spiritual growth? How can the church come along these families?
Join hosts Carol Loi and Alex Tee as they talk to two families who have special needs children about their journey, their triumphs and the lessons learnt.
Date: Tuesday, November 10, 2020
Time: 8.30pm-10pm
Cost: Free
Register at: https://bit.ly/SLFamilyNight10Nov
How do you love a child who is not your own? Parents who foster with the Father's heart
Children belong in families. Will you open your homes to foster children in need?
Ready to find out more about fostering?
Couples interested in fostering can now be part of the 100 Homes initiative by the LoveSingapore network of churches. Based on the belief that "families are the vehicle that God can use to help the lonely", they are calling for churches across Singapore to raise 100 Christian foster families to provide for children in need of a home.
100 Homes has partnered various MSF appointed agencies including lead partner Gracehaven Fostering, Boys' Town Fostering Services and Epworth Foster Care to provide an end-to-end holistic support to churches and families interested in fostering.
They are also collaborating with Home for Good Singapore, a local fostering network of Christian families, to provide community, prayer and fellowship for families on the fostering journey.
There are upcoming tea sessions that interested couples can attend to hear the experiences of others who have fostered children:
Oct 31 – Epworth Foster Care x Home for Good (contact Jia Qi @ 9119 6248)
Nov 21 –Boys' Town Fostering X Home for Good (contact Esther @ 9113 7612)
If you have enjoyed reading Salt&Light...
We are an independent, non-profit organisation that relies on the generosity of our readers, such as yourself, to continue serving the kingdom. Every dollar donated goes directly back into our editorial coverage.
Would you consider partnering with us in our kingdom work by supporting us financially, either as a one-off donation, or a recurring pledge?
Support Salt&Light