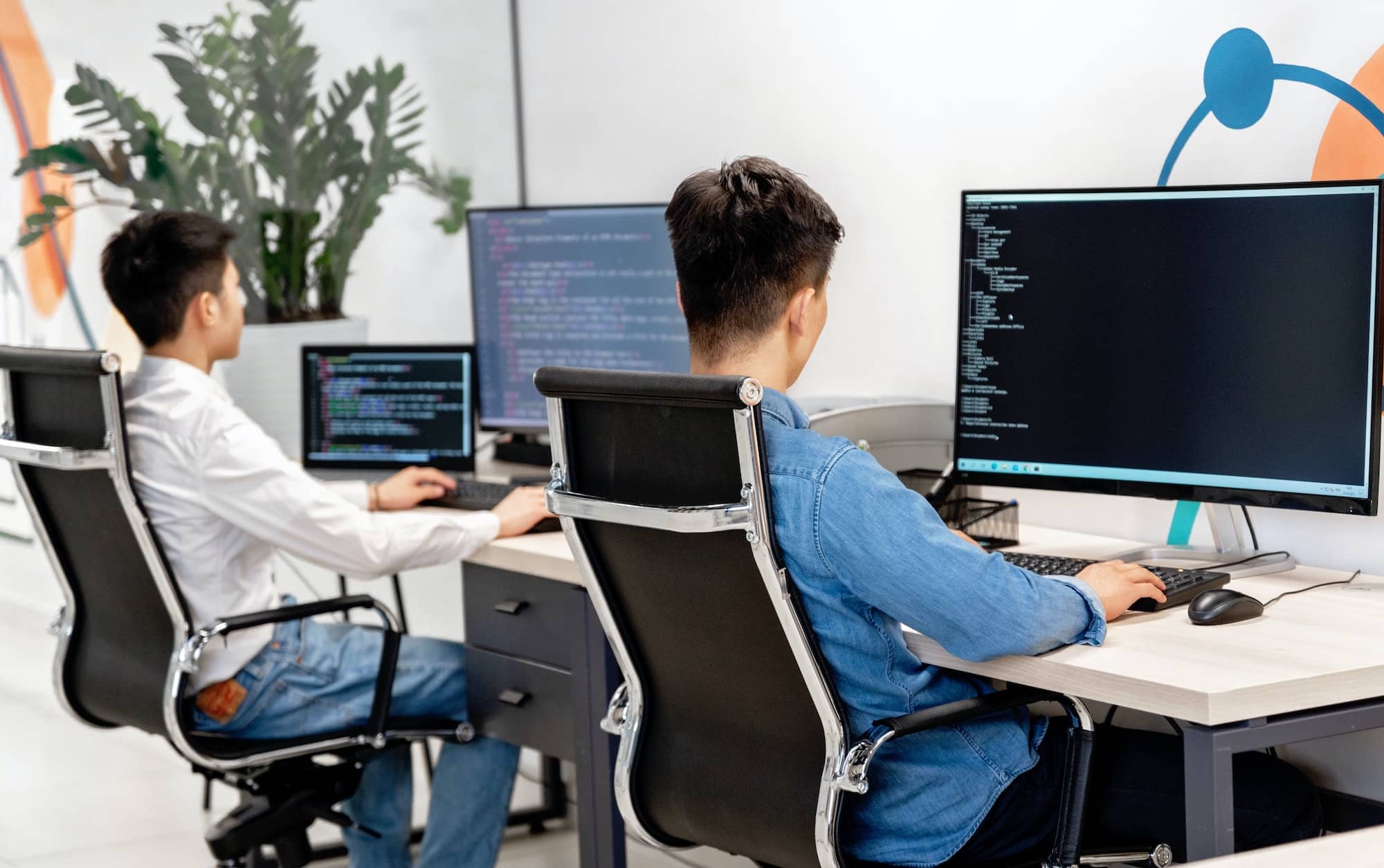 When you bring the Kingdom of God into your workplace, you may see even toxic culture transformed, says Ps-Dr Philip Lyn. Photo by Mikhail Nilov on Pexels.
Aquila and Priscilla. They are my workplace heroes in the Bible. We first read of them in Acts 18 when they gave lodging to Paul at a very low point in his ministry.
They themselves were refugees, driven out from Rome through an imperial edict (Acts 18:2). They had taken up residence in Corinth, supporting themselves as tentmakers. They were the classic "DINK" pair (Dual Income, No Kids). Paul joined them in the trade.
The original tentmakers
The church at Corinth was born in the throes of violent opposition and God had to speak to Paul in a night vision to tell him not to give up (Acts 18:9-10). In those 18 months, a mentoring relationship was born between Paul and this working couple (Acts 18:11).
Paul later said Aquila's and Priscilla's love was such that they had risked even their necks for him (Romans 16:3-4).
This was workplace mentoring at its best: Low-key, efficacious and edifying.
A newly converted synagogue ruler called Sosthenes had been beaten up, maybe because they couldn't find Paul (Acts 18:17).  Even at such times of peril to themselves, Aquila and Priscilla apparently stuck with him (Acts 18:18) and probably continued to house him.
Later, when Paul continued his journey to Ephesus (Acts 18:18-19), they followed him there and it was likely that a church was planted there at that time (1 Corinthians 16:19).
In Ephesus, they later took aside a rising, fiery itinerant apologist by the name of Apollos to tutor him further in the things of God (18:24-26). Later, they helped to promote his ministry (Acts 18-27-28). This was workplace mentoring at its best: Low-key, efficacious, edifying and connecting Kingdom-minded people.
When the imperial edict restricting Jews was later lifted, they went back to Rome (Romans 16:3), and there, they pastored a house church.
They are biblical models of bi-vocational pastors and represent the quintessential example of a totally sold-out couple who embraced their spiritual calling and their workplace calling as one.
Their mobility was in no small way due to their "DINK" status and their mobile profession, which led to the coining of the phrase "tent-making" to describe self-supporting missionaries of the same ilk.
Seeing God's destiny in your workplace
Just like Aquila and Priscilla, we need to realise that it does not matter at what level we find ourselves in the workplace today. 
When Jesus sent out the 70 disciples, He gave them four handles on how to bring the Kingdom of God with them.
What is important is that we embrace our calling to bless our workplace through the calling and power of God upon our lives.
Joseph started as a slave and Daniel as an enslaved eunuch but they both eventually rose to the top in the affairs of their nations.
So do not let our present circumstances or workplace challenges overwhelm us and prevent us from seeing God's destiny for us in the workplace.
There are four steps we need to take to embrace our workplace.
These steps are taken from Luke 10:1-12 when Jesus sent out the 70 as lambs among wolves and gave them four handles as how to bring the Kingdom of God into what were potentially hostile places:
1. Speak peace
Firstly, we need to speak peace to our workplace.
"Whatever house you enter, first say, 'Peace be to this house!" (Luke 10:5 ESV). The point is if we hold a job, we are already in the workplace.
Had Joseph and Daniel quit because they were at the bottom of the pile, they would never have fulfilled their destinies.
It does not matter how highly or lowly paid it is, how desirable or undesirable it is or how we got the job. What matters is that we are in the system.
So speak peace to it. Thank God for it. Do not let anger fuelled by the injustices, bullying, unbalanced work-life or discrimination churn you up to hold grudges or take offence.
"For the anger of man does not produce the righteousness of God" (James 1:20 ESV). An angry Christian is not a threat to Satan. In fact, it gives him more room to work (Ephesians 4:26-27).
Joseph had to forgive his brothers as well as to overcome his bitterness at being betrayed and sold into slavery. He later had to overcome despair at the injustice of being imprisoned for a deed he did not commit without hope of ever getting out. It seemed each step took him deeper into the pits.
But he did not give up.
Daniel had to come to grips that his homeland had been destroyed by the ferocious Babylonians and that he was now a slave with his manhood taken away from him permanently in order to serve the king in the civil service of an idolatrous nation.
They had a conviction that God had a destiny that was bigger than their present circumstances.
Both men, however, recognised that no matter how much evil had been inflicted on them God would eventually use it for good (Genesis 50:20). This was made possible by their conviction that God had a destiny that was bigger than their present circumstances.
Had they quit because they were at the bottom of the pile, they would never have fulfilled their destinies. Declare that your job is God's gift to you.
Speak God's word to your workplace. Speak peace. Your faith and attitude determines your altitude – how high you will fly!
You can't change the workplace environment immediately. Just like you can't change a marriage immediately.
If you think you've married the wrong person, but choose to treat him or her just like the right one, that person will most likely, with time, turn into the right one and you will have a wonderful marriage.
But if you married the right person yet treat him or her like the wrong one, that person will turn into the wrong one and you will have an awful time. The same applies to your present job. 
2. Embrace your job
Secondly, embrace your job. It means deep down inside, you accept it full-heartedly as part of God's will and purpose for you.
Accept and embrace the job He has given you as a part of your life in this season.
It may well be that you may move on to another job, but until that time comes, you are going to give everything you have to the present one.
Jesus said: "And remain in the same house, eating and drinking what they provide, for the labourer deserves his wages. Do not go from house to house." (Luke 10:7, ESV)
The mark of this step is identification; you accept your colleagues, mix with them, eat together and befriend them as well as embrace imperfect and flawed systems and culture there. You don't give in to the reflex reaction to reject, criticise and disparage your workplace, but accept it gladly.
Thank God for your job and declare to Him that you receive and embrace what He has given you as a part of your life in this season. When this happens, God's blessings will extend to your job and through you to others.
3. Improve the system
The next step is to improve the system in your workplace.
We are instructed by the Lord to make things better at work. Jesus said to his disciples, "Heal the sick in it and say to them, 'The kingdom of God has come near to you'" (Luke 10:9 ESV).
This is the meeting of both fundamental and felt needs.
We are to use the gifts and skills God has given us, together with His wisdom to bring greater efficiency, returns, productivity, fairness and happiness to the workplace and to meet the needs of our colleagues or clients as God leads us.
4. Declare that the Kingdom of God has come
Finally, declare that the Kingdom of God has come to your place of work and believe that by faith! (Luke 10:9b)
We need to sometimes go in early to the office and declare the Kingdom of God has come. Pray over every cubicle and place of decision, even for or enemies or bosses who may be bullies. Declare the rule of Jesus in our workplace.
What are the signs that the Kingdom of God has come into the workplace?
Miracles can happen. God can break through in bringing physical and mental healing, as we learn to love and pray for friends.
Well, for a start, change has come to you!
You have moved from an attitude of apathy and purposelessness to one of Kingdom vision and hope.
You have begun to be a blessing to colleagues and staff there and little by little, have begun to change the micro-environment around you – even if you are not the boss.
Then slowly a handful of friends and colleagues get saved, God's love flows through you. Miracles can happen. God can break through in bringing physical and mental healing, as we learn to love and pray for friends.
Changes of the workplace atmosphere and values may take place. Language may change, culture may change – gossip, back-stabbing and toxic values lessen their grip in the environment where we work. Lying, cheating and laziness fade in lives that have been consecrated to Jesus.
Your season, your purpose
Can I be candid? Treat your workplace as a gathering of pre-believers, not of non-believers! Believe that in due course many, maybe even all, of your colleagues including your bosses will be saved and the workplace will be transformed!
It is through you that the Kingdom becomes invasive.
Is that too much to ask? That's precisely what declaring God's Kingdom means! We first declare it in our spirit, then see it in our mind and believe it in our heart!
The workplace then, in your mind's eye, becomes a gathering of people in which you are their "priest", interceding for them before God and bringing the Kingdom values and power of God to them. In short, you have become their pastor without them knowing it! It may sound radical, but it is true.
For the Kingdom of God is not a matter of eating and drinking but of righteousness and peace and joy in the Holy Spirit (Romans 14:17 ESV).
So, embrace your workplace as God's purpose for you in whatever season of life you find yourself in.
He has a purpose for you there! It is through you that the Kingdom becomes invasive.
---
This was first published in The Invasive Kingdom: Transforming Today's Believers Into Workplace Ministers by Pastor-Dr Philip Lyn and is republished with permission. The book can also be purchased at Manna Bookstore.
---
FOR MORE ARTICLES LIKE THIS:
How can we be a light in our workplace? Ps-Dr Philip Lyn explains the four lights in Matthew 5
"Quiet quitting doesn't necessarily make us happier": Isaac Ong and Dr Tam Wai Jia tackle the hot topic in the first-ever Salt&Light Live!
"Would you go to a hard place if I called?": The question that challenged these med school sweethearts to give up their cushy careers
The district judge who followed God's call to leave the bench and change the practice of family law
If you have enjoyed reading Salt&Light...
We are an independent, non-profit organisation that relies on the generosity of our readers, such as yourself, to continue serving the kingdom. Every dollar donated goes directly back into our editorial coverage.
Would you consider partnering with us in our kingdom work by supporting us financially, either as a one-off donation, or a recurring pledge?
Support Salt&Light