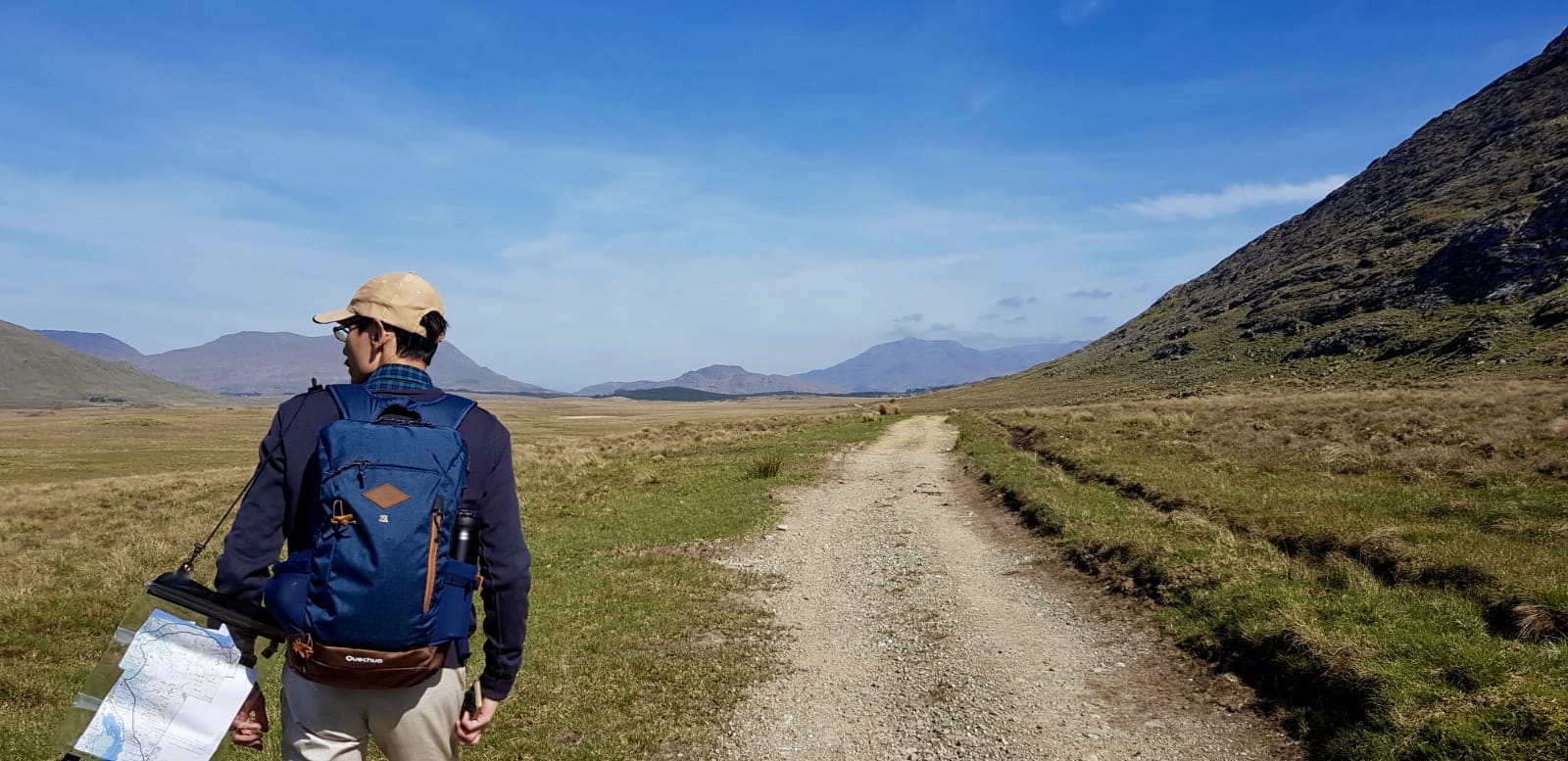 Alfred leading a spiritual pilgrimage in Ireland. All photos courtesy of Alfred Quah.
Young teenager Alfred Quah used to be part of a secret society – specifically, the "361" gang which plied the streets of Geylang Bahru.  
He was only 12 years old when he went around extorting protection money and fighting over territory.  
Apart from gang activities, he also stole, cheated, shoplifted, played truant and bullied others.  
---
Few would have imagined that the first job that this law-breaker would take on after his tertiary education would be as a man in blue, arresting others who were once like him.  
Apart from gang activities, he also stole, cheated, shoplifted, played truant and bullied others.  
Even fewer people who knew him in his youth would be able to picture him today as a spiritual director who conducts silent retreats for believers, helping them discern the movement of God in their lives.  
How strange the turns of life.  
Yet, as theologian Thomas Merton wrote, the spiritual life is a journey in which we discover ourselves in discovering God; in the finding of our true selves, we find God.   
Explained Alfred: "In John 1:23, when people asked John who he was, whether he was the Messiah, Elijah or a prophet, he knew who he was and his role of making straight the way for the Lord. We cannot live someone's else identity." 
As Alfred discovered more about who he was, he found his calling in helping others along that path of discovery too.  
Robin Hood and his Merry Men 
Growing up in a kampung near Braddell Road, Alfred's family had little means. His parents worked odd jobs to raise him and his three older siblings.   
He joined the "361" gang when he was in Primary 6, admiring the members' loyalty to one another and their togetherness.
Quarrels between his parents took place not only frequently but often violently.  
The children were left to their own devices, and Alfred felt lonely and unloved. 
Hungry for attention, he engaged in delinquent behaviour – from stealing to cheating to playing pranks on his teacher and skipping school.  
He also joined the "361" gang when he was in Primary 6. He admired the members' loyalty to one another, desired their togetherness and envied the way they cared and looked out for their own kind.  
"I was craving to belong somewhere," said Alfred simply. 
He went to the movie because she had promised it was an action-packed film and there would be loads of food.
He knew that many of the gang activities he joined was illegal, but he imagined the gang as Robin Hood and his merry men, taking from the haves and sharing with the have-nots.  
Before anyone could become an "official" member of the gang, he had to undergo two to three years of probation to prove his loyalty. Alfred had served his two years as a "fighter" and was looking forward to finally becoming one of them.  
Yet, just before his initiation, his Secondary One teacher invited some of her students to watch a movie in a church.  
He went because she had promised it was an action-packed film and that there would be loads of food after the show. He also yearned for attention and wanted to get into her good books.  
The movie was called The Cross and Switchblade, based on a real-life story of how a Christian preacher, David Wilkerson, shared about Jesus with two rival American street gangs. 
Alfred recalled one particular scene from the movie when Wilkerson visited Nicky, a gang leader, despite repeated warnings to stay away. He had wanted to persuade Nicky not to get into a showdown with the other gang. The chief spat in his face and threatened to cut him into a thousand pieces if he did not stop pestering him and talking about the love of Jesus.  
Sitting in the darkened room, Alfred felt those words cutting into his heart.
Though startled by the threat, Wilkerson looked him in the eye and said: "But even then, each of those thousand pieces will still cry out to you that Jesus loves you and I love you!"  
Sitting in the darkened room, Alfred felt those words cutting into his heart, like the thousand cuts mentioned in the movie.   
He could relate to the gang members portrayed in the show. The violence of the threat also spoke to him as he grew up witnessing abuse in his own home. 
Yet it was also the love amidst the violence that planted a seed in his heart.  
The search for true community
Shortly after, Alfred's sister invited him to church and he followed her to its weekly fellowship meetings. He also left his gang.   
This was not an entirely incomprehensible change.  
"It was community that I was seeking and I found it in the church. Their concern for me seemed unconditional. In the gang, it was conditional upon whether I would do certain things to prove my loyalty or earn their respect," said Alfred, now 56.  
In the church, people came up to talk to him. He felt accepted when he joined the group to play Captain's Ball regularly.  
When he was in Secondary 3 in 1978, he went to the famous Billy Graham rally. He recalled the atmosphere of that day as the song Just As I Am played and people responded to the altar call, streaming down from their seats in the stadium.  
That was the day that Alfred accepted Christ into his heart. He grew in the faith and became a youth leader in church.
The first time he experienced the true support of a community was when he failed his O Levels and had to repeat his examinations. In the months prior to the exams, he had been distracted by heartbreak from his first romantic relationship.   
Though he had to transfer to another school and had less than seven months to prepare for the 'O' levels, his church friends came alongside him to lend their support. Each of them chose a subject to tutor him in and, eventually, he excelled in the national exams with mostly 'B's' and an 'A'.  
"I was greatly convicted by Hudson Taylor's belief that 'God's work done God's way will not lack God's supply'."
"I experienced a second birth when I got back my results. I knew it was God who provided me with friends, help and healing when I felt alone and discouraged," said Alfred, who rededicated his life to Jesus that day.  
After finishing junior college, Alfred enrolled himself with the Singapore Police Force. It came with a five-year bond.  
He figured it was good to do so as he was once in the National Police Cadet Corps in school and his enrolment would enable him to skip National Service.  
Being a policeman exposed him to the darker side of life, where brokenness pervade behind closed doors.
It strengthened his desire to be a channel of Good News after his contract was up.  
Over the years, reading about the lives of many missionaries and attending Operation Mobilisation prayer meetings influenced Alfred's passion for Christ and challenged him to serve God full-time.  
He often prayed to experience God as those missionaries did, and his first step to living by faith was when he quit the police force to join Singapore Youth for Christ, where he had to raise his own financial support.  
Reaching out to Ah Bengs
"I was greatly convicted by Hudson Taylor's belief that 'God's work done God's way will not lack God's supply'," said Alfred.  
In the two years he was with the para-church organisation, he reached out to youth-at-risk – the latchkey kids. He also befriended the "Ah Bengs" and "Ah Lians" who hung out at fast food outlets, void decks, playgrounds and basketball courts, offering free tuition and organising activities for them.  
The journey of living by faith became more challenging when his wife resigned from her job to care for their first child.  
During this time, Alfred also prayed about heading to theological school to be better trained for full-time ministry.  
"A cheque would suddenly appear at the college admin's office or be passed to us just in time."
But the leaders in the church he was attending then did not think going to the seminary was essential, preferring him to work full-time for the church and do some part-time courses later if needed.  
Alfred felt led to attend the seminary on his own and proceeded with it. That meant that he and his wife would, not only not have any income during his years of theological study, but they also had to find ways to finance their new home and a newly-born second baby.  
They found themselves depending on God's miraculous provision for their needs, be it via love gifts or hand-me-downs.  
"There were days when we were running out of milk powder or diapers, for example, or were due to pay the seminary fees, when a cheque would suddenly appear at the college admin's office or be passed to us just in time," recounted Alfred.  
Pursuing contemplative spirituality 
It was during his time at Trinity Theological College (TTC) that Alfred's interest in the contemplative practice was piqued. During a module on comparative religion, Alfred learnt about Hinduism and was intrigued by its Holy Men and ascetic form of spirituality.
"Being distracted or desiring to do things is a common struggle when one is new to silent retreats."
Do we have this kind of spirituality in Christianity, Alfred-the-student asked his then-lecturer, Bishop Emeritus of the Methodist Church in Singapore Robert Solomon.  
Dr Solomon pointed him to the Desert Fathers and Mothers. Alfred's heart was stirred.  
After graduating from TTC, Alfred went for his first silent retreat on his own at Kingsmead Centre for a few days.  
"The silence and aloneness were tough to deal with. On the very first day, I found myself already leaving the centre grounds," said Alfred.  
"Being distracted or desiring to do things is a common struggle when one is new to silent retreats, though what is needed is to persevere through the restlessness or boredom."
He made his way to the Botanic Gardens, which turned out to be a fruitful walk, as God spoke to him there.  
"Such spiritual practices help us become more conscious of God in the mundane moments of life." 
During his seminary years, he also helped his home church plant a new congregation: Bethesda Christian Centre.  
As one of the pioneering leaders in the church, he found himself having to "bao ga leow" (do it all), from organising activities to doing the admin work, to attending meetings and overseeing the logistics.  
"But my heart was more tuned toward pastoral care – praying, teaching and meeting with people," said Alfred, who eventually left the church in 1997.  
Shortly afterwards, he met a friend who mentioned through casual conversation that she was joining a two-year formation programme organised by Life Direction Singapore for people who want to be equipped to become spiritual directors. 
"Something like this was previously only available overseas and it was the first in Singapore. It was an answered prayer to my long search for such a programme," said Alfred, who promptly signed up.  
Silent, meditative and contemplative prayer impacted his relationship with God greatly.
The tradition of spiritual practices that are now staples in his life include Lectio Divina, the Prayer of Examen, silence and solitude, contemplative prayer, journalling through art and photography, worship, nature walks, meditation, spiritual reading, retreats and spiritual direction.  
"We often live fragmented and compartmentalised lives. Such spiritual practices help us become more conscious of God in the mundane moments of life and it pulls us back to discover the mystical and mystery in those ordinary moments," said Alfred.  
When we begin to be aware that God is present everywhere, all the time, then we nurture our relationship with God and become familiar with His voice.  
"Many people ask how do they know that what they heard is God's voice. This is key because once we are able to discern, it helps us with decision making and issues in life become easier to manage," he added.  
One of Alfred's key encounters with God during his silent retreats was when he was sitting and meditating under a tree at the Botanic Gardens.  
"I have always loved trees and was quite obsessed over them. That day, God gave me the image of being a tree and spoke to me about my identity," he said.  
Specifically, the verse he was led to was Isaiah 61: 3, which says: "They will be called oaks of righteousness, a planting of the Lord for the display of his splendor." 
Alfred immediately recalled how theologian Thomas Merton was once asked how monks, perceived as hermits, could still be relevant in today's world.  
Merton gave an analogy of them being like trees. By silently standing in our midst, they provide the oxygen that the world needs to survive. Similarly, when the monks pray and intercede, they are also providing spiritual oxygen to the world.  
These reflections enabled Alfred to see himself as being a beloved tree of God, planted by God to glorify Him.  
It was during a retreat that more divine appointments ensued. Alfred bumped into his former theological college classmate who was then a pastor at Wesley Methodist Church.  
Alfred shared with him his struggles with logistical work that took him away from the main focus of pastoral work in his previous church.  
Months later, the pastor told him he had exactly the position Alfred was looking for. Wesley Methodist Church needed an assistant for their pastors to help with hospital and home visitations, wakes, prayer and counselling due to their growing congregation.  
Alfred could not believe his ears. It was his dream job, a job scope that was unheard of back then.  
He knew, once again, that God had graciously and providentially opened doors for him.  
In 1999, he started work at Wesley and plunged headlong into visiting the lonely aged and sick at home, the terminally ill in hospices as well as comforting the bereaved and the unemployed.  
He began practising spiritual direction alongside counselling, and conducted retreats for the church as well as other Methodist churches.  
Seeking the seasons
Little did Alfred know that his many duties, including caregiving duties at home for his daughter who had attention deficit hyperactivity disorder (ADHD) and depression, was exacting a toll on his health.  
Though they were anxious about not having enough financially, God continued to provide for their needs.
By 2004, Alfred was having insomnia and taking medication for his anxiety and panic attacks. He was severely burnt out but could not sleep, which accentuated his depression. 
He knew he needed a sabbatical and a change of environment, so in 2005, the family moved to the United States for Alfred to recover and do his Masters in pastoral counselling at Asbury Theological Seminary in Kentucky.  
Though they were anxious about not having enough financially, God continued to provide for their needs, including receiving a scholarship from an unexpected source for his school fees.  
At Asbury, he took modules on spiritual formation and conducted retreats for the students there.  
"Experiencing the wide-open spaces, and the four seasons that parallel our life journey helped augment the spiritual practices," said Alfred.  
It was a necessary time of healing for him, before heading back with his family to Singapore in 2007 to face another battle: His wife Helen was diagnosed with cancer.  
He also resumed full-time ministry work at Wesley Methodist Church before leaving in 2015 to start One Path.  
The One Path ministry provides services such as pastoral counselling, workshops on spiritual formation and pastoral care. It also conducts spiritual retreats locally and overseas. 
"Being a spiritual director is fulfilling because I believe the contemplative pathway is part of God's revival and renewal movement," said Alfred.  
"I hope to help expose people in various churches to how they can experience God in the ordinary and to cultivate the intentional practice of spiritual disciplines," he added.  
 "When we know who He is and who we are, we can then strive to live in the centre of His will. That is all that matters."  
---
If you'd like to find out more about the One Path Ministry, click here.
---
RELATED STORIES: 
If you have enjoyed reading Salt&Light...
We are an independent, non-profit organisation that relies on the generosity of our readers, such as yourself, to continue serving the kingdom. Every dollar donated goes directly back into our editorial coverage.
Would you consider partnering with us in our kingdom work by supporting us financially, either as a one-off donation, or a recurring pledge?
Support Salt&Light