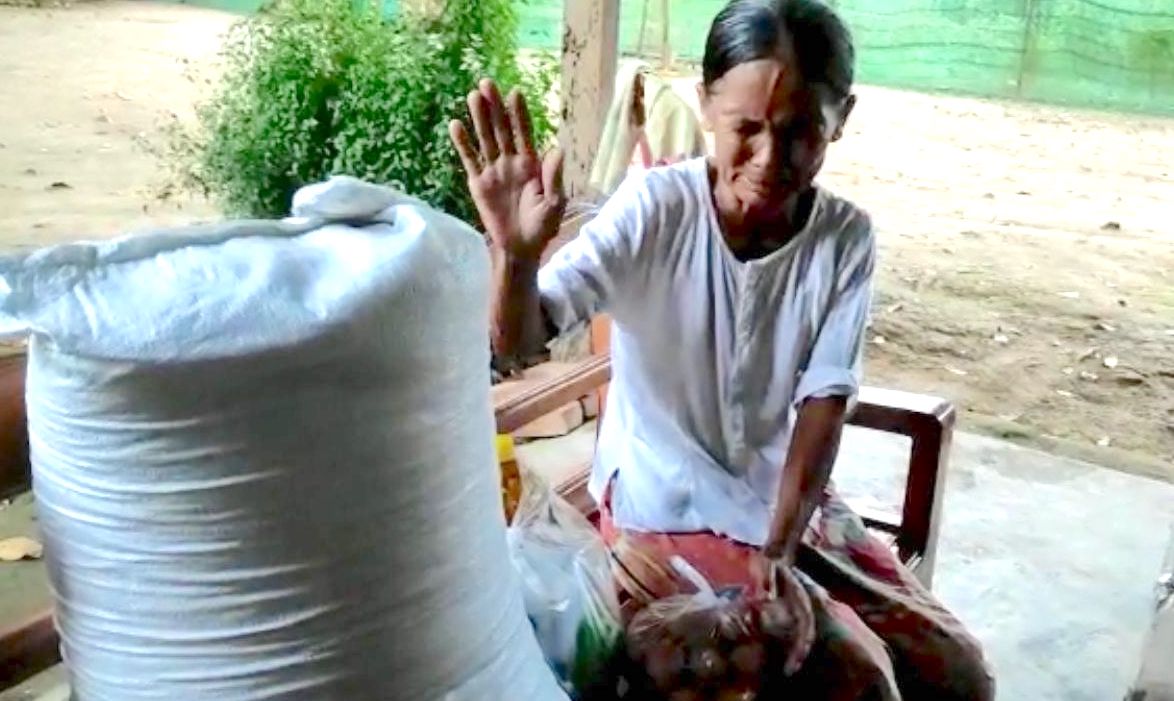 A Christian minister giving thanks for the 50kg bag of rice sent by S'pore church NLCC. A widow with a son who is mentally ill, she has no income and has been praying for help. All photos courtesy of New Life Christian Centre.
"This is the toughest time in Myanmar history. Listening to the news, we cry and cry and cry. So heartbroken," said Pastor Esther Shwe Yi, co-founder of New Life Christian Centre (NLCC), a 200-strong church of Myanmar nationals working in Singapore.
The UN's latest update reports that Myanmar is in "severe crisis" and experiencing a "level of poverty not seen for at least 20 years". Amidst the political and social turmoil, "significant operational challenges" hinder aid reaching the estimated 3 million people in need.
"This is the toughest time in Myanmar history. Listening to the news, we cry and cry and cry. So heartbroken."
"We cried, we prayed, we fasted. But no more crying; now we need to do something," said Pastor Esther resolutely.
Two weeks ago, Pastor Esther and her NLCC co-founder, Pastor Chua Lian Hui, launched an ambitious fundraiser – one they believe is God-directed – to feed 1,000 Christian workers for at least three months so that they, in turn, are empowered to continue the work of the Gospel.
The amount needed: S$150,000.
"God has raised our faith to believe this is possible," said Pastor Lian Hui, who is undaunted.
From words of prophecy to answered prayers and miraculous logistical provisions, the two pastors in Singapore have witnessed God's hand in guiding and directing their efforts to rescue the Christians in their embattled homeland.
Meeting needs from afar
As a church, NLCC has always given generously to needs in Myanmar that came their way – financial help, food rations, scholarships for individuals to attend Bible school.  
But needs ballooned during the early days of the Covid pandemic in 2020 when the lockdown cut off livelihoods of daily wage workers, causing widespread food insecurity.
NLCC responded by providing rice and basic rations for about 580 people from seven small churches across Myanmar.
That aid continued even after the military coup in February and the overwhelmingly brutal crackdown on civilian protests that followed.
Then Myanmar entered its "third wave" of Covid infections in June 2021.
Government hospitals, severely understaffed after doctors and nurses left to run underground clinics, were overwhelmed. Long lines for life-sustaining oxygen cylinders grew in tandem with waiting times at crematoriums and funeral homes.
Watching a mother die
An ex-church member who had returned to Myanmar five years earlier, Seng Hkawn, sought prayer from NLCC for her mother who was fighting a severe Covid infection.
"We were so sad. How could this be?"
Seng Hkawn had managed to acquire an oxygen cylinder for her mother, who went on oxygen support.
Then, barely a few days later, Pastor Esther received the news that Seng Hkawn's mother had passed on.
The oxygen tank had run out in the middle of the night. With no choice but to wait till morning to attempt to get it refilled, mother and daughter spent the night in worship and prayer.
In the morning, the mother died.
"We were so sad," Pastor Esther said quietly. "How could this be?"
As a church, they decided to procure oxygen concentrators for those who needed them.
One thing led to another, and they somehow managed to raise enough to purchase 420 oxygen concentrators from a reliable manufacturer in China.
"Honestly, we started with the intention of helping our own church members and their families," said Pastor Esther.
"We cannot look after a lot – our church not so big."
Pastor Lian Hui said it was by "the pure grace of God" that all 420 units survived the arduous 4,000km journey over land, past the Myanmar-China border crossings and multiple military checkpoints.
A miracle in itself? Ps Esther and Ps Lian Hui believe it was. 
Divine connections
For critically-ill Covid patients, access to oxygen is often the difference between life and death.
But with oxygen cylinders fast becoming a rare commodity, the placement of oxygen concentrators was a decision that had mortal implications.
Pastor Lian Hui explained that they decentralised the help by spreading out the oxygen concentrators across Myanmar with various family and relatives of church members.
But even in this process, God's hand was clearly visible.
In Yangon, Htay*, a Christian worker who helps with food distribution to the needy in her city, used to send her husband and teenage son to queue up for a chance to purchase oxygen cylinders for the Covid patients who came to them for help. 
But as the situation worsened, they sometimes returned empty-handed. 
Htay cried out to God: "Lord, give me money! If only I had 15 lakh, I could buy an oxygen concentrator to lend to people." (*15 lakh, the equivalent of S$1,100 at the time of publishing, was the going rate for one unit then. At one point, prices rose to S$2,000 apiece.)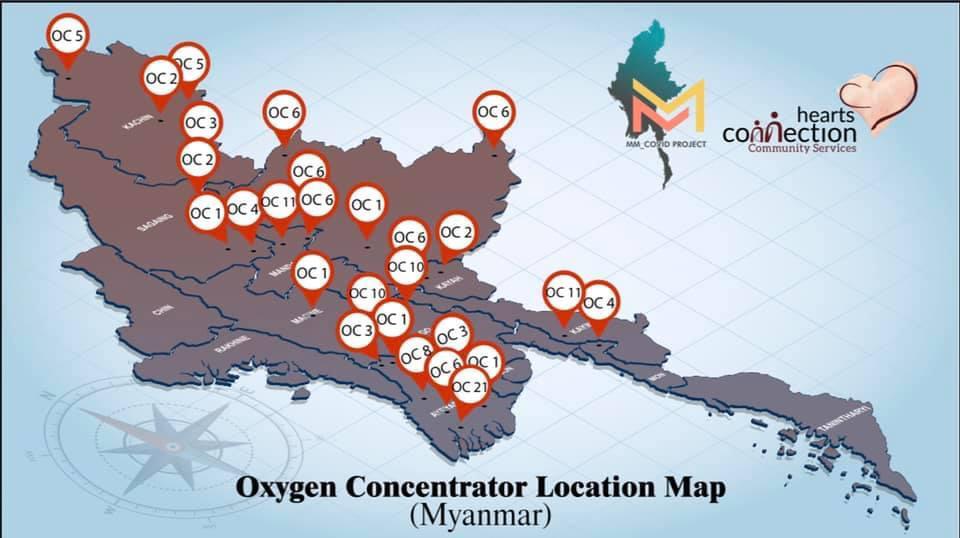 Almost concurrently, Wint Wint Khine, a staff nurse in Singapore and a member of NLCC, was praying about who to partner with to "host" the oxygen concentrator that she had been led to sponsor.
Htay came to mind; an unusual choice. She was not family, just a friend of a distant relative. The church had recommended that members find a responsible partner in Myanmar who would steward the use of the concentrator they were sponsoring. Family was the default option. 
But when Khine got in touch with Htay, it was clear that this divine connection was the answer to Htay's prayer of desperation.
Crisis upon crisis
Even as the "third wave" is starting to recede, civil unrest has escalated.
On September 7, the shadow government in Myanmar made a declaration of a nationwide "people's defensive war" leading to a resurgence of violence in the country. 
The cost of rice in Myanmar has risen more than 40% since February this year.
Major news outlets report that the kyat has lost close to 60% of its value since September which has, in turn, caused food and fuel prices to skyrocket. Cash is scarce while, rice, a Myanmarese staple, costs 40% more since the coup in February. 
When NLCC started off supporting villagers and refugees amongst the 580, Pastor Lian Hui realised that the ones with little or not support were the Christian workers in "frontier" villages with no known Christians.
In Myanmar, there are many Christian ministers who do not draw monthly salaries but rely on the support from other Christians who give as they can.
Pastor Esther, whose grandfather was an evangelist, shared that usually this would be enough for the minister's basic needs. However, the present situation is so difficult that they are unable to get by, she said.
In fact, in the current crisis, the tables are turned, with the public approaching the ministers instead, believing that they would not turn away the needy.
"The aim is to provide for God's workers. Then they are strengthened to go share the Gospel."
Pastor Lian Hui recounted how one evangelist received a group of people into his home. 
They were fleeing the violence and were in need of food and shelter. But he was out of rice and a neighbouring village had also reached out to ask for assistance.
"Lord, what should I do? Another village has sent for me for help, but even at home, I cannot provide for these people," he cried as he knelt in prayer.
As he was praying, however, someone called: "We have a 50kg bag of rice for you, come collect it."
There are many such testimonies, said Pastor Lian Hui.
The beneficiaries of NLCC's provision are carefully selected "men of peace" like this pastor and Christians like Htay, who distributes whatever support she receives. They have a network of trusted contacts on the ground who survey the needs and advise them accordingly.
"If you say you want to give, there are many people who want it. So we must know how to give," Pastor Lian Hui pointed out.
"We want to make sure that our support goes to the most needy, that we don't just contribute another packet of grain to the warehouse.
"The aim is to provide for God's workers and feed their stomachs, so that they experience His care for them. Then they are strengthened to go share the Gospel."
Sowing jewels
Both pastors are moved by the sacrificial giving from their members over these past two years.
"The Lord's Gospel cannot be stopped, it has to be shared continuously – in difficult times or not."
"It is in our DNA to do so," said Pastor Lian Hui, as she recalled how their small church somehow raised enough money to purchase their own space in an industrial building in Paya Lebar.
"But God knew how to prepare us," she said.
The two leaders draw courage, not only from the generosity and faithfulness of church members, but also from a prophetic vision spoken over the church in January 2020 by a visiting speaker.
In it, Pastor Esther was standing with a bag of jewels slung across her neck.
Over and over again, she reached in to scoop out handfuls of jewels and scatter them like seeds.
"They are our people," she said. "Like precious jewels in different places. Wherever they are, God is going to use them."
The help they are receiving is from current NLCC members – the majority of whom work in healthcare  – and also those who have returned to Myanmar and others who are being supported in their work of advancing the Gospel.
"We are trusting God for revival in Myanmar."
With one crisis after another, the needs are "so huge" that meeting them is clearly "beyond us", said Pastor Lian Hui.
"We are trusting God for revival in Myanmar," she said. "We are not God, we cannot save the country, not even one state ­– that is fact. But whatever God wants us to do, we will do.
"God put us here for such a time as this – whether in prayer or giving."
One thousand ministers of God; 1,000 clusters of revival.
"The Lord's Gospel cannot be stopped, it has to be shared continuously – in difficult times or not," said Pastor Esther. "Christ died for Myanmar; He wants to see the Myanmar people come to know Him.
"This is the cry of Christ."
---
*Names have been changed for security reasons.
If you'd like to contribute to Myanmar Crisis Relief, New Life Christian Centre's efforts to provide food and oxygen concentrators to Christians in Myanmar, contact [email protected].
---
MORE STORIES ON MYANMAR IN CRISIS:
Afghan aid worker who has chosen to stay: "I am not a brave person. Every day I pray to the Father and ask Him to help me."
"Help! We can't breathe": Pray for Myanmar, struggling to get oxygen as dead bodies pile up
If you have enjoyed reading Salt&Light...
We are an independent, non-profit organisation that relies on the generosity of our readers, such as yourself, to continue serving the kingdom. Every dollar donated goes directly back into our editorial coverage.
Would you consider partnering with us in our kingdom work by supporting us financially, either as a one-off donation, or a recurring pledge?
Support Salt&Light