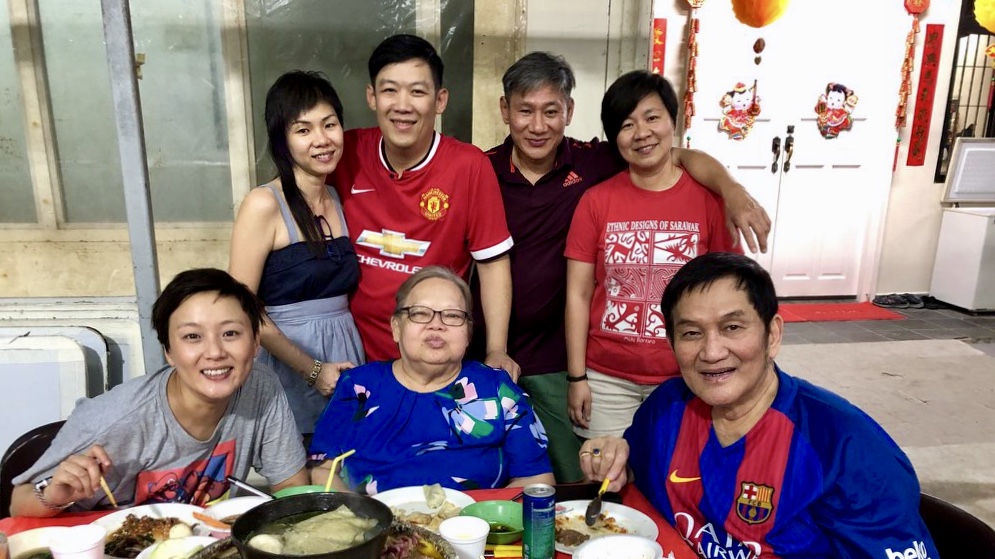 Caleb Tan (standing, second from left) found God, love and family when he stepped into halfway house, The Hiding Place. Photo courtesy of Caleb Tan.
"I created you. Go back to Singapore," a still, small voice told Caleb Tan as he lay in the dilapidated house in the Philippines. He had just woken up after a failed suicide attempt, where he had ingested a large box of rat poison and 80 sleeping pills.
He was at his wit's end.
Just in his 30s, he had spent nearly a third of his life behind bars.
Tan had fled to the Philippines in late 2007 to escape the court charges filed against him. His addiction to drugs had led him down a life of vice. Just in his 30s then, he had spent nearly a third of his life behind bars. He went from bad to worse after losing his mother – his only kin – in 2006. He thought marrying his Filipino girlfriend in 2007 would transform him.
It did. For six short months.
Thereafter, things went downhill. Tan, who was selling drugs to support his own addiction, introduced his wife to drugs. He also resorted to cheating and stealing, which led to the court charges.
He fell back to his old life in the Philippines and was eventually chased out of his wife's family home.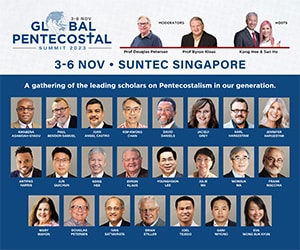 His then mother-in-law took pity on him and rented a place for him and gave him a small allowance. The money allowed him to buy broken rice, a small piece of animal fat and cabbage. He also had to buy clean water. To make that last, he would lather up with muddy, mosquito larvae-infested water before using two scoops of clean water for his final rinse.
Although Tan was on the wanted list in Singapore, he knew life in a Singapore prison would be better than his current life.
Depressed, alone and broke in a foreign land, he retorted: "But how to go back to Singapore when I've overstayed here already? I where got money to buy air ticket and pay the fine?"
Again, the voice said: "Go back to Singapore."
Free love
Suspecting the voice was God speaking to him, Tan challenged: "If You really are God, You help me. If You want me to go back, You open a way for me lah."
He first heard the Good News in 2000 when he was sentenced to a year at the Drug Rehabilitation Centre (DRC) for drug consumption. It was Good Friday.
"My whole life, I had been serving money … and I had ended up with nothing."
"I actually accepted Jesus then because of a piece of cake," he recalled with a laugh. Some inmates had told him about a party, where the organisers were sharing the Gospel. "I just accepted lah, free what. But I was stubborn, I didn't open my heart (to Him)."
But going back to Singapore was not going to be a piece of cake; he was going to need another miracle.
With no one to turn to but his ex-wife, he asked her for help. As God would have it, someone gave her the money to send him back.
He was arrested upon arrival in Singapore and subsequently tried and sentenced to 12 months behind bars.
While he was thankful for the short prison term – it was his shortest ever – he was worried about what would happen to him when he was released.
Knowing it was God who had pulled him out of the abyss, he resolved to turn his life around. 
God or money?
"This time when I come out (of prison), I wouldn't have a place to stay because I didn't have anything," said Tan, for he had sold the flat his mother left him and spent all its proceeds while living in the Philippines.
"When I was young, I was bullied. When I grew up I joined gangs to be the bully."
While incarcerated, he was introduced to a prison fellowship, where he got to know a Sister Angie. She suggested he go to a halfway house upon his release. She also asked him to meditate on Matthew 6:24 while serving time.
As he reflected on his life, he realised that his pursuit of money had been to his detriment.
"When I was young, I was bullied at school. I told myself that when I grew up, I wanted to be the bully and to earn money and power. So, I worked towards my goal. I joined gangs and did all sorts of illegal things.
"People used to call me '7/11' because I am 7/11 – 24 hours, seven days a week, I had drugs to sell. My mother and my grandmother couldn't control me. I was in and out of DRC and prison, spending over 10 years in prison.
"My whole life, I've been serving money … and I ended up with nothing. My wife left me, I had no more money, no more house, my mother passed away, my grandmother passed away.
"I've had enough. I want to try and serve God," Tan told Sister Angie. "I want to go to the halfway house."
From orphan to son
When he arrived at The Hiding Place (THP) on September 21, 2010, Tan was taken aback by how he was treated by the founders, Pastor Philip Chan and his wife, Christina.
"All my life, I did my best to buy and earn love. But at The Hiding Place, it was so freely given to me."
"I don't have any blood relation with them but they treat me like a son … all my life, I did my best to buy and earn love. But here, it was so freely given to me," he shared with emotion.
Growing up, he had had a rocky relationship with his mother. His grandmother was the one who raised him after his father died. He thought his mother was dead as well as he had never seen her.
He only knew of her existence after his grandmother took out a newspaper advertisement to look for his mother as he needed her details to make his IC (identification card).
"From young, there's a lot of bitterness and hate inside. I hated my mum a lot. Why did she give birth to me if she don't want me?"
Experiencing God's love through the Chans and the rest of the THP family, as well as discovering God through the daily Bible studies so touched Tan that he chose to be baptised on November 28 that very same year.
"Here, we try to project the love of God through our own lives. That is why many who come here, after interacting with our family, they cannot deny something is happening here," said Pastor Philip, living out 1 John 3:18 where love is not in word or talk but in deed and in truth.
That love was to be put to the test, as would Tan's new faith in God.
Tested by fire
Just eight days after his baptism, on December 6, 2010, he got into a serious machinery-related accident. He suffered five broken ribs, a collapsed lung and second-, third- and fourth-degree burns on his legs, stomach and back.
He was pulled into the machine after his shirt got tangled with a machine part. A solid stainless-steel rod, as thick as a finger, had pierced through his back, breaking five of his ribs. But miraculously, the rod bent and broke before it reached his lungs, so that his life was preserved.
When the accident happened, there was no one nearby.
As he shouted for help to stop the machine, the only person that walked past continued on his way as he was hard of hearing. Desperate, Tan cried out: "God, You help me!"
Suddenly, the person turned and ran over to stop the machine – he knew which button to press, another miracle because he has never handled that machine before.
But Tan was not out of the woods yet.
Doctors warned that the fourth-degree burns to his left leg likely extended beyond the skin to impact his bone. They would need to remove the affected portions of his bone and re-join it, so one leg will be shorter. Tan would not be able to walk normally again.
He broke down at the news. His life was preserved … but what would become of him?
A foretaste of heaven
Pastor Philip, who was with him when the doctors delivered the grim news, assured Tan: "Don't worry. The Hiding Place will take care of you."
"A lot of miracles occurred when this accident happened … it revealed to me the God that I believe in."
The promise shocked him. "'I have got no relationship with them, why they give me this promise? It's a promise – to me, I can claim this promise that you will take care of me. I was thinking how come they like that?"
After the operation, the doctors told Pastor Philip that Tan was very lucky, someone must have been helping him because the fire  had burned all his flesh but the bone was unscathed.
"A lot of miracles occurred when this accident happened. It was my turning point," said Tan, who now celebrates December 6 – the day of his accident – as his spiritual birthday.
"This showed me the God that I believed in. From then, I began to open my heart to Him because I've tasted His goodness and love in my life."
Redeemed and restored
Nearly a decade on, the Gospel has transformed Tan, now 45.
He pays it forward, working as a full-time staff at THP. He also got married to Grace, whom he met at the halfway house when she was at the house to make pineapple tarts for fund raising. Tan is now a stepdad to two teenaged sons.
Grace had been drawn to him when she saw the fruit of the Holy Spirit – love, joy, peace, patience, kindness, goodness, faithfulness, gentleness and self-control – manifested in his life. (Galatians 5:22-23)
The Lord not only changed Tan, He also restored his identity by giving him a family: His wife and children, and the large extended family in THP.
His finances were restored as well; he has repaid most of his debts and will be getting the keys to his own flat next year.
"Every time I see the scars on my body, it is a reminder to me of God's goodness."
"Now I understand why God told me that He did not create my life to be like how I lived in the past. This is the life that He wanted me to live. This is the life that I've been hungering for, for so long. Life is really more meaningful. God not only restored my peace and my loved ones, He even blessed me with a wife!
"Every time I see the scars on my body, it's a reminder to me of God's goodness. When I'm stressed and want to give up, I touch my scars and say 'cannot lah'. This is how I draw strength because I remember His goodness.
"Without God's grace, I would be sitting inside prison or dying!"
If you have enjoyed reading Salt&Light...
We are an independent, non-profit organisation that relies on the generosity of our readers, such as yourself, to continue serving the kingdom. Every dollar donated goes directly back into our editorial coverage.
Would you consider partnering with us in our kingdom work by supporting us financially, either as a one-off donation, or a recurring pledge?
Support Salt&Light