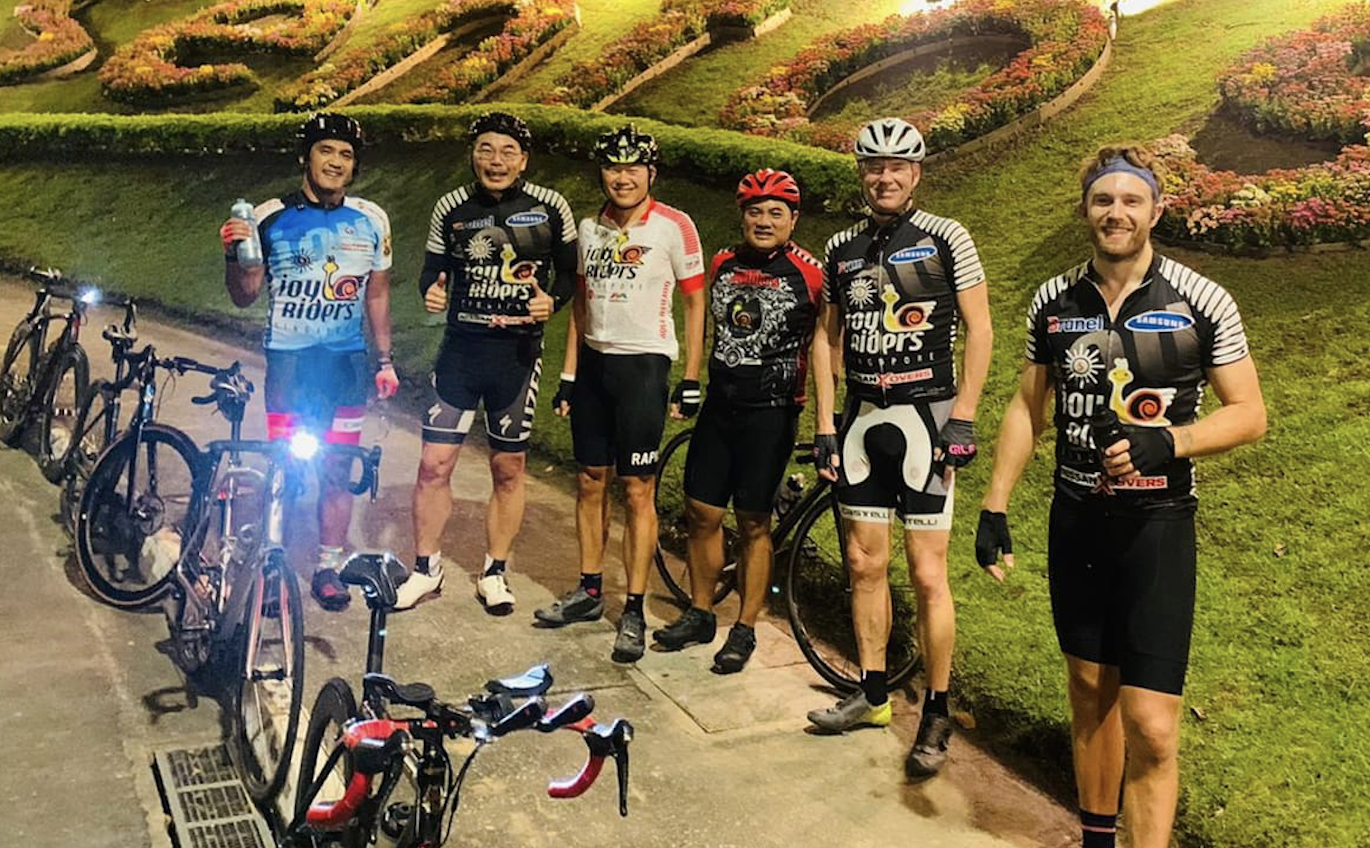 Danny Pang (second from left) was on his weekly morning ride with friends when he lost control of his bike and broke his collar bone. All photos courtesy of Danny Pang.
January 27, 2021 started out as a regular Wednesday morning for cycling enthusiast Danny Pang, 51.
He woke up at 4am to prepare for his weekly ride with friends. They were going to loop four rounds around Sentosa. They could easily complete the 32-km ride within an hour.
But it was going to be a ride that Pang would remember for the rest of his life. 
On the last lap, while going downhill at around 40km/h, Pang hit a slight bump on the road. His hands slipped off the handlebars. He was flipped off his bike and his right shoulder bore the brunt of the impact with the ground.
He would have used his hands to break the fall – except that he had left home without his gloves.
"I should have listened to my instincts to go back and get my gloves," Pang told Salt&Light. "But I didn't because I was overconfident."
Pang is an equipment supplier for a manufacturing company and a trainer with the Specialty Coffee Association.
Sharp pain
He was worried about his right leg that had been injured in a previous cycling accident in Malaysia in 2005. It has metal screws from the hip down, a titanium steel rod in his thigh and metal plates in his ankle.
But the tumble left his legs with only minor abrasions but tore his cycling shorts.
He felt "okay" except for a sharp pain in his right shoulder. He immediately laid his hand on his shoulder and claimed the healing of Jesus upon it. 
A voice suddenly came into his head, telling him that he was a sinner and not worthy to be healed. 
Pang said it was his "voice of inner doubt".
"I am not going to hold God accountable for whether he heals me or not."
"Why would God possibly heal someone like me? I have not been a regular attendee of church and in every other thing I do in life as well," thought Pang, who at that time worshipped – only occasionally – at Cornerstone Community Church.
On the Grab ride home – to change out of his muddied and torn gear before heading to the hospital – he said yet another prayer.
That same voice came back: "You are a sinner and not worthy to be healed."
This time, he was reminded of Ephesians 2:8-9: "It is not by my own righteousness that I can claim God's healing, but it is by the righteousness of Jesus Christ that I know that I am saved by faith and not by my own works."  
It gave him an assurance. He told himself: "I am not going to hold God accountable for whether he heals me or not, I can't do that. I am just a human being." 
Second opinion
Wearing a renewed faith and a fresh change of clothes, Pang made his way to A&E. It was only after undergoing several checks and X-rays, that he realised the severity of his injuries.
"God is a God who gives and takes away"
A broken collar bone.
A broken 9th rib.
A pneumothorax – air leaking into the space between the lungs and chest wall.
For the next 12 hours, a tube was inserted into his chest to drain out the excess air in his lungs. 
The orthopaedic doctor recommended that Pang undergo an operation that very night for his broken collar bone.
Nervous about going through another operation like the one after his accident in Malaysia, Pang and his wife decided to wait till the next morning for a second opinion. 
His friends from church surrounded them in prayer.
X-ray at 5am 
The next morning, Pang was woken up at 5am to have another X-ray. Expecting the worst, he said yet another quick prayer. This time round, there was no voice in his head. 
"If we have faith as small as a mustard seed, we can move mountains."
Pang remembered Bible stories on how God healed the sick, and believed that God would somehow heal him too. 
He drew assurance from Matthew 17:20: "If we have faith as small as a mustard seed, we can move mountains. I have the faith that Jesus will heal me."
He also found peace from Job 1:21.
"God is a God who gives and takes away. If He heals me, blessed be His name. If He does not heal me, blessed be His name too," declared Pang.
Then what the doctor on the morning shift told him left him dumbfounded.
"You don't need to go for an operation," the doctor said. "You just need an arm sling, some rest and you'll be fine. Just come back for a follow-up X-ray in two weeks time." 
Just 12 hours ago, he needed a major operation for a broken collar bone. Now, the bone somehow fitted back in his body nicely.
How was this even possible?
"When you have an injury like that, you start to give thanks a lot."
Shocked, he kept asking the doctor: "Are you sure? How did this happen?"
But the doctor had no medical explanation for the new X-ray results. He suggested it could have been the way Pang slept the night before. 
Deep down, Pang was smiling to himself because he already knew the answer. 
It was the miraculous healing power of Jesus.  
"As a Christian, I don't understand why things happen but I know that God allows everything to happen for a reason," said Pang.
Living testimony
On his discharge from hospital – less than 48 hours after the accident – Pang and his wife started sharing the account of his accident and God's healing hand via WhatsApp with their friends.
Those who were keeping them in prayer thanked God for the miracle. Other friends attributed his quick recovery to his good health. Pang tells others that Jesus is the healer, and that he was only saved through Jesus' righteousness.
"If He heals me, blessed be His name. If He does not heal me, blessed be His name too."
"I might have had a broken collar bone but by dying on the cross, Jesus' bones were broken for me first," he said.
Pang now has a greater appreciation for his life. From "taking even the simplest task like brushing teeth for granted", he now thanks God for the privilege of living each day in good health. 
"When you have an injury like that, you start to give thanks a lot. When God has given you good health, you should spend time on more important things in life like your family," said Pang.
"Life is more important than chasing after profitability and your everyday work. Our life on Earth is just a transient moment in the big scheme of things, all we can do is ask ourselves what God's purpose for us is."
And through this accident and miracle, Pang knows that his purpose is to share God's heart with others, using his story as a testimony, which hopefully would fall on receptive ears.
"If this is going to encourage someone and I am just God's instrument to glorify His name, then let it be. 
"I am honoured to be that instrument."
---
RELATED STORIES:
It took the trauma of a car accident to "wake me up" says sleep trainer Zoe Chu
Her young life stalled after a horrific accident, yet "God made sure I lacked no good thing"
"I am a dead man walking": He was pronounced dead by four doctors
If you have enjoyed reading Salt&Light...
We are an independent, non-profit organisation that relies on the generosity of our readers, such as yourself, to continue serving the kingdom. Every dollar donated goes directly back into our editorial coverage.
Would you consider partnering with us in our kingdom work by supporting us financially, either as a one-off donation, or a recurring pledge?
Support Salt&Light