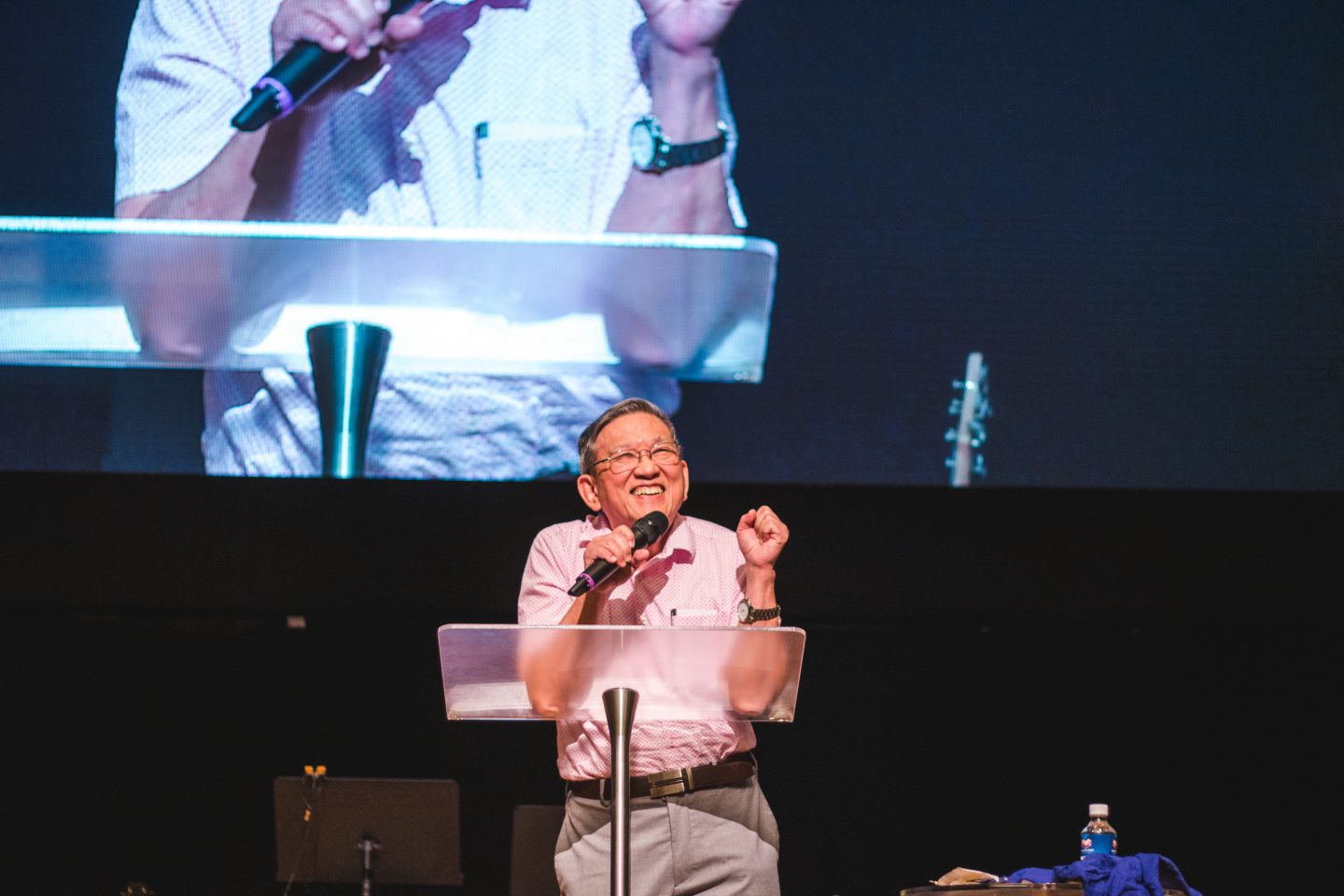 Dr Peter Chew, an obstetrician and gynaecologist with over 40 years of experience, sharing with the audience at Love Life Conference how God used a phone call to turn his life around. All photos courtesy of Cornerstone Community Church.
"Peter, you are doing a lot of sinful things."
Those very words were what jolted obstetrician and gynaecologist, Dr Peter Chew, out of his stupor.
A good friend said that to him over the phone just days before Christmas, after finding out that the professing Catholic had been performing abortions in his private practice.
But this was not how he had begun his medical career.
In the 1970s, Dr Chew was teaching at the medical faculty of the then University of Singapore and also attending to medical cases at Kandang Kerbau Hospital (now KK Women's and Children's Hospital).
During his time there, he was able to skirt the issue of abortion as his superior, who knew about his faith, told him to focus on infertility research instead.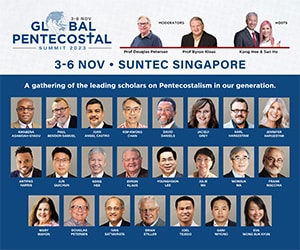 His stance on abortion changed when he started his private practice in 1979.
Wrestling with logic
Dr Chew reasoned that given his was a private practice, he should strive to provide the entire range of obstetrics and gynaecology services available to patients.
Despite consulting a priest, who advised him against carrying out abortions, his logical mind won.
"If I don't do it, somebody will. So why can't I do it?" he had rationalised.
"At that time, an abortion – which is about a five-minute job – costs a few hundred dollars and that was a lot of money back then. I was blinded by greed," Dr Chew admitted quietly to the attendees of the Love Life Conference, held at Cornerstone Community Church on February 16, 2019.
"On one hand, I'm delivering babies – new life. On the other, I'm pulling out all these hands and legs and intestines … there was a lot of conflict in my mind."
He recalled occasions when he would extract foetuses that were still wriggling from the womb.
"I turned a blind eye at that time. Some of the nurses were very upset because of this," said Dr Chew.
This went on for the next four years. His conscience dulled as he drifted away from God.
The call that caused a U-turn
Then came that call from his friend in 1982. After they hung up, Dr Chew wept the whole night.
"I realised how sinful I was. I told my wife, 'Let's cancel all the appointments for abortions the next day.' And I've never looked back since," he said.
"I have great peace in my heart and that was the best Christmas gift I ever had that year."
"If the husbands are supportive, many couples end up keeping the child."
Dr Chew was so transformed by that divinely-orchestrated encounter that he set up aLife in 2002. The non-profit voluntary welfare organisation advises and supports women and their families on issues relating to the unborn child and the mother's reproductive health.
Since aLife started its outreach at polyclinics, its para-counsellors and volunteers have counselled more than 10,000 pregnant women and about 2,000 decided to keep their babies.
"We found that those who come for abortion don't really want to do abortions. About 20% of them actually change their minds," revealed Dr Chew.
Through aLife's work, he found that husbands play a very important part in the decision-making process.
If the husbands are supportive, even the wives who are ready to abort may end up keeping the child.
But for those who decide to abort, Dr Chew warned that a number of complications can occur.
When things go wrong
The abortion methods differ, depending on how far along the pregnancy is.
Immediate complications include infection and fever, excessive bleeding, perforation of the uterus, and even injury to the intestine.
He recounted a case he attended while he was a consultant at KK Hospital. A woman was admitted after a botched abortion which employed the use of a vacuum suction to extract the foetus. The doctor who performed the procedure had sucked out a piece of her intestine, which was located just outside the womb.
She had to undergo an operation to repair the hole in the womb, as well as to remove a portion of her intestines. Unfortunately, infection set in. She had to undergo another surgery as her body did not respond to the antibiotics.
During the surgery, doctors discovered that her entire abdomen was filled with pus. In order to save her life, they had to remove her womb. The woman, who was single, was subsequently never able to conceive.
Dr Chew also outlined abortion complications which may surface later, such as anaemia, chronic pelvic infection, and laxity of the neck of the womb or cervix. The last complication could cause repeated late miscarriages.
"The heartbeat was still there"
Dr Chew now specialises in fertility treatment.
He recalled how he helped a patient who had difficulty conceiving. She continued her prenatal care in Johor Bahru, Malaysia, as that was where she resided.
When his patient was 24 weeks into her pregnancy, she called him, distraught.
She informed him that her water bag is leaking amniotic fluid and the doctor who is attending to her had advised her to abort the child.
Despite being administered abortion drugs, the baby's heart was still beating two days later. He advised the mother to come to Singapore so he could assess the situation.
"When she came to my clinic, the child's heartbeat was still there. So I said, 'Why don't we just wait and see?' She's not a believer so I said, 'Let nature decide,'" he said.
He oversaw her care and at 32 weeks of her pregnancy, he delivered her healthy baby girl. 
"Every year, she comes back and always brings her daughter and tells me, 'Look, this is the one you saved.'
"I would say, 'No, God saved!'"
The child is now about 10 years old.
Apart from the physical dangers of an abortion, there is emotional and mental turmoil, Dr Chew said, adding: "I hope we don't take abortion lightly."
Looking for resources for those who are contemplating abortion?
A newly launched website, Heartbeat Project, hopes to inspire the church to build a culture that chooses life, so that every unborn child may have the chance to live life to the fullest. Through real-life stories and resources, the project seeks to create conversations that will inspire the church and Christian community to support those facing unplanned pregnancies.
If your church is keen to conduct a Love Life Conference, contact [email protected].
If you have enjoyed reading Salt&Light...
We are an independent, non-profit organisation that relies on the generosity of our readers, such as yourself, to continue serving the kingdom. Every dollar donated goes directly back into our editorial coverage.
Would you consider partnering with us in our kingdom work by supporting us financially, either as a one-off donation, or a recurring pledge?
Support Salt&Light