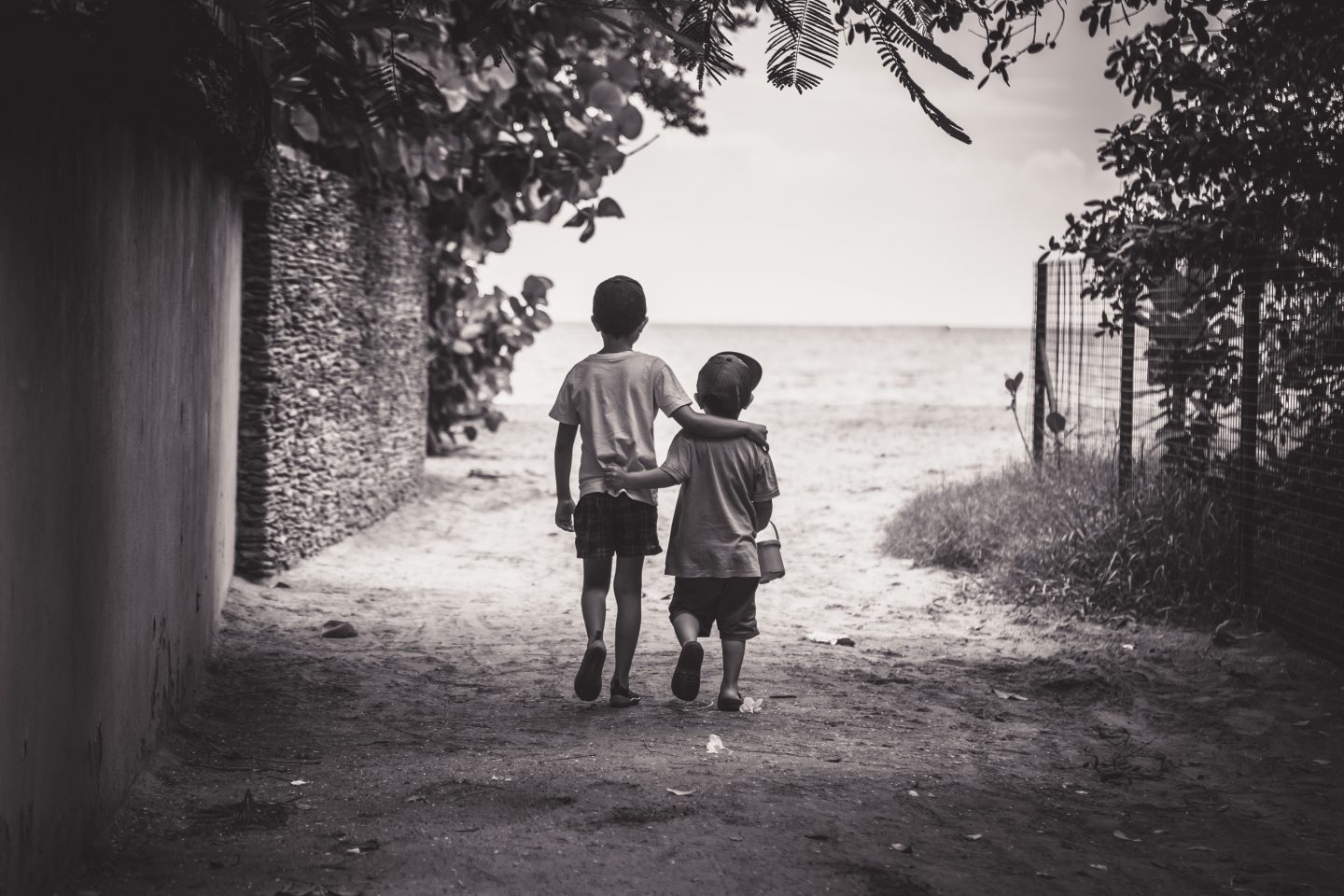 A recent study by Big Love Child Protection Specialist Centre showed that child abuse is on the rise in Singapore, which may lead to more foster children needing homes. Photo by Juan Pablo Rodriguez on Unsplash.
It takes a village to raise a child.
This is even more so for foster children, many of whom have had difficult and even traumatic backgrounds.
Three women with first-hand experience at foster care agree that this African proverb rings true even today in Singapore.
Audrie Siew, Tay Li Ping, and Vivienne Ng from Home for Good SG (HFG), a Christian network started in Singapore to support fostering and adoption, said that social support from friends, family and community goes a long way to enrich foster families.
Ng, 52, founder of HFG, said some of her friends who were not ready to foster still played a significant role in helping her family in their six years of fostering.
You don't have to be a foster parent to help care for a foster child, says Ng.
If you have been moved by the stories of children who need a safe home for a season, or if the call from God to serve the "least" in society (Matthew 25:40) resonates strongly with you, but you are not in the position to be a foster parent, you can still help. Here's how: 
1) Volunteer your time and talent 
You can volunteer with the Ministry of Social and Family Development (MSF) and other foster care agencies like Home for Good SG, Epworth Community Services, The Salvation Army, Boys Town and Persatuan Pemudi Islam Singapura.
Home For Good SG, for example, is run purely by volunteers and foster carers. They don't just need foster parents, they also need willing hands in administration, logistics and IT.
You can also directly help children whom HFG families are currently fostering, or children who are still with their birth families. Once you have been approved by MSF, you're good to go. 
"A kind volunteer spoke to the foster child in Chinese and helped him with his Chinese homework."
Audrie Siew, 45, a civil servant, gave an example: "There was a foster child who was placed with a family which did not speak Chinese. He needed Chinese help for school. A kind volunteer befriended him and took him out every week, spoke to him in Chinese and helped him with his homework."
Besides one-on-one assistance, you can come together with your friends and help as a group.
Siew recalled a group of university students who were regular volunteers. These young adults from the College of Alice and Peter Tan (CAPT) at the National University of Singapore (NUS) ran Project Kindle yearly for foster children on campus.
Siew, one of the core leaders in HFG, explained: "You have to understand that many foster children would not have been exposed to university before and may not even believe they can go to university. This has helped many foster children to aspire to greater heights and motivated them to put in more effort into their studies."
CAPTains from Project Kindle used evidence-based elements of mentoring and group-engagement to convey socio-emotional lessons to children. Trained by project partner Methodist Children and Youth Centre (now Epworth Community Services), CAPTains developed an effective model to help facilitate healthy emotional development in foster children.
"Talking to these children and seeing them grow over the eight weeks brought a new dimension to my understanding of their character and resilience," said volunteer Darrell Ong on the Project Kindle website.
"For some of the children, their cheerful disposition hid the deep struggles that they've been through."
"For some of the children, their cheerful disposition hid the deep struggles that they've been through and this manifested in different forms. I learnt that it could surface subtly through wanting to be hyper independent and not accepting help from anyone, or in more obvious ways when some of the girls would cry to seek attention and one confessed to a volunteer that she ran away from home because she feels cared about when people realise she's missing and go out to look for her. This story made me realise how much these children are deprived of love and affection that we often take for granted."
Tay Li Ping, 41, who worked as an industrial organisational psychologist in MINDEF (Ministry of Defence) and now fosters two boys with her family, recalled how a church friend regularly ferried her foster son to and from school and for enrichment lessons. This was a big help as his first school was far from their home.
Other ways HFG suggests you can help are at special events, or updating the websites of foster agencies.
2)    Offer gifts that go a long way
Your donation can go towards specific needs, such as:
Tuition
Meals and treats
Outings
Regular transport to school
Miscellaneous necessities such as toys, clothes and books
You can also offer to babysit or care for the foster children on an ad hoc basis when foster parents need to go overseas, or to give them a break.
A friend offered to pay for a foster child's tuition until the end of PSLE, so that the parent would not worry.
Ng's family once fostered a four-year-old girl. They had no items for her, as their own children were teenagers.
She gave a Facebook shout-out for clothes, books and other age-appropriate items, and was met with an overflow of active response. Some friends even dropped the items off right at her doorstep!
Many have also aided financially. 
Ng shared how a friend paid for three months of tuition fees (worth $1,200) for her foster daughter. "It was such a blessing to me," she said. 
She explained that while she did have a fostering allowance for the child's educational needs, the extra cash helped her sign up the child up for additional writing classes and extra tuition.
Siew also recounted how a friend offered to pay for a foster child's tuition until the end of PSLE, so that the natural parent would not need to worry about a drop in the child's educational outcome when she went back home.
3)     Tell the stories
Not many know the struggles foster families go through.
You can help raise awareness by liking and sharing foster agencies' Facebook stories and posts, and forwarding the dates of introduction sessions and other fostering events to your family and friends. 
You can also invite agencies such as HFG to speak at your church and create awareness and support among your church community.
4)    Pray
The lynch-pin in any successful endeavour for the Lord is prayer. (Philippians 4:6) 
Pray against foster care breakdowns because a child is re-traumatised every time he or she has to change a foster placement.
Foster parents and workers need strong prayer coverage. This ministry involves heart-breaking and challenging work.
Tay, who is studying at Trinity Theological College (TTC) and training to become a pastor, said: "I really appreciate the many times that my TTC schoolmates and lecturers have prayed for and with me when I was facing trying times with my foster son. Their emotional and spiritual support has really helped keep me going."
She suggested some prayer pointers you can take up in regular intercession:
For foster parents, pray for:
Strong marriages and protection over families; 
Foster parents to receive from the Lord whatever they need to do this work, and to feel supported practically, emotionally and spiritually;
Understanding and strong partnership between foster families and their case workers (foster care officers and child protection officers);
The raising up of the next generation of foster parents.
For foster children and their birth families:
Pray for healing and restoration for the foster children;
Pray against foster care breakdowns because a child is re-traumatised every time he or she has to change a foster placement;
Pray that the birth parents get support and receive inner healing so that the foster children can be safely reunited with them for good.
For churches in Singapore, pray that:  
Churches will reach out and provide support to vulnerable families in their midst, so that the children do not need to come into foster care in the first place;
Churches will step in to support foster families in their congregation and community;
There will be enough foster parents to meet the needs in Singapore. Not just for babies, toddlers and preschoolers, but also for older children, teenagers and children with disabilities, and those who age out of care.
Every little bit helps to make a change in the broken lives of foster children and their families. Play your part today and live out Psalm 82:3. 
If you have enjoyed reading Salt&Light...
We are an independent, non-profit organisation that relies on the generosity of our readers, such as yourself, to continue serving the kingdom. Every dollar donated goes directly back into our editorial coverage.
Would you consider partnering with us in our kingdom work by supporting us financially, either as a one-off donation, or a recurring pledge?
Support Salt&Light