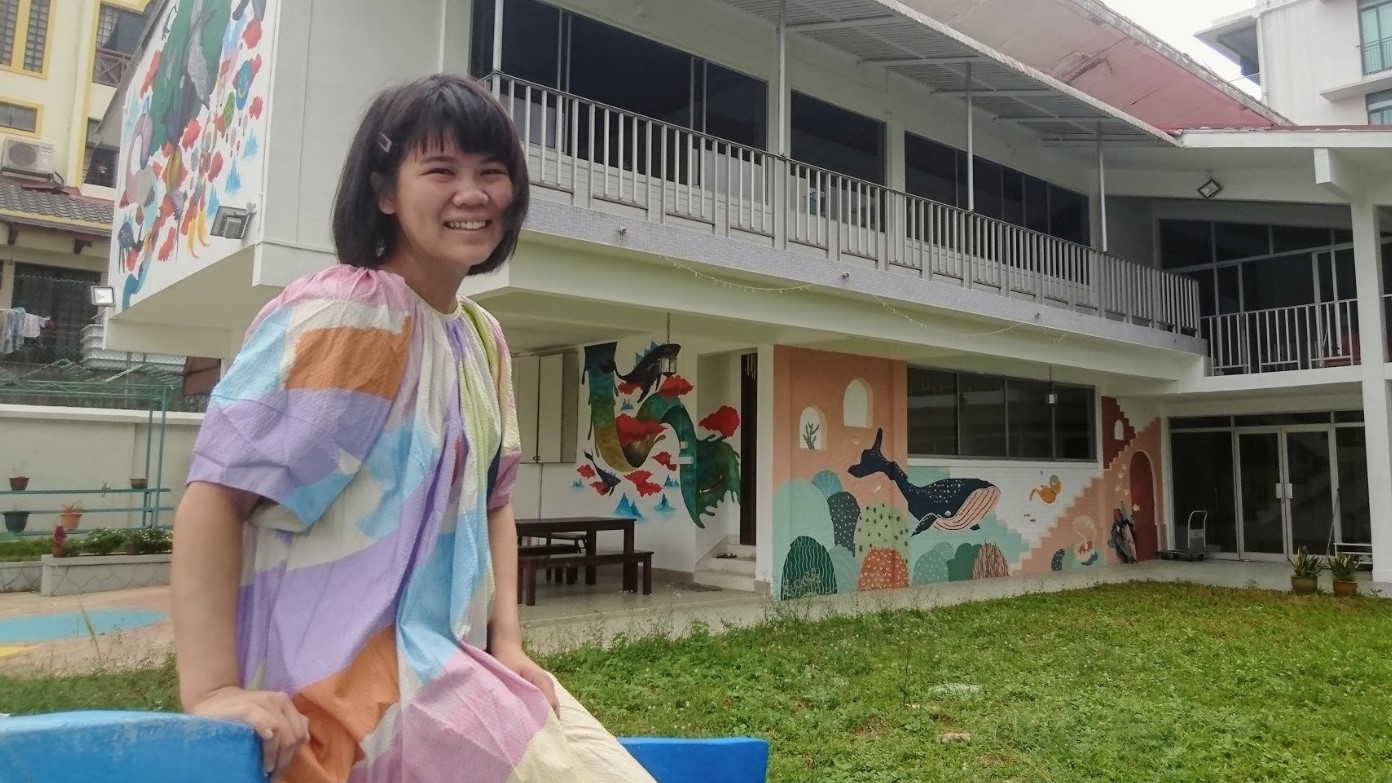 Wyndee Man at Our Dream House, a shelter run by Mercy Centre Singapore when she was left nearly homeless during the Circuit Breaker. She now lives in a rented room of her own. All photos courtesy of Wyndee Man.
When the Circuit Breaker was announced in early April and Singapore closed its borders, Wyndee Man, 24, found herself on the streets. 
The native of Foshan in Guangdong, China (yes, hometown of the famous Ip Man) was stranded in Singapore without a job when Salt&Light first spoke to her in May. 
Today, she is a commercial assistant with fashion accessories distributor Abry. She lives in a rented room on her own and is "at peace and more calm because someone has got my back".
Stuck in Singapore
When stricter social distancing measures kicked in, the management of her apartment came around.
"It was then that we were told that our room had been illegally reconstructed to house more people than it should," she said.
Man and her Vietnamese roommates were asked to leave their rented apartment. "I lost my deposit and the remaining rent as well." 
With no proper paper work, getting employed was impossible.
Crisis intervention group Project Providence found out about her plight, and got her and her roommates a place at a shelter usually meant for youths run by Born2BE at Mercy Centre. They were among the first guest workers Project Providence helped in April. 
But Man had more to worry about.
In Singapore on a Work Holiday Pass, she had been in the process of applying for an employment pass when the economy came to a standstill. With no proper paper work, getting employed was impossible.
"I've always wanted to work in an English-speaking country where I can make friends with people of different cultures and use English in the work environment," said the graphic design graduate of Southern New Hampshire University in the US.  
That dream, Man feared, looked about to be dashed.
A life-changing lunch 
While she stayed at the shelter, Man still felt unsettled. Her future looked uncertain.
"I lost my sense of direction. It felt like I was just looking for an exit in a chaotic maze," she said.
To fill her days, she helped sew cloth masks for the needy and attended weekly Bible Study sessions at the shelter dubbed Our Dream Home. 
Since her time as a student in the US, Man had been interested in Christianity.
"When I was there, I made friends with the local Chinese community. They were like family to me. They would ask me to join them for holiday meals. It was really heartwarming.
"They invited me to church as well. I went every week until I graduated. I would listen to the sermons, sing the songs. But I didn't know what being a Christian was and they never really asked me if I would like to be a Christian."
"That day, I asked Mama Sarah how to become a Christian."
A lunch in July changed all that.
When Circuit Breaker restrictions eased, Man met her befriender from Project Providence, Esther Tan, 32. It was a lunch to celebrate Tan's birthday. There, she finally met Tan's mother, Mama Sarah, 62. Mama Sarah had often spoken to her over the phone in Cantonese or sent her Cantonese recordings, telling her to take care of herself.
Said Mama Sarah: "During the lunch, Wyndee told me about her Bible Study sessions and how she was so excited to know more about Jesus but that she didn't know how.
"I told her: 'It's very easy, just treat Him like your friend. Tell him everything. But first, you need to know that we are all imperfect, we all have sin. Then ask Jesus to forgive your sins and come into your life'."
Then, as Man tells it, Mama Sarah took her hand and "asked me to repeat after her in prayer". That day, Man gave her life to God. 
"It was a really important day for me," she said.
Mama Sarah still keeps in touch with Man, sending her daily WhatsApp messages with "inspiring pictures and texts".
Said Mama Sarah: "When a person first becomes a Christian, they need someone to hold their hand and walk with them. They need to learn the Word of God. So, this is what I am doing for Wyndee."  
The phone call
Meanwhile, quite unknown to Man, a job opportunity was about to open up for her. It started when founder of Abry, Adriana Lim Escaño, 41, phoned Tan about a different matter – a business partner had wanted to donate to Project Providence.  
Said Lim Escaño of her conversation with Tan: "We got to talking and I casually asked who were the people stranded and if any needed jobs." 
"Mama Sarah said I can start building a relationship with Jesus, asking him questions, sharing feelings with Him."
Lim Escaño has a slip of paper on her wall of positions she hopes to fill that she leaves to God's guidance. She started Abry in 2008, making it a point to hire and develop people who are marginalised and underprivileged, ensuring they are able to earn a living.
When Lim Escaño asked about potential hires, Tan immediately thought of Man.
Said Tan: "During the call that evening, Adriana and I both believed deeply that the Lord had plans for Wyndee, and those plans involved her staying here in Singapore to experience His goodness."
But there were challenges. Abry's quota of S Pass workers had been filled. There was simply no room for another foreign hire. Man's Work Holiday Pass was also about to expire.
Then came the unexpected.
Said Lim Escaño: "The morning I wondered how I was going to hire her, another staff coincidentally resigned to head back to his hometown to be with his family."
Man was hired.
She helped set up the company's website, boosting its e-commerce, and lent her experience in other areas as well.
"The other funny thing is that we just launched a new concept called Tokyo Ethical Style which is a line of apparel," said Lim Escaño. "We seldom deal with apparel. So Wyndee's experience as a visual merchandiser in her previous job came in handy. 
"I believe God already prepared this because at the point of hiring her, the plans for this apparel brand had not been fully confirmed."
Family away from home
 Life has changed in more ways for Man. She now has a community that supports her.
"Every Tuesday, I go back to Our Dream House for Bible Study. My boss gives me the morning off," said Man.
The staff at Project Providence have also become friends.
"Before I met Esther and the people at Project Providence, I felt very alone. I didn't really have friends here. Now I have friends from Project Providence and the shelter.
"I've been learning about the grace of God … It speaks to me because that is exactly what God did for me."
"They are like another family to me. I feel like God had planned it all."
Her personal experience with kindness from strangers explains why Man's favourite Bible passage is the story of the Good Samaritan (Luke 10:25-37).
"It reminds me of what the people at Project Providence and Mercy Centre did for me. They really reached out to me to give me shelter, food and a job."
The road ahead for Man looks hopeful.
"I want to learn more about Jesus and build a relationship with Him. That's what Mama Sarah told me what being a Christian means."
Man has signed up for Bible Study classes at the church she now attends.
"I've been learning about the grace of God, giving us something that we don't deserve. It speaks to me because that is exactly what God did for me."
"Everybody deserves food and shelter": Project Providence helping scores of stranded S-pass workers
Fashion entrepreneur Adriana Lim Escaño builds her business on Gospel values
If you have enjoyed reading Salt&Light...
We are an independent, non-profit organisation that relies on the generosity of our readers, such as yourself, to continue serving the kingdom. Every dollar donated goes directly back into our editorial coverage.
Would you consider partnering with us in our kingdom work by supporting us financially, either as a one-off donation, or a recurring pledge?
Support Salt&Light