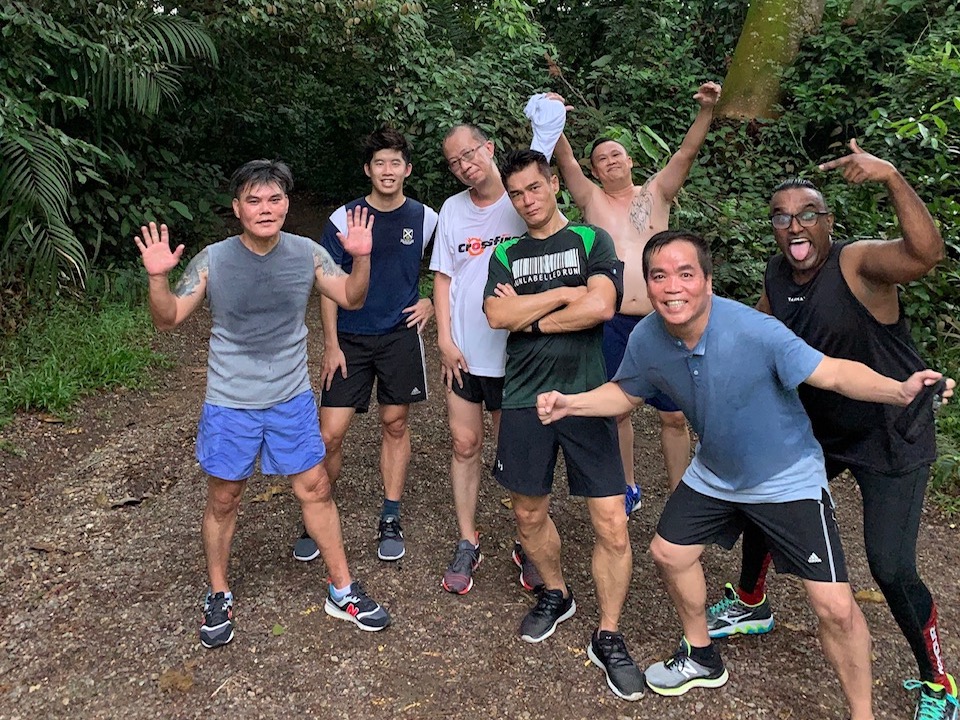 At New Life Group, the men gather frequently for runs at MacRitchie Reservoir. Pastor Joshua (second from right) explains that it is an "incarnate ministry" where he spends time with members by going running with them or inviting them to his home for meals. All photos courtesy of Joshua Lim.
A heart aches and breaks in many ways.
That is a painful reality that Pastor Joshua Lim knows all too well from his years of leading the prison ministry at Woodlands Evangelical Free Church (WEFC).
His first encounter with the pain from a betrayal nearly caused him to ditch his calling in this ministry – barely two years in.
Pastor Joshua remembers the moment well. He was standing outside the gates of Changi Prison, ready to welcome a man who was being released after serving his sentence.
Every week for the last six months leading up to that day, Pastor Joshua had been meeting this prisoner for individual counselling which had been granted special permission by the prison authorities.
"I don't want to do this anymore"
"I really want to change," the inmate told Pastor Joshua at a prison bible study class. "Can you help me?"
So, without fail, Pastor Joshua would make his way across the country for the hour-long sessions where they had deep conversations and made plans for him to start anew after his release. Each visit took close to six hours, including the commute from Woodlands to Changi and security clearances at the prison.
"He turned around and walked away from me. That was the last time I saw him."
Pastor Joshua was very confident that this man's sincerity and determination would serve him well, and anticipated seeing the first fruits of his fledgling ministry. Surely the man would not add to the high re-offender rates in Singapore. 
But it was not to be.
"That day, when he came out, he saw me and greeted me, 'Hi Pastor Joshua!' And then he turned around and walked away from me," Pastor Joshua recounted.
The "friends" that he had told Pastor Joshua he wanted to distance himself from were waiting in a car parked only a short distance away.
Pastor Joshua didn't move as he watched the man get into the car.
"That was the last time I saw him.
"I felt cheated. All my effort and time …" he trailed off.
Pastor Joshua felt like giving up and wept as he told God: "I don't want to do this anymore." 
"What can I do?"
His first visit to a prison back  in 2004 had also left him in tears.
"My heart ached ­­– I cannot explain ­– it was very painful."
Pastor Joshua was a ministry intern then, still exploring the various areas of service in church, when he was invited along on a prison visit. Stepping into the old Changi Prison transported him to an entirely new world.
"Gates, so many gates, I couldn't count how many," recalled Pastor Joshua and mimicked the creaking sounds made as the gates were opened and slammed shut.
He had not been briefed on what to expect and, stepping into the chapel, Pastor Joshua was greeted by the sight of 40 teenagers dressed in white overalls seated on benches in neat rows.
"I was completely shaken," he said. "My heart ached ­­– I cannot explain ­– it was very painful."
Pastor Joshua continued: "I asked myself, 'These boys, what are they doing here? They should be in school! Or hanging out at Orchard Road. Or playing soccer.'
Later on, he found out that these were juvenile delinquents who were being given a taste of prison life as part of a deterrence-programme to lower the rate of repeat offenders.
"I was very burdened and I cried for many nights," said Pastor Joshua. "I cannot remember who preached on what, but I remember staring at every single face of the boys there that day."
He started to realise that this might be God's answer to his prayer for direction.
Early days of ministry
The chance to serve came a few years later when Woodlands EFC underwent a change in leadership. Reverend Kenny Fam, who was previously the chaplain at Queenstown Baptist Church which has a well-established prison ministry, wanted to start the same work in WEFC.
"I had no knowledge of such a life; Zero."
So, after a one-and-a-half-year learning stint with Jason Wong, founder of the Yellow Ribbon Project, and Faith Community Baptist Church (FCBC) which also has a prison ministry, Pastor Joshua returned to set up the prison ministry in WEFC.
Gaining traction amongst church members was not easy, recalled Pastor Joshua. "There's a lot of fear because there are many unknowns about the sub-culture of ex-offenders. Even some churches do not 'feel comfortable' having such ministries.
"And I had no knowledge of such a life. Zero," said Pastor Joshua, explaining that almost all the pastors he knows who are involved in prison ministry are ex-inmates.
He himself had grown up in a conservative family where he grew up thinking that people with tattoos were "bad people".
But as the church leaders shared the vision over the pulpit to challenge members to get involved, and engagement meetings were held, several stepped forward – even women.
"There was nothing to rely on except God and a shared conviction to be channels of God's love."
Pastor Joshua started to get asked questions that he did not know the answers to. "A lot of questions," he said with a laugh.
Their collective lack of experience meant that there would be no false crutches from preconceived assumptions and stereotypes – there was nothing to rely on except God and a shared conviction to be channels of God's love.
"This is an incarnate ministry," he explained. "Meaning that as I show my love and concern, I show that God still loves you, there is still hope and the Father is always waiting."
"We tell people not to go back to their old friends, but do we give them community? We have to be that community."
Hard knocks
The first years of the ministry were full of hard knocks with no fruits to speak of, said Pastor Joshua.
Week after week, the team made extensive preparations for meetings, including food and programmes, but few, if any, turned up.
"We tell people not to go back to their old friends, but do we give them community? We have to be that community."
The inmate who turned his back on Pastor Joshua after his release was not an isolated incident. "They assure us they will come to church, but we never see them," said Pastor Joshua. "Or they attend one service and we don't see them again."
Some betrayals were played out with greater intentionality.
One ex-inmate who had a young son, often spoke about wanting to be a better father. Once, he shared very regretfully about the lost moments and told Pastor Joshua he wanted to buy his son a backpack as a gift.
"Pastor, I tell you because I trust you," he'd said, seemingly apologetically, when he asked Pastor Joshua for $50. "I don't want to tell anyone else."
Touched, Pastor Joshua gave him money out of his own pocket. He thought nothing of it until a short time later when someone else in the ministry casually mentioned a similar request in passing.
"Pastor, I tell you because I trust you."
They soon found out that the man had been going around to other members in the ministry repeating the same spiel. 
"These people are too smart for me!" Pastor Joshua recalled crying out to God once more. "I felt hopeless and lousy. But then, very clearly, God reminded me of this verse: 'He who calls you is faithful, He will surely do it'." (1 Thessalonians 5:24)
It was God who had given him this burden, and God would see it through. As Pastor Joshua started to feel comforted, the passage of the yet-barren fig tree in Habakkuk 3:17-19 came to mind.
That night, he decided: "I just want to be faithful. Even if there are no fruits, I will keep on."
The power of community
"I start with affirmation, unconditional love. I don't ask them what crime they commit. Not important anymore. We just accept whoever," said Pastor Joshua.
"The Father is not interested in what you have to say when you turn back to Him. There was no conversation, just immediate restoration," he explained, using the example of the story of the prodigal son.
"When people commit crimes, the self-condemnation is strong. They lose their sense of worth and value.  But there's a lot of power when someone senses their worth and value."
This is why one of the key characteristics of WEFC's prison ministry is the recognition that everybody is worthy. Simple activities and birthday celebrations with home-made cakes express their love and care.
"We share the pain and the food," he joked. "It becomes a family where everybody puts on weight together!"
Brothers in the ministry provide companionship and support while the sisters become mother figures to the ex-inmates, their spouses and even children.
Redemptive grace
Pastor Joshua has seen the effect that such a community has on keeping ex-inmates on the straight and narrow.
One brother who would regularly make the trek to church in Woodlands from his home in Chai Chee, had stopped coming for a season. He faced issues at work and was stressed.
When he ran into some old friends who offered him drugs, he initially resisted. But, emotionally weak and anxious, he caved in to the pressure.
For a week, time passed in a drug-induced daze. Then suddenly, in a moment of clarity, he caught himself: "If Pastor Joshua and everyone else finds out about this, they will be very sad."
Pastor Joshua related: "He told himself to stop! When I heard that, I was very, very, very heartened.
"It's very powerful – knowing they have community who loves them, that gives them the power to stop and resist the temptations."
In recent years, the ministry has flourished, with members known for their zeal and evident love for God.
"They don't have to talk; their lives show the indisputable power of God," said Pastor Joshua. "They hold jobs, hearts are changed, broken families are restored
"God's redemption is so clear. That is my satisfaction and my joy."
Still, almost 15 years in, Pastor Joshua's greatest worry is that he will lose the emotional connection to the ministry and that this will become just a job to him.
He does not want to forget the pain and reflection of God's heart when he first saw the juveniles in prison.
Divine empowerment
Last year, through circumstances that Pastor Joshua attributes to divine intervention, he crossed paths with a young man who awaiting his prison sentencing.
"For some reason," Pastor Joshua said, "connecting with him felt very intense."
"I grieve, but I grieve with hope and confidence that God will do something wonderful in His time."
It was Pastor Joshua's first encounter with someone who had been charged with a "non-respectable crime" – a term which carries its own level of stigmatisation within prisons.
The consequences of this man's actions had driven him to seek God again and, as Pastor Joshua counselled him, the pastor realised that God was also affirming his burden and call.
"I felt his pain and his remorse, even his struggle," said Pastor Joshua, adding that the man was constantly harassed in prison because of the nature of his crime.
God reminded him of the verse in Hebrews 13:3: "Continue to remember those in prison as if you were together with them in prison."
"I'm in this for the long haul. By grace, He will sustain me."
"As if you were together with them!" stressed Pastor Joshua. "God brought me nearer and closer to Him, showing me where I was.
"People always say don't be too emotionally invested or engaged. Keep your boundaries. But when I think about it, the Bible doesn't teach that.
"Yes," he acknowledged. "It causes me a lot of pain, but I'm not handicapped. I get my strength from God.
"Yes, I grieve, but I grieve with hope and confidence that God will do something wonderful in His time. 
"I'm in this for the long haul. By grace, He will sustain me."
The one who calls you is faithful, and he will do it. (1 Thessalonians 5:24)
If you have enjoyed reading Salt&Light...
We are an independent, non-profit organisation that relies on the generosity of our readers, such as yourself, to continue serving the kingdom. Every dollar donated goes directly back into our editorial coverage.
Would you consider partnering with us in our kingdom work by supporting us financially, either as a one-off donation, or a recurring pledge?
Support Salt&Light