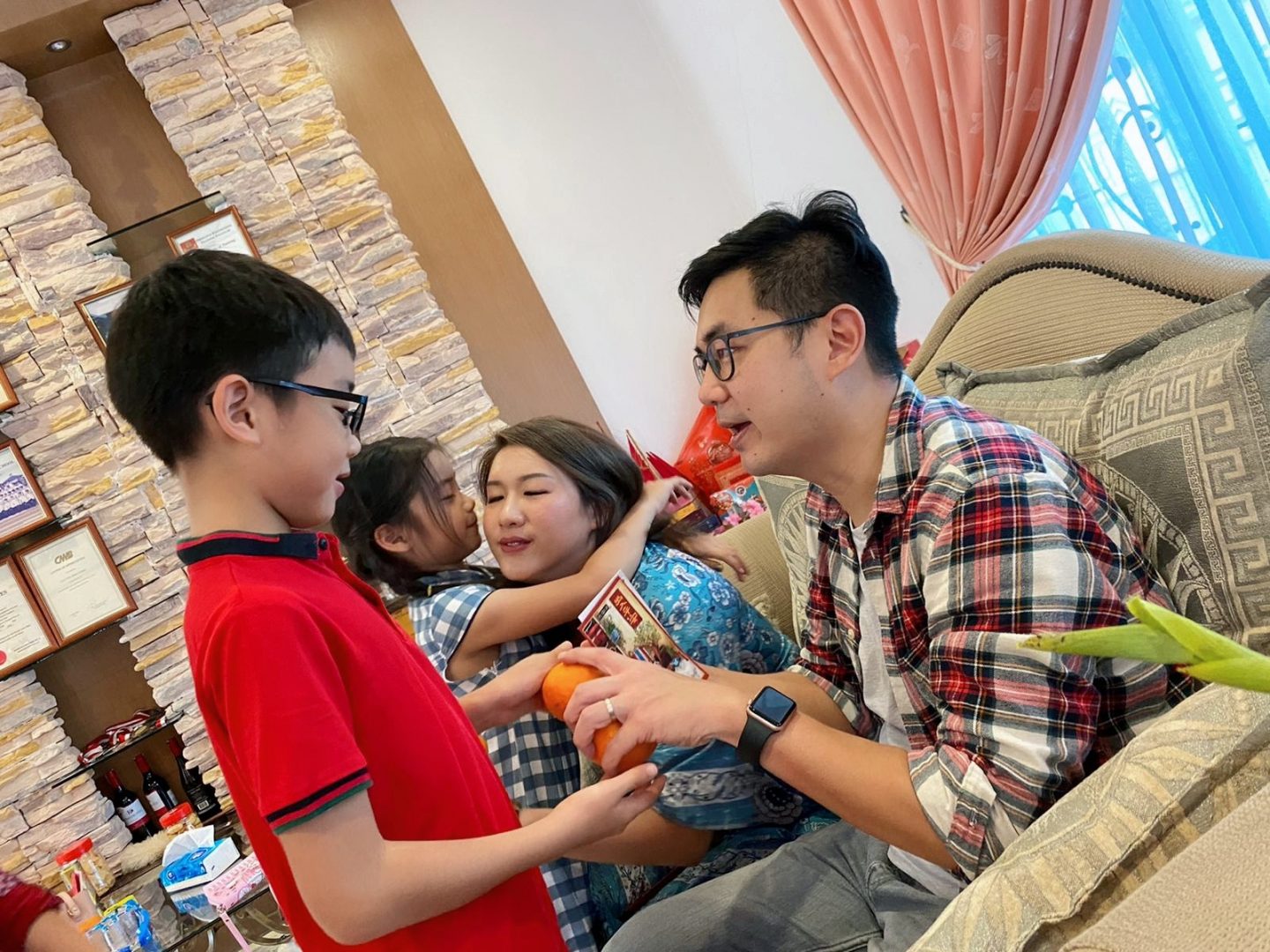 Elvin and Esther Foong have been giving out red packets with Christian blessings on them since they got married in 2009. Photo courtesy of the Foongs.
This year's Chinese New Year may be a little different because of Covid-19 safety regulations. But, thankfully, some things need not change.
Buy new clothes, preferably red. Clean the house (remember to get rid of old stuff). Prepare angbaos (red packets) and get the reunion meal ready. If you are Chinese, you would probably know the drill in the days leading up to probably the most celebrated and important of occasions on the lunar calendar.
Of course, much of the traditions that come with Chinese New Year are also steeped in some form of superstition or religious practices. But that does not mean that we cannot bring Christ into the picture.
Salt&Light gives you five ways you can celebrate Chinese New Year in true Christian style while still honouring the culture.
1. Decorations that celebrate God's goodness
Remember the days when grandma would do up the whole house in red and gold, adorning the walls with chun lian (Spring couplets) that were supposed to usher in good fortune with their poetic well wishes?
"Our heart is for every Christian home to share the faith, hope and love that we have in Jesus Christ."
The Treasure Box SG, a company specialising in resources and services to help Christian families discover God, has launched a set of Chinese New Year wall ornaments that feature the Chinese words for "faith", "hope" and "love", a reference to 1 Corinthians 13:13.
"The word 'love' is larger than the other two words to show that the greatest of these is love," said Esther Foong, co-founder of The Treasure Box SG and the one who designed the wall hanging.
Said Esther of their decision to create wall hangings for Chinese New Year: "Beyond the feasting and festivities, we wanted to seize the opportunity to share and show God's love to our guests.
"We hope that this specially designed ornament can be a tool to remind ourselves and our guests about the cornerstones of what it means to be a believer in Christ – faith, hope and love."
Made of wool felt for durability, the ornament comes with a Chinese translation of 1 Corinthians 13:13 to serve as a conversation starter at family gatherings.
"This Chinese New Year, our heart is for every Christian home to share the faith, hope and love that we have in Jesus Christ with our neighbours, family, relatives and friends," added Esther.
2. Blessings from God
Growing up, whenever I received an angbao from my maternal grandmother, she would make me kneel in front of her and, as the coveted red packet was handed over, would tell me to "guai guai ah" (behave myself) or "ai tak cek" (study hard).
All her hopes for me for the year were expressed in those wishes, though to my young ears they sounded a lot like warnings.
"As we handed out the angbaos during CNY, some people will ask us what the phrase means."
In my household, this is what we have been doing with our children as well.
Instead of our own hopes and dreams for them, we pray a prayer (usually a Pauline prayer), desiring for them the maturity and steadfast faith that God desires for us all. The children are usually on their knees as well when this happens. Why totally break with  tradition?
The Foongs, Esther and Elvin, have added a creative spin to their ang bao-giving. Since they got married in 2009, the couple has been giving out red packets they have customised to include a blessing from the Bible. Every year, they print a different phrase on their red packets.
"As we handed out the angbaos during CNY, some people will ask us what the phrase means and we have had a chance to share about God," said Esther.
3.
Lo hei
for God, not luck
Yu sheng is a must-have dish for many Chinese New Year meals in Singapore. The Teochew raw fish salad was said to have been created by four master chefs in the country in the 1960s.
Yu sheng literally means "raw fish" but sounds like the Chinese phrase "increase in abundance". Like many foods eaten during the festive period, it is consumed in the hope that it would bring prosperity to those who partake of it.
As you lo hei, focus on God's desire to bless others through us as we live in community.
Aldersgate Methodist Church has come up with a way to turn lo hei, the practice of eating yusheng by tossing the ingredients as high as possible to symbolise high aspirations in the new year, into a way to remember God's faithful promises.
All the ingredients from the fish to the vegetables, oil and spices are introduced with a liturgy that includes a Bible verse, a prayer and a response that all point to God.
This year, though, because of the COVID-19 safety measures, maybe it would be good to record the blessings ahead of time and play them while during lo hei.
4. Songs of praise for your soundtrack
Apart from eating, gathering around the television to watch Chinese movies is another common thing that people tend to do during Chinese New Year.
This year, the Foongs are providing an alternative form of entertainment. They have recorded a set of Christian music videos in English and Mandarin in partnership with Illuminate that can be played during festive gatherings.
"This is for families to sing along or play during reunion dinners or when people visit their homes. With this video, we could be chatting with bilingual worship playing on the screen or even as background music.
"Families can even gather to worship after reunion dinner. They just have to play the video and worship together. This is an opportunity to invite God's presence into the proceedings," said Esther.
"This is for families to sing along or play during reunion dinners or when people visit their homes."
The set of five songs focuses on the themes of thanksgiving and God's desire to bless His people, which are fitting for the occasion and, as the Foongs hope, may serve as conversation starters with pre-believing family and friends.
Production of the video has been a labour of love with several partners coming in.
"We knew of Illuminate from many years back when we both served at a conference. Besides their expertise in sound and lighting, they offered us suggestions beyond our original idea that further grew the vision for this project in exciting directions."
Musician friends stepped forward to play for the video, taking time off from school, work and family. A couple offered their home as a location for the shoot, turning their living room into a lovely set for the recording. Christian-owned fashion label Tracyeinny also blessed the team with beautiful festive masks and even provided the dresses and accessories for the women featured in the video. Meanwhile, sound engineers from Noivil Studios worked overtime to get the video out in time for Reunion Dinner. 
"We are proud to work with a team that sees their contributions to this project as, not just transactional, but truly transformational. We believe that God will honour and bless their willingness to sacrifice and give of their time and their talent to serve Him and His people in this season," said Esther.
"I don't know who will be moved, I don't know who will receive joy, I don't know who will give their hearts to Jesus.. But I know the atmosphere of worship can do miracles. I'm just so thankful that God chose us to partner Him in this."
5. Open house for those without families here
Opening up the home to family and friends is all part of the Chinese New Year tradition. But the Lims, Albert and Alison, do it somewhat differently.
Said Alison: "We treasure inviting people who don't have families in Singapore to join us for reunion. We have invited foreign students over the last few years."
Both Albert and Alison grew up with very hospitable parents. "Growing up, my cousin came down from KL to stay at our house and we just accepted it. She stayed with us for 12 years.
"We treasure inviting people who don't have families in Singapore to join us for reunion."
"Alison comes from a big family and her mum still lets her third sister's boyfriend, now husband, live in their house because he was motherless," said Albert.
So, opening up their homes to people is "nothing new". Their children would bring friends home to hang out and the Lims love it.
Since 2019, they have had a couple from China living with them. The girl is pursuing a PhD at Nanyang Technological University (NTU) and her husband is in Singapore to support her.
"They are friends of our daughter's friend. We thought the hostel life was not suitable for them," explained Albert.
Sunday meals have also been occasions for opening up their homes. "We invite friends of friends or guests from church who are visiting from overseas. An ex-student of my brother who is based in Paris also came for dinner when he visited Singapore."
This year, the Lims will be having a couple from China doing their seminary studies in Singapore over for reunion dinner.
"They are friends of a friend," said Albert.
"Even through Covid, God showed He can make miracles!": Chinatown shop that shot to popularity for Christian decorations
What if parents use ang baos and reunion dinner to share about God?
If you have enjoyed reading Salt&Light...
We are an independent, non-profit organisation that relies on the generosity of our readers, such as yourself, to continue serving the kingdom. Every dollar donated goes directly back into our editorial coverage.
Would you consider partnering with us in our kingdom work by supporting us financially, either as a one-off donation, or a recurring pledge?
Support Salt&Light