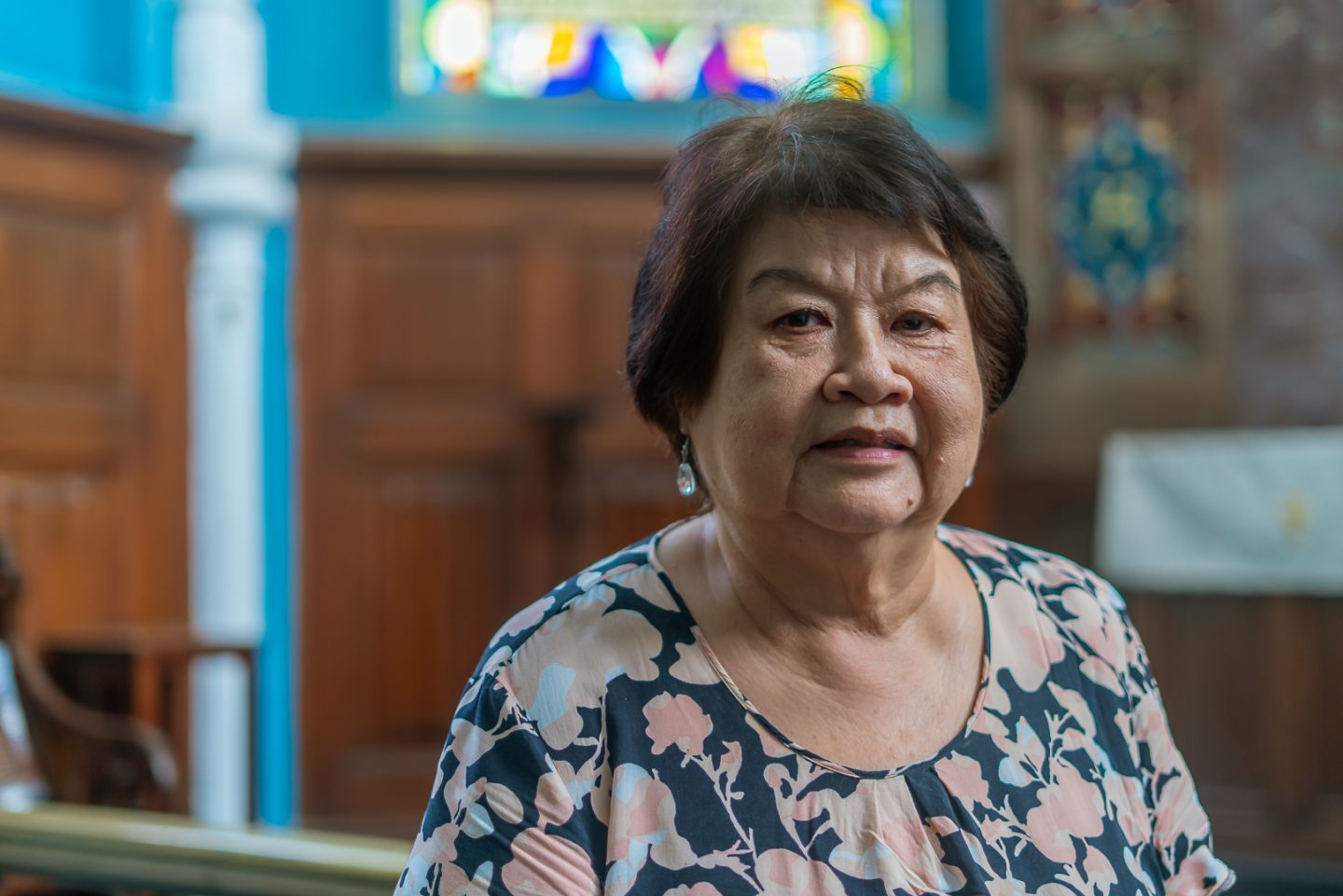 "When I was in prison, I was so close to Him. And I'm not going to let that go," said Letticia Chan. Photo by Rachel Phua.
She is chatty, amiable and enjoys cooking for her church's seniors' group. 
By all accounts Letticia Chan, 73, comes across as your motherly next-door-neighbour.
She is that.
But she is also an ex-offender.
In 2001, Chan was running a catering business when she was arrested for employment of an illegal worker.
Despite the efforts of her lawyer, Chan was convicted and sentenced to one year in Changi Prison.
A mortified Chan recalled her Christian lawyer telling her, before she went in: "God doesn't put you anywhere without a reason."
He proved to be right.
Going home
God was already on the move long before her incarceration, Chan said.
"When I was running my catering business, I was never really satisfied. I was searching but I didn't know for what," said the mother of two sons.
She was not a regular church attendee despite being raised in a Christian home. 
At one point, she dabbled in a different religion.
"The religious (leader) did not allow me to commit. I got so insulted … I'm so unholy ah? But apparently there was something in me, according to him, that he could not touch." 
She was frightened at this reply. What if 1 John 5:18 were true, she thought. 
But even then she did not fully commit to returning to Jesus. 
"I didn't realise then that I was being strengthened and equipped for my imprisonment."
God knocked on her door again that fateful year. 
While Chan's sentence was pending, she heard Him ask: "Why don't you come home?"
She was driving then, and found herself driving into St Andrew's Cathedral.
"I sat in the church and I just cried my heart out. I was so relieved that I had come back home."
A year passed before she was to serve her sentence.
During this period, Chan started serving the church fulltime and actively reading the Word. She had earlier sold her business to pay off legal fees.
"The delay gave me time to draw closer to God. He became my new source of strength. I didn't realise then that I was being strengthened and equipped for my imprisonment."
She shared how He gave her Isaiah 55:6-8:
"Seek the Lord while he may be found; call upon him while he is near; 
let the wicked forsake his way, and the unrighteous man his thoughts; 
let him return to the Lord, that he may have compassion on him, 
and to our God, for he will abundantly pardon."
These verses became Chan's personal source of encouragement. 
For the first time, the Word became real to her.
Serving time
When she was eventually incarcerated, a realisation struck her.
Before her conviction in 2001, Chan had heard a voice ask: "Why don't you serve Me?"
Her reply was: "No time."
"So when I went to prison, I realised, God, You've given me lots of time!" she chuckled.
Prison life was no walk in the park.
The inmates slept on mats on the cement floor. Chan had three other cellmates.
Before, she had said "no time" to serving God, but in prison "God gave me lots of time"!
"It's a three-point turn when you sleep. So if you whack the person beside you, the person will whack you back!" 
A single bar of soap and toilet roll lasted each prisoner one month, she said, and a small towel was used for pretty much everything.
"Going to prison really teaches you how to economise," she remarked ruefully.
They drank water from a container that was to last them a whole day. Chan said that some inmates were so thirsty, they drank from the toilet bowl.
"You think, 'Oh my, how disgusting!' But then you realise that they have no choice," she said. 
Besides the living conditions, there was also danger.
On her first day in prison, her cellmate asked her: "You got power or not?"
She was actually asking if Chan was affiliated to a gang in prison.
"I said, 'Yes, my power is from God'," Chan said. "So when I answered that way, thank God they decided to leave me alone."
She witnessed many fights and once saw another inmate using a plastic mug to almost cut off somebody's hand. 
But God protected Chan throughout her prison stay.
Fried chicken 
In fact, Chan recalled how God repeatedly gave her favour in the eyes of the prison wardens and her fellow inmates.
She was made the wardens' chef and was placed over 14 prison cooks. As a result she was treated well.
"I was never short of food. Whenever I cooked for the ma'ams (wardens), I ate what I cooked. And then all those under me also ate."
When Chan asked to take up Bible study classes, her warden worked it out for her, so that she could attend afternoon classes held by Prison Fellowship Singapore.
She was so popular, in fact, that the warden even asked her during her parole if she would like to stay on as their chef!
Chan also found favour from her fellow inmates in spite of their initial hostility.
"Don't think that people in the prisons are like in the zoo … we mustn't forget these people have feelings too."
Those working under her made two attempts to sabotage her when she first started out. They did not order crucial cooking ingredients.
But rather than reporting them, Chan thought out of the box.
On the first occasion, they did not order oil for fried chicken.
But Chan opened the freezer and found packets of chicken skin they had forgotten to dispose of.
"I took out the chicken skin and extracted the oil from it and then I fried the chicken."
"But the best part was, the chicken skin that I fried was so lovely and crispy that they put salt and ate it between bread. So I not only satisfied the ma'ams, I satisfied the girls who tried to play me out." 
The second time, they did not order dark soya sauce for soya sauce chicken.
They said to her: "Oh! You mean you need dark soya sauce to cook your chicken?"
"I said, 'If not how?'" She only had some light soya sauce, which would not yield the desired colour.
"But then I remembered that I can actually caramelise sugar and make it into a darker sauce with the light soya sauce. So that's what I did! I got chicken that was a nice brown colour."
After this, the inmates made no further attempts to bully her.
Cell group
In fact, some eventually warmed up to her enough for her to share the Gospel with them.
An inmate jailed for drug trafficking asked her: "Can you help me with the Bible?"
Chan agreed and they began reading the Bible together.
Other inmates who saw Chan reading her Bible asked to borrow it out of boredom. She would share the Gospel and offer to pray for them.
She eventually began a cell group.
"We always laughed about it because it was literally in a cell!" she chuckled. 
Looking back, Chan saw that the year prior to her incarceration was part of God's plan. 
"That year trained me to be able to go into prison and help them."
In the end, Chan's sentence was halved for good behaviour.
When she was released, she decided to serve fulltime in the cathedral's prison ministry.
"I had to, because I promised God that I would not go back to the secular world," she said.
She was determined to live out Romans 12:2: "Do not be conformed to this world, but be transformed by the renewal of your mind, that by testing you may discern what is the will of God, what is good and acceptable and perfect."
She conducted chapel every Saturday with the inmates. She also counselled them one on one, helping them to reintegrate back into society.  
God birthed in her a desire to share His love and grace just as she had received it (1 Peter 4:8). 
"When I got into in all this (trouble), I didn't understand why. But when I went back to teach in prisons, then I realised. Because of my own experience, I could understand the people I was talking to."
"You're so old and you went through prison? And you can make good come out of that part of your life?"
The prison experience changed her view of convicts. Being on the other side of the fence herself gave Chan a new appreciation of Matthew 7:1-3.
"I always tell people, 'Don't think that people in the prisons are like in the zoo.' A lot of people just want to go visit, go and see. But we mustn't forget these people have feelings too."
She added that her experience also helped her gain the inmates' trust when she ministered to them.
"The best part is that when I teach, they accept me because I am one of them."
She said that initially some were skeptical that she had been in prison and tested her. But when she could answer their questions, they softened.
They said to Chan: "You're so old and you went through prison? And you can make good come out of that part of your life? Why can't I?"
"That really, really made me feel, wow, going to prison was worth it."
God's purpose
After 10 years in the prison ministry of St Andrews Cathedral, Chan retired after a knee operation.
"I think I've just grown a bit old for it, because now in the new prisons there's a lot to walking, steps up and down. But if God tells me to go back, I will."
Today, she serves as a layperson in the Cathedral's seniors ministry.
"I have a heart for seniors from taking care of my old parents and old aunties who were always sick."
"Where would I be if I didn't go to prison? I might still be earning, cooking, forgetting about my salvation."
She engages seniors in various activities: Volunteer work, ukulele classes, senior choir, Bible study groups, visiting the ill and befriending less well-off seniors.
Being of the same age group makes it easier for the seniors to relate to her.
She has no regrets over her life, Chan said.
When she was convicted, she was angry with God. But eventually she saw how her lawyer's words echoed Romans 8:28: "And we know that for those who love God, all things work together for good, for those who are called according to his purpose."
"I really believe that everything that happens in our life is for a purpose, but you must use it for God's purpose," she said.
"When I look back, this sort of thing can only happen because there was a higher power that made it happen. So although I should be ashamed of going to prison, I'm not. It changed me.
"Where would I be if I didn't go to prison? I might still be earning, cooking and maybe killing myself, doing everything silly, forgetting about my salvation.
"I actually thank Him now … my life has become a much better life to live."