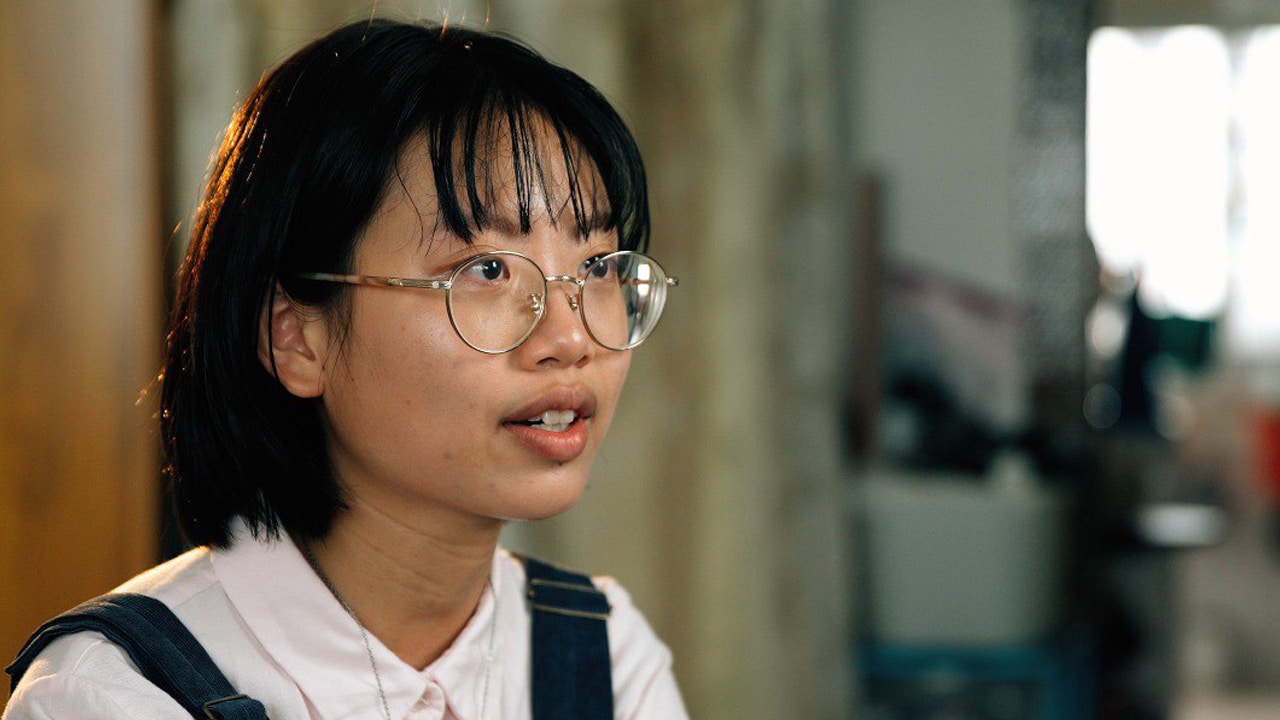 A new creation: When Jewel Chang gave her bitterness to God, she was not only physically healed of debilitating hives, she also felt the closing of old wounds in her heart.
The first signs of things going awry appeared when Jewel Chang was 17 and studying design at Temasek Polytechnic (TP). She found herself struggling with the rigour of the course, but unbeknownst to her, she was actually spiralling into depression.
"I realised that design wasn't what I could really manage or what I wanted to do," she says of her TP stint. "I couldn't catch up with most of my peers. I had a lot of fear of 'what's next?', a lot of feeling like I couldn't do well enough."
Her anxiety over deadlines became crippling, and soon, she could hardly manage the day-to-day. Looming in the back of her mind were scenarios tinged with a dark edge.
"I started to have thoughts of like, if I didn't eat I would just faint, then I don't need to go to school anymore, then I don't need to deal with all the things that are happening in my home as well."
Troubles at home were nothing new; her parents' marriage had never been the best. However, their incessant quarrelling had intensified and her father stopped coming home some nights. It was clear divorce was on the cards.
By that time, Jewel was midway through her course. Though riddled with doubt – "what if it's the wrong decision again?" – she withdrew and sought to pursue early childhood education elsewhere. Her application was rejected, leaving her with the remaining option of working at a childcare centre and enrolling in concurrent part-time studies.
Rock bottom
Her self-esteem was at an all-time low. Coupled with the emotional wounds from her parents' divorce, the psychological damage would sprout a hidden root of bitterness that deepened with her depression.
She found herself crying uncontrollably every day but told no one. "I felt like, there's no point, nobody will understand anyway. I just tried to tell myself, 'It's ok, I'll probably be fine after awhile.'
"I had so much unforgiveness towards my dad that I couldn't even look him in the eye."
"But that's not how life works. I kept a lot of emotions inside but I couldn't really deal with any of them at all."
When the divorce was eventually finalised in May 2019, she was relieved. "But at the same time, I had so much grief about it, so much unforgiveness towards my dad that I couldn't even look him in the eye when he came by.
"I did try to reach out, but I didn't really get a response from him. I just didn't get an apology or anything.
"So, I think I was just very heartbroken because even though I knew their relationship wasn't really good and I actually approved of the divorce, it still hurt. I think in my heart I was telling myself that, 'You know, it's fine because it's better for them.'
"But it wasn't better for me.
"I wish that it could have been better. I wish that my parents could have communicated better and loved each other like other families do."
Jewel's father moved out, and the family nucleus now comprised Jewel, her mother, grandmother and brother.
Her relationship with her mother – previously shallow at best – became functional: "You better this, you better that – very normal instructional stuff but not much heart-to-heart talks or anything," Jewel recalls. "There wasn't really much understanding between us."
Random allergies
A few months later, Jewel began to develop hives whenever she ate certain foods like shellfish. Then, they appeared more regularly – with foods containing gluten or eggs, even garlic.
"As time went on, there were so many things that caused it to flare up. That was how I realised that, 'This is a problem. It's like a chronic thing now.'
"My whole body would be covered with patches. It was itchy."
She soon found she could only eat vegetables and rice and became distraught. "I technically couldn't eat almost everything, suddenly.
"I was already emotionally tired. But then I was physically tired also.
"I was a living zombie just waking up, moving through the day, eating vegetables and rice. It's fine if it gives me enough energy but it doesn't. I couldn't really function at all."
A chronic condition 
Neither Western doctors nor traditional Chinese medicine practitioners could determine the cause of the hives. They suggested that through trial and error, Jewel might be able to find some foods her body could get used to.
"I felt like, if I have to live like this the rest of my life, that's awful. I started to look for more answers. I wanted to have a cure."
She was given antihistamines to control the outbreaks, but these provided only short-term relief. "Whenever it happens I just eat the pill. But I felt like, if I have to live like this the rest of my life, that's awful.
"I started to look for more answers. I wanted to have a cure."
Her quest would lead her to try New Age healing and various other therapies – many questionable in nature and outcome. Nothing helped. After almost two years, she was on the brink of losing hope of ever being rid of the hives.
"I kept on sleeping and sleeping, but I didn't feel like I had any energy at all. I just wasn't in a good head space because I wanted my life back. I did think of giving up a lot of times. But I didn't want to give up also. I wanted a way out."
Meanwhile, Jewel's mother, Chen Si Jing, had met a Christian named Anna (not her real name) while doing volunteer work. Upon hearing of Si Jing's worries, Anna, an evangelist, asked to meet Jewel over dinner.
Jewel agreed only very reluctantly. "At that point I was super sian (fed up) with life. I was just like, 'What's gonna bring me joy anyway?' "
The stranger 
The dinner took place before Christmas of 2020, with conversation spanning the types of healing Jewel had experimented with. Finally, to a sceptical Jewel, Anna said: "Actually I know why you have hives."
"I couldn't help myself. I kept sobbing because of all the pain that I had inside."
Jewel's mother excused herself to go to the toilet, and Anna elaborated: "It's because of all your disappointment and unforgiveness towards your parents, but mainly your dad." She termed these "ungodly emotions" and said they could actually cause bodily harm.
Jewel's first thought was: "What nonsense! How does that even relate?"
Outwardly, she went on the defensive – "I was trying my best to show her that I don't care" – but quickly found herself crying uncontrollably.
"I couldn't help myself. I kept sobbing because of all the pain that I had inside. I started to feel maybe what this lady is saying is true, because all these things she's telling is really what I'm going through."
Anna took Jewel's hand and said she sensed tremendous stress within her. She also noted that Jewel had heaviness in her legs and shoulders.
"That was literally what I was feeling the past few days. There's no way that she could have known that, because I don't even talk to my mum about all the things that I'm struggling with!"
To Jewel's bewilderment, Anna also said that "there's something piercing my heart", Jewel exclaims.
"I've actually even gone to the clinic before and they told me that my heart is fine. But I feel like piercing pain over a period of time and it's quite scary."
"I felt this loving warmth rush into me. It was so powerful."
Gently dispelling her fears, Anna told Jewel that Jesus would be able to remove all these ailments.
"She said, 'This is not normal!'
"And I was thinking, 'Yes! This is not normal!' But I thought it was normal, because I had it for so long."
When Anna put her hand on Jewel's head and began to pray for God's love to fill her, "I felt this loving warmth rush into me. It was so powerful.
"It was such love – such love that I've never felt before."
Nonetheless, Jewel was hesitant when asked if she was ready to receive Jesus as her Lord and Saviour. Anna responded: "It's ok if you're not ready yet, because you can let God show you that He's real."
The prayer for miracles
Anna gave Jewel several things to commit to prayer, the foremost being the ability to forgive her father.
"She told me that you have to forgive your dad and also your family. You need to give all your sadness and all the things that you feel towards your parents to God and ask Him to take it away from you. Ask Him for His healing."
Desperate for a miracle, Jewel decided to follow her instructions. "I went home after that and I wrote down those things that she told me to pray over on a piece of paper. I wrote down, 'God, help me to forgive my dad. Remove all the disappointment and sadness that I have in me.'
"Help me to forgive my family. Help me to forgive the people that hurt me.
"God, if You're real, help me with all these things. If You're real, show me that You can do all these things for me."
In the next week or two, Jewel realised she could think about her father without feeling angry. "I was willing to try to talk to him, or like, look at him again. There wasn't so much pain inside."
She could eat meat again, with a minimal outbreak of hives at first, then none at all.
By February 2021, she was fully healed. "I could finally eat whatever I wanted again, and I didn't need to go through all the itchiness, all the pain, all the discomfort, all the sleepless nights."
The relief brought with it a joy she had long since forgotten. "At that point I had lost my smile and I didn't know it."
Finding mum again
Si Jing, too, from being "in a space of being very lost" – as Jewel describes it – welcomed the prospect of looking to a future for and with her daughter.
Her voice breaking with tears, the 54-year-old says: "I thank God, because through God I can find back my daughter."
Lamenting the pain and sadness that had robbed Jewel of being a "very cheerful girl", she adds: "When she believed in God, she really became happier and she's looking forward.
"I would think that my girl is very awesome daughter. She really loves me a lot. Without her I would not be here also."
Elaborating, Jewel, now 23, says: "There was a lot of misunderstanding between me and my mum. I knew that she wanted to help me but we both didn't know how. But now there was hope. We did see that I was being healed.
"I knew that it was God, because I didn't do anything at all. All I did was put it in His hands."
"My mum was also feeling less worried. We started to talk a bit more.
"I felt like I was set free in terms of the things that I thought before, and I was able to reconnect with her again, without all the frustration, without all the anger from all the sickness and all the things that happened before.
"I knew that it was God, because I didn't do anything at all. All I did was write it down. All I did was pray. All I did was put it in His hands."
The touch of God's love was "something I really needed in that moment". Growing up in an environment of tension, Jewel had felt "very distanced" from her parents.
"I've always felt that I'm not loved. My parents were always quarrelling. They didn't have time to talk to me or find out what I was going through.
"A lot of times I felt like I was alone. I didn't realise it then, but I realise it now, that God was also answering what I really wanted to know – because I was looking to understand what love is.
"I finally know what love means.
"What is love? God is love."
---
Postscript: Jewel Chang worships at World Revival Love Ministries and was baptised last Easter, along with her mother, on Sunday, April 4, 2021.
---
RELATED STORIES:
From "nobody's child" to precious "Bao Bei": The love story of Belinda Lee and her mother
"I begged God to give her back to me": One mother's prayer when her daughter jumped 14 storeys in suicide attempt
"Sometimes I call out 'Mummy' just to see how it sounds again": How a daughter dealt with the sudden death of her mother
Mom's secret ministry: Editor of Letter to my Daughter reflects on her mother's hand in her journey
If you have enjoyed reading Salt&Light...
We are an independent, non-profit organisation that relies on the generosity of our readers, such as yourself, to continue serving the kingdom. Every dollar donated goes directly back into our editorial coverage.
Would you consider partnering with us in our kingdom work by supporting us financially, either as a one-off donation, or a recurring pledge?
Support Salt&Light