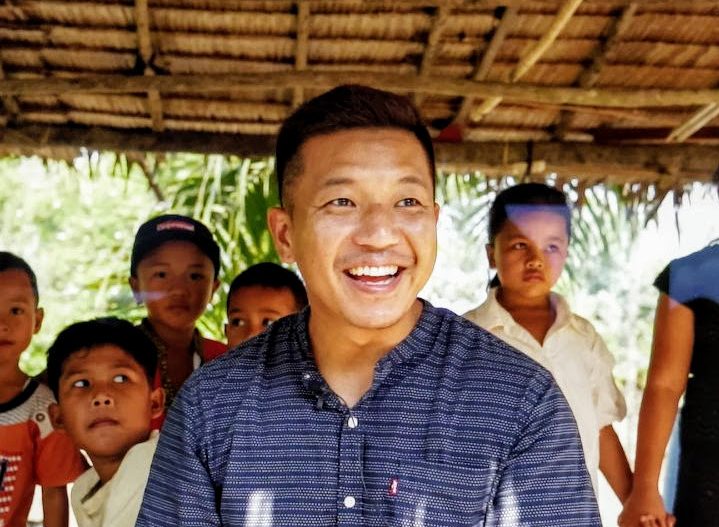 A third-generation missionary kid, Hudson Kim was a rebel who spent 15 years mired in alcohol and drug addiction. But his life took a dramatic turn when he encountered God. All photos courtesy of Hudson Kim.
Hudson Kim had lost everything.
He was 27 and supposed to be in the prime of his life. But here he was, with nothing but the clothes on his back, the shoes on his feet and a small duffel bag slung across his shoulder.
Having just been kicked out of yet another friend's home, he had no idea where he would sleep that night. Was this the eighth person in the year who had thrown him out? Or tenth? Whatever the number was, he had now run out of options.
He had no home, no friends, no job, no money.
It had consumed absolutely everything, this 11-year alcohol and drug addiction.
One by one his friends walked out on him. To them he was a "drug, smoking junkie", a magnet for trouble. 
He had sacrificed many friendships for it. Again and again he would go around asking for loans, convincing his friends that he needed the money for something else, when frankly he had no intention – nor the means – of paying them back.
One by one his friends began to walk out on him. To them he was just a "drug, smoking junkie", a magnet for trouble that they did not want in their lives.
His addiction still demanded to be fed, so he began selling whatever he owned for cash. Just a year ago, at least he had a full suitcase of things. Now, a duffel bag was all he owned.
Kim thought of his parents. His mother had recently flown up unannounced to Sydney, Australia, where he was living. He had no idea how she found him; he had not contacted her in weeks.
"I'm here to get you," his mother said gently. "Are you going to come?"
She had found him at a friend's house sprawled on the living room floor, lying amid empty bottles of alcohol.
"I'm here to get you," she had said gently. "Are you going to come?" She knew his struggles and the state he was in. She wanted him to know he could always come back to her and his father.
He remembered saying no.
But he regretted his decision a few weeks later, after realising that he had absolutely nothing left for him here. After much struggle, he called his parents to tell them he was coming.
Maybe life would turn around for him there, he thought.
Slip sliding downwards
Still, he balked at the thought of returning to his parents' home as he had lived most of his life largely unsupervised.
At eight years old, he and his older sister, who was 10, were sent to Australia to study.
His parents, who are Korean missionaries to China, had struggled to enrol their children into school there. Local schools rejected foreigners, while one semester at an international school cost twice as much as the support the family was getting in a year.
After about two years of helping their children settle into Sydney, their parents returned to China, leaving them with the children's grandparents, who flew in to look after them.
For the next 18 years or so, Kim and his sister would only see their parents once or twice a year for a few days to a few weeks at a time.
The separation hit Kim's sister hard; she constantly had nightmares and was terribly homesick. But young Kim relished the freedom.
The move did make him feel lonely and rejected, he said in hindsight, but the lure of freedom overpowered that. Setting his feelings aside, he resolved to enjoy and exploit this freedom "to the fullest".
"I was a little adventurous brat. I thought it was a great thing to be able to make my own decisions in my life," he told Salt&Light.
And so he did. By his mid-teens he was getting into all sorts of trouble – skipping school, stealing, cheating, smoking, just to name a few. He fell headlong into the party scene, consumed by alcohol, cigarettes and an aching need to impress.
It was not something he was aware of back then, but in hindsight he sees clearly that he was desperately seeking for the acceptance and embrace that he had lacked in his growing up years.
"That drove me to the edge," he said.
Isn't he the missionary's kid?
Though his parents had brought him up in the Christian faith, he described his relationship with God as "non-existent". In his mid-teens, his heart and mind had already left the church. The only reason he turned up in church from time to time was to assuage his guilt about his lifestyle.
But he would hear whispers: "Hey, isn't he a missionary's kid? Why is he like that? How can his parents be missionaries when … look at him."
"That just did it for me," said Kim. "And it just went on to rebellion and hatred. I had this perception that the life I was living, or the way I was, is just not going to be accepted by these people, so why bother?"
At 16, he was expelled from boarding school and began mixing with gangs on the street. "It was a whole ball of a mess," he said.
"No one has the right to control my life. No one had ever. My life is my life."
It was about this time that he also got involved in drugs. He used recreational ones at first, just for the sake of fitting in.
But by the time he was 25, it became a daily habit to use addictive, hardcore drugs that were "life-transforming in a negative way", he said, the main one being methamphetamine. 
His parents tried to reach out to him, but all their efforts were futile. Nothing could hold him down.
"I had already in my mind made a decision. No one has the right to control my life. No one had ever. My life is my life."
Deep dive
Life was upbeat, he said.
He was loving life and having fun, enjoying all the popularity and attention he was receiving from his friends.
But his addiction soon transformed into something he desperately he needed to fuel. "Meth really gripped me," he said. "I took a deep dive because of that."
Everything he did was aimed at the sole purpose of feeding the black hole that was his addiction.
He began peddling drugs, cheating his friends of money and selling all he had – anything to get the cash he could exchange for drugs.
He worked a few odd jobs but could never hold one down for too long. The drugs prevented him from living a life of routine and responsibility. 
The places that accepted his lifestyle enough to employ him long-term were the "shady" karaoke bars and brothels, which he managed. They paid good money quickly, he said, which worked well for his needs.
Everything he did was aimed at the sole purpose of feeding the black hole that was his addiction. Two years later, it had swallowed up everything he had, save for the clothes on his back, the shoes on his feet and that duffel bag slung across his shoulder.
That was when he called his parents.
Road of death
In China, the cravings disappeared. "Miraculously," he said.
Maybe it was the change in environment. Maybe it was finally being home with his parents. Or maybe it was just the promise of a fresh start, a hope that his life could actually, finally change.
"Nobody but my parents knew about my history. I could be someone else," he said. "I didn't have to feel defeated and I didn't have to feel like a drug addict and a junkie."
"Darkness came over me and that was it."
He tried to get back on his feet. His parents allowed him to give English classes to locals at the school they ran. With another American missionary, he taught classes and tuition, and made some honest money from the job.
Life was finally looking up.
About six months after Kim arrived in the city, one of his students invited him out for a casual beer. It was the first time he would have a taste of the city's nightlife.
It was a seemingly innocent get-together. Just two friends out for a drink, having a bit of fun after a long day's work.
But a rush of familiarity hit him, accompanied by a warm embrace of the life he had known for the past decade. The embrace of being known and accepted. It compelled him like an invisible force.
"And all hell broke loose."
Just like that, he dove right back into the life that had taken so much from him. It was as if he had never left. Drugs. Alcohol. Gambling. Girls. Gangs.
"It just ripped me, like this new hope of coming to China was never there," he said. "Darkness came over me and that was it. I just chose to go down that path without any hesitation."
Over the next two years, his life became much worse than the one he had left behind in Sydney.
"I was going down the road of death."
Old habits returned. He began selling off things that belonged to his parents and stealing money from their bank account. He took advantage of his parents' friends, the ones who were "generous, loving missionaries who would go out of their way to lend you money".
Paranoia, a side effect of meth, gripped him. He began to distrust everyone and locked himself up at home for six whole months. The only other person he met was the drug dealer.
The drugs would keep him up for days on end. Then he would crash for nights on end, unable to wake up even to eat. The cycle went on, week after week. He lost more than 20kg.
"I was going down the road of death," he said.
Wasting away
His parents were heartbroken. Their son was wasting away right in front of their eyes, and there was nothing that they could do.
His father knelt by his bedside, where he had been knocked out for two days, weeping and crying out to God.
Kim remembers the time that his father knelt by his bedside, where he had been knocked out for two days, weeping and crying out to God.
Kim could not open his eyes, but he could hear his father. Still, he remembers feeling numb.
But day after day, as his parents continued to pray over him, the Holy Spirit moved, he said. "I wasn't in the right mind, but I think my heart was getting softer."
During that time Kim's uncle came to visit. Kim liked him. So, when he suggested doing a Bible study together once a week, Kim agreed. There was nothing else he could do at home anyway, he thought.
At their first session, they sat down together at the table. "Before we begin, I think you should pray," his uncle said to him.
Day after day, as his parents continued to pray over him, the Holy Spirit moved.
Kim did not know how to pray. He could not even remember the last time he did. 
"Whatever comes to your mind, just say it to God," his uncle encouraged him gently.
Kim closed his eyes to say something. But the words would not come. Instead, strong emotions welled up inside of him and he wept.
"I don't know how long I cried for," said Kim. "I couldn't even open my mouth to pray."
"This is the Holy Spirit touching you," his uncle told him as he prayed for him.
This ain't gonna help me
Something shifted after that incident, Kim said, and while he was still undoubtedly addicted to drugs, he began to want something more in his life.
He began talking to his mother about drug rehabilitation centers and looked into signing up for programmes that would help him kick the habit.
"If you want to get your life straight then go and meet God."
His sister, who had returned to Korea when she was 23, introduced him to missions organisation Youth With A Mission (YWAM). She had gone to one of their six-month-long programmes, Discipleship Training School, and had encountered God through it, she said.
If you want to get your life straight then go and meet God, she urged him.
He was incredulous. "That ain't going to help me," he told her. "I need like chemical injections or something to clean my system," he thought.
But when he found out that there was one programme that was going to be held in Hawaii – "wow, Hawaii!" – he began to consider it. "Whether or not I go and meet God, that would be a nice place to go!"
He eventually applied and was accepted. In January 2011, he flew to Hawaii, still "high as heck and off my head on drugs", wondering why in the world this Christian organisation had accepted him into their programme.
The bonfire
Kim missed the first two days of orientation because he was hungover. "Actually, I don't want to be here," he told the school staff frankly when they came to wake him up.
But he dragged himself to class that first week.
The first lesson was on hearing God's voice. The teacher explained that sin hinders our communication with God, and we need to turn away from the sin in our lives if we want to hear His voice.
We are going to have a bonfire tomorrow, she told the class, and we are going to throw into the fire everything that represents the sin in our lives. We are going to make things right with God, she said.
That night a huge desperation welled up in him. "You've got to help me out," he said as he wrestled with God. "If this doesn't work, nothing else will. It's a do-or-die situation. Prove Yourself real to me."
"This better work and You'd better show Yourself to me that you're true."
Angry and defiant, he added: "My grandparents (who had been missionaries to Taiwan) gave up their lives for you. My parents gave up not just their lives, but our lives for you. You'd better be real. This better work and you better show yourself to me that you're true."
If there was no difference after the bonfire exercise, he decided, he was going to pack up and go right home.
Then he scribbled down every wrong thing he had ever done and gathered his jade necklace and cigarettes. He barely slept.
The next day he threw it all into the fire and watched it burn with tears streaming down his face.
But throughout the rest of the day, nothing seemed to have changed. The cravings were still there. He went out to replace the pack of cigarettes he had just burnt and stood by the beach to have a smoke.
"I knew it," he thought to himself. 
Who You say You are
The next morning, he found himself awake when it was still dark. He checked his watch: 5am.
Strange, he thought. This was far earlier than the usual time he got up, which was more or less two minutes before class started.
Lying awake in the dark room, he drew in a deep breath … and realised that he could.
"It was nothing like I've ever felt before. I just felt brand new."
He had not taken a full breath in a long time. All that smoking and drug use had damaged his lungs, so that he would feel sharp chest pains whenever he tried to breathe in deeply.
But it did not hurt this time. Something was different, he sensed. Deciding to test out his body, he hopped off the top bunk quietly and put on his shoes.
Outside his room, he walked down the hill of the campus. When he got to the gate, he started to run. And he ran and ran and ran, until the sun came up.
"You must be who You say You are. I'm going to believe in You."
His breaths came full and easy.
"I just knew instantaneously that physically I was healed," he said. "It was nothing like I've ever felt before. Like I had never touched any of that junk. I just felt brand new."
He distinctly remembers the walk back to the campus, a moment he described as "glorious".
"You must be who You say You are," he told the Lord. "I'm going to believe in You. I'm committing myself to whatever You say. I'm giving my life to missions."
I know you by name
The cravings for drugs never returned.
But his story of redemption was just beginning. It was not just physical healing that he experienced, but spiritual and emotional healing too.
Over the next few weeks of the Discipleship Training School, he absorbed everything like a sponge. 
He discovered God's overwhelming and unconditional acceptance of him, the very kind he had spent his whole life desperately searching for but never finding.
He said: "All throughout my life I had been selling my soul, my dignity, my worth, for an acceptance that was conditional.
"Once you're accepted by God, you're accepted. There's no other embrace that comes even close to that."
"I felt that people (in my old life) were accepting me because of something – because I was with them or I had money. It was never unconditional.
"But when I had an encounter with God, it was like a high that I had never experienced before. I didn't need to pay for it, I didn't need to strive to get it, I didn't need to sell away my soul to gain it. It was just there for me.
"It's true acceptance. And once you're accepted by God, you're accepted. You don't have to keep striving to get it. You don't have to look in other places for it.
"There's no other acceptance or embrace that comes even close to that."
Isaiah 43 took a firm hold in his heart as he learnt about God's great love for His people. For him.
"God says, I love you. I know you by name. I accept you. I will give nations in ransom for you. I will call my children home from the north, south, east and west."
The person of Jesus was further proof of God's amazing love and grace.
He said: "Jesus is the physical representation of God saying to us, 'This is the depth and the length I will go to say that I love you and that you're accepted, and no one can tell you otherwise.'
"It was just mind-boggling and I felt an overwhelming showering of His love."
Are you serious?
At the end of the six-month course, the school leader, who had taken him under her wing, and her husband, invited Kim to be a staff member at the next school they were going to lead.
Kim stared at them. They must be out of their minds, he thought.
"I don't even know where Psalms is in the Bible. I hardly even know how to pray. You want me to be a staff at a programme where I have to disciple people who are well-versed in Christianity? Are you serious?"
He didn't say it out loud, but they knew what he was thinking.
"What's so wrong with you?" his leader asked, more as a statement than a question.
"That just dismantled me," Kim said. It tore apart all those previous misconceptions he had about never being good enough to be accepted into the community of faith, and never being able to offer something of worth.
He agreed. In mid-2011 they set off on their journey to their next destination: Singapore.
God of the impossible
Over the next nine years Kim, now 38, would make good on his promise to follow Jesus. 
Now a missionary at YWAM Singapore, he sits on its leadership board and is also the director of its medical ship's ministry, which reaches out to unreached people groups in Indonesia.
"A lot of these things I wouldn't even dare to ask for, but He just showered that on me and revealed Himself in them."
He has been sober for nine years.
These past years of restoration and redemption, of walking closely with Jesus, "far surpasses" the instantaneous healing that he had experienced in Hawaii, he said.
God sent into his life people who believed in him, championed his gifts and entrusted him with responsibility, allowing him to serve in areas he did not think he had the potential to excel in.
He even managed to go to Bible school, studying the Bible from cover to cover several times, even though he had always believed that he did not have an academic mind.
In 2013 he married his childhood sweetheart and they now have two young daughters. He had never imagined he would ever have his own family given his past, he said.
"God just blew my mind with all the these things that I thought was impossible," he said. "A lot of these things I wouldn't even dare to ask for, but He just showered that on me and revealed Himself in them, just to show that He is a loving Dad and He is without limits."
But his greatest reward is simply being close to his Creator, the One who made him and the One who loves Him fully without condition, he said.
"He is far more than what we think He is. My huge reward is just being close to His action!"
---
Read the moving story of Hudson Kim's mother in a Mother's Day special here!
"Lord, if you want him to die, let him die": A mother's desperate prayer of surrender for her wayward son
"Do you know this is a forsaken place?": How Pastor Caleb's heart broke for the drug addicts, ex-offenders and mentally ill in Chinatown
High on drugs, he fell 15 storeys and not only lived to tell the tale but to transform his life
If you have enjoyed reading Salt&Light...
We are an independent, non-profit organisation that relies on the generosity of our readers, such as yourself, to continue serving the kingdom. Every dollar donated goes directly back into our editorial coverage.
Would you consider partnering with us in our kingdom work by supporting us financially, either as a one-off donation, or a recurring pledge?
Support Salt&Light