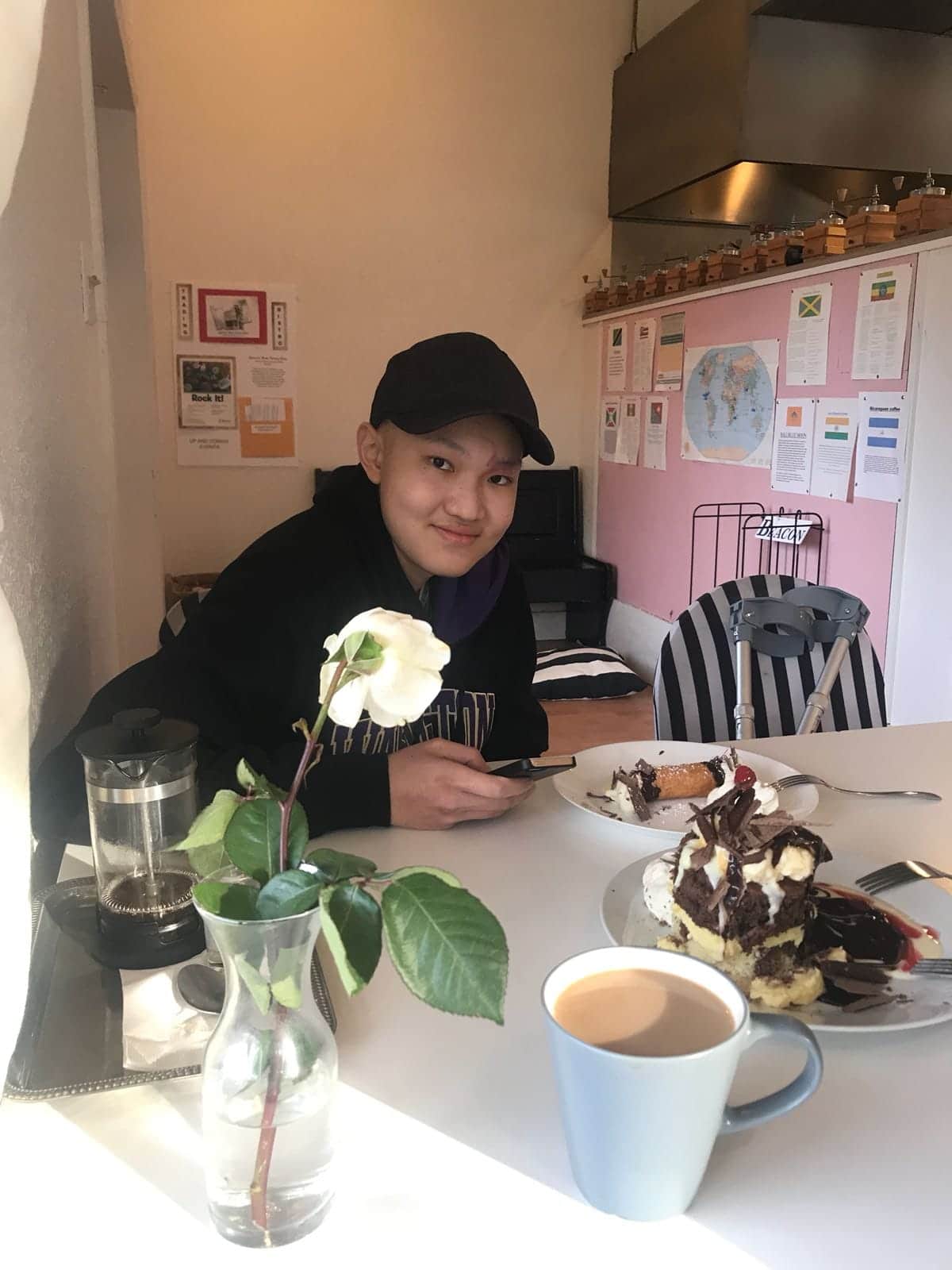 "I have nothing to lose" was the motto that kept Joel Lim pressing on through 15 years of grueling cancer treatment. All photos courtesy of Marianne Lam.
We meet on a Monday, the 65th one since Marianne Lam's younger son passed away on Monday, September 14, 2020.
The particular day of the week is a difficult one to live through, because the sequence of events leading to his last breath remains as vivid to her as it was the morning he died 15 months ago.
Joel Lim was 22 when he succumbed to leukemia – war torn after his 15-year battle with the disease, but triumphant beyond a shadow of a doubt.
After he was discovered at age 7 to have cancer in his bone marrow, he survived countless brushes with death spanning at least six major relapses. The regime of treatment through his years of illness was gruelling from the start, involving every known option from chemotherapy to transplant surgery to immunotherapy.
His first relapse was at age nine. He was put in a nine-day induced coma while sepsis ravaged his body. When he was 12, the year was significant not for the PSLE that Primary Six students go through, but for his prolonged absence from school and the bone marrow transplant he received.
As a teenager at 17, he was one of the first Singaporeans to receive immunotherapy, and would go on to be "a happy guinea pig" for other experimental treatments as they became available.
"I have nothing to lose" was his constant refrain. Cancer was killing him, and he knew it.
Repeated blasts of medication had already compromised his ability to walk. Nonetheless, he seemed to have an innate momentum that powered him through his 'N' levels and 'O' levels, and eventually garnered him a place in Nanyang Polytechnic's School of Design.
"His mindset was, I don't need all this fuss. I just want to do what I have to do."
"The doctors were fascinated by this Joel who wants to go to school," Marianne remembers. Together with the Viva Foundation for Children with Cancer, their shared goal was achieved in a variety of hybrid ways. (Click here to watch a video on his life, screened at Viva Foundation's Thanksgiving concert 2021.)
Joel sat for his PSLE in isolation at Anglo-Chinese School (Junior). He did his 'N' levels alone from a hospital bed in the National University Hospital (NUH). On the eve of his 'O' levels, he developed chicken pox and took the exams similarly shrouded in a hospital gown, IV stands positioned nearby at the ready.
"He was really gutsy and resilient," Marianne says. "His mindset was, I don't need all this fuss. I just want to do what I have to do."
His years as a secondary school student of ACS (Barker) were, definitively, the best five of his life – "absolutely", she affirms. There he found in Mr Peter Tan a school principal who repaired the breaches in his schooling and restored the academic pathways for him (Isaiah 58:12); teachers who never gave in to the physical and medical challenges; and friends (Proverbs 18:24b) whose camaraderie meant they carried his school bag along with their own, hoisted him up piggy-back style for a quick getaway, and pushed his wheelchair around as and when they had places to go.
Until he was in Secondary 4, Joel was excused from school every Friday so that he could undergo chemotherapy at the Viva-University Children's Cancer Centre in NUH. The medication, injected through a permanently inserted brain shunt, would cause him to throw up violently as soon as it was administered. He would then fall asleep in exhaustion and be monitored for a few hours. After resting the weekend at home, he would return to school on Monday – if he was well enough.
Most Mondays he was.
Rarely was there thought beyond that day – "his condition was so fragile and chronic", Marianne explains. Every time they planned for something, like surgery to correct his legs, there would be a setback.
"Then all the rest is not important. You just have to get rid of the leukemia as soon as you discover it."
Shimmering hope
Immunotherapy represented bright hope when it became available. It was their last resort when another relapse in 2016 could not be addressed by any other treatment at the time.
Joel opened himself up to the option, knowing full well the side effects could be lethal. The gamble paid off. Never had he known an eight-month-long remission as a teenager. Better yet, the reprieve allowed him to return to ACS (BR) to do his 'O' levels in 2017. By then he was 19 years old.
His positivity was so contagious, his family could not help but go with his flow. "He was always happy and thankful because he always reminded himself it could have been worse." 
Adding to their motivation was the support of his team of doctors and nurses who wore their hearts of compassion on their sleeves. Joel himself could see it, and steeled himself to envision the spiritual beyond.
He read his Bible daily and would be the one to post a verse of the day on the family chat.
Marianne testifies: "He himself is God-fearing. He really looked to the Lord every day."
He read his Bible daily and would be the one to post a verse of the day on the family chat. Every time they made their way to the hospital, he would say: "Let's pray."
"At night we must pray as well. That is our routine.
"You really see the hands of God sustaining him. Even though he has to go through all this, yet you also see at the same time how he has been protected and shielded." (Psalm 91:4)
Only in the privacy of his journal, which Marianne found recently, did he hint at the sometime agony he felt while awaiting the results of his routine blood tests. "The waiting is the most paralysing for us. I can feel for him, wondering if there's a relapse.
"You try to distract yourself but you can't. Every phone call – is it from the doctor?"
His journal was a poignant discovery, since Joel sought continually to protect his parents. "He understood that you are more fearful than he is. Our body language communicated that."
In the vernacular of love, therefore, it was he who made the decision for his sixth and final round of immunotherapy in November 2019. Cells from his bone marrow donor of 2010 were to be harvested for grafting into his body.
The experimental treatment was a world first, as far as Marianne could tell. Adamant that he would take responsibility for the risk to his life that it represented, he signed the procedure's consent form himself.
His doctors weren't sure whether to go ahead with the untested route, but conceded at Joel's insistence. "It was Joel who kept pressing them: 'Do you have a plan? I want a plan'," recalls Marianne.
"He said, 'I've gone through so much. You have new treatment and if I can try, why not?' "
Living on the edge
No one looking on could be sure they understood how God was working out faith in their lives – least of all Marianne. The challenge for her was in the day-to-day managing of herself, living in the tension of never knowing what would come up next.
"What is there left for us? His leukemia was just so stubborn and aggressive."
Prayer support from a group of trusted girlfriends was key. Additionally, there was an unfathomable depth of connection between Joel and herself.
"We are very close. And we are also very close to the doctors and nurses, so the trust is there.
"The thing was, if we didn't do this, what is there left for us? His leukemia was just so stubborn and aggressive."
In January 2020, barely three months later, they were told the treatment wasn't working. Joel's doctors had been trying to control the side effects with a mix of medicines that wouldn't compromise the immunotherapy. But it was in vain. Steroids would need to be administered, dashing the trajectory of the original plan.
"That was the end. I was so shattered. But Joel was very calm. He said, 'Either way there's no loss to me.'
"And he said something else I hold so dear: 'Mum, the only thing I'm worried is about you.' It cut so deep.
"At the same time, it also was so healing. I'm so proud of him that he was still thinking of others, not himself.
"I just wanted him to live the remaining days feeling happy. It sounds so crazy: Your son is going to die and that's what you're thinking?"
The painful end
His final hospital stay lasted almost 11 months. If discharged, he would spend at most one or two days at home before he would take a turn for the worse and be rushed back to NUH. "I was the ambulance driver," Marianne says ruefully.
"I sleep in the hospital. I drive home and drive back. I have a shower, put on a change of clothes, do some housework. His medical needs were so intense that I just had no time to think about how to live.
"We lived to enjoy the simplest things that we might have taken for granted."
"Especially since 2016, it was like: How is he? What should we do – as in, what are the best things to do for him?
"Sometimes it's good, sometimes it's no good. There were times when I found it so difficult to continue. It was so intense I felt like I couldn't breathe, literally.
"But when I see Joel, when I face him, I change. Automatically I want to attend to him, do anything that he likes, be with him peacefully enjoying the quiet moments."
They passed the time talking about anything and everything. He painted or created digital pictures. They watched programmes on industrial design and gourmet cooking – "to learn about this and that, to really enjoy rather than wallow".
Receiving deliveries on his behalf also occupied some time. "So many friends sent food to the hospital," she recalls with gratefulness. "He felt so loved.
"We lived to enjoy the simplest things that we might have taken for granted. Every day, if it is routine, nothing happens, we are happy, we can laugh.
"If it's whoever's birthday, we can have a cake and eat it – if he can eat."
There were never any big plans, and thus never any disappointments. Life was truly lived on a day-by-day basis.
"When he's alive, when he has a breath, no matter what the condition, I just want to soak in the moment with him. My thinking was that the grieving will come," says Marianne.
Facing death
With September 2020 arrived the prognosis that Joel had two weeks left. "His tummy was ballooning. He couldn't move his legs, his hands. It was all so swollen. It was so bad.
"Because we have Jesus – that's the difference."
"His system was shutting down. He knew. But he was not afraid of dying.
"We discussed what he would wear, what music would be played. He talked about it in a matter-of-fact way. He really prepared us.
"Of course we still prayed; miracles do happen. He still prayed, but he prayed, 'Either way God's will be done.' But ya, we talked about it, we joked about it. It was kind of weird.
"Because we have Jesus – that's the difference."
The night before he passed on he had a seizure that lasted some 10 minutes. He was shaking violently, his face was contorted, and fear enveloped Marianne, her husband, Jeremy, and their older son, Gabriel. In all their years, they had never seen Joel suffer such trauma.
"But I was told the seizure actually is a better way to go than when your lungs collapse and you can't breathe."
Joel went into coma, which is what he wanted. "Just make me comfortable," he had told the doctors. "Don't resuscitate me, don't do anything. Just make me comfortable."
Marianne shares: "I was struggling. I had no heart to say, 'Joel, we are good' – that sort of thing. I couldn't bring myself to say that. I just said, 'Go with the flow.' That's the best I could do.
"I know he was really fighting so hard. You don't want him to suffer but you also don't want him to go. You are just in absolute no control but praying to the Lord to do what He has to do: God, grant him a safe journey to be with You."
Counting Mondays
Joel's funeral marked the beginning of endless days emptied of the frenzied activity that had been Marianne's routine. The hollowness has been haunting.
"Part of me is gone. There are still so many emotions going on for me, I was so used to taking care of him.
"Physically I was tired. Mentally I couldn't process anything – I was just blank. But I know that it's by the grace of God that I'm still ok."
"I'm so afraid that I'll forget some of the things I want to remember about him."
The 57-year-old has rekindled an old passion of long-distance running for respite, "so that my energy is spent correctly".
"I actually sometimes wonder if I am really coping or I haven't hit that moment of truth and reality that I've lost him. Being home surrounded by all his belongings, it's like he's living in my heart and I can hear his voice in my head.
"From time to time, I wonder: What if one day I don't feel this way anymore? I'm so afraid that I'll forget some of the things I want to remember about him."
Christmas and other festive events weigh heavily on her heart. There was just a low-key family dinner on each of her two birthdays since his passing. And even though she has resumed going out and meeting with friends, she still cries when she is alone – and allows herself to.
"Sometimes you just want to be sad.
"When I go out with my friends I make sure that I am ready and that I can enjoy their company and they can enjoy my company. That's my responsibility. Most of the time I don't want to talk about Joel because people will straightaway want to comfort me – which is hard."
To have lived in the rhythm that cancer dictates has been seminal. She now treasures more than ever her role as a caregiver, her focus being on Jeremy and Gabriel. "Knowing I'm so loved by them, that is enough for me.
"I get to learn what it is like to give and to take and to really accept the good and the bad that come to you.
"Life is full of contradictions. I ask myself two things: What is enough? Let's say if Joel lived another 15 years, is that enough?
"And, so what if God gives you all the answers that you want? Do you want to choose His plan or your own plan? Hey, don't play God!
"It's comfort that Joel knew where he was going and that he accepted that he was dying. How does one do that if it is not surrendering everything to the Lord?
"I'm still on the journey of seeing God for Who He really is. In Him I am complete."
"The Lord is so merciful to have given him the joy of His salvation to be his strength (Nehemiah 8:10). We all know these verses but do we know how to live in a situation when it's needed and called for?
"I wouldn't exchange a single day. Through Joel I've learned that there is a lot of good that comes out of the bad. We have experienced how God works things out in His time to put things together (Romans 8:28). It's really been a journey filled with grace.
"I am moving on. I always think that God has assignments for us. I know that when it's time, God will call me in some form and direction. But for now, all directions point me to rest.
"I'm still on the journey of seeing God for Who He really is. In Him I am complete. And when you have a husband and two sons who love you …
"Life is love, love is life. If there is no love, there is no life – as simple as that.
"Every Monday is still very difficult, but it's getting better."
---
RELATED STORIES:
If you have enjoyed reading Salt&Light...
We are an independent, non-profit organisation that relies on the generosity of our readers, such as yourself, to continue serving the kingdom. Every dollar donated goes directly back into our editorial coverage.
Would you consider partnering with us in our kingdom work by supporting us financially, either as a one-off donation, or a recurring pledge?
Support Salt&Light